Prospecting for presents? How about dresses for girls, tweed-and-leather shoulder bags, retro pocket watches, or soapstone pendants? Discover these and other creative gift ideas from alumni entrepreneurs in our 10th annual holiday gift guide. Enjoy some discounts offered only to BAM readers.
BLUE BRILLIANCE
If you're not familiar with Leota's comfortable, packable, machine-washable, and wildly wearable women's dresses, you're in for a treat. And this season, casual chic gets even cuter: "Matchy-matchy is back," says founder Sarah Carson '02 of the new "little Leota" dresses that coordinate with the women's line. Pictured is the drop-waist Kelsey dress, in Rhumba, available December 1. "The idealism at Brown, coupled with the rigor of the education, helped give me the courage to leave my job on Wall Street to pursue my dream of running a fashion company," says Carson, who named the business after her great-grandmother. $66 Use code BROWN for 20% off before Jan. 1, 2017. 
BURNISHED GLOW
Even weeknight dinners can be a special occasion with this hand-pressed stoneware, hand-painted in Portugal with an artisanal gold glaze. While each piece is unique, the entire collection is dishwasher, microwave, oven, and freezer safe. "We really love to make the ordinary extraordinary and bring those beautiful things into our everyday life," says Julia Knight '79. "Can't we be normal and use paper plates?" Julia's daughter once asked. With a practical option like this, why would you? Aurora Dinnerware, from $30 (mug) to $85 (platter). 20% off until Dec. 31 with code Brown20.
(612) 338-9100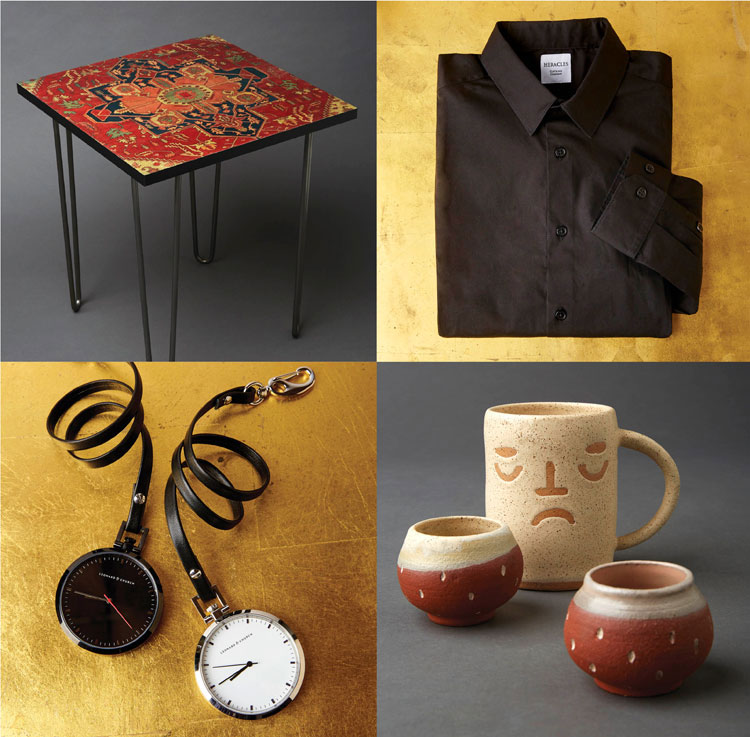 Clockwise from top left:
HI-TECH TABLE
Lamou Design offers up wood tables with natural steel hairpin legs, digitally printed with elaborate designs like this Serapi Abrash. Customers can also design their own, uploading an image of their choice. "Lamou's goal is to develop products that allow customers to engage in design," says cofounder Helen ("Lena") Georas '81. Serapi Abrash, 20"x20"x23", $328. 20% off with code BRALUM20.   
(877) 323-2668
PERFECT PROPORTIONS
Know someone whose buff body doesn't fit into regular-size shirts?  Patty Niemi Mitropoulos '80 dreamed up Heracles Clothing Company when her athletic son kept having to buy shirts with way too much fabric at the waist, just to have room for his Crossfit-induced lats, pecs, and biceps. Their first product is this sharp black dress shirt in cotton with a bit of stretch, designed to properly fit the exceptionally fit. $89. 
(917) 841-3252
BERRY BRIGHT
Afternoon tea may taste sweeter in Uno+Ichi strawberry tumblers, while the Probrecito mug provides Monday-morning commiseration. Founders Joanna Lee '11  and  Hana Ward '11 met during their first week at Brown and have been collaborating ever since. The handmade stoneware is dishwasher and microwave safe. Strawberries, set of 2, $30; Pobrecito mug, $38. Use code JOSIAH10 for 10% off.
RETRO BLING
"In the era of smart watches, we wanted to take it back to the basics," says Christopher Chon '08, founder of Leonard & Church, which sells luxury watches directly to consumers at a fraction of the price. "Our approach is to apply a modern take on classic timepiece designs, so what better watch to reinvent than the one most popular in the 16th century?"  Their new Prospect pocket watches feature an oversize 48mm case with a sapphire crystal and Swiss-made movement. Since we first mentioned it in BAM a year ago, the company has taken off: "We're now in over 40 countries and in six of the world's seven continents," says Chon.  "Still looking for a buyer in Antarctica—any Brown alums living there? We'll send them a free watch!" $325. Use code BRUNO for 10 percent off. 
Left to right:
HEAD START
"Think Guinness meets iced coffee," Hudson Gaines-Ross '09 says of his organic nitrogen-infused java with a frothy head like the famous beer. Mornings just got a little more awesome. Gaines-Ross credits a course taught by Danny Warshay '87 for helping him develop an entrepreneurial mindset. Order kegs of the stuff on Rise's website, or email sales@risecoffee.com to order cans: $4.49 per can (min. 4); $16.99 per four-pack. 
(646) 869-7050
 

BEACH BRILLIANCE
Your beach-chair margarita will be served rimmed with salt, not full of sand, thanks to the SandStand portable beach table, designed by Mark Wenzel '08, another engineering and entrepreneurship protegé of Professor Barrett Hazeltine. It holds your stemware, cup, can, or  bottle; has a built-in bottle opener; and even offers metal loops for hanging your sunglasses. Just sit back and savor.  SandStand in cherry, $75. Use code BROWN for free domestic shipping. 
STONEWARE SHIMMER
Ceramic artist Kelly Shimoda '98 calls this her "Toothy Necklace," hand built from a dark brown stoneware clay and fired with a metallic gunmetal glaze that gradually shifts from shiny at one end to matte at the other. The approximately 3-inch pendant hangs from a 29-inch adjustable waxed cotton cord. Shimoda, who lives in Oakland, California, is inspired by observing the landscape and natural world, as well as by textiles and metals. She recently shifted from photography to ceramics, saying, "I have found an even greater satisfaction in the very tactile and organic process." Shimoda's collection of ceramic tableware and jewelry has developed over the past several years; she launched the business this year. $42; use code BAM10 for 10% off.
Clockwise from top left:
CLEAN LIVING
"We're proud to say our products are so pure you could eat them, though we don't recommend it," says Em & El organics founder and former boat-builder Emily Trower-Young '06. The Ship Shave Set—with shaving soap and an aftershave balm—and the All Hands On Deck Hand Care Kit—with body soap and hand cream—both have nautical themed illustrations, include a wooden soap holder, and are fragranced with essential oils. Shave, $40; hand, $35. 20% off with code Brown20.


HOT HANDBAG
This little red number from Ruskin bags is crafted in Italy with Saffiano leather, calf skin machine-stamped with a subtle cross-hatch pattern. It features a drawstring closure and an adjustable shoulder strap (from 15 to 17.5 inches). Islam Abdelal '00 and wife Alli Abdelal cofounded the London-based luxury bag company. Nara Mini Bucket bag in bordeaux, $480; Use code "brown alums" for a 20% discount.
(973) 906-1979


EXTRAVAGANT TASTES
Eric ("Ricky") Mandle '00 was into cooking at Brown, he says, "from creating new dishes out of ingredients at the Ratty to organizing gorgonzola-burger barbecues out on the quad." Later, after moving to Barcelona, he formally trained as a chef. Delicious & Sons, launched with wife Mónica Navarro and based in Barcelona, offers high-quality products that are organic, non-GMO, gluten-free, and suitable for vegetarians. $7.95-$15.99; available online after Nov. 30.
Left to right:
RARE TWEED
Herdwick sheep graze some of the hardest mountain terrain in the U.K., and their wiry gray wool is wonderfully durable, but not great for sweaters. No one had found a sustainable way to use it, but Islam Abdelal '00 and his wife Alli Abdelal, who grew up in the Lake District that is home to the Herdwick, were determined. Partnering with some of the finest worsted weavers in Yorkshire, they created a custom-blend tweed which they combine with fine Italian leather in this Cuthbert messenger bag. $660; use code "brown alums" for 20% off.
(973) 906-1979
MIND-OF-THEIR-OWN MUGS
"I let the clay do what it wants," says Kelly Shimoda '98 of the process she uses in creating some of her mugs, hand-built out of slabs of clay so that each one turns out slightly different. Shimoda's tableware is dishwasher safe, though handwashing is always preferred. From left, Scratch Cup, half-dip; Drippy Tumbler; Slouch Mug, speckled. $32-$34; use code BAM10 for 10% off. 


WEARABLE HIKE
Artist Courtney Reckord '97 loves the outdoors, especially mountains. So she makes topographical-map jewelry using data from the U.S. Geological Survey. The pieces are printed on a high-resolution 3D wax printer, then cast in bronze and sterling silver using the ancient lost-wax technique. Choose from her favorites like Camel's Hump and Mount Mansfield, or custom order your own. $100-$120; email info@courtneyreckord.com for a 10% refund after purchase.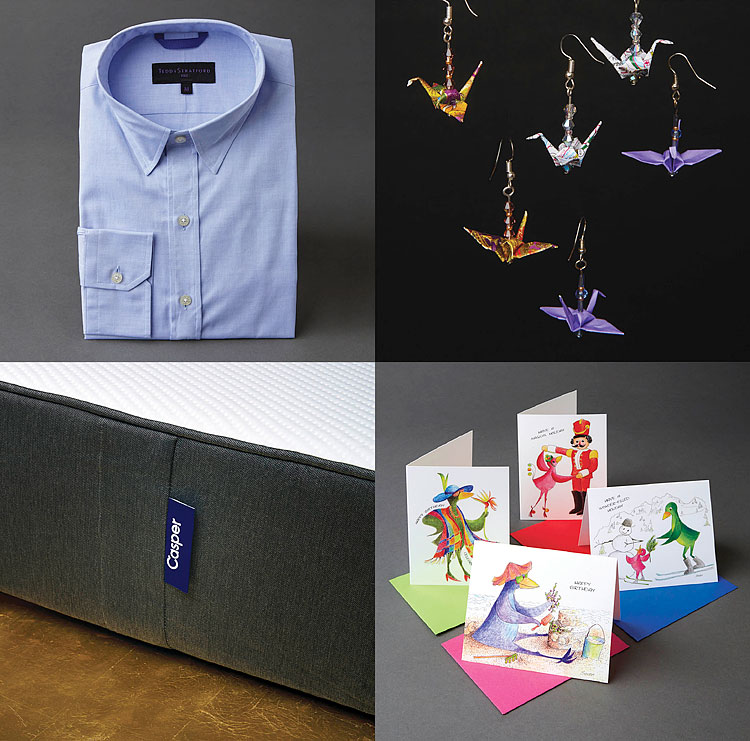 Clockwise from top left:
SECOND SKIN
When Bryan Davis '94 got pulled over for speeding in Bangkok, he noticed that the policeman's uniform shirt fit exceptionally well. Turns out there was a hidden zipper under the button placket, allowing a slim fit without gaps between. Davis, who had  studied entrepreneurship with Barrett Hazeltine, knew a business idea when he saw one, and Teddy Stratford Apparel was born, featuring the Zip Fit shirt. $135; use code BRUNO for $20 off.
(917) 309-4407


CRANE CRAZY
There were dozens of origami cranes decorating the mortarboard of Meia Geddes '14 when she graduated, and the idea for her company, Make-A-Crane, came out of taking an entrepreneurship class with Professor Barrett Hazeltine her freshman year, when she wrote a fictionalized case study on an origami-based venture. Geddes offers earrings and other products, such as bags of 500 or 1000 "wedding cranes"—"Make-A-Crane is super LGBTQ-friendly," she says.  $15/pair.


FLIGHT OF FANCY
Artist Martha South '62 delighted friends and family with personalized cards featuring whimsical birds and was repeatedly asked to make them available for sale. She finally decided to do it but died in 2013 before the business was fully realized. Her family, including husband John South '62, carried on, launching Martha South, LLC, offering a variety of Martha's designs. $4 each; 5-packs, $16.50; 10-pack Christmas cards, $28. Free shipping with code BAM.


ZZZ BEST
Casper, cofounded by Neil Parikh '11, T. Luke Sherwin '12, and Gabriel Flateman '12, has made getting a mattress a cool millennial milestone. The latex and memory foam product comes compressed into a small box. Slice it open, watch as your mattress expands, then upload the video to YouTube. Named one of Time Magazine's Best Inventions of 2015. $500 & up. Use code BrownAlumn for $50 off one mattress. 
(888) 498-0003
Left to right:
CHARMED LIFE
Keep track of your stemmed libation, whether it's a martini, a margarita, or champagne, with Brown University themed wine glass charms from Trio Artisan Designs. The set of 8, designed and handmade by Sally Ahearn Effman '87, includes one each of bear, backpack, football player, book, mortarboard and diploma, and letter B charms, plus two special glass tile charms of the Brown Bruin and the Brown insignia. $34; use code BAM2016 for a 10% discount.
www.trioartisandesigns.etsy.com


LUXE LOUNGING
Make bedtime more elegant while helping to make the world a better place. Alexandria Main garments are designed by Roxane (Yeomans) Horton '93 AM, who studied Modernization and Development and is dedicated to reducing inequality and improving living standards in developing countries. These hand-loomed silk striped pyjamas are made ethically in Cambodia. $135; use code Brown for 10% off. 


BETTER WATER
Hydration. Nutrition. Electrolytes. For former professional soccer player Kathryn Moos '07, who was All American in soccer and ice hockey at Brown, these are way more than just buzzwords. Her VROU water packs vitamins and minerals to support immunity, bone strength, and metabolism, has zero calories, and comes in natural flavors like lemon ginger and watermelon basil. $29.88/12-pack; use code hydratebrown for 20% off. 
All photography by Joel Benjamin