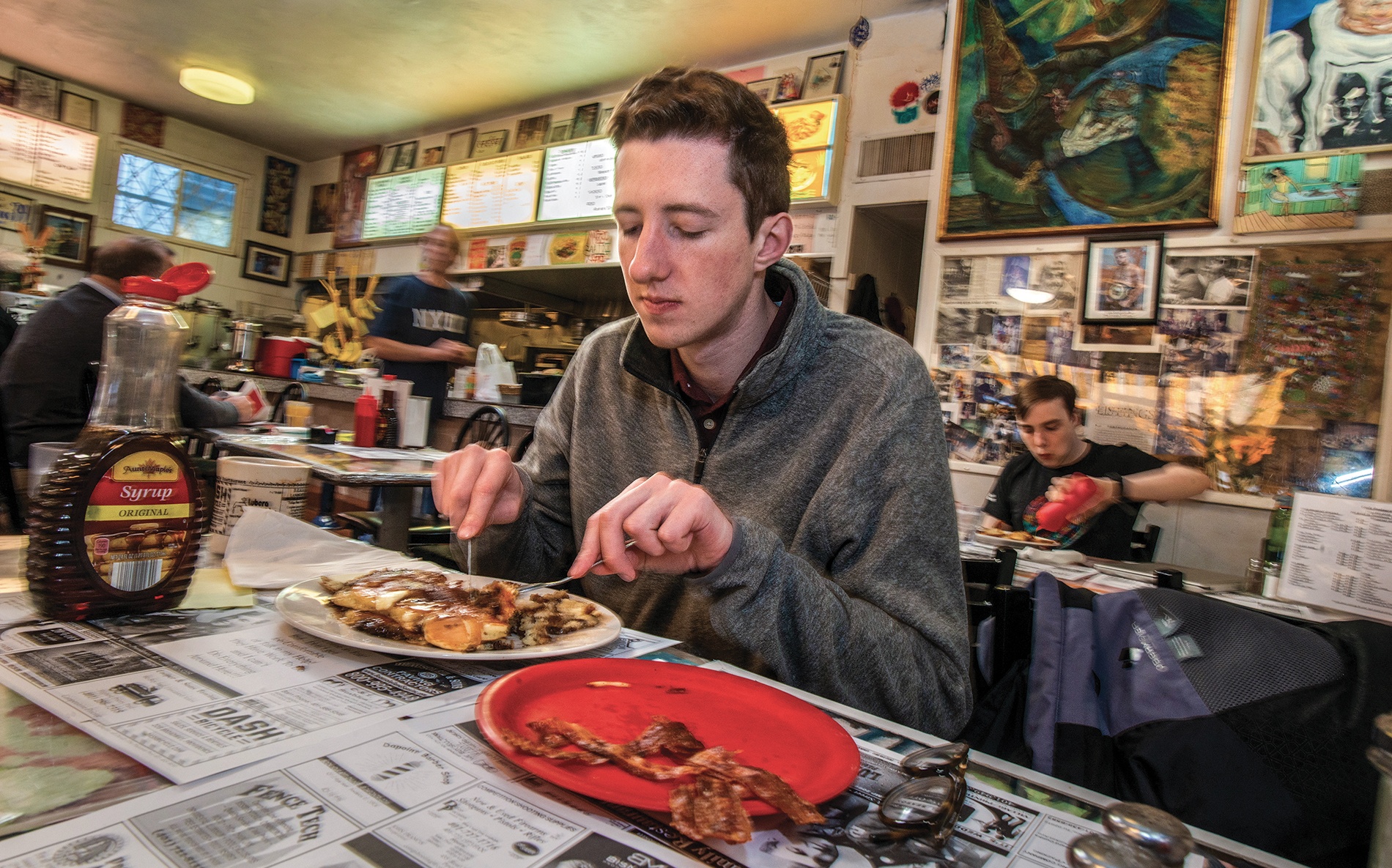 Student Life
Louie's Time
Peter Deegan '21 loves those 5 a.m. breakfasts
January 10th, 2019
It started last fall—freshman year—when a bunch of my friends were hanging out with some international students. There's this international house called Buxton—they don't start their parties until 2 a.m. One night we had a lot of fun at Buxton, danced until 4 a.m., had conversations lying on the grass outside, and then we all got hungry and were like, "Where should we go? It's 5 a.m." We looked up this place online called Louie's and we went there and it was great. We all got pancakes. From that point on, whenever it was 5 a.m., it was Louie's time.
Apparently it's a thing: upperclassmen were like, "Oh, yeah, I've been to Louie's." Last spring, there were a lot of seniors there at 5 because they wanted to do it once before they graduated. We told our friends about it. People are frequently up studying until 5 a.m. It's that place you go when you're sleep deprived but also trying to be social.
It's this iconic family restaurant. It's got that cozy, small-town vibe. There're all the pictures on the wall, with everyone that has gone there in the past. They're very friendly. We got to know the main guy that always serves us. He would joke, "This is your third time this week, what's going on?"
First semester freshman year, I was probably going twice a week—Saturday morning, Sunday morning. There was a month or two stretch where my friends and I would also go once during the week, maybe a Wednesday morning, sleep a little bit, go to class, go back to sleep. During final exams, we probably went every other day.
Some of our friends say, "Oh, can we wake up early and go with you?" and we're like, "Why would you? The whole point is that you stay up all night." They open at 5, so if it's 4 a.m., it's like we gotta stay up one more hour, because then it's Louie's time.