History
Mr. Dinosaur
Paleontologist Matthew Carrano '91 helped revamp the Smithsonian's new "Deep Time" exhibit. 
September 13th, 2019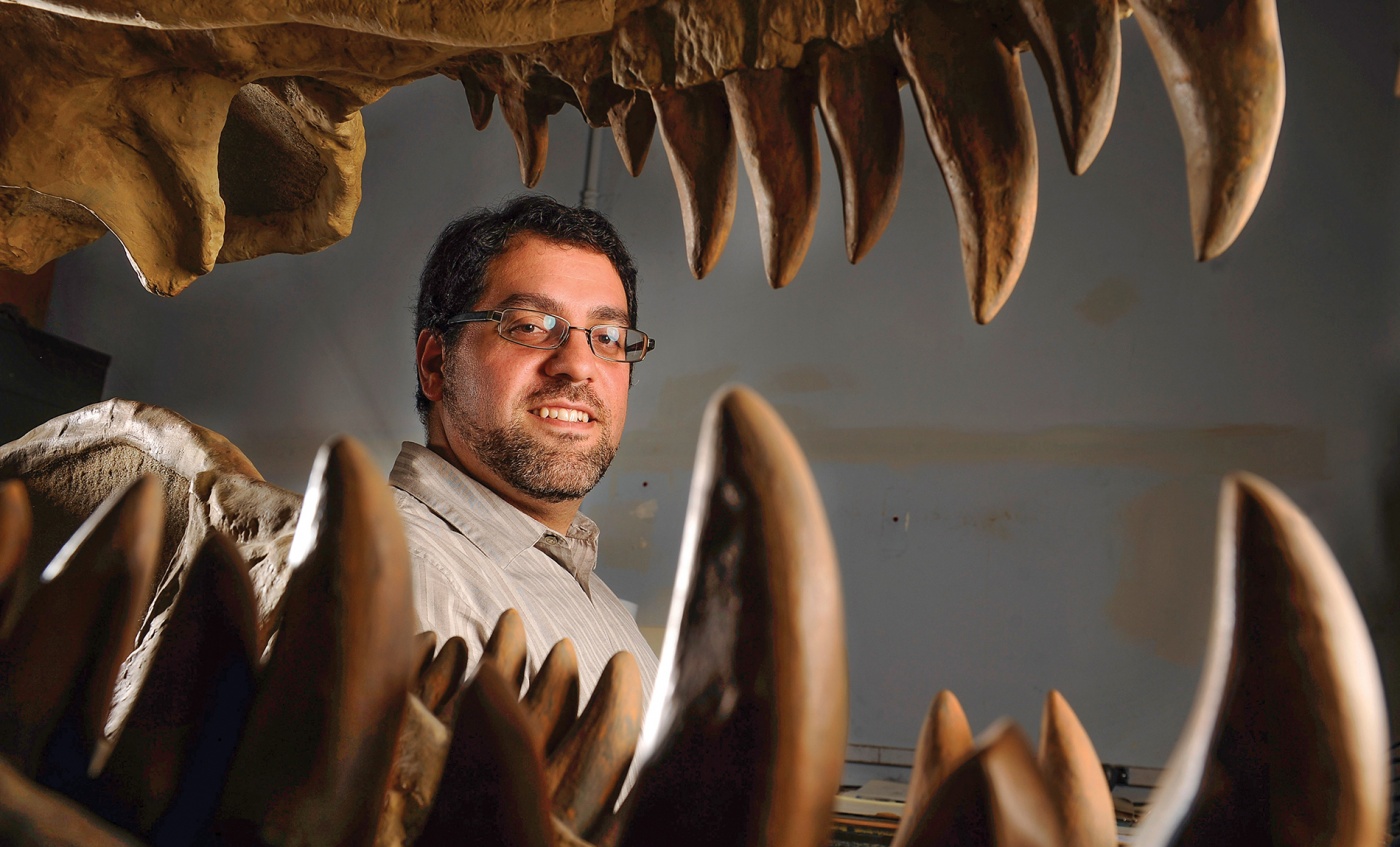 In the 1970s, when Matthew Carrano '91 was a kid growing up in Branford, Connecticut, options were limited for nourishing a fascination with dinosaurs. After all, this was pre—Jurassic Park and all the mania that accompanied the popular movies. So Carrano says he spent a lot of time "drawing dinosaurs, playing with plastic dinosaurs, making dinosaur models, making lists of dinosaur names…." He also read and re-read the same books, got permission to take books out of the adult section of the public library, and talked his parents into taking him to Yale's Peabody Museum of Natural History as often as possible. "I think dinosaurs hit a lot of high points with me," he says. "They were sort of fantastical but also real."
Luckily for the dinosaur-loving public, Carrano's obsession never left him. Currently the curator of dinosauria at the Smithsonian Institution, he is one of the masterminds of the National Museum of Natural History's new David H. Koch Hall of Fossils Deep Time exhibit, which reopened in early June after a massive five-year, $125 million renovation. The 31,000-square-foot hall contains some 700 fossil specimens, with the dinosaur fossils naturally the stars of the show. The "Nation's T. rex" is on display—the first time a real T. rex fossil has been shown in Washington—and the huge predator is seen attacking a triceratops. Carrano's goal? To create "re-mounted dinosaurs and other animals that look more biologically realistic" than traditional exhibits.
Dinosaur curator Matthew Carrano credits Brown with turning him "from a dinosaur-obsessed student into a potential scientist."
Carrano is currently engaged in "a major re-study of some of the iconic Smithsonian dinosaurs," which are now accessible for the first time in a century, analyzing their ecosystems and the other animals that coexisted with them.
Even though the Jurassic Park movies "made it okay for adults to like dinosaurs, too," there are still misconceptions out there, says Carrano. Perhaps the biggest: all dinosaurs did not live at the same time. There's more time between T. rex and stegosaurus—about 80 million years—than between T. rex and us—"only 66 million years," Carrano says.
As its name suggests, the "Deep Time" exhibit connects enormous stretches of time, starting 4.6 billion years ago. By focusing on ancient ecosystems, animals, geologic events, past extinctions, and periods of warming, the exhibit's creators hope to inspire visitors to think about the future. "We hope to convey the magnitude and seriousness of present climate change," says Carrano, "by making comparisons to the past."