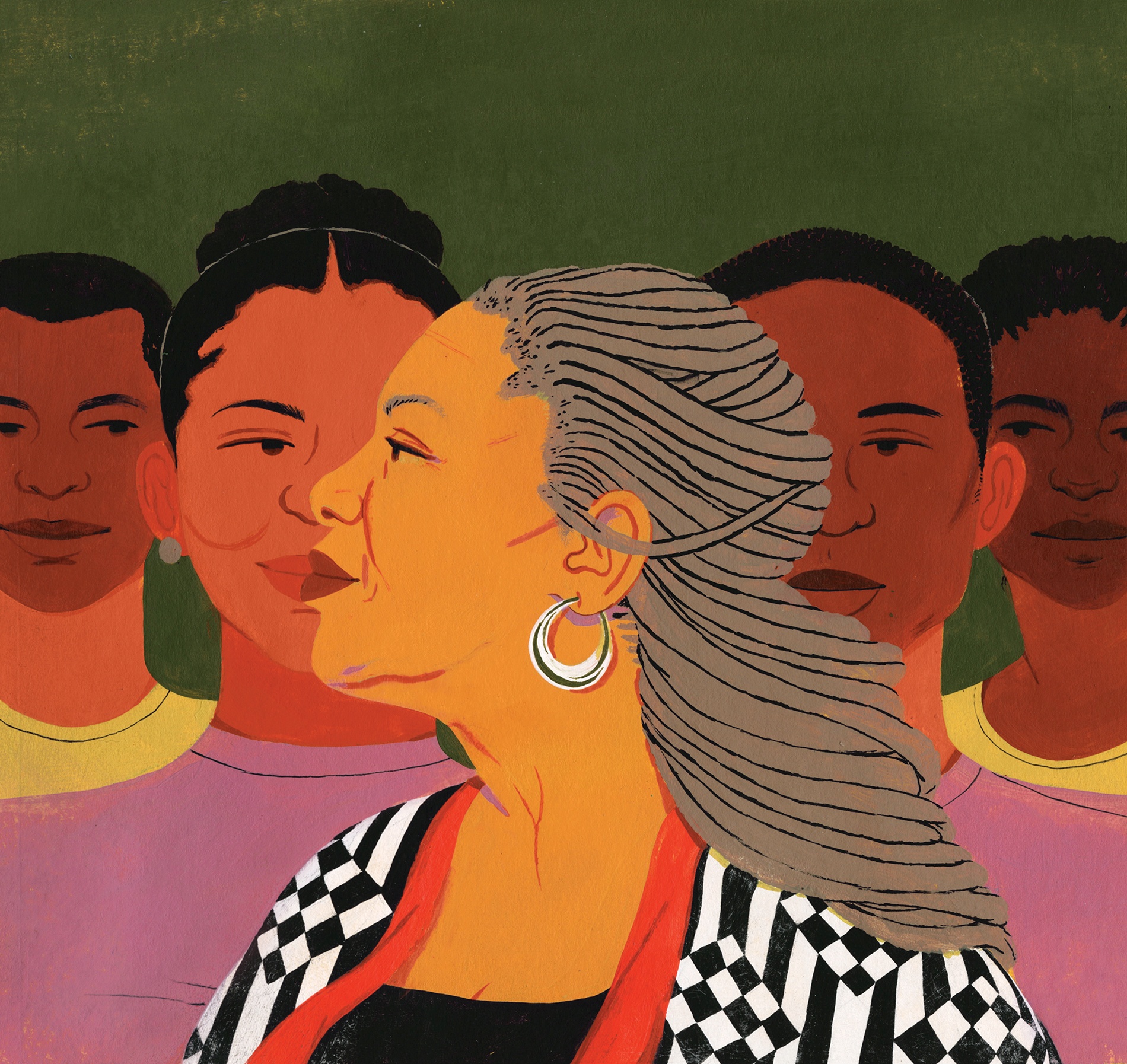 Education
Radical Vision
Life, death, love, and humanity through the eyes of Toni Morrison.
November 5th, 2019
Imagine a black world," English Professor Kevin Quashie tells students at the beginning of his seminar on the literature of the late Nobel Prize–winning author Toni Morrison. In the class, ENGL 1760Y, Quashie explains to students how the study of black literature and even the work of black authors has so often been filtered through a white world view. For example, Quashie notes, the earliest narratives by black Americans, written by enslaved people, "always speak to an audience that they presume to be white and always assume in that address that their job is to convince the reader—the white reader—of their humanity and the humanity of people like themselves." But the humanity of black people—of anyone—simply is, Quashie reminds students.
Even more contemporary black writers sometimes participate in this characterization of black characters as "the other." Regarding Ralph Ellison's famous novel Invisible Man, Morrison has asked, "Invisible to whom?" The black protagonist wouldn't necessarily be invisible to her or other black people; the "invisibility" of the character was already a signal that the book was looking at the world through the lens of white supremacy. Morrison refused to position her writing within that framework. She "was not going to write works that, for lack of a better phrase, would explain black people to white people," Quashie says.
Calling attention to the literary traditions of assuming a white audience and marginalizing characters of color helped some students better appreciate Morrison's work: "When we read novels by white authors about white characters, we don't say 'Look at the white experience,'" says Lucy Dolan-Zalaznick '19, a student in Quashie's class. "We really just say, 'Look at the character.'"
Morrison examined essential human questions about life and love through her own eyes as a black woman. As a result, she could explore human experience in the fullest rendering possible, Quashie says, while "articulating the anxieties that we know to be true as a part of American history" in connection with slavery, indigenous genocide, and their legacies.
Quashie first discovered Morrison in grad school through her novel Sula, the story of a friendship between two black girls who grow into womanhood together. "I had never before encountered such a representation of a black character pursuing a black human beingness," he recalls. Quashie continues to return to Morrison's writing, impassioned by her words.
Students read about a novel a week, as Quashie guides them through the incantatory possibilities of freedom in Morrison's language, such as the concluding line in Song of Solomon, "if you surrendered to the air, you could ride it." The invocation of the subjunctive through that "if" opens up a magical space in the imagination, asking the reader to consider what could be, Quashie says.
Quashie hopes to push students to deeper reflection: "That ethical possibility that, in studying, one unconsciously is engaged in thinking about how to be better," he explains. "To ask, how to be? And how can I be or should I be in the world?" Morrison's writing allows readers, regardless of race or gender, to grapple with those important and ultimately unanswerable questions through characters that are black and female.
One student in Quashie's seminar last year, Ricardo Jaramillo '18.5, says he felt the class centered, most of all, on a pervading spirit of love. "I think Morrison asks: What is at stake in loving someone and what could it bring someone to do out of love," he says. "I think a lot of her books are about putting love under this sort of pressure and seeing what happens." He points to Morrison's novel Beloved, in which Sethe, a mother fleeing slavery, kills her baby daughter to save her from the master who attempts to recapture them.
The class found its way into Jaramillo's relationship. "I had fallen in love," he says, "and I spent so many nights lying in bed reading Toni Morrison with this person I was in love with. To have the company and the guide of her language in my life was everything. The books are hard to read."
A month after the course's conclusion, a close friend of Jaramillo's died, and he was faced with writing a eulogy. It was, he said, "beyond what I had language for." He drew on a line from Morrison's eulogy to James Baldwin: "Like many of us left here I thought I knew you. Now I discover that in your company it is myself I know." Then he asked Quashie to take a look at his draft. You are capable of this, Quashie assured him. You, as a writer, can do this. "I felt like I had him, and Morrison's language, behind me," Jaramillo says.
Quashie met Morrison once, and listened to her speak a couple of times in an audience. The truth of being alive, he observes, is that death happens. Morrison died August 5. "I am so grateful for the life of this person who was black and female in the 20th century," Quashie says, "whose understanding of the meaningfulness of her experience gave us this body of literature that is so good, so demanding, so necessary."