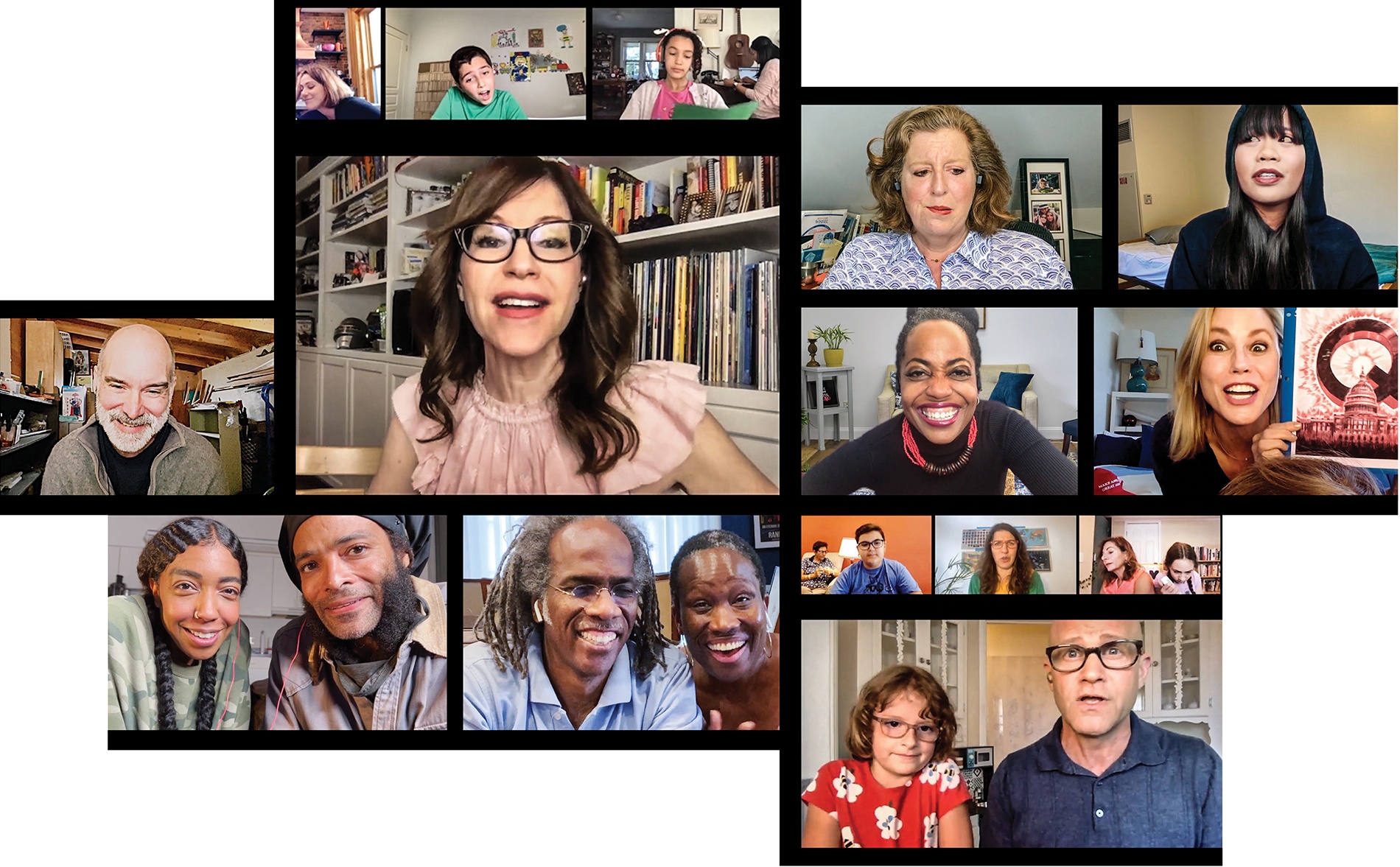 The Arts
Together Apart
A Brown alum Zoom musical captures pandemic connections
November 9th, 2021
"A pestilence has swept across the land," intones Dr. Anthony Fauci, as played by standup comedian Eric Kirchberger '92. Menacingly dark trees stand behind him as guitar chords reminiscent of The Rocky Horror Picture Show set the opening scene from Together Apart, a Brown alumni musical about COVID, set entirely on Zoom. We've all seen bad "Zoom musical" efforts by now. This one is different.
Produced by Tony Award–winning Broadway producer Beth Wishnie '89 and Grammy Award–winning singer-songwriter Lisa Loeb '90, the series of 10 seven-minute musicals stars the likes of Emmy Award–winning actors Julie Bowen '91 and Josh Hamilton '91, with writing by folks like Emmy Award–winning comedy writer Matt Hoverman '90—plus a cast and writing staff of former Brown musical theater folks who now do everything from theater to law, medicine, and software engineering. The names and professional credits alone would take up a whole page of this magazine.
The opening number, "How Can I Connect?" ("will I die of COVID or neglect?") features Kirchberger/Fauci, plus 32 other Brown alums. Then vignettes cover Zoom snafus, online classes and online dating, the killing of George Floyd, political infighting (Bowen plays a Q-Anon conspiracy theorist), and parenting during lockdown. It also covers loved ones dying of COVID, as in the first musical featuring Hamilton, his daughter, and three-time Emmy Award–nominated actress JoBeth Williams '70.
In another mini-musical, a professor played by Pebble Kranz '91, '07 MD outs herself mid–Zoom class by accidentally sharing her background photo of her with her wife. She then has a heartbreaking interaction with her student Yin, played by actor Abby Espiritu '19, who has hidden behind a profile picture all semester and turns out to have been having a hard time with the COVID-related rise of anti-Asian sentiment. Together they sing, "Too distant and too close," about the sometimes uncomfortably intimate details Zoom can reveal.
Another mini-musical has college sweethearts, played by Emmy Award–winning actor and singer Rhonda Ross Kendrick '93 and actor, comedian, and writer Joseph Meissner '93, reconnecting after completely divergent life paths. Yet another features award-winning Broadway actor Ann Harada '85 as one of the frazzled parents in "Care and Feeding," written by Meg MacCary '91 and composed by actor and voice professor Carl Belfatti '91.
All of the musicals combine heart and humor in smart, surprising, and complex ways. Kirchberger as Fauci provides a through-line of narration, both serious and hilarious, with running dad jokes about the San Diego Padres. At one point midway, he even bursts into song—a rap number that includes the line, "Why's this hate mail so poorly spelled?"
The production stemmed from an aha moment on Zoom, where Princeton theater professor Brian Herrera '90 hosted a virtual musical theater reunion in July. "We should write a musical," Loeb suggested. "I want an art form that is supposed to exist on Zoom."
It wasn't hard to convince folks. "Anyone who's done theater can tell you that you create these families," says actor Derek Livingston '89, currently director of new play development at the Utah Shakespeare Festival. "And with musical theater people, we're already heightened—we burst into song." Livingston cowrote one of the musicals, about a Black couple who are divorcing yet stuck still living together during the lockdown, Zooming with the husband's parents. Former CNN anchor Karyn Bryant '90 plays a newscaster reporting the latest on COVID and the George Floyd killing. "It was important that we had strong parents for him," says Livingston. "A lot of these narratives feature Black trauma and no Black love and no Black joy." The musical, titled "Breathe," a reference to both COVID and Floyd, covers all three.
"We should write a musical," Loeb suggested. "I want an art form that is supposed to exist on Zoom."
The show ends with New-York based Actress Maria Deasy '88 and Rome-based screenwriter Deborah de Furia '88 singing a poignant final number, "I Am Here," with other cast members filtering onto the screen for the finale.
Pulling off Together Apart, particularly the syncing, was a feat of logistics and technology. "You'd have the music playing in your ear," Wishnie explains, "and while that was happening, you'd be singing, recorded by computer, and you might be doing the scene on a third device with an actor and director. You had to look in the right direction as if you were Zooming with someone. It was crazy complicated."
With more than 100 Brown-affiliated participants all over the world, there were madcap production moments, like when Livingston, who lives in Cedar City, Utah, had to reshoot a scene at Wishnie's house in L.A. (post-vaccination). "I had to get up at four a.m., drive two hours to Las Vegas, jump on a plane, bus to downtown L.A., where I got on the subway to go to Hollywood, and then took an Uber to Beth's house, where we shot all day. By the time I got home I'd literally been awake for 26 hours."
"It felt like being at Brown again," says Wishnie. "We'd stay up all night if we had to; it was fabulous."
The idea of multiple short musicals was inspired by Once Upon a Weekend, a trademark assignment of Pulitzer Prize–winning playwright Paula Vogel, who taught some of the Together Apart crew when she directed the playwrighting program at Brown. Vogel would announce a theme on Wednesday and the plays would be written, cast, rehearsed, and premiered by Saturday.
Producing Together Apart took a bit longer. "We all have jobs and family," Wishnie says. "People were telling their partners, 'I'm so sorry, I know it's 1 am but I just have to talk to people in Germany until 2…'"
As students, some of the Together Apart alums had founded Musical Forum and Production Workshop, which still remain in operation. "That capacity to just invent something out of whole cloth was, I think, something that was very much part of our core generation, the late '80s and early '90s," Herrera says.
While it started with a circle of friends, the show expanded to include alums from other eras, their kids, and other Brown-affiliated folks. "They all had this energy that was very Brown," says Wishnie. "We all did this because we had this in common, we all were creative beings. It was also just about the process of being together again."
It was also for a cause: Together Apart was conceived to raise money for the Actors Fund, a national organization that supports entertainment professionals. "It was a time where for the first time in our lives, the arts shut down," says Wishnie. "This felt like it was more important than anything else in our lives." Halfway through, a musical interlude by Grammy Award–winner Gordon Chambers '90 gave viewers time to donate.
The collection of short musicals premiered on May 27, 2021. Tickets started at $25 and for a donation of $100, you could attend the VIP Pre-Show hosted by Peabody Award–winner Alison Stewart '88. Over the four days it streamed, Together Apart raised more than $33,000, according to Wishnie.
"In the grind of the early Zoom days, I found something at the end of the day that was about interpersonal connection to be very helpful," Herrera says. "I'm glad that we took advantage of the moment to reconnect, which is what the show is about."
Together Apart was available again for free—donation optional—on Broadway On Demand for several two-week stretches in the late summer and early fall and raised another $17,000 for the
Actors Fund. The show will stream once more November 12 -28 at togetherapartmusical.com. Wishnie says the 92-minute show will definitely live on in an archive. "The show is based on real moments from the pandemic," Wishnie says. "We feel like it's already part of history."