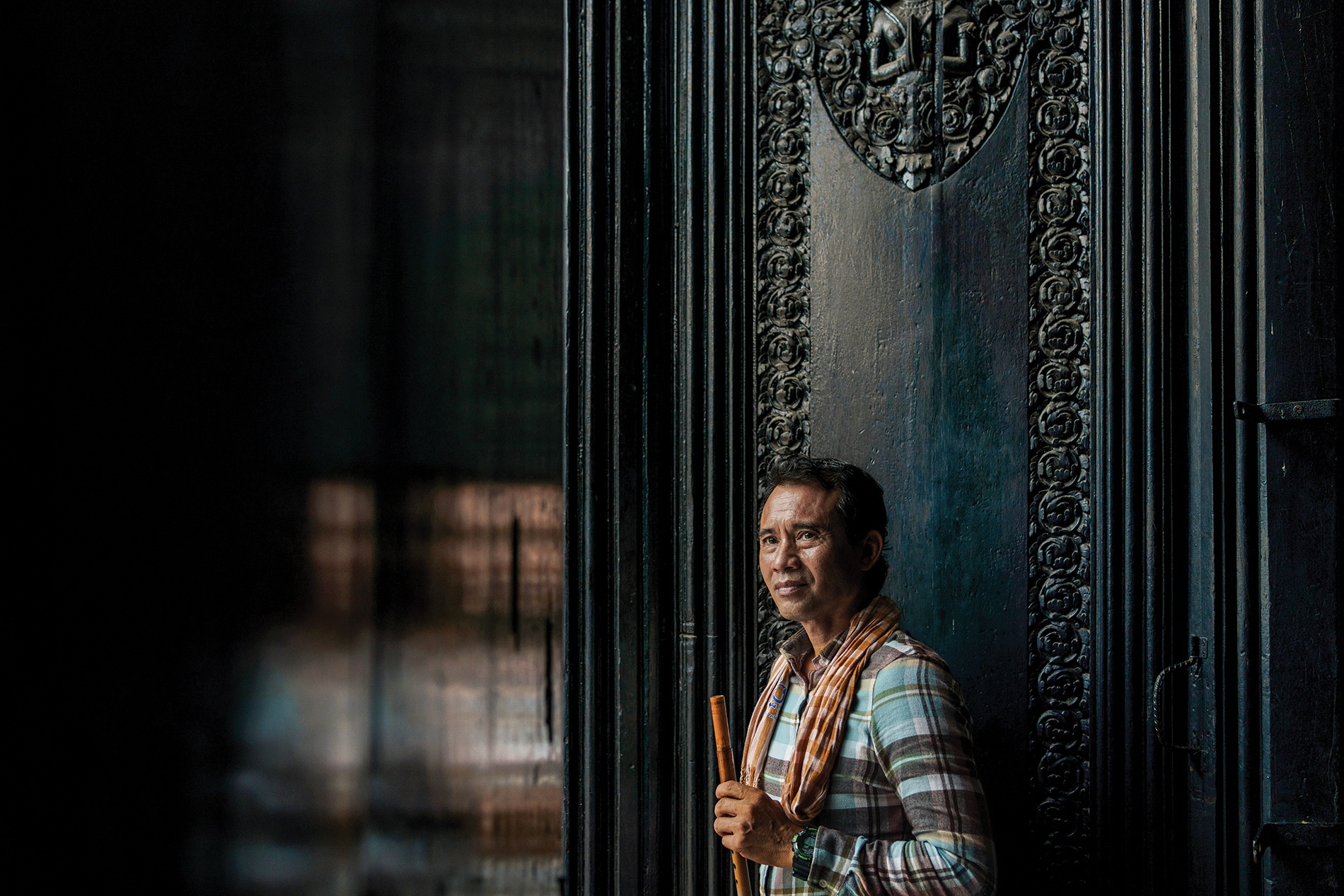 History
Songs of Survival
Arn Chorn-Pond's flute-playing literally saved his life in a child labor camp in his native Cambodia. Now he helps other children of war and brings once-banned music back to rural villages.
January 27th, 2022
When Arn Chorn-Pond '90 plays the flute, he closes his eyes and inhabits two worlds.
In one, a young boy makes music in a temple watched over by soldiers from the Khmer Rouge, the genocidal communist regime that seized power in Cambodia in 1975 and destroyed Chorn-Pond's family, friends, and childhood.  
In the other world he is here, in the present, playing the songs of love, laughter, and sadness that the Khmer Rouge tried to erase, his music a testimony to the fact that Cambodian art and culture survived. 
"Music happened to save my life," Chorn-Pond says. 
His family once ran an opera company, and while the Khmer Rouge systematically killed almost all the country's artists in their efforts to reinvent Cambodia through a complete cleansing of capitalism and Western influence, they kept some young artists such as Chorn-Pond alive to perform new music—communist propaganda. An estimated one fourth of the entire Cambodian population—two million people—died between 1975 and 1979 under the Khmer Rouge reign.
"The Khmer Rouge would allow us to play and practice music while they were killing people around us. So to smell the blood, shit, and mud was like hell, hell beyond words," Chorn-Pond recalls. "I used the sound of the instrument [to escape], I would float on air and be in another place beyond heaven."
Groomed by the Khmer Rouge first as a musician and then as a child soldier, Chorn-Pond would eventually flee to a refugee camp and, after being adopted by an American family, find his way to New England—embracing life in the U.S. but never forgetting where he had come from and what he had lived through. In the years after the genocide, Cambodia struggled to rebuild its society and regain its culture. 
"My country was like a clay pot that was dropped," Chorn-Pond says. "How could we piece it back together?" 
The answer, for Chorn-Pond, was in the power of music and the arts. 
In the 1990s, Chorn-Pond returned to his home country and founded Cambodian Living Arts, a nonprofit designed to recover a tradition of performing arts, empowering surviving artists and restoring culture through performances and education. This year celebrates the tenth anniversary of the Arn Chorn-Pond Scholarship, which supports young Cambodian artists in furthering their practice and studies. 
"The meaning of art is to express your core being and to feel connected to other human beings," Chorn-Pond explains. "Art and culture are essential for a thriving future for Cambodia, and our mission is to be the catalyst for art here."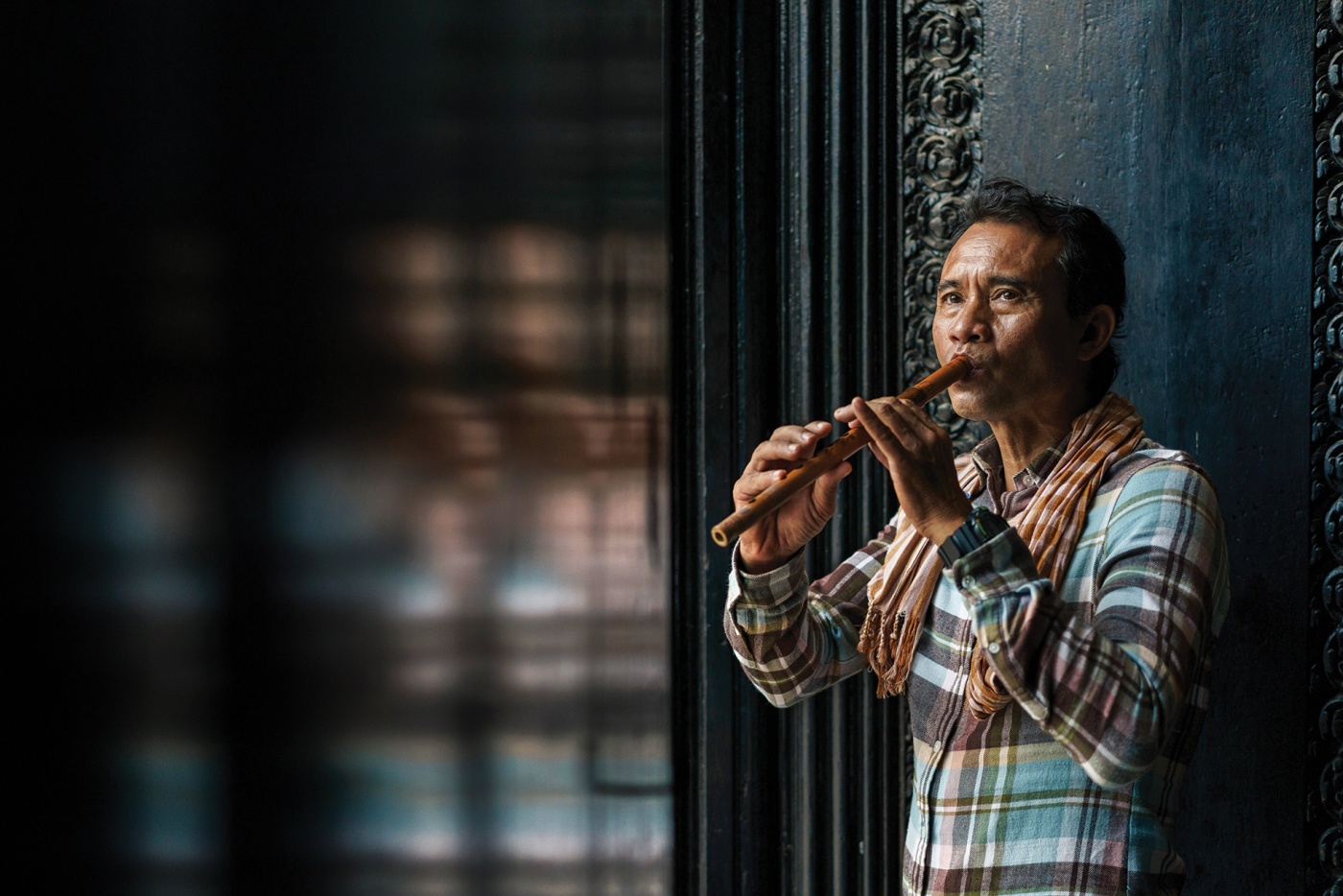 To do that, Chorn-Pond first had to discover how to speak out, share his own story, and help both himself and other Cambodians in remembering their past and rediscovering their cultural heritage.
Transcending mere survival
The Khmer Rouge came into power in 1975, when Chorn-Pond was nine years old. The regime tore him from his family and sent him to a Buddhist temple converted into a child labor camp to be trained to serve the revolution. There, the soldiers asked if anyone knew how to play music. Chorn-Pond, along with several others, raised his hand. He was given a flute and taught by an older musician who had not yet been killed by the Khmer Rouge to master it as quickly as possible.
Chorn-Pond learned faster than anyone else—and so he was one of only two students allowed to survive. He would spend years living at the temple, watching hundreds die around him, playing propaganda for the strict and ruthless commander assigned to supervise him and the encampment.
"The Khmer Rouge said 'Don't cry,'" Chorn-Pond explains. "They told us that you cannot kill anybody if you cry, if you have emotion. So I learned to be a soldier and not to cry, or they would kill me."
As the Khmer Rouge regime slowly collapsed, facing a military intervention from neighboring Vietnam in '78, the camp commander switched Chorn-Pond's instrument for an AK-47 and took him into the jungle to wage guerilla war. After a few months Chorn-Pond escaped. He wandered through the forests, delirious from cerebral malaria and starving to near death, until in 1980 he stumbled across the Thai border and was taken to a refugee camp. He weighed 60 pounds. An American volunteer, Reverend Peter L. Pond, noticed his smile. He found a way to bring the 12-year-old back with him to New Hampshire, eventually adopting him, along with 15 other Cambodian children.
Living with his adopted family meant Chorn-Pond had to eat hamburgers instead of rice and endure taunts of "monkey" at his predominantly white high school. He entered into a near suicidal state because no one could understand what he had gone through and he had no way to express himself, even to his adopted parents.
His parents told him he needed to learn English to survive and he woke up early every morning to study, grabbing onto the words as his lifeline. One day, he was able to tell his story at the local church. That led to more speaking engagements, as Americans and the rest of the world slowly learned more about the horrors of the Khmer Rouge. At some point, Chorn-Pond started to play his flute during his talks.
"When I began to play music, they were so quiet the first time, that's when I knew that it was even more powerful than when I spoke," Chorn-Pond says. "The thrill of hearing good sound, we all have that as human beings and performance is very powerful in connecting us all together."
In the early days, many children they played for had never seen or heard an instrument in real life, Chorn-Pond recalls. Their parents and grandparents, meanwhile, wept.
As his English improved, Chorn-Pond gained more platforms to share his story—he was and is just about the only former child soldier of the Khmer Rouge willing to speak openly about his experience. A letter of recommendation from President Jimmy Carter helped propel Chorn-Pond to Brown, where he found himself just across the highway from a whole community of Cambodian refugees in South Providence, adapting, like him, to a new life. Many struggled, and some of the first generation of youth found community and identity in gangs. Chorn-Pond, as a former soldier, could relate to their challenges. He founded Peace Makers, an initiative that offered interventions and opportunities for Cambodian youth to engage in more positive communities and activities, like football.
He also studied political science at Brown but was overwhelmed by the amount of reading in his second language and the ongoing effects of trauma.
"I was cleaning guns just like 10 years before in combat in the jungle of Cambodia, I never had school," Chorn-Pond says. "It was just too, too much. I literally had nightmares while my eyes were open."
But through his studies he received a more nuanced understanding of the rise of the Khmer Rouge, realizing that the regime came to power in the context of Cold War politics and as a backlash to one of the most brutal American bombing campaigns in history. More than 2.7 million tons of bombs were dropped, illegally, on Cambodia during the Vietnam War, even though Cambodia was a neutral country.
"I realized that Cambodia was, indeed, a pawn in a larger world of politics, between the East and the West," Chorn-Pond says. "And that knowledge made me feel better about my own life as the victim of it."
Bringing the music back
Human rights activism became more pressing to Chorn-Pond than his school work and so he left Brown after two years to focus full-time on advocacy, starting an organization called Children of War to help young people impacted by conflict. By 1988 he was touring the world for Amnesty International's Human Rights Now! concerts alongside rock stars like Bruce Springsteen. (He eventually completed his bachelor's at Providence College.)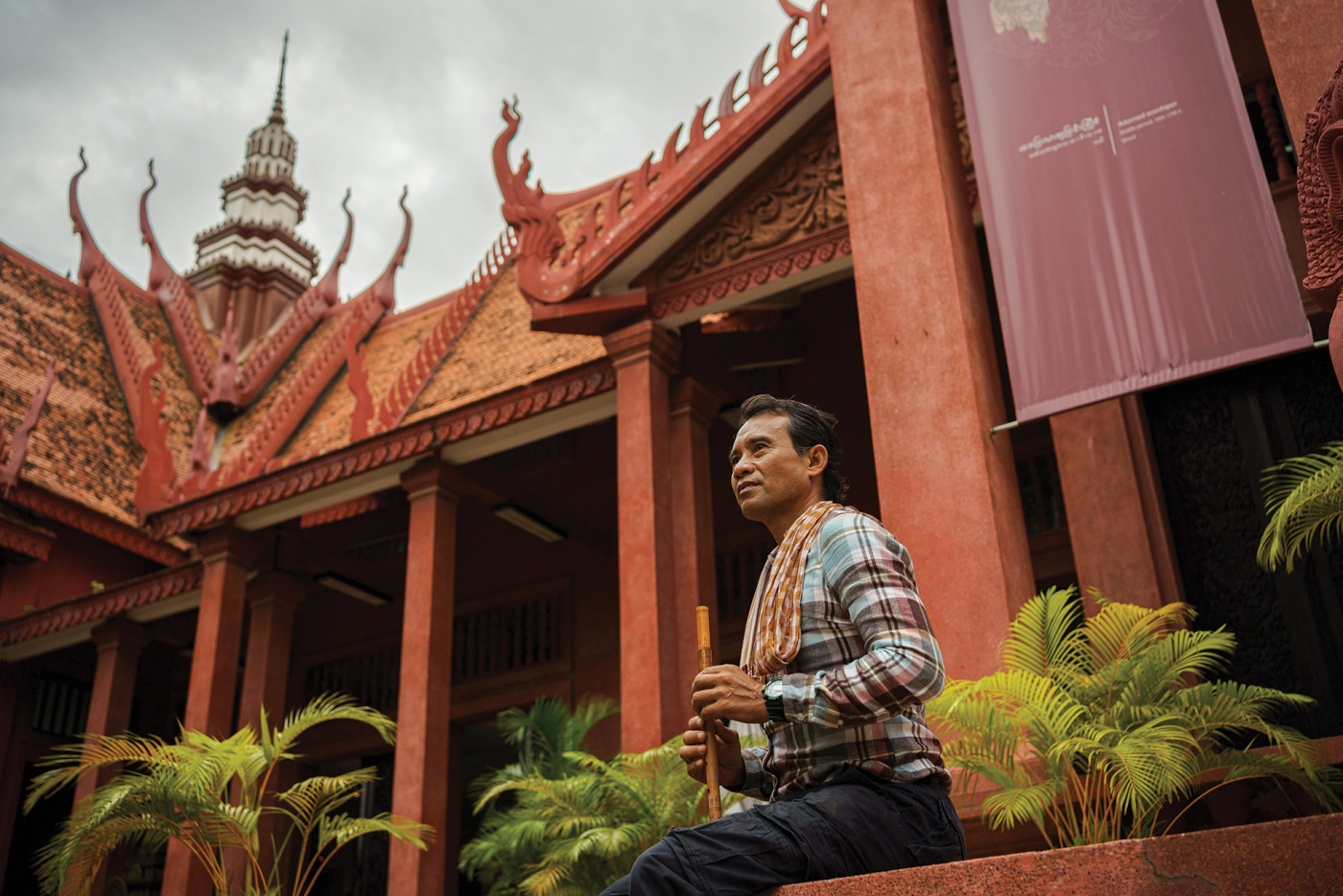 Yet during all his years living as an American, Chorn-Pond felt the need to reclaim his Cambodian identity. Moving back to Cambodia in the country's chaotic '90s, when the Khmer Rouge still controlled parts of the country, Chorn-Pond learned that almost all the country's performing artists had been annihilated. The few artists who survived were traumatized and fearful. Chorn-Pond found Youen Mek, one of the master musicians who had taught him how to play the flute all those years before. Youen was now one of the few Cambodian musicians alive who could play traditional instruments. But he no longer played music.
Moved by his old friend's situation, Chorn-Pond created the Master Performers Program to provide musicians with an opportunity to perform again and pass on their knowledge to a new generation. From this effort, the organization now known as Cambodian Living Arts emerged.
In the two decades since its founding, the organization has become the backbone of art in Cambodia, hosting countless festivals, training programs, fellowships and performances, and even bringing Cambodian dance, theater, and sounds to New York City for 2013's Season of Cambodia celebration.
Of all these feats, one of the most important for Chorn-Pond has been the Khmer Magic Music Bus program, which brings master musicians to perform at rural villages around the country.
In the early days, many children they played for had never seen or heard an instrument in real life, Chorn-Pond recalls. Their parents and grandparents, meanwhile, wept.
"After the concert, they would say, 'In my life, I had not hoped to hear this kind of music again, it reminded me of my wedding,'" Chorn-Pond says. "It just brings back their memories. And you want them to connect to their own story, to the past they want to forget. But that's not good, to forget about who you are."
On tour, Chorn-Pond even met his former Khmer Rouge commander. The man did not smile, Chorn-Pond recalled. But he listened to the music.
"He said, 'Why did you come back?' I told him, 'I want to see you again, you meant a lot to me,'" Chorn-Pond explains. "He'd seen me at the worst as a boy. But he can see a lot of goodness in me now. And that's for him, too, in order for him to feel that he can open windows in his heart. That's really the work of Cambodian Living Arts."
"We are capable of love," Chorn-Pond says. "We are all capable of doing that toward each other."
Jack Brook '19 is an editor at the Southeast Asia Globe in Phnom Penh. His writing has been published in the Christian Science Monitor, Jerusalem Post, Miami Herald, Marshall Project and other outlets.