Student Life
Academic Safe Space
Afghan scholars fleeing the Taliban's oppression of women find welcome at Brown
April 8th, 2022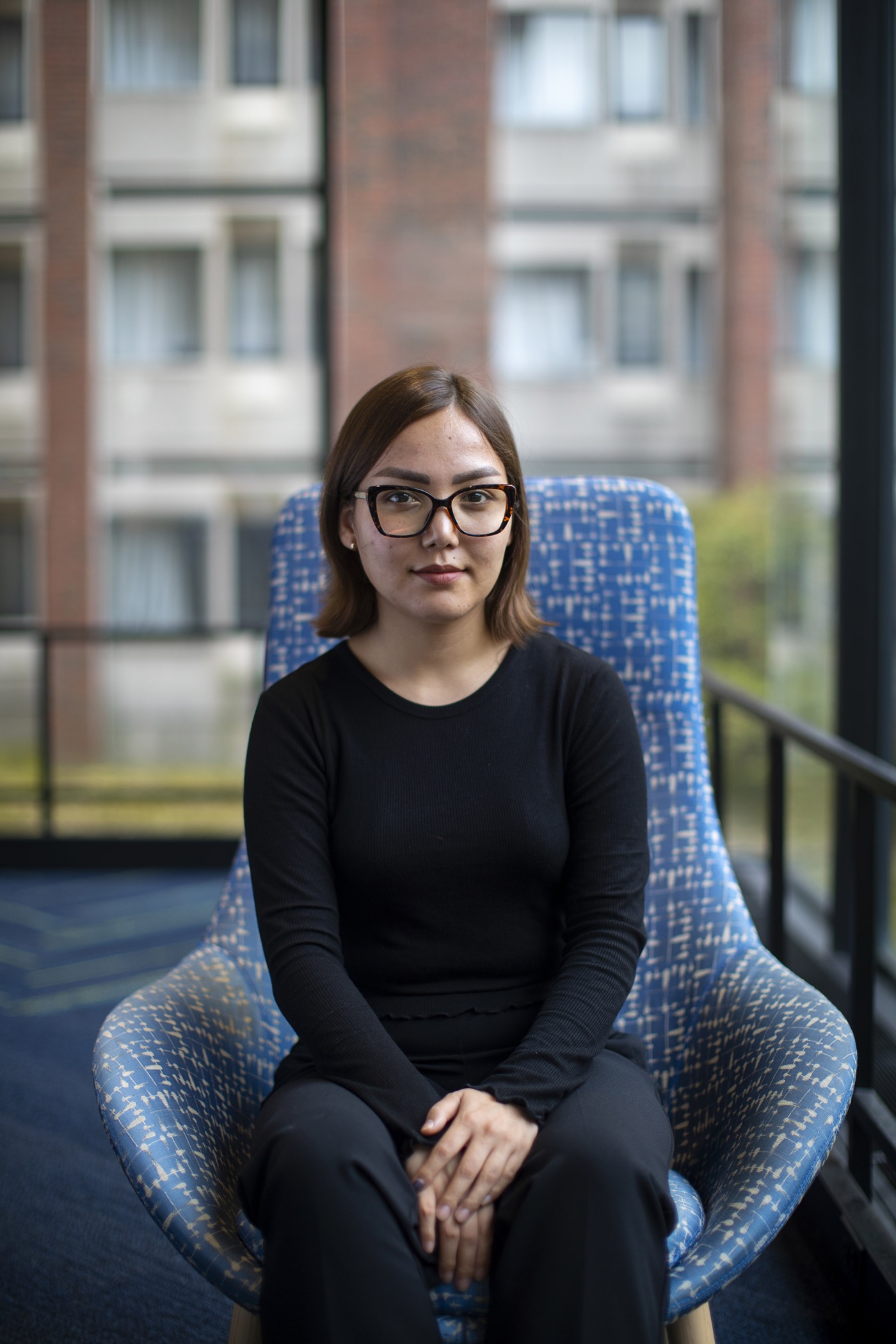 Maryam Khademi vividly remembers the day last August when the Taliban regained control of Afghanistan's capital. "I was at an office in Kabul," Khademi says. "My coworker called and said: 'The Taliban are coming. You have to pack your belongings and burn every document that you feel could put you in danger.'"
Khademi visited a bank to withdraw all of her money and faced crowds of people attempting to do the same. She didn't leave home for ten days after hearing reports that the Taliban were attacking women who didn't abide by their strict dress codes. On television, she watched as hordes of Afghans rushed to get into Kabul International Airport, the desperation ultimately leading to stampedes. She thought: How will I ever make it out?
She did, and now she and 14 other
young refugees from Afghanistan—most of whom had studied together at the Asian University for Women (AUW) in Bangladesh—are safely living in Brown dorms and studying politics, economics, and public health.
After watching the Taliban capture city after city, Provost Richard M. Locke convened colleagues from offices across Brown, including associate provost for global engagement Asabe Poloma, to identify ways the University could help. Thanks to that early work and a streamlined application process, Brown was one of the first American universities to admit displaced Afghan students. The University sent an email admitting a handful of students on Oct. 7, 2021.
Many organizations worked together to make this happen, but Dorcas International Institute of Rhode Island, with whom Brown has partnered for many decades, was especially crucial, Poloma says. The organization is sponsoring all 15 students while they're at Brown, forging crucial connections between the students and local Afghan and Persian families.

An Arduous Journey

Khademi was one of 148 Afghan nationals whose AUW studies were interrupted by the Taliban's abrupt return to power. "The Taliban were saying: 'You cannot go to school, you cannot continue education, you don't have the right to travel without a companion,'" says Zahra Fayeq, another AUW student now at Brown. "It felt like the end of the world for me. It is my goal to be an advocate for women in Afghanistan, but I can't achieve that goal if I can't go to school."
In the effort to leave Kabul last August, Fayeq, Khademi, and their classmates spent more than 30 hours circling the airport aboard buses, attempting to enter multiple gates only to be turned away every time. Fayeq heard gunfire ringing out through the city, some seemingly feet away from her bus. They were finally forced to leave the airport after Taliban guards threatened to shoot one of the bus drivers.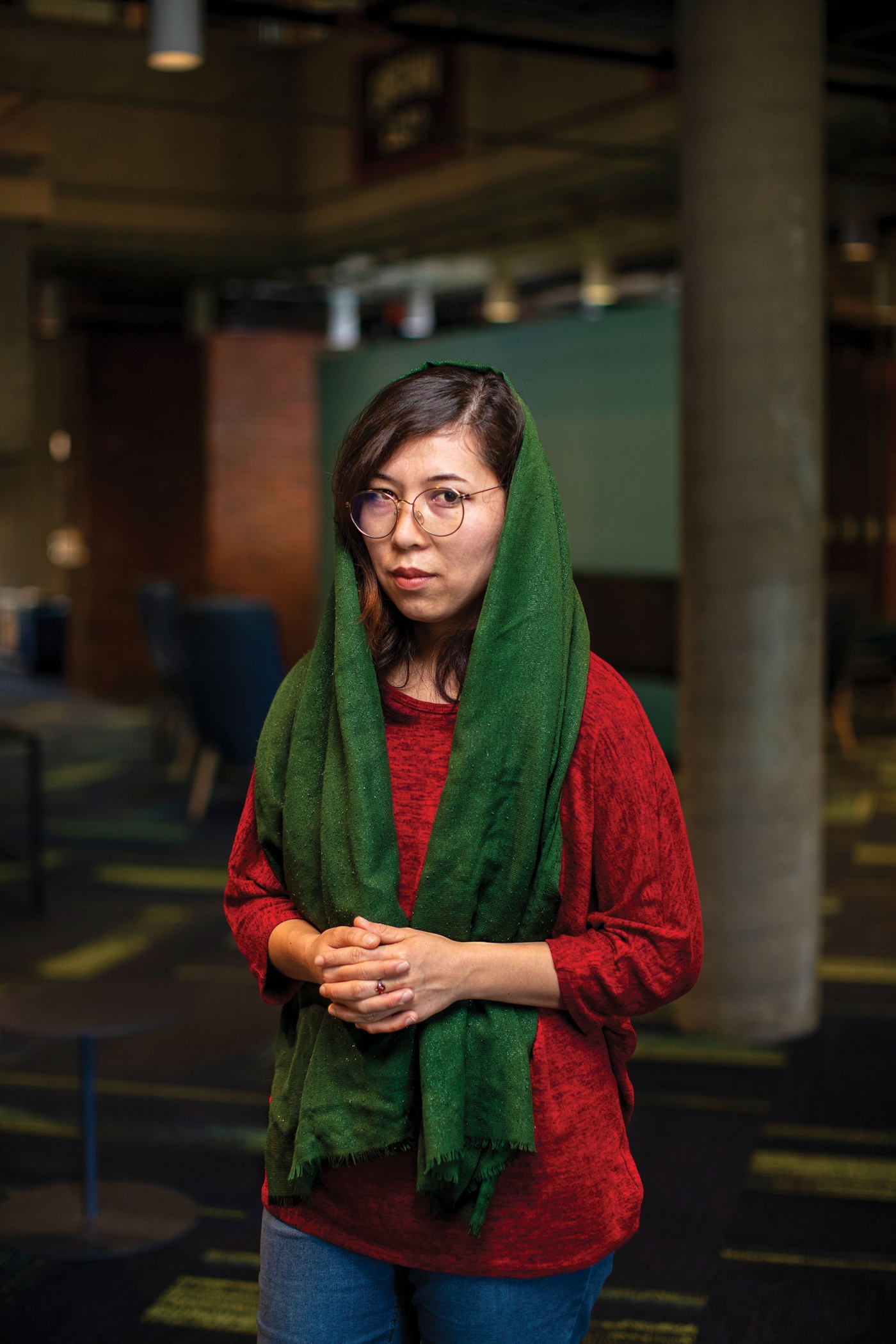 Finally, on Aug. 28, wearing hijabs and carrying only their passports, phones, and required documents, the students departed Kabul on a cargo plane, arriving five days later at Fort McCoy, a U.S. Army base in Wisconsin.
Fayeq says she grew up in a happy household with educated siblings and supportive parents, graduated at the top of her high school class, and was thriving at AUW. The Taliban takeover "was the most difficult experience I have ever had in my life," she says. "I was shocked for months when we first arrived in the U.S. What is this? What am I doing here? Where's my family? My heart was so heavy all the time."
Panetha Ott, director of international admissions at Brown, says as soon as AUW had sent the students' unofficial transcripts, her office worked through the night to create a mobile-friendly admission application that accommodated their unique circumstances. -:
By Oct. 20, fourteen students from AUW had accepted offers to come to Brown. A fifteenth student was admitted later. In early December, most of them arrived at T.F. Green International Airport, where Poloma and other colleagues awaited them with open arms and lots of snacks.
It was the first of many moments of kindness and generosity Fayeq says she has experienced. "On campus, I have not met even one person who doesn't want to help," Fayeq said. "If we ask for something, they'll just say, 'Yeah, of course.' I am filled with gratitude for everyone here."

A new beginning


The Global Brown Center for International Students helped host a robust orientation for the students, who, along with other courses, were enrolled in one course specifically designed for them: Perspectives in World Health, taught by Assistant Professor of Health Services, Policy, and Practice Nisha Trivedi. They will ultimately have the opportunity to apply to Brown or other schools as full-time students.
Like so many other Brown students, Fayeq and Khademi have plans to immerse themselves in multiple activities outside of the classroom. Fayeq wants to join a Taekwondo student group and attend weekly gatherings where students can practice Turkish and Spanish. Khademi hopes to meet more people through club basketball or swimming.
Both ultimately hope to advocate for women's rights to education and work in Afghanistan and to draw more attention to the country's marginalized Hazara community. For the moment, Fayeq, Khademi, and the other students in their cohort are focused on settling into a new home and staying in touch with their families more than 6,500 miles away. Their families, after all, are the reason their dreams are still achievable: Fayeq's father logged long days building houses to earn enough money to send her to school, and Khademi's parents chose work over education so their children didn't have to make that difficult choice.
"I thought about working a little before going to a university, but my parents told me, 'No, you don't want to lose this chance,'" Khademi says. "I want to do this for them."