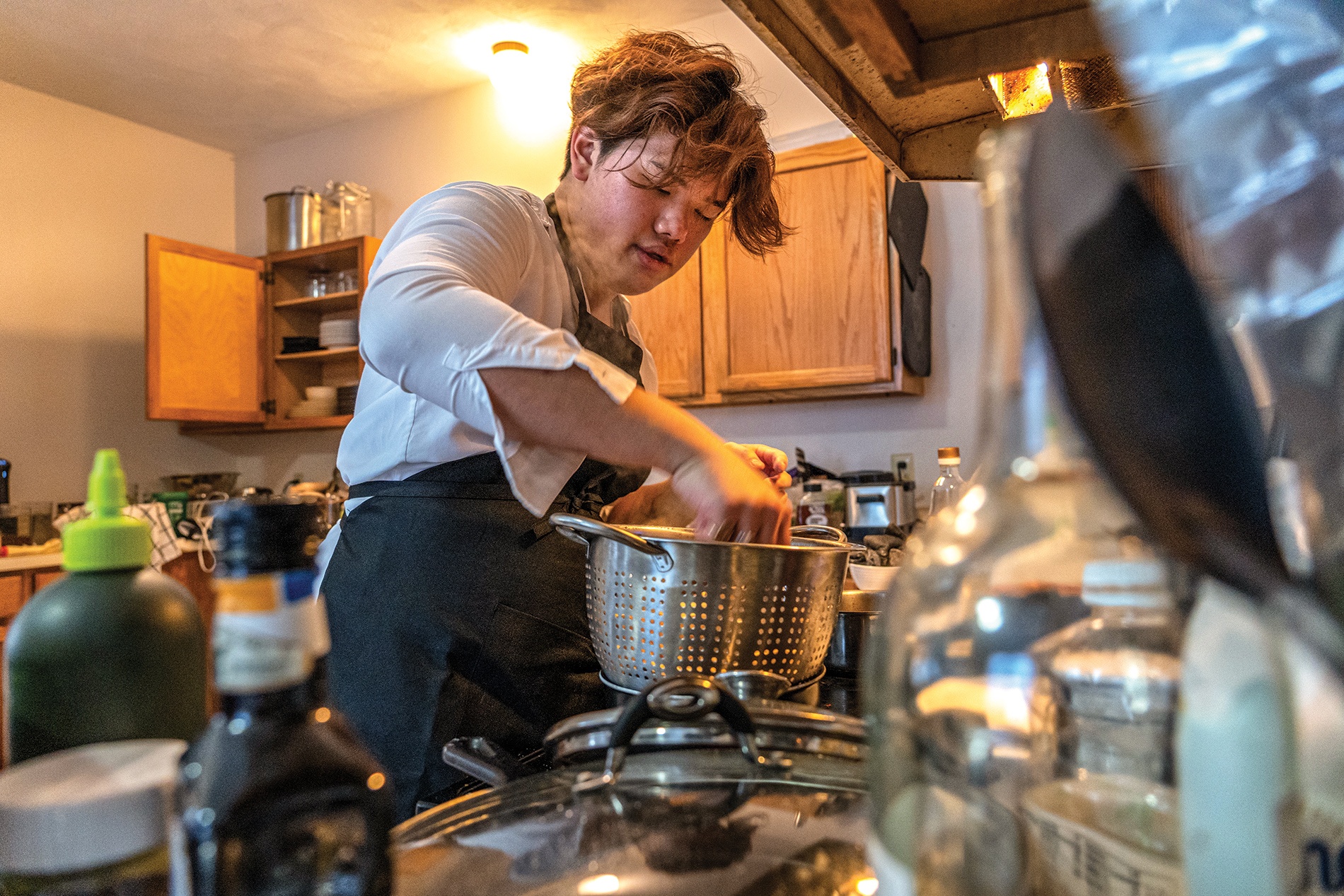 Business & Entrepreneurship
Pleather vs. Palate
A student supper club where menus are merveilleux, decor, not so much.
October 31st, 2022
The chef sets down your first course and recites its description in a posh accent. Coffee-brined chicken with confit beets, crispy onions, truffle-pea purée. He checks on the crème brûlée while you admire the plating. The choice of matte black ceramic was smart; the roasted lacquer of the chicken abutting a playful swoosh of bright green purée catches the light just right. It's almost too pretty to eat.
But the air of haute cuisine dissipates at the rim of the plate. Because the food is on a clothless metal side table, you're seated on a pleather couch, and the only lighting is the harsh white of fluorescents. Guess what? You're in the basement of Hegeman Hall.
Ryan Lum '23 runs an on-campus supper club with a simple tagline: the fine dining eating experience without the fine dining wallet experience. While he grew up in Malaysia, Lum attended high school in England. Living alone meant cooking for himself, and he quickly developed a passion for it. During his first two years at Brown, the applied math and music concentrator would occasionally cook for friends, but his ambitions quickly grew, leading him to start up Ryan's Supper Club in 2021. As the tagline suggests, its basic ethos is to provide fellow Brown students with fine dining that's significantly cheaper than nearby restaurants.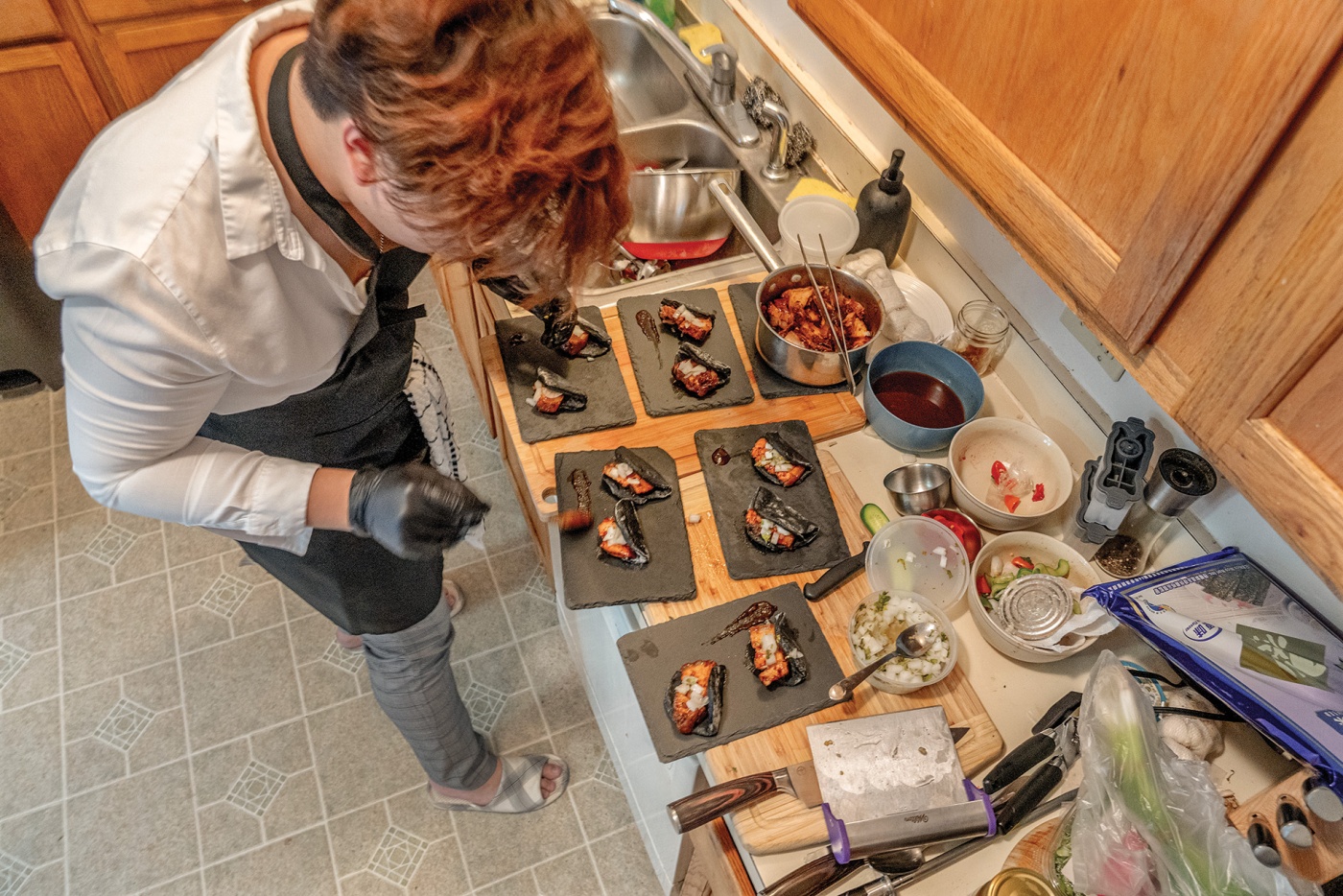 You book a dinner reservation by filling out a Google Form. There are typical questions like the number of guests and dietary restrictions, but you also get to choose your price point. The bill ranges from as low as $8 for a two course meal up to the indeterminate price of "baller." In any case, Lum makes no profit. Almost every dollar goes towards the ingredients, so cheaper dinners often rely on gussied-up staples like chicken and vegetables, while more expensive meals reach up to tuna steak and beef short rib.
Of course, meat doesn't have to be on the table, nor does any given ingredient since Lum tailors each menu to his guests. Emily Kim '22, who herself dined on the coffee-brined chicken, says that he was careful to heed her dislike towards mushrooms and tofu. Kim also has a sweet tooth, so Lum incorporated dessert into his supper club for the first time—honey and black pepper crème brûlée. Just to be sure, he always sends the menu before the Venmo request.
As for his sweet spot, Lum most enjoys cooking fusion food, combining Italian and Japanese or Korean and Spanish. "Fusion food can sometimes be looked down upon," he says. "I think there is a sort of craft to making it really delicious." Save for certain baked goods, Lum always comes up with his own recipes, finding joy in the creative process. Part of the goal is to push his diners' palates by introducing them to new flavors, and he also likes challenging himself to identify interesting combinations he's not worked with before.
The supper club now operates out of Lum's off-campus apartment and his appetite for greater gustatory pursuits continues to grow. He plans on expanding his suppers into four to six courses, and he wants to work in actual fine dining kitchens like Persimmon, a restaurant just two blocks south of campus. Newly 21, Lum is also experimenting with mixology and discovering how his established skills apply to the world of drink. For Lum, it will always come down to how the food makes others feel. Sometimes, he says, "they'll message me a few weeks later and be like, 'Hey, I'm still thinking about this dish you made for me....' That probably has to be my favorite part."