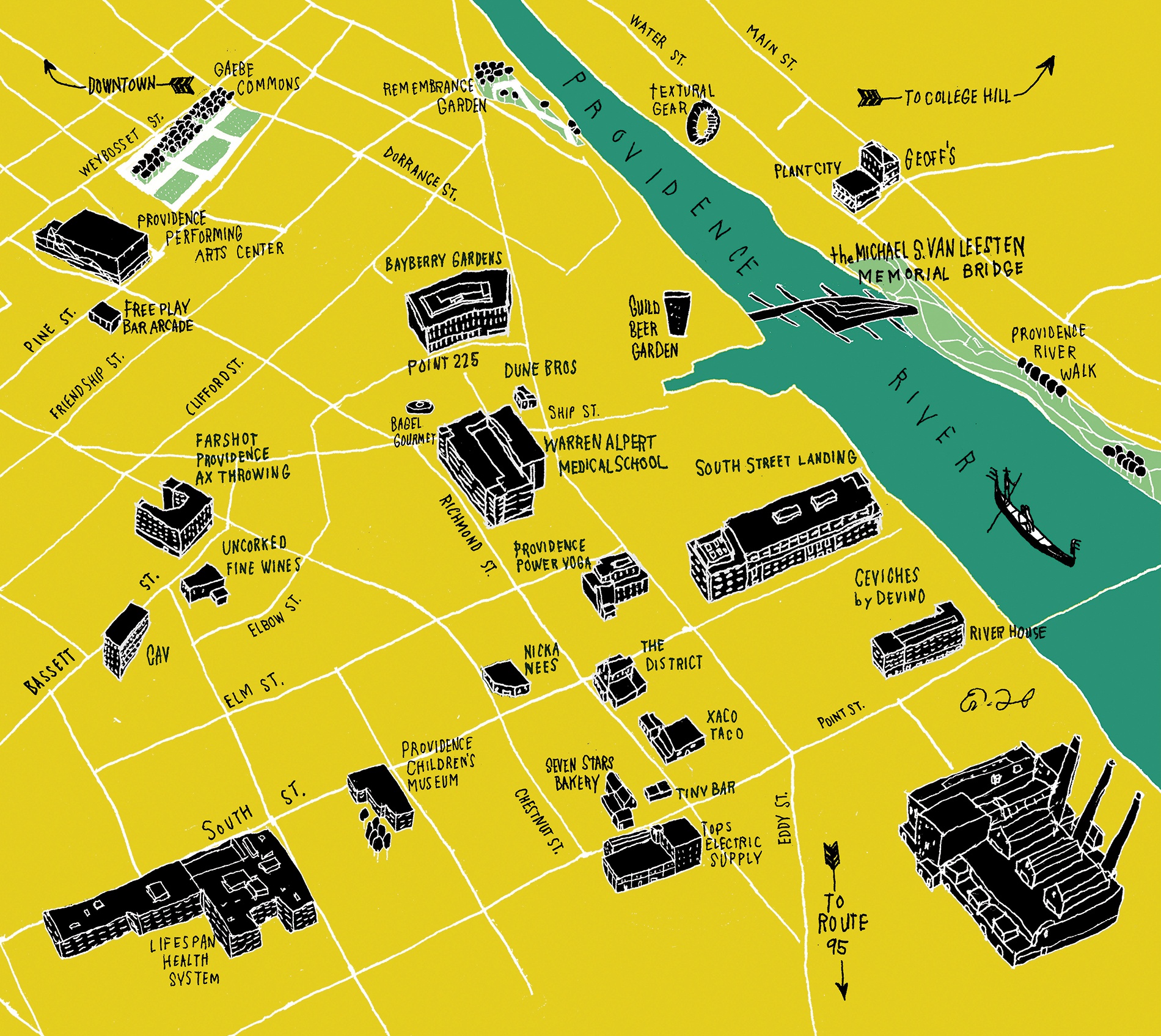 Humanities & Culture
Brilliant.
Providence's Jewelry District once supplied most of the nation's costume jewelry sparkle. Now it's home to some of the city's hottest new restaurants and bars—and a significant part of Brown's expanding campus.
April 14th, 2023
Walking down College Hill into "down-city" Providence used to be pretty dicey. Up through the '80s, you first had to dodge the cars in "Suicide Circle," the main way to cross into downtown. You'd make your way over the quarter-mile-wide Crawford Street Bridge—an expanse of concrete so large most people didn't realize that there was an actual river hidden under it. There wasn't much to find on the other side: The sidewalks largely rolled up at 5 p.m.
By the mid-'90s, urban renewal efforts had triggered Providence's renaissance. Redevelopers largely demolished Crawford, relinquishing the title of "world's widest bridge" and replacing it with cuter, narrower walkways. Gondolas shipped from Italy moseyed down the newly exposed Providence River, itself a tourist destination thanks to Waterfire, the ongoing public art installation launched in 1994 by Barnaby Evans '75. The backdrop of downtown Providence bustled, too, as you crossed from College Hill.
Walk to the left, however, towards the Point Street Bridge, and you'd find yourself in the former Jewelry District—until recently, a bit of a wrong turn. At its peak, Providence accounted for 80 percent of the nation's costume jewelry production, and more than a quarter of jewelry overall. But the construction of I-95 and I-195 in 1956 cut the roughly 100-acre district off from the rest of downtown, and the industrial area had been largely abandoned since the 1970s (see sidebar, p. 36). Brown students who had access to cars may have driven in for a few legendary establishments. Leo's, a restaurant/bar opened on Chestnut Street in 1974 by John Rector '71, dazzled with its full-wall murals by RISD alum Dan Gosch until its closing in 1994. Four blocks away, the now-iconic watering hole Nick-a-Nees arrived on South Street in 1996. And CAV, an eclectically decorated restaurant serving globally-minded fare, has been holding down the fort at 14 Imperial Place since 1989. But for the most part, the neighborhood was dead—and sometimes dangerous. BAM editor-publisher Pippa Jack will never forget getting mugged on one of the empty streets in 2010 as she walked to her car one sunny afternoon. For years, it seemed Providence's renaissance had passed the district by.
Then, in 2011, Providence relocated highways and reunited the Jewelry District with downtown. And with renewal efforts often spearheaded by Brown—whose investment in the neighborhood totals more than $341 million so far, with plans to invest another $35 million in the next three years—the Jewelry District has got its glimmer back. Today, it's home to hip restaurants, sparkly high-rise apartments, a bundle of redevelopment parcels dubbed the "Innovation and Design District"—many of the most prominent of which are the result of the University's public/private partnerships—and world-class research facilities that will soon include Brown's new integrated life sciences building, set to be completed by 2027.
So if you're back in PVD, we invite you to take a break from the Commencement crowds and stroll over the artful pedestrian bridge that opened in 2019 (enter near James and South Water streets) into the newest parts of Brown's campus. Take the edge off at any of the neighborhood's gems with a drink or a bite, deep breathing, or even axe-throwing—it's all here, and more.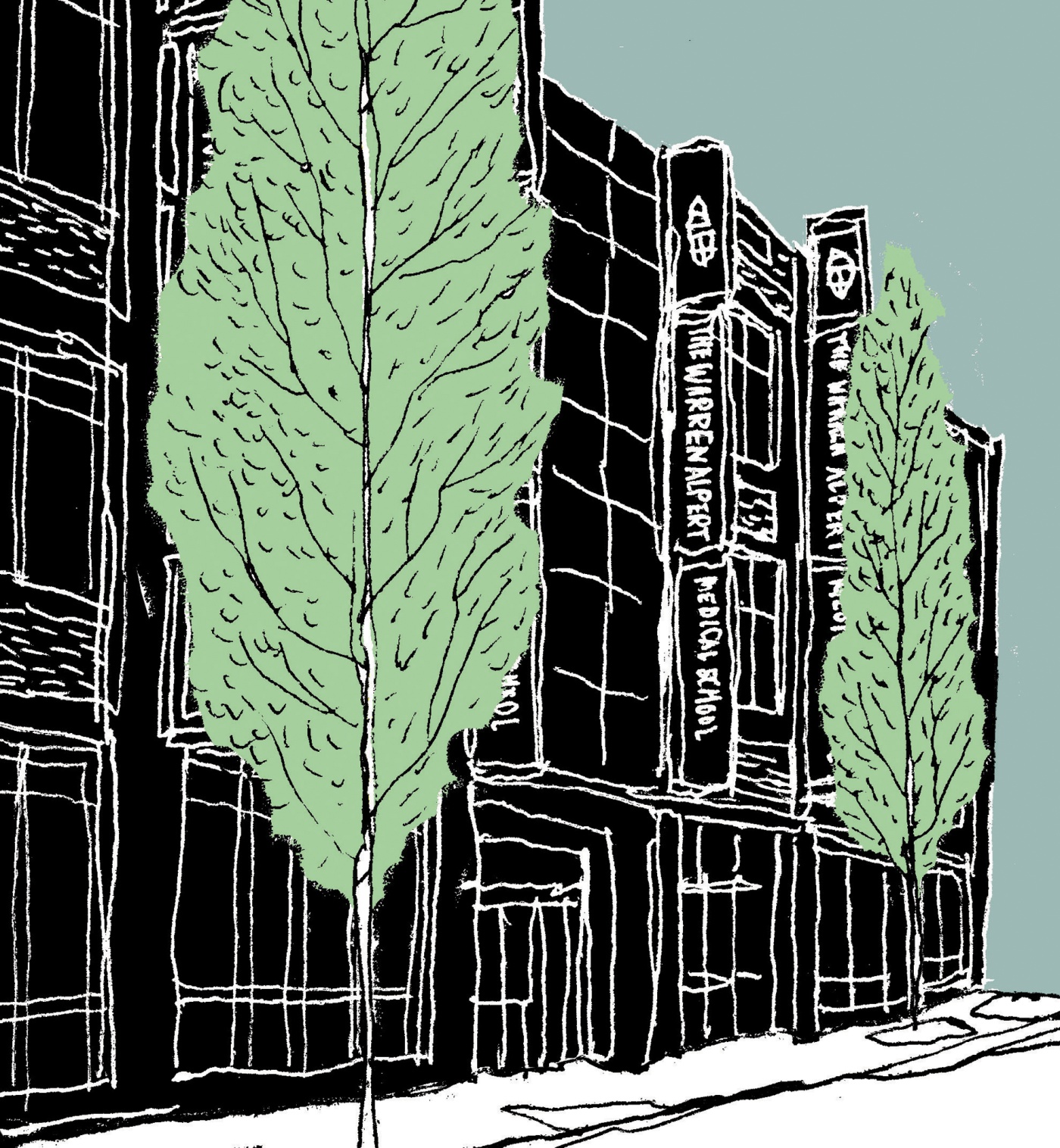 BROWN'S NEW ROOTS
The Warren Alpert Medical School
222 Richmond Street
This became Brown's first major foothold in the Jewelry District in 2011. The three floor,
Roman-brick structure was built in 1928 to house the Little Nemo Manufacturing Company, once the second largest jewelry maker in the nation. Like other nearby operations that gave the district its name, Little Nemo produced costume jewelry—necklaces, brooches, and earrings made from inexpensive metals and imitation gems. But by the '70s, jewelry production had largely made its way overseas. Little Nemo filed for bankruptcy in 1978 and the factory fell into disuse. Meanwhile Brown's facilities for medical and graduate programs had been at capacity for years, says Russell Carey, executive vice president for policy and planning. Relocating the Warren Alpert Medical School to the Little Nemo building meant its research and education could be ever more robust and ambitious, but it also meant that Little Nemo finally returned to being at the top of its field.
River House
1 Point Street
Planned by an out-of-state developer as luxury riverfront apartments, it's one of the few new residential buildings in the neighborhood. Brown bought the would-be "gentrification building" in 2021 for $75 million, and it's now a home almost exclusively for Brown graduate and medical students.
The Jewelry District is experiencing many of the usual trends of gentrification: rising rent, reduced crime, and a brand new Trader Joe's on nearby Wickenden Street. But gentrification's usual large-scale displacement of locals that are disproportionately low-income, immigrant, and BIPOC hasn't happened—because no one really lived in the Jewelry District. In fact, excluding River House, there were still fewer than 200 residential units in the neighborhood up until October of last year, says Steele, Jewelry District Association president. River House relieves student housing demand that many agree has driven gentrification in more established neighborhoods such as nearby Fox Point—and because Brown is honoring a prior agreement between the developer and the city, River House will stay on Providence's tax rolls.
Are apartments like River House what the Jewelry District needs to become a true live/work neighborhood? It's a debate with no clear answer and—with developments like Fane Tower sailing in from the horizon (see Buried Treasure sidebar)—no clear end.
South Street Landing
350 Eddy Street
Even as the Jewelry District enjoys its renaissance—and despite 10 years during which the city has marketed the land freed up by the highway relocation as prime development space—7 acres remain unsold. So perhaps it's no surprise that Brown's name is attached to many of the Jewelry District's most prominent success stories. Take South Street Landing, an old power plant abandoned in the 1990s. "Nobody ever thought that it could ever be anything other than an anchor on somebody's head, and they would be dragged into the sea," says Sharon Steele, president of the Jewelry District Association. Revitalization ideas such as a museum and boutique hotel fell through, until Boston-based CV Properties drafted a plan with Brown as its anchor tenant, along with the University of Rhode Island and Rhode Island College's nursing schools. South Street Landing now houses nearly a dozen Brown administrative units, including the Brown Alumni Magazine, and for its transformation it won the National Trust for Historic Preservation's 2019 National Preservation Award.


Point225
225 Dyer Street
A few blocks north is another building that Steele hails as "a jewel in the district." Often referred to by the name of its developer—Wexford—the building houses Brown's School of Professional Studies and Division of Pre-College and Undergraduate Programs, and will soon house new wet labs for life sciences research, alongside commercial spaces of all kinds including a restaurant (see Bayberry Garden, p.34). Importantly for Providence, both South Street Landing and Point225 generate tax income.
New Life Sciences Spaces
Throughout the district
Last year, Brown released plans to greatly expand its research enterprise—and to create the lab space to make that possible. One prong is a commitment to lease 20,000 square feet in a new public health lab building, close to the Medical School at the intersection of Clifford and Richmond. Even more space will follow when Brown builds its new integrated life sciences building, also in the Jewelry District—the site for that has yet to be selected, but architects have been hired and charged with creating spaces that will be suitable for biology, medicine, brain science, bioengineering, and public health, now and into the future. They've also been charged with ensuring the building will be environmentally sustainable and align with Brown's commitment to reduce campus greenhouse gas emissions to net-zero by 2040.
Meanwhile Brown is also hoping to help attract and catalyze biotech entrepreneurism, including faculty start-ups, through the Nelson Center for Entrepreneurship and Brown Technology Innovations. Steele considers Brown's investments in the district a "dream come true," summarizing their impact: "It means brilliant people from all over the world relocating here. It means that it will be the preeminent location of the most important research and development in medicine."

GET THERE
Providence Pedestrian Bridge
S. Water Street at James Street
Step off College Hill and into the Jewelry District via this elegantly curved bridge over the Providence River. Completed in August 2019, the Michael S. Van Leesten Memorial Bridge—covered in Wana wood, a hardwood used in boat-building, as a nod to the city's seafaring past—links two new waterfront parks. On one side of the bridge, revisit a College Hill classic, Geoff's sandwiches (401 S. Main St.), relocated from Benefit Street, or try the new vegan emporium Plant City (334 S. Water St., www.plantcitypvd.com. In the park on the other side, from May to October, Wed.-Sun evenings, you'll find the Guild outdoor beer garden (200 Dyer St., theguildpvd.com).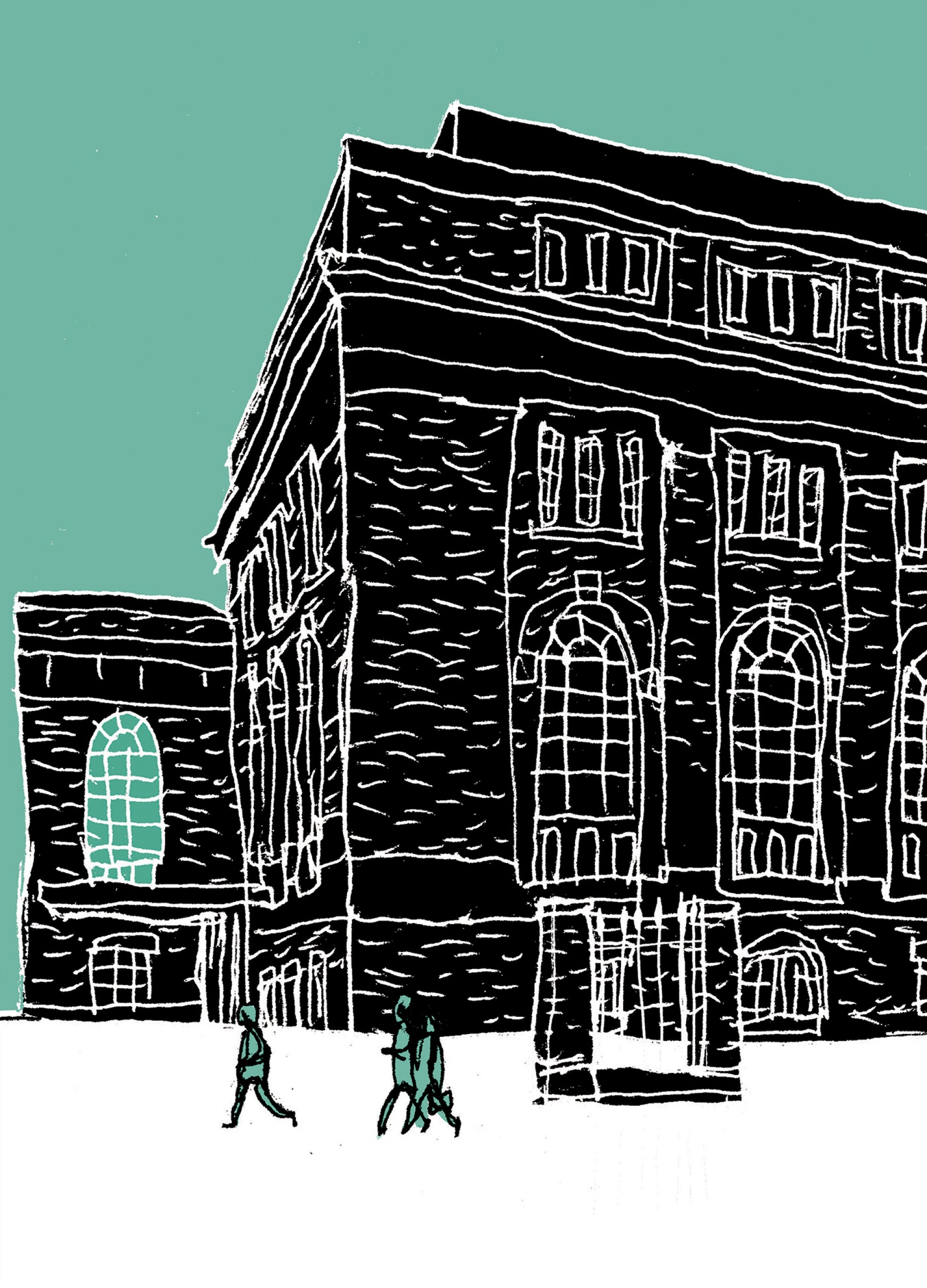 FUEL UP
Bayberry Garden
225 Dyer Street
Among the trees growing out of the floor in Bayberry Garden, bright spots within its numerous menu programs shine. The long bone short rib is a dinner staple (offered a la carte or in a tasting menu); casual patio vittles are flame-kissed on the outdoor grill; and any weekend brunch plate jives with an extra thick, impossibly crisp hashbrown. Housed in the same building as the Equity Institute and Brown's School of Professional Studies, Bayberry Garden is Tom and Natalie Dennen's second dining venture. In finding an up and coming location for their beer hall's sister restaurant, the Jewelry District was a no-brainer. The joint aims to serve its academic neighbors. It puts up a lunch program just for graduation season, and large groups can make an indoor or outdoor "garden party" reservation for a family-style barbecue or seafood boil. Just don't leave without a few oysters off the raw bar, or an ostreida martini featuring Bayberry-exclusive oyster vodka from Industrious Spirit Company, the first in the country to incorporate fresh oysters during the actual distillation. Bayberrygarden.com, (401) 842-5013.
Ceviches by Divino
11 Point Street
Opened just last July, Ceviches by Divino's menu centered on the Peruvian cold seafood dish is perfect for fanning off during summer's dog days. Johnson & Wales graduate Alí Alejandro Quero helms the first location outside of Florida for the Divino franchise owned by Frank, Richard, and Christian Encalada. The industrial gastropub nestles in the first floor of River House, bringing everything about the Miami vibe up to Providence except the coastline (sub that for views of the Providence River and the city's Fox Point Hurricane Barrier). Quero says that in the city's "most dynamic area," Brown has been a supportive landlord. Beyond ceviche (they range from traditional lime and chili-marinated fish to vegetarian and soy-ginger spins), Quero recommends placing an order of lomo saltado, a stir-fry of beef, onions, tomatoes, and French fried potatoes over white rice. Another highlight of traditional Peruvian fare? Pisco, an unaged brandy quintessential to the country's drinking culture. Ceviches by Divino's unique cocktail menu includes the pisco sour and other classic cocktails like mojitos and Moscow mules with a pisco twist. On Monday nights, hospitality workers get a pisco drink on the house. Cevichesbydivino.com, (401) 281-8130.
CAV
14 Imperial Place
The name (it's pronounced "cahv") stands for Cocktails, Antiques, Victuals, and indeed the colorful art and antiques that pack the dining rooms set an atmospheric tone at this venerable staple, a favorite for both casual dining and private parties. You can't miss the centerpiece of the main dining room, a gorgeous 19th century mahogany bar that once anchored Pete's Tavern in NYC, where O. Henry is reputed to have written much of Gift of the Magi. The menus, including Saturday and Sunday brunch, hew to upscale new American; there's (tastefully chill) live music some nights. Cavrestaurant.com, (401) 751-9164.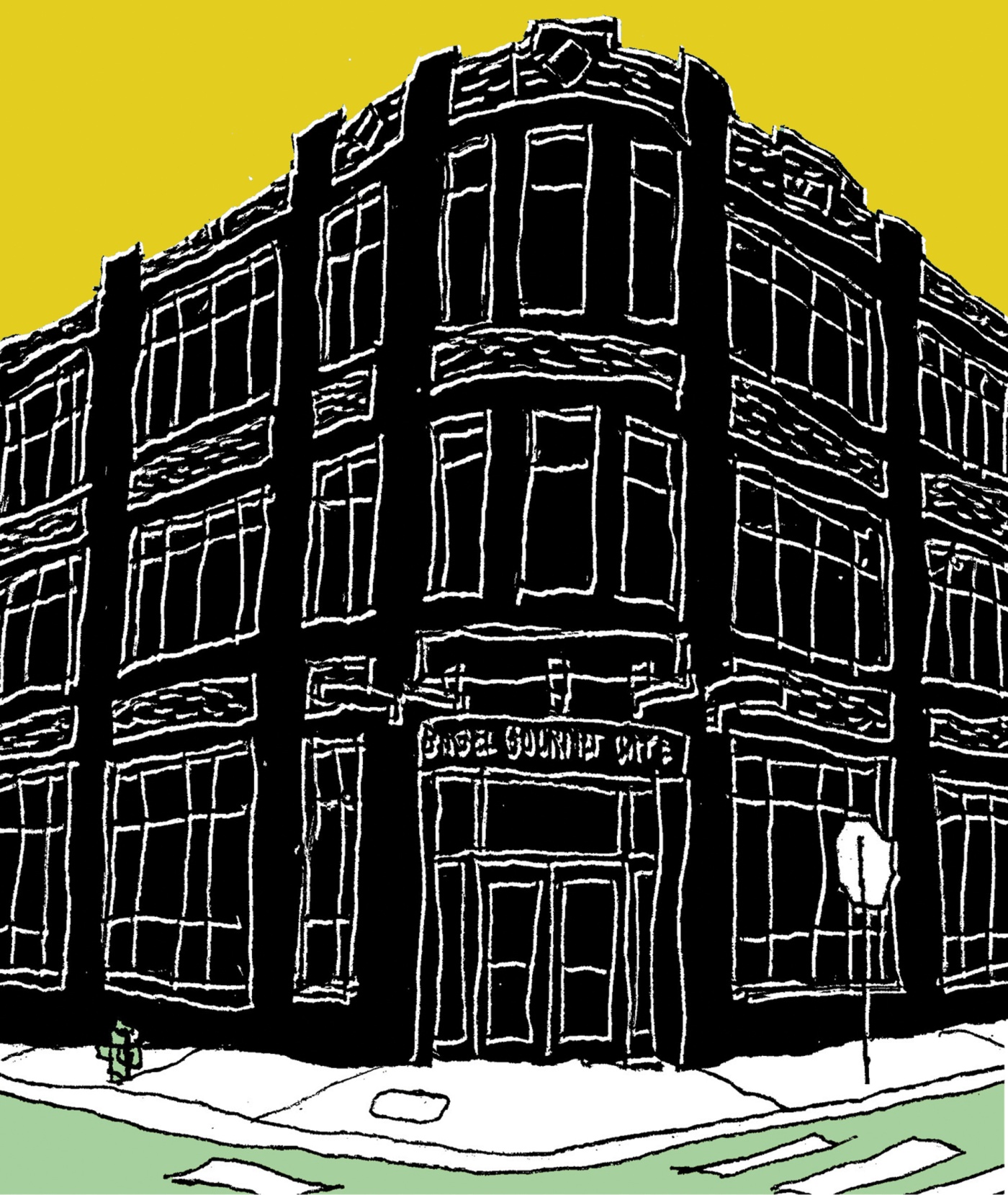 The District
54 South Street
Located next door to Xaco Taco and just down the street from Tiny Bar, this small restaurant is part of the newly burgeoning Richmond Street scene, spilling onto sidewalk tables installed during the pandemic that now appear here to stay. A perennial winner in local pizza rankings, the kitchen boasts a wood-fired oven and produces dependable, elevated takes on bar food that can probably keep everyone in your party happy—think burgers, jazzed up tater tots, fig and prosciutto pizza, big salads with or without grilled chicken or salmon, and a homemade skillet cookie sundae. Thedistrictri.com, (401) 421-0050.
Xaco Taco
370 Richmond Street
A fresh take on Mexican street food, including house-made tortillas and spicy, lightly pickled veggies (they come in an adorable little mason jar), as well as the expected beers and margaritas and a cavernous, unfussy, no-reservations-accepted space make this place a go-to. Huge south-facing garage-door windows and basic front patio seating mean there's always room in the sun—in fact, if you're dining outdoors, you may want to get there early to snag a seat in the shade. Vegan and vegetarian options; $2 tacos 3-5 p.m.; $54 family-style to-go meals for 4-6 people. Xacotacori.com, (401) 228-8286.
Dune Brothers
239 Dyer Street
You order at the window and eat at picnic tables at this fish shack, open in warmer months, and the menu is tiny and mostly fried, but never mind all that—the owners aren't joking when they say they take a "chef-driven, dock-to-dish approach." Nostalgic for the local shore diners of their youth, they offer three kinds of traceable fish and chips—pollock, Cape shark, or a mess of bait fish—all fried in beef fat and served with tartar and lemon. There are sandwiches including a lobster roll—don't leave Rhode Island without having one somewhere, and this one is as good as you'll find at the fishing ports—and, of course, the unofficial state dish: clam cakes and chowdah. Dunebrothers.com, (401) 480-1269.
Bagel Gourmet
222 Richmond Street
Remember Bagel Gourmet on Brook Street? Brown's latest dorm project displaced them, but they already had a foothold in the Jewelry District, serving the med school and local offices—including the BAM. The "old school" style "best bagels in Rhode Island"—boiled, then baked fresh every morning—are still there, and they've added sandwiches, salads, burritos, pizza, and more. Bagelgourmetcafe.com, (401) 454-8800.


CHILL OUT
Nick-a-Nees
75 South Street
Dubbed "Rhode Island's favorite dive bar," Nick-a-Nees is 27—older than you were when you first went there. You can still find live bands, an excellent jukebox, and a menu that includes stuffies, Rhode Island's famous stuffed quahogs. Patio seating in warm weather. bluegrassthroedown.com/nick-a-nees, (401) 861-7290.
Free Play Bar Arcade
182 Pine Street
Feeling young at heart after your time on campus? Continue the vibe at this 21+ playground with more than 100 arcade games, plus classic pinball, Stern Insider connected pinball, skee ball and more. Drink menus nearly as long as the games menu offer a deep selection of beers, ciders, and hard seltzers (48) and imaginative cocktails (17)—plus there's a short pizza menu (5). Priorities! DJ Mario spins '80s, '90s, and 2K hits every Friday and Saturday nights. Other nightclubs such as Askew and Alchemy and gay bars Ego and Mirabar (open since 1947!) are all within a few blocks. freeplaybar.com.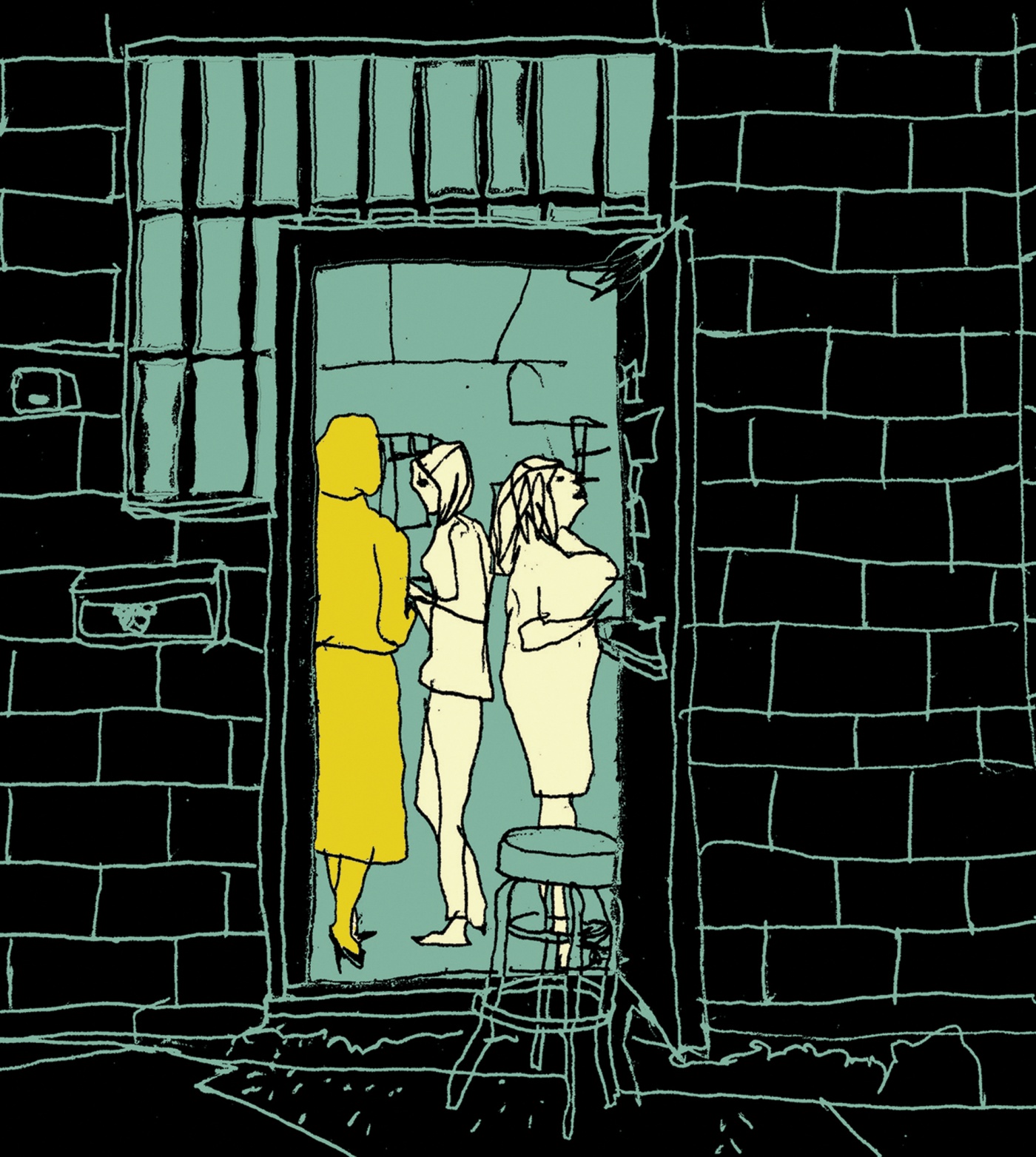 Providence Children's Museum
100 South Street
The nonprofit was a pioneer in the Jewelry District, moving to a 17,000-square-foot former factory in the 1990s and attracting crowds to its interactive exhibits ever since. Aimed at children ages 1 to 11—accompanied by adults—attractions include Toddler's Try-It, Children's Theater, and an Innovation Lab. If you're visiting or traveling with children, there's no better rainy-day pastime. Open Wed.-Sun, admission $14 (infants free). Providencechildrensmuseum.org, (401) 273-5437.
Providence Power Yoga
365 Eddy Street
Unkink from all those Commencement/Reunion handshakes and hugs at this popular yoga studio with two locations in the Jewelry District. Their Eddy Street location is the biggest and has a shower. There are classes all day long, but be sure to book in advance. Providencepoweryoga.com, (401) 273-3500, $22 drop-in, yoga mat or towel rental $3.
Tiny Bar
377 Richmond Street
Tiny Bar is exactly as it sounds; the indoor space seats eight. Owner Joanne Chang purchased the former Olga's Cup and Saucer property in 2017, and while she has leased much of the real estate for Seven Stars Bakery's fifth location (a must stop for lemon cakes and almond croissants), she's kept just enough room to operate one of Providence's best cocktail bars in a fraction of the normal space. The liquor shelves—which run the entire width of the building—are stocked with local distillers like Rhodium, Sons of Liberty, and Bully Boy. Don't worry about squeezing in, though. Ample patio seating is available year-round. The menu changes every few months, but Chang advises to start off with the purple jewel in the crown—the tequila-based Amethyst, which pairs lemon bitters and crème de violette with fresh sprigs from South Kingstown's Lavender Waves Farm. It's a perfect sip between chatting with old friends and admiring the rotating mural and sculptures. Chang knows that Brown community members form a big part of her clientele, and she says it's a "privilege to take part in [their] stories." tinybarpvd.com.
Uncorked Fine Wines
10 Hospital Street
A wine tasting area and weekend patio bar serving tapas distinguish this liquor store, which opened in 2021 and advertises its stock of specialty liquors as well as wines—check out its French selection—and craft beers. City-wide delivery. Uncorkedpvd.com, (401) 415-5975.
Far Shot Axe Throwing
95 Chestnut Street
Did you just run into your ex, your campus nemesis, or that former roommate who took off with your favorite [fill in the blank]? Never fear. At this just-opened location of the popular chain Far Shot, you can drink alcohol, throw axes and knives, and shoot arrows until 1 a.m. Doesn't that feel better? Two drink maximum while throwing sharp objects. They do not recommend bringing children under 12. farshot.net/axe-throwing-providence-ri, (844) 750-0118.
Ethan Pan '22 writes about food and drink. His work has appeared in 5280, among other publications.