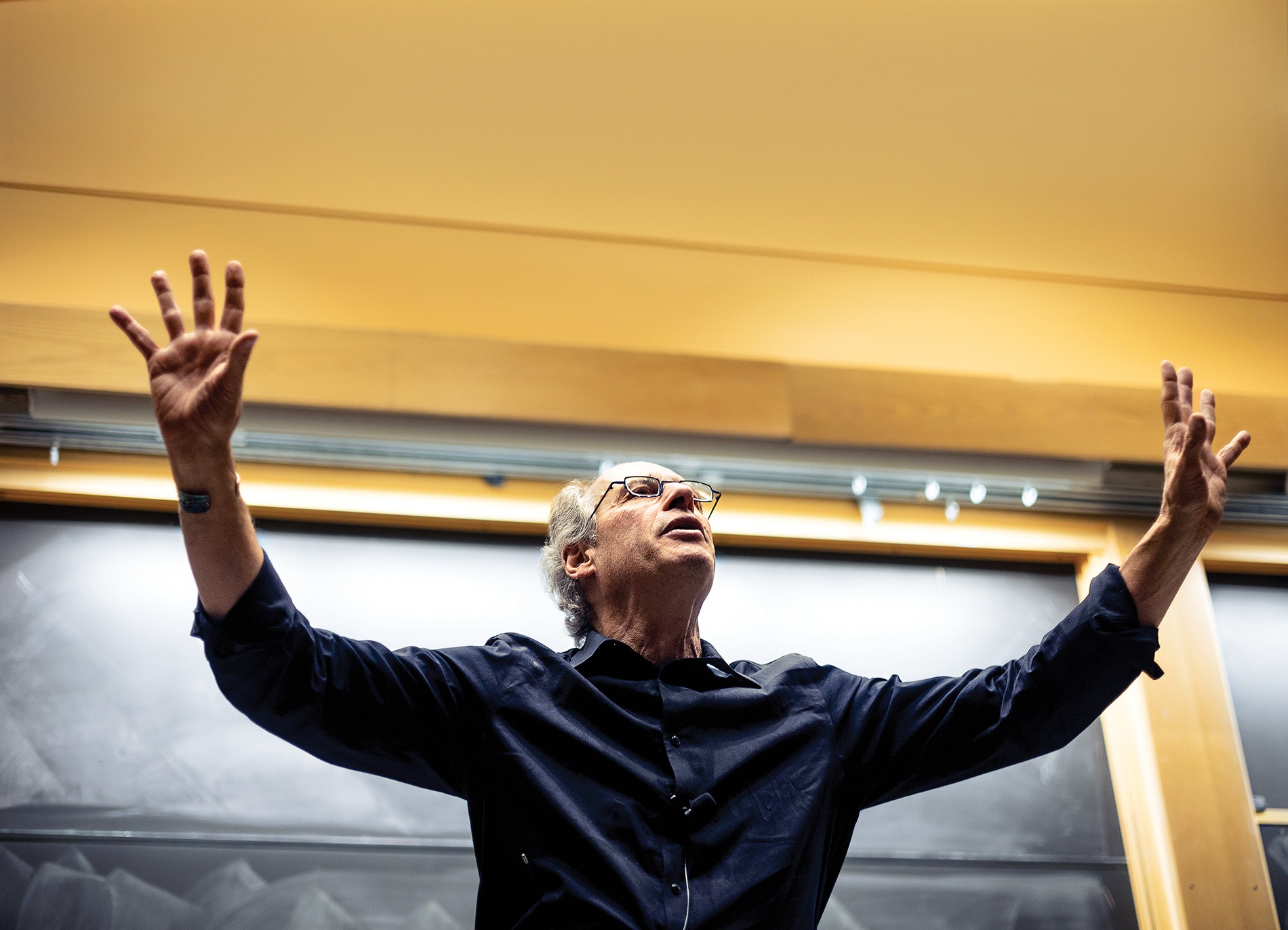 Education
"The Guy Who Teaches City Politics"
Professor James Morone on 40 years of teaching a course that's become a Brown classic.
June 20th, 2023
One weekday in 1982, James Morone ventured into the basement of Maxcy Hall, struggling to see the chair of the University's urban studies department through a heavy cloud of cigarette smoke. Morone had come to convince the chair to hire him for a teaching position in political science and urban studies, despite never having earned a graduate degree in the latter.
He had also come to resolve a misunderstanding about a recommendation letter he'd submitted, explaining to the department chair that the letter was from Brian Barry, a professor of philosophy and political science at the University of Chicago—not Brian Berry, a famed professor of urban geography, also at the University of Chicago.
"He looks at me through the smoke and starts to laugh," Morone recalls. "And he goes, 'Oh my God, we're gonna hire the wrong f*cking guy.' "
Today, Morone is Brown's John Hazen White Professor of Public Policy and a professor of political science and urban studies noted for work exploring health politics and policy, as well as popular participation and morality in American politics. He previously served as chair of the University's political science department, director of the public policy program, and chair of the faculty executive committee. He says this could be his last semester of teaching—he plans to retire in the "near future."
Morone says that the department chair agreed to hire him 40-plus years ago on the condition that he promise to bring the enrollment of a class called Introduction to Urban Politics from 25 students to 100. By Morone's third year teaching the course, he was lecturing to a crowd of about 150 students. The next year, enrollment hit 350, he says. Eventually, he capped enrollment at 500. This semester, 226 students took it.
Morone has taught the course, now known as POLS0220: City Politics, since 1982. Back then, "I had a huge advantage in preparing the course because I knew nothing about the subject," Morone says. "Everything I read, I read through my students' eyes."
City Politics explores how cities create governance in different national political contexts, diving into both institutional and cultural perspectives, Morone explains. Toby Arment '23, a class teaching assistant, outlines how it explores historical eras marked by urban revolution: the rise of cities, the development of political machines in cities, the rise of progressive reformers, and how that history has shaped city politics today. Course materials explore the corruption and racial injustice embedded in urban politics.
Arment took Morone's class as a first-year and ultimately decided to concentrate in urban studies. For him, the course shed light upon the inner workings of American democracy.
"There was something transcendent and dreamlike about coming of age politically in a moment of hope," Morone says. "That spirit of wonder about possibility and reform never left me."

"You begin to understand why it is so hard to get anything done in America," Arment says, "but also, the idea that no matter who you are, no matter how much power you have, you can always have a voice in politics."
Morone, who was born in Brazil and moved to New York at nine years old, says he "watched the classic civil rights movement unfold" in his first years in the U.S., which were marked by the March on Washington and Martin Luther King Jr.'s "I Have a Dream" speech.
"There was something transcendent and dreamlike about coming of age politically in a moment of hope," Morone says. "That spirit of wonder about possibility and reform never left me."
Dietrich Neumann, professor of history of art and architecture, says Morone's "colloquial but erudite style" is what attracts students to his classes.
"I always thought that Jim Morone had an extraordinary, truly outstanding talent as a speaker and lecturer," he says. "He managed to interest hundreds of students in urban politics and help them understand how our cities work."
For Howard Chudacoff, professor of history and American studies, Morone proved himself "a prolific scholar" the moment he arrived at the University. "He has been one of the most popular and influential teachers I have known," Chudacoff wrote in an email to the Brown Daily Herald.
Morone often walks up and down the aisles of his large lecture class and cold calls on students to keep them engaged. "It's that unique experience where you take a large lecture class but it feels like a seminar," Arment says. "No one is going to be dozing off in the back of this lecture."
Over the years, former students have gone on to hold political office themselves. Morone recalls meeting one when he addressed the new members of Congress in 2008.
"He comes up to me and says, 'Professor, remember me?' " Morone says. "He was telling the other members, 'Watch out because this guy will cold call on you.' "
As Morone looks ahead to his retirement, he admits that the thought of parting ways with City Politics is "a little scary."
"My identity has been so wrapped up in being 'the guy who teaches City Politics,' " he says. "I've written 12 books. They've won awards. But still … I'm 'the guy who teaches City Politics,' and I have to give up that identity."
While he currently has no definite plans for retirement, Morone intends on writing more books and living abroad at both Oxford University and Paris. "I love to [teach this class]," he says. But "there are things I haven't done that I want to do, and if I don't do them now, I'll never do them."
Morone says that he hopes his students walk away from City Politics with both knowledge of, and a renewed sense of hope in, the American political process.
"Brown students across the political spectrum tend to want to make a difference," Morone says. "They want to understand the reasons … for despair, but not to give in to it—to believe that it can be transcended by extraordinary people at extraordinary times."
"That's my pact with the students, to give them that," Morone says. "That's the Brown dream."
---
This story first appeared in the Brown Daily Herald on March 14, 2023, and is reprinted by permission.