GS Class of 2016
Apr, 2023
Tengteng Chen '16 AM, '20 PhD is a postdoc scholar in Prof. Wei Xiong's group in the department of chemistry and biochemistry at UC San Diego. Tengteng writes: "I just got a paper accepted for publication in Science Magazine and I am listed as the first author. You can view the paper at science.org/doi/full/10.1126/science.add0276." Contact Tengteng at tengteng_chen@alumni.brown.edu.
Jan, 2023
Tengteng Chen '16 AM, '20 PhD, is the first author on a paper accepted for publication in Science Magazine. This is proof of a Brown alum continuing to contribute to the large scientific community and society. Contact Tengteng at (401) 441-4241.
Nov, 2022
Janine Melvin married her high school sweetheart, Nick Quarantillo, on their 11th anniversary, November 16, 2019. The celebration took place at Oakmont Country Club in Pittsburgh, PA, and was attended by: Lawrence (Jay) Davis Jr. '15; Ade Oyalowo '18 ScM, '21 PhD; Maegan Sloggett; Erica Kahn '16 ScM; Meghan Wenzel; Kelsey Hom '15; Jessica Cherness '15; and Margot Harris '15.
Jan, 2022
Olivia Mansion '16 AM writes "I have a master's in English education and cross-cultural studies. I cofounded Fairgrounds St. Pete, an immersive arts and technology experience in St. Pete, Florida. We were featured in Tampa Magazine, you can read it here: https://tampamagazines.com/fair-play/. A few fun facts about Fairgrounds St. Pete: The 15,000-square-foot Meow Wolf–style choose-your-own-adventure experience is the first of its kind in Tampa Bay. We commissioned more than 60 artists and technologists during 2020 and the COVID-19 pandemic to create the entirely artist-made environment. Fairgrounds St. Pete is elevating arts entertainment by breaking down barriers between the viewers, technology, and the art. Check out this video to learn more https://fairgrounds.art/ (See story, page 42.)"
Nov, 2021
The Reformers
Four young Brown alums are working to make the Ocean State a better place for working-class people.
Read More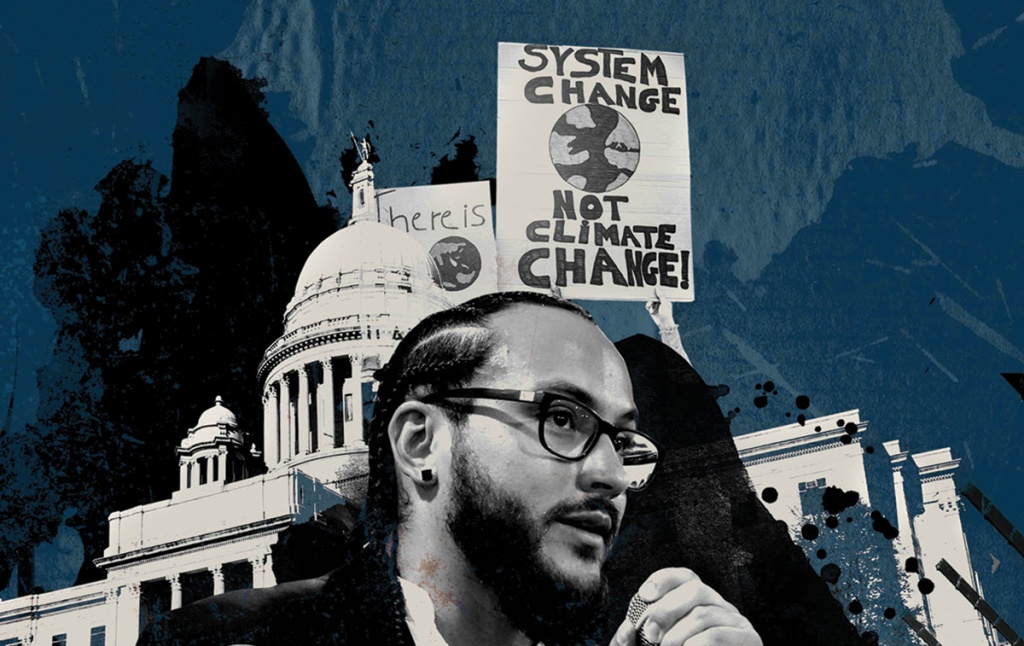 Aug, 2021
Untold Stories
The songs of Julian Saporiti '17 AM '22 PhD are lost pieces of Asian American history cradled in melodies and chords.
Read More
Jun, 2021
Olivia Mansion '16 AM is one of the founding team and the director of communications and artist relations of Fairgrounds St. Pete, a 15,000 square-foot immersive arts exhibit based in St. Petersburg, Fla. Through a range of exhibits, events, and workshops, Fairgrounds St. Pete showcases the creative innovations of artists and makers working in all mediums.
Nov, 2020
Holleigh Bergstrom Oliveira '16 MAT (see Lorenna Ellis '09).
Nov, 2020
Holleigh Bergstrom Oliveira '16 MAT (see Lorenna Ellis '09).
Nov, 2020
Lorenna Ellis and Cameron Lee married in a two-part wedding over Zoom on July 4, with the first half in the Boise area and the second half in Orange County, Calif. In attendance/members of the wedding party were David Atkinson '08; Alberto Castellón; Kara Kamikawa DeBaun; Marquita Ellis '12, '14 ScM; Julia Kim Ho '12; Janice Kim; Holleigh Bergstrom Oliveira '14, '16 MAT; Christina Tang; and Jihoon Yoon '13 MD. Cameron and Lorenna met through the Brown student group College Hill for Christ, dated briefly, and were next door neighbors in Young Orchard their senior year. They stayed in touch over the years and finally dated again following their eight-year class reunion. At their 10-year class reunion they got engaged at Prospect Park. Cameron is working at a family medicine clinic and Lorenna continues directing business systems for a Christian nonprofit. She will serve on the Alumni Board this year to help the class of '09 build connections that support Brown and each other during these challenging times. They will be living in Los Angeles and look forward to a lifetime of growing and serving others together.
Aug, 2020
Alexander Kithes '16 ScM was elected to the Woonsocket City Council (R.I.) in a particularly contentious special election. The election was reported on by the Boston Globe as an indicator of political trends throughout Rhode Island going into 2020. Alex writes: "I'm the most progressive person elected to the Woonsocket City Council in recent history."
Mar, 2019
Almaz Dessie '11 MD married Michael Moffat on Oct. 7 at the Belle Isle Boat House in Detroit, Mich. Their friend Kira Neel '05,'19 MD officiated the ceremony. Almaz is an assistant professor of emergency medicine and pediatrics at Columbia University Medical Center in New York and practices as a pediatric emergency doctor at New York-Presbyterian Morgan Stanley Children's Hospital. Michael is also a physician, practicing as a pediatric hospitalist at NYU Langone Hospital in Brooklyn. The couple met in 2012 during their pediatrics residency at the University of California, San Francisco Benioff Children's Hospital in Oakland. They have a mutual love of music, global health, and travel. The wedding was a four-day celebration of love, community, and blessings. They honored their Ethiopian and Jewish traditions and surprised their guests with a reunion performance by their band from their residency days in California (Almaz sings lead and Mike plays guitar). Members of Almaz's former dance company at Brown, New Works/World Traditions, also surprised them with a West African dance performance at the reception. In attendance were Senior Lecturer in Theatre Arts and Performance Studies Michelle Bach-Coulibaly; Elizabeth Anto '06, '11 MD; Tarik Asmerom '05; Praveen Basaviah '05; Nora Blackall '08; Alykhan Boolani '06; Mark Brown II '09; Jalle Dafa; Vanessa Danziger '11; Sheila Desai '05; Sybil Dessie '04, '08 MD; Chris Erway '06 AM, '11 PhD; Sushil Jacob '05; Jazzmen Johnson'15 AM; Jori Ketten '02; Kira Neel '05, '19 MD; Meghan O'Brien '06; Ethan Philbrick '08; Micah Salkind '06, '10 AM,'16 PhD; Sophie Shackleton '09; Daniel Sobol '09; Matthew Soursourian '08; Ida Specker '09; Alexx Temeña '16; Nicole Thompson '08; Monica Tilly '11 MD; Jessica Vosburgh; Chantel Whittle '12; Kenya Wright '15; Ali John Zarrabi '06, '12 MD; and Leonora Zoninsein '08.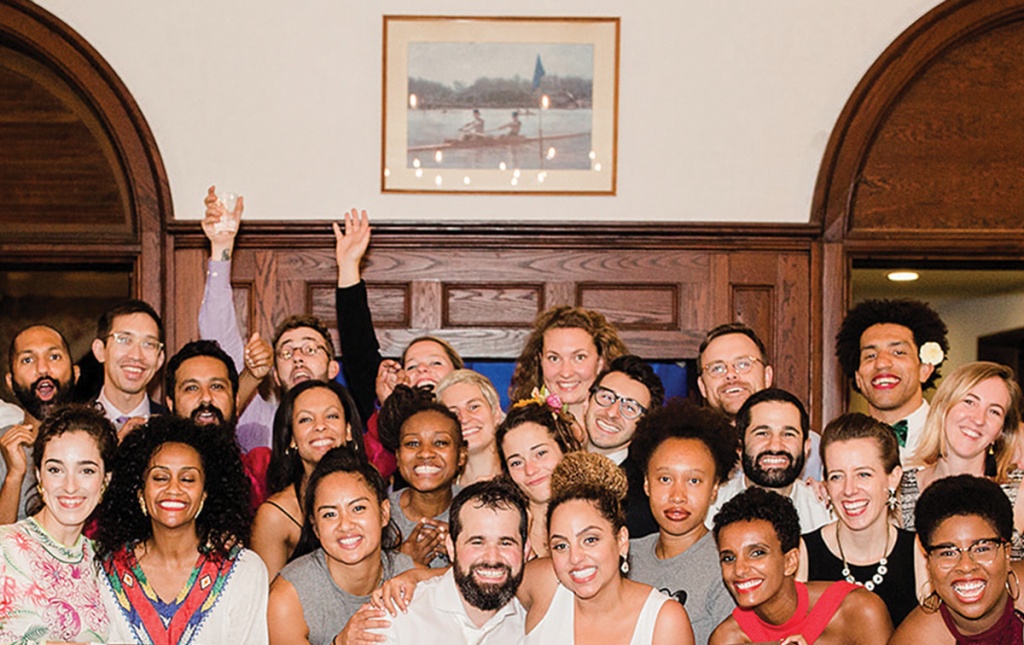 Nov, 2018
Eye on the Sky
A soldier-scientist's dreams take flight
Read More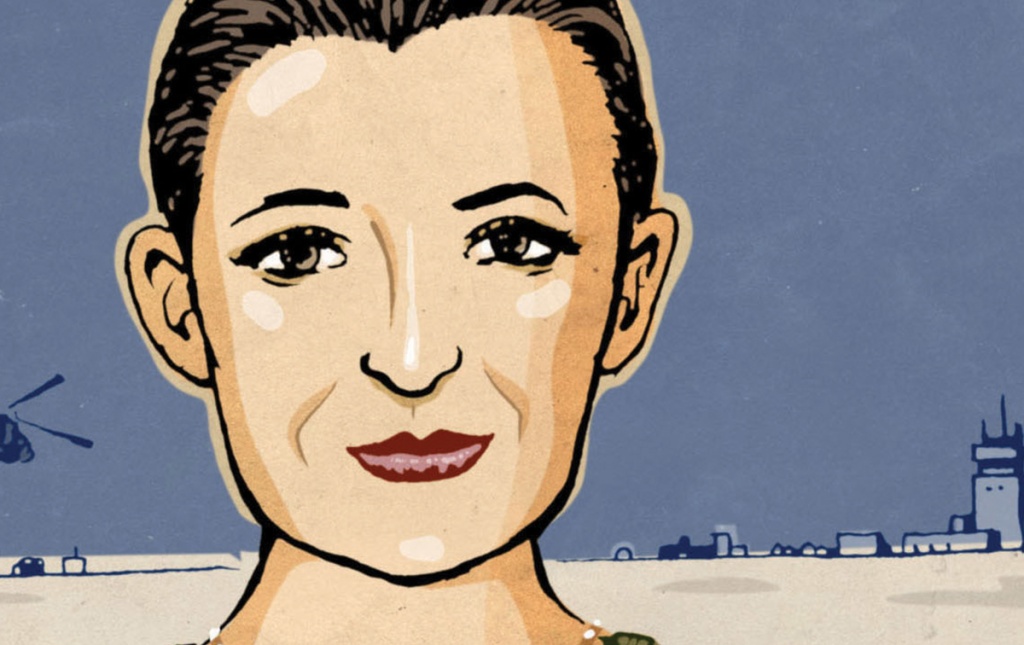 Obituaries
Aug, 2022
AnnaMaria Abrams '16 AM, of Cumberland, R.I.; Mar. 15. For 13 years she taught in the Woonsocket School District. She was a member of the American Federation of Teachers and Woonsocket Teachers Guild. She was an active member of Arnold Mills Methodist Church and enjoyed gardening. She is survived by her companion, Bruce Berman; two children; two brothers and sisters-in-law; five nieces and nephews.
Apr, 2020
Kimberly A. Mailloux '16 MPH, of Fall River, Mass.; Oct. 9. She worked for Lifespan in Providence as an operations analyst. She was on the board of the Massachusetts Organization of Genealogy Society and was a member of Somerset Genealogy and the BAA. She enjoyed going to farmer's markets, camping trips, and history. She is survived by her husband, Robert; a daughter; her mother; a brother; a sister; and a niece.