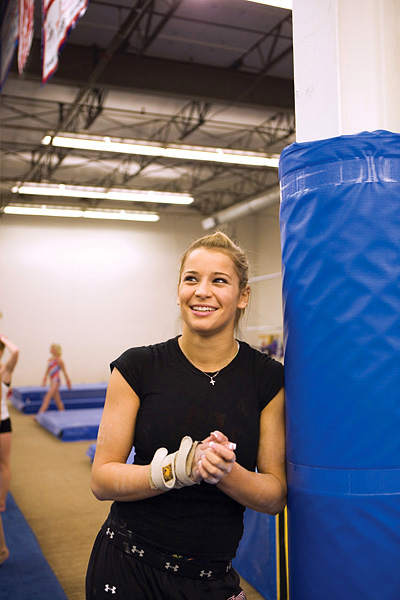 Imagine
that your longtime dream has been to win a medal in gymnastics at the Olympics in Beijing this August. You have been training incessantly for years, but over the past several months your work has become an obsession. Except for Sunday, you train every day for hours, repeating the components of your various routines over and over and over again. Three days a week you train twice as hard, spending six hours a day tumbling, leaping, somersaulting, running, and twisting impossibly through the air.
Imagine that you are a Brown student in 2008. You take courses like History of France and Economic Development and Social Change. You attend class regularly, take careful notes, participate in the discussions and study groups, read, absorb, then read some more. Somehow you find time to coach some of your fellow Brown gymnasts. You study hard for exams, write papers, and meet with your professors.
Now imagine doing both these things at the same time.
You have just imagined the daily life of Alicia Sacramone, a Brown sophomore who also happens to be one of the world's best gymnasts. When you watch Sacramone compete in floor exercises—her best event—you find yourself wondering whether Newton was wrong about gravity. Sacramone's soaring leaps appear effortless, and her movements seem punishingly athletic, astonishingly graceful, and downright joyful.
During competitions, Sacramone appears relaxed and voluble with her teammates, but when her turn comes up she is determined and unstoppable. In 2005, Sacramone, the USA Gymnastics Sportswoman of the Year, was the U.S. national champion on the vault and on floor exercises. She was also that year's world champion on the floor and the world's third-best female gymnast on the vault, an event she usually dominates. In 2006, she was second in the world on the vault, and as captain of the U.S. team, she led the country's women gymnasts to a second-place finish at the World Gymnastics Championships.
She was also captain of the U.S. team at the world championships in Stuttgart, Germany, last September. On the final day of competition, with only the floor exercises left to complete, the team trailed China by a narrow margin, thanks to missteps on the balance beam. Three U.S. women would perform routines on the floor. Sacramone's would be the last. The women would need to be nearly flawless to overtake the Chinese team. Oh, my God, Sacramone thought, this is the most stress I've ever been under in my life.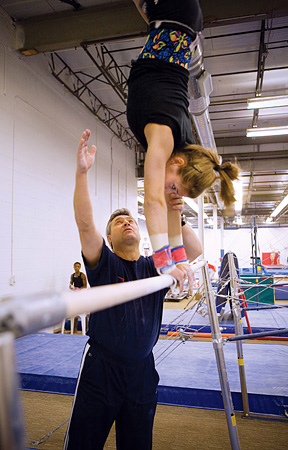 While waiting for the routines to begin, Sacramone gathered her teammates around her. "It's not over, guys," she told them. "Everybody makes mistakes. We can do it." And they did. By the time Sacramone and her teammates had finished their floor routines, the team led China by less than a point, winning the gold by 0.95 points, to be exact. Sacramone burst into tears. In the final individual standings, Sacramone finished second in the floor exercises, by 0.025 points to her U.S. teammate Shawn Johnson, and took third on the vault, behind athletes from China and North Korea. But winning the team gold in Stuttgart, she says, was sweetest of all: "It was overwhelming because you always dream about winning that medal. When you actually get it, you don't know how to react. It was surreal. Everybody was crying."
For gymnasts, however, there is no great-er competition than the Olympics. After Germany, Sacramone knew she would have to train like never before. Somehow, during her freshman year at Brown, she had found time to serve as captain of the Brown gymnastics team and had wasted no time entering the record book. At the Ivy Classic in February 2007—"World Champ Looms at Ivy Classic," brooded Penn's student newspaper before the competition—she set a new all-around tournament record and tied the previous vault high. She became the first Ivy League gymnast ever to finish first in every single event. She followed this up by finishing first in the floor exercises at the NCAA Northeast Regional Championship. She set Brown records on the vault, floor, and all-around.
With the Olympics on the horizon, however, something had to give, and Sacramone decided it would be competing for Brown. Shortly after returning from Germany, Sacramone announced she was turning professional, giving up her final three years of NCAA eligibility and signing with a prominent sports marketing company to rustle up endorsements for Beijing. Within the gymnastics community, the move was not surprising. The last Olympic gymnast also to compete for her college did so almost twenty years ago, but her college coach was also her elite coach. Sacramone, by contrast, was working with not only Brown head coach Sara Carver-Milne, but also elite-gymnast coaches Mihai and Silvia Brestyan in Burlington, Massachusetts, an hour and a half north of Providence. Keeping up with a rigorous academic course load while training with two sets of coaches was an unprecedented challenge.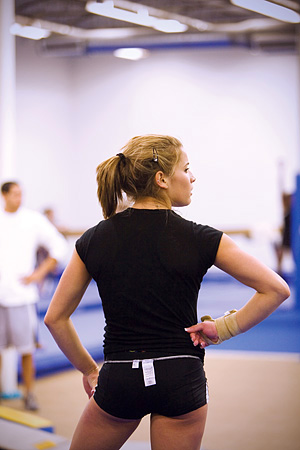 Her freshman year, Sacramone says, turned out to be more difficult than she'd anticipated. "I'd thought, 'This won't be that bad. I can handle it,'" she says. "But it was a lot of training, a lot of commuting back and forth, a lot of running around, going to class, late nights, just trying to get everything done. I'm glad I did it. It was a great learning experience. It taught me how to manage my time. It even helped with my gymnastics. My consistency went up just from doing both."
But, in the end, she had no choice. "Our national team coordinator looks over what everyone does, and she said, 'We are so proud of what you have been doing, but if you want to go to the Olympics, you really do need to focus just on that path,'" Sacramone says. "It is a once-in-a-lifetime opportunity. I figured if I'm only going to be training for this, I might as well try to go pro and see what happens. The year before the Olympics is a big year for endorsements because everybody is trying to get their product shown at the Olympic Games."
The loss to the Brown team will be significant this winter. "When I heard about her pro contract," says coach Carver-Milne, "I had mixed emotions. Mostly, I'm thrilled for Alicia and the opportunities she has in front of her. She has worked so hard and will be a tremendous asset to Team USA at the Olympics."
Interestingly, Brown was not Sacramone's first choice. As a junior in high school, she was committed to UCLA, but she changed her mind during her last year. "UCLA is a great school," she says," but it wasn't the one for me. It didn't fit." She knew Brown students who loved life on College Hill, including gymnast Jennifer Sobuta '09, and Brown's academic reputation appealed to Sacramone. The campus is also close to her family in Winchester, Massachusetts, and to her coaches in Burlington.
She is delighted with her decision, and with typical loyalty, has persuaded Carver-Milne to allow her to volunteer as an assistant coach for the Brown team this season. An extrovert who could be seen at meets last year constantly encouraging her teammates and exulting over their performances, she is exceedingly popular among her fellow gymnasts.
"I admire how much effort Alicia puts out, as a gymnast and as a friend," says Brown teammate Izzy Kirkham-Lewitt '10. "She's there for you 100 percent. Always. Her schedule is crazy. I don't know one other person who would be able to manage it. But no matter what, she is able to balance her two lives, in and outside the gym. As for in the gym, I don't know anyone who works harder and contributes more in the gym environment. She has so much positive energy all the time, it's great to just be around her."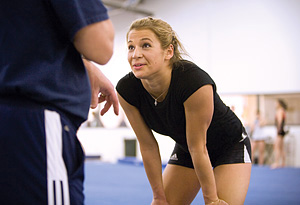 Sacramone, who turned twenty in December, is the senior member of the U.S. women's gymnastic team. In a sport where the competition for individual recognition can become ruthless and bitter, Sacramone stands out as a fierce competitor and a gracious teammate. As a result, she has been voted Sportswoman of the Year three times. "I think what makes Alicia such a great gymnast," says Brown teammate Kirkham-Lewitt, "is that as fierce as she is competitively, she also knows how to have fun. These two qualities show up in spades when she's doing a floor routine."
There is, of course, no guarantee that Sacramone will make the Olympic team. Her training continues, but the crop of elite women gymnasts in the United States is large. She will have to prove herself in the Visa Championships in Boston in early June, and she will have to be at her best at the Olympic Trials, which will be held in Philadelphia June 19–22. The final selection camp will be in mid-July, at which time the team and its alternates will be named. Sacramone's chances of making it are excellent. "As long as I stay healthy," she says, "and continue training and stay in shape, my chances are pretty good."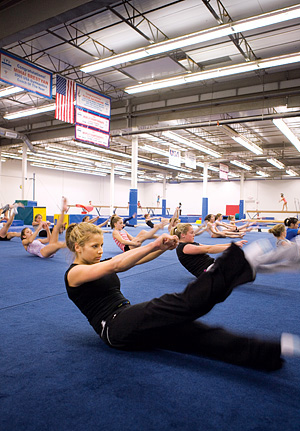 Once in Beijing, Sacramone believes her best chance to medal will be in the floor exercises. "Floor is definitely my favorite," she says. "You get to show your personality a little bit more. You get your own choice of music. You get to dance. It is a combination of elegance and power because you are tumbling, but you are also doing dance and jumps. I feel like I have the most fun doing floor."
"I have never seen someone with more natural talent," says Kirkham-Lewitt. "I think she's one of the most electric performers I've ever seen."
Sacramone has indeed managed to collect a number of medals for her floor routines in recent years. In addition to her second-place finish on floor exercises at the 2007 World Championships, Sacramone picked up a bronze medal at the 2007 Visa Championships, and in 2005 she was U.S. national champion and world champion in that event.
"I think what makes Alicia such a great gymnast is her strength and charisma," says coach Carver-Milne. "Not only can Alicia do some of the most difficult routines in the world, but she does them with such confidence and style."
Ironically, Sacramone's biggest challenge for the gold on floor in Beijing may come from a teammate: Shawn Johnson, who squeaked by Sacramone at the World Championships last year. While Sacramone is known for her artistry and style on the floor, Johnson's routines are all about power. Sacramone believes her loss to Johnson at the worlds came as the result of a skid on her landing.
But as a former world champion in the event, Sacramone knows what it takes to recover. "Once you've tasted gold," she says, "that is all you want."
Gordon Morton covers sports for the BAM. You can see Sacramone's 2007 World Championship performance here.
Photographs by Richard Schultz