It's one thing to teach climate change in the classroom; it's another to do something about it.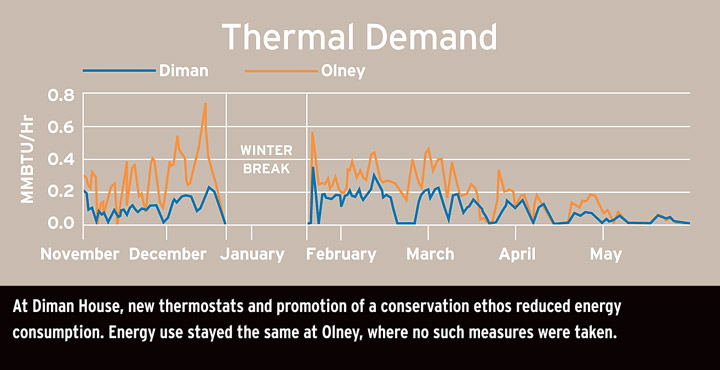 In 2008 Brown officials set a goal to reduce greenhouse gases by 19 percent in five years and 42 percent by 2020. So how's it doing? In a new report, the University documents that it has now reduced greenhouse gas emissions by 29 percent, well above its five-year goal. The gains have come largely as a result of making campus buildings more energy efficient. Since 2008, in fact, Brown has invested $14 million in energy-efficiency projects, including $6.5 million in the last fiscal year alone.
"Those investments are paying off," says Christopher Powell, director of Brown's Office of Sustainable Energy and Environmental Initiatives. "We're adding about a half a million dollars each year in new energy savings, which helps us pay for our energy investments and stay ahead of our emissions goals."
In particular, a switch from oil to cleaner-burning natural gas for heating buildings has played a key role, Powell says. Brown has also updated heating systems, switched to high-efficiency lighting, and weatherproofed buildings across campus. Upgrading energy efficiency can be costly, Powell admits, but he projects that the upgraded lighting, for example, will pay for itself in less than five years. "It's a good reminder that, in the long run, sustainability can be cost-effective," he says.
The next place Powell is looking for energy-efficiency upgrades is in dorms, which account for 25 percent of the total building space on campus. The Dorm Energy Efficiency Program began as a pilot project last year in Diman House, which was built in the 1950s. "The goal was to combine physical improvements to the building with a behavioral component that encourages students to make energy-conscious decisions," Powell says.
One of the improvements was the installation of radiator control devices that allow students—wait for it—to actually control the heat in their own rooms. "Before, the window was their thermostat," Powell says. "If they got too warm, they opened the window."
To increase student awareness of conservation and get them used to using their new thermostats smartly, a student group named Brown EcoReps teamed up with facilities management staffers to hold a series of teach-ins to introduce students to the new devices. At one event, EcoReps demonstrated them in a mock dorm room set up in the Diman lounge. They then asked students to sign a pledge stating that they would use their heat control and keep their windows closed.
"These events were all based on behavioral science," says Kai Morell, outreach coordinator for facilities management. "We know that making pledges, practicing behaviors, and developing social norms are strong motivators for changing behavior."
The results so far have been encouraging. Diman's energy use last year was 58 percent lower than a similar dorm in the same complex. The project will now be expanded to other dorms.
"We think the behavioral component was responsible for probably half our energy savings in Diman," Powell says. "And I think it's important that our students leave here with a sense that they participated in our sustainability efforts. They're learning valuable lessons that will be part of their lives after Brown."