Humanities & Culture
Set in Stone
Undertaking a huge restoration project in the Philippines
May 8th, 2019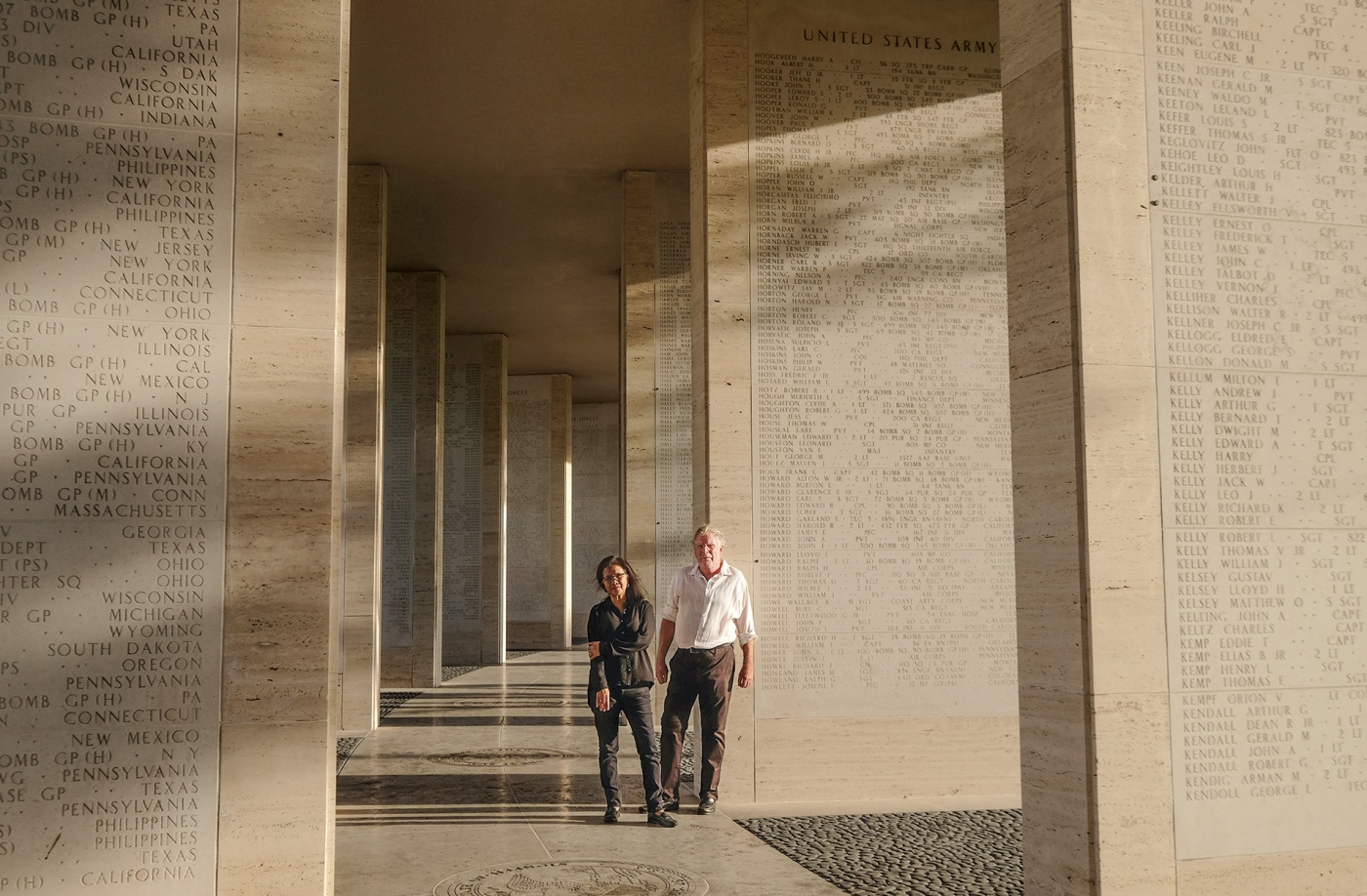 The architect of the Manila American Cemetery was Gardner A. Dailey, who Gillen thinks may have been inspired by Bernini's Colonnade at St. Peter's. The Roma Travertine stonework was prefabricated in Italy and the memorial was built between 1956 and 1960. "I study the original Italian stone fabrication drawings to get a feel for the architect's intent in terms of fit and finish," says Gillen. The restoration involves combining "various tools and hand skills to carefully work the 45,000 square feet to fresh surface, then hone…to original condition." He expects the project to take about 18 months.
Gillen credits his "loose" independent concentration in Visual Communication at Brown with preparing him "to poke around and follow interests." He studied photography, industrial history, yacht design, and other "widely assorted" courses, then enrolled at the Pratt Institute in New York for a master's in Industrial Design, but left the program to work for designers Massimo and Lella Vignelli.
Though he lives halfway across the world, he's still connected to Brown. He's a member of the newly formed Brown Club Philippines and last year was part of a gathering of six admitted students and their parents. "It was startling for [this] old cynic to feel the same sense of adventure and optimism among the group that I felt in 1971," he says. "I couldn't offer much specific insight other than the obligatory comment to keep eyes and mind open for the new. The kids were smart but hadn't heard of black ice."
The Manila American Cemetery in the Philippines contains the largest number of graves, internationally, of U.S. World War II military. The 152-acre site on a plateau overlooking the city contains 17,058 graves and a chapel fronted by two large hemicycles, which have 36,286 names of missing soldiers carved into their panels. Mark Gillen '77 has been tasked with restoring the massive memorial to its "original pre-pollution 'shrine status' appearance," he says. "In devastated post-war Manila, the gleaming Modernist structure must have been surreal."
A New Yorker who's lived in the Philippines for 30 years, Gillen calls himself "an industrial designer who happens to be working in stone." He first traveled to Manila in 1986 for a monument commission, and met his future wife, Delmafe Festin, on the island of Romblon. The two ultimately started Del-Marco Stonework (carvedmarble.com). Known for its high-end craftsmanship, the company handles everything stone-related from fabrication and installation to architectural restoration. Four marble products Gillen designed—including an undulating bowl inspired by a shell—have been featured in the MoMA Design Store in New York.
"In post-war Manila, the gleaming Modernist structure must have been surreal."