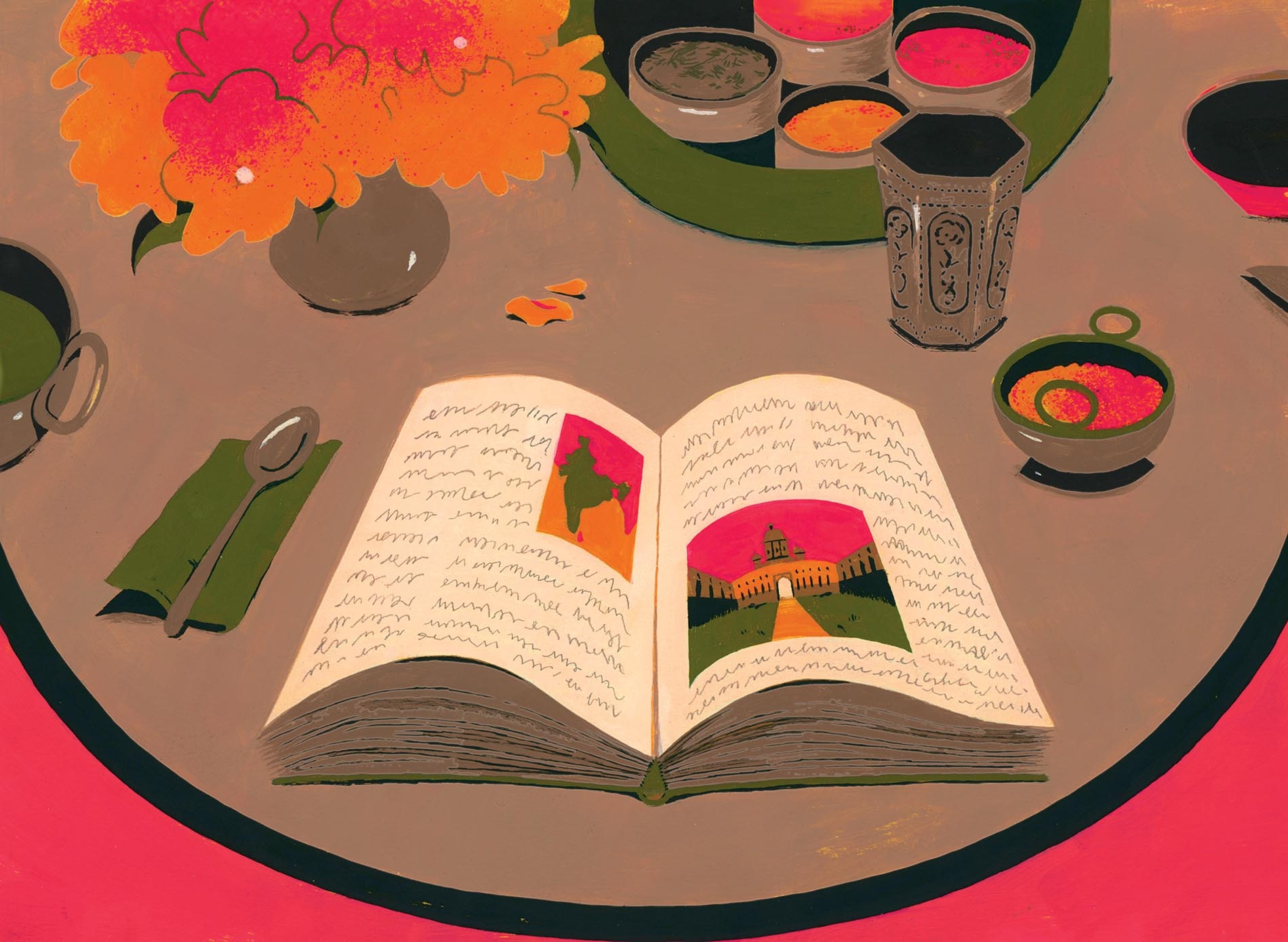 Humanities & Culture
Food for Thought
Palate meets pedagogy in courses like "Food, Religion, and Politics in South Asia"
October 25th, 2022
The story of the course that made me decide to pursue an independent concentration in food writing starts, unsurprisingly, in the kitchen.
It was the Thursday after Thanksgiving of 2018, and while I thought I had drained my cooking drive a week prior, I was already back over the stove. It wasn't my own, though. I, a measly freshman, was stirring a pot of dal in the apartment of a senior, one of my classmates in Food, Religion, and Politics in South Asia. Blooming the spices in the boiling lentils—yeah, that was homework.
The course was in its first semester, too. Visiting Professor of Religious Studies and Interim Director of Undergraduate South Asian Studies Finnian Moore Gerety says he first discussed the course idea with a former colleague at the University of Vienna, Borayin Larios. He had invited Larios over for his first Thanksgiving dinner, and the breaking-bread ritual of the holiday reminded Larios of a course he was developing about South Asian food practices. Moore Gerety kept tabs on the course and "stole" the idea (Larios had generously shared the syllabus) when he arrived at Brown.
Of course Moore Gerety put his own spin on the idea, and one of his goals was to draw out the experiential aspect of food. The professor, who is also affiliated with the Contemplative Studies Initiative, references what Director Harold Roth calls "the critical first-
person pedagogy." It's a fancy way to say that experiencing what one is studying enhances the learning experience, and it was the reason why I was cooking dal as part of my final project on traditional Indian medicinal systems.
My classmates started streaming into the living room. Some were seated in chairs, but most were on the ground, cross-legged, patiently waiting for us to finish the meal. As we passed out styrofoam bowls and plastic spoons, inviting everyone to serve themselves at the stove, I couldn't quite shake a sense of disbelief. My lifelong hobby was evolving right before me into a serious academic pursuit. I settled down to dinner with everyone else, thinking how "food for thought" didn't seem like just an idiom anymore.
Food, Religion, and Politics in South Asia was the first food studies course I attended at Brown, and like many of its cousins, its syllabus reads like a prix fixe menu of interdisciplinary offerings. Modules dedicated to sacrifice and colonization easily align with the course title, but there are hints of international relations and public health, too. It's not aimless academic leapfrogging. As Moore Gerety says, "[Food studies] transcends these artificial academic boundaries between discipline or concentration or department or subject matter."
It's much like studying music. Brown's music program recognizes the need for holistic study, collecting disparate approaches—theoretical, performative, cultural—in one department. Food studies, built upon the study of nutrition, cooking, and cuisine, is exactly the same but is not treated as such. Moore Gerety is not primarily a food scholar, but he knows firsthand how allowing food to take center stage in one's work makes it magically appear everywhere in academia. "Everybody eats, and there are only a few activities that are comparable to that in their universalism," he says. "And so how strange is it that here we are in 2022 in the American university and the study of food still is not central?"
In fall 2019, there were nine food studies courses at Brown, all in different departments—history, environmental studies, archaeology. No class had fewer than 17 students. In its four years, Moore Gerety's course has never fallen under 25 students out of a 30-student enrollment maximum. Academic demand is high.
The lack of programmatic infrastructure, though, means that students who want to pursue food studies more seriously struggle to secure a course curriculum. Many food seminars are offered only once, and long-standing core courses aren't continued after their professor leaves the University. In fall of 2021 and 2022, two of the original nine food studies courses remained.
Food, Religion, and Politics in South Asia (one of the two) continues to offer hope. Juliana Merullo '24 enrolled in the course last year, and she says it affirmed the validity of her academic goals. "I don't think you can find that focus many places," she says, "and I think that speaks less to how important it is and more to just the fact that a lot of people have overlooked it." Merullo, who is already pursuing Hispanic Studies, is proposing an independent concentration in food and community, planning to incorporate community-based learning and research courses à la the Engaged Scholarship Certificate.
There is a comparison that can be drawn between the course and the langar, a Sikh practice where places of worship open to the public and provide free meals to be eaten communally on the floor. According to Merullo, who studied the tradition for her final project, langars were developed partially in reaction to the Hindu caste system, emphasizing complete equality across faith, gender, and ethnicity.
A similar welcoming of participation is at the heart of Moore Gerety's course. Though the course content is centered geographically in South Asia, students of all backgrounds are encouraged to consider how their own experiences relate to the course content. One contribution about Indian wedding feasts might shoot off into New Year celebrations in Vietnam, then Thanksgiving in Canada.
This discussion style is uncommon across University offerings and, to some, may seem to lack depth or challenge. (If you want to talk challenging material, one reading is titled "Ingesting Menstrual Blood: Notions of Health and Bodily Fluids in Bengal.") Regardless of discussion topic, that critical first-person pedagogy invites students to think deeply about the "why" of their food practices, which we too often take for granted. As Moore Gerety puts it, "Everybody is an expert on their family's food traditions." This course empowers students to become their own authority on food and further their relationship with what they eat by sharing food and thought with peers. It's an experience only food studies can provide that, at once, deals with the utterly mundane while having the potential to be utterly transformative.