The brownstone at 39 Lincoln Place is a bright, airy space. Located in the heart of the Park Slope neighborhood of Brooklyn, it's the headquarters of Moxie Firecracker Films, an independent production company whose award-winning documentaries about often harrowing subjects are among the most highly praised of the past few years. Yet the atmosphere inside the building is far from harrowing. On a weekday this fall a small, snorty dog named Angus hurled himself enthusiastically at a visitor walking through the tall, wooden front doors. "We have dogs and fish and kids all over the office," says Liz Garbus '92 with a laugh.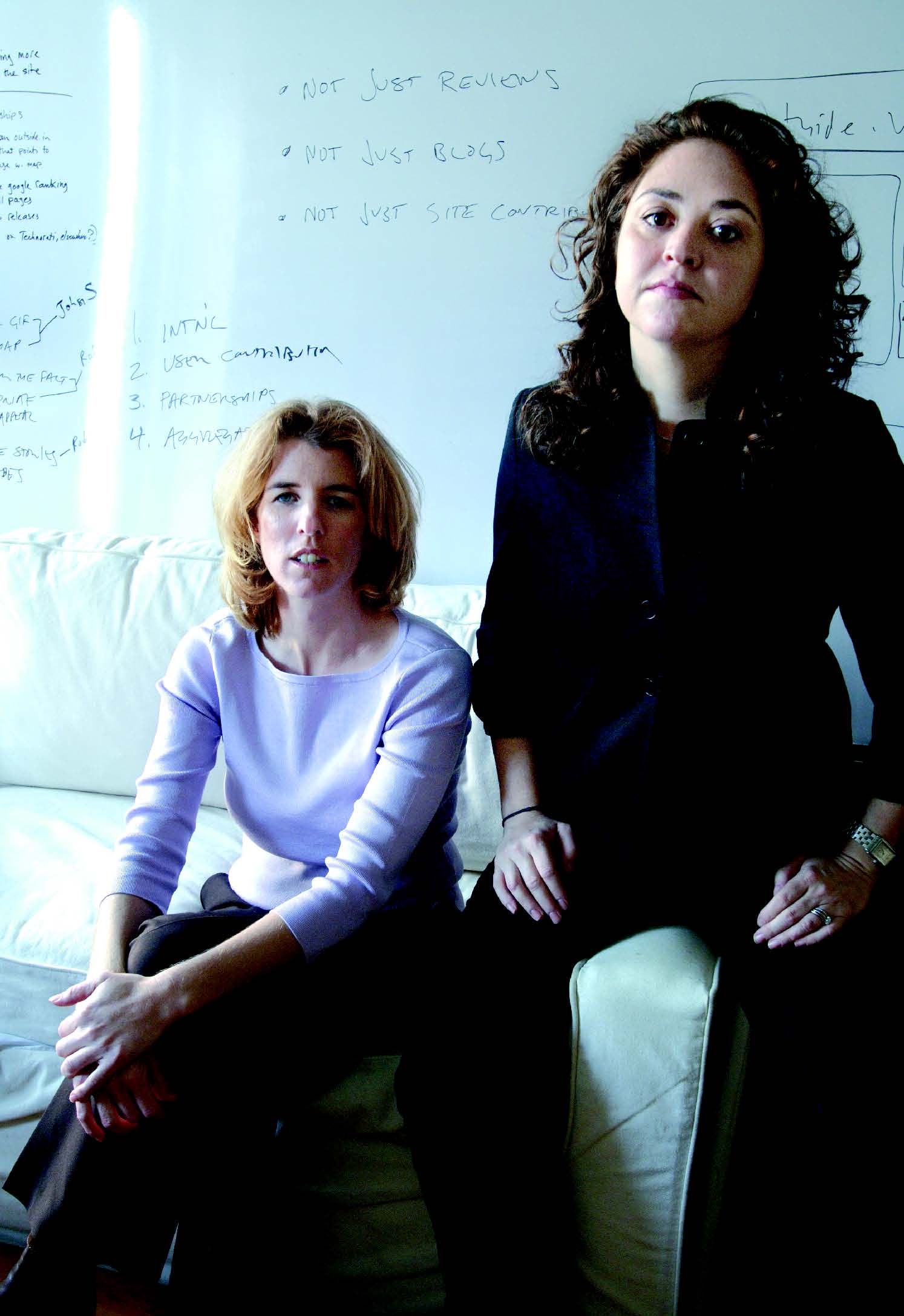 Garbus and Rory Kennedy '91, who first met at Brown, founded Moxie Firecracker in 1998 by merging their two independent production companies—Kennedy's Moxie and Garbus's Firecracker. Although the two women work separately on their individual films, their work has brought them together as friends and collaborators. As filmmakers with closely aligned creative visions, they brainstorm regularly and offer mutual support when a project becomes confusing. "We're always consulting each other on the shape of our films," Garbus says. "It's really great to have someone who you can just talk to, and not have to explain the whole project from beginning to end. You want a partner in that. In the same way that when you're married or in a domestic relationship, that's the person that you can just talk with—this is a similar type of support."
And as mothers of young children, Garbus and Kennedy have structured Moxie Firecracker as a family friendly place with flexible hours whenever possible. The tall-ceilinged rooms, with their marble fireplaces and creaky hardwood floors, seem full of good-natured chaos and people in jeans. Two of them chat over a computer; one gets up to corral Angus back to his little bed and then retreats to what was once a kitchen but is now a sunny sort of workspace. "They've really set up a nice thing for themselves," says HBO executive Nancy Abraham, who has worked with the women on a half-dozen films. "It's an unusual partnership."
The atmosphere is a sharp contrast to the images being viewed in the editing room upstairs. Up here the world seems a grimmer place. Kennedy sits on a battered leather couch with writer-producer Jack Youngelson. With open binders on their laps, the two banter about the emerging shape of their current project while editor Sari Gilman '91 controls the bank of computer monitors facing the couch. Suddenly the gruesome, now-famous photographs of prisoners at Iraq's Abu Ghraib prison fill the screens. Here are filthy naked men, piled in a pyramid. Here is a smiling young U.S. MP posing with a battered corpse. A soldier's voice explains how, on that night, a group of American officials arrived with an Iraqi prisoner, disappeared into a back room for several hours, and left the prisoner behind, dead. "You never saw us," the soldier recalls the officials saying on their way out. "Have a nice day." The images are from Ghosts of Abu Ghraib, which premieres in January at the Sundance Film Festival and airs on HBO February 22.
The clip ends, and the room is silent.
"So how long was that?" Kennedy asks.
Gilman clicks through some numbers on the computer screen. "Seven-and-a-half minutes."
Kennedy inhales sharply. That's long. "It's good, though."
Yesterday Kennedy showed a rough cut of the film to Abraham and her boss at HBO. Today she is trying to create another, more polished, version that incorporates the comments and suggestions that followed the showing.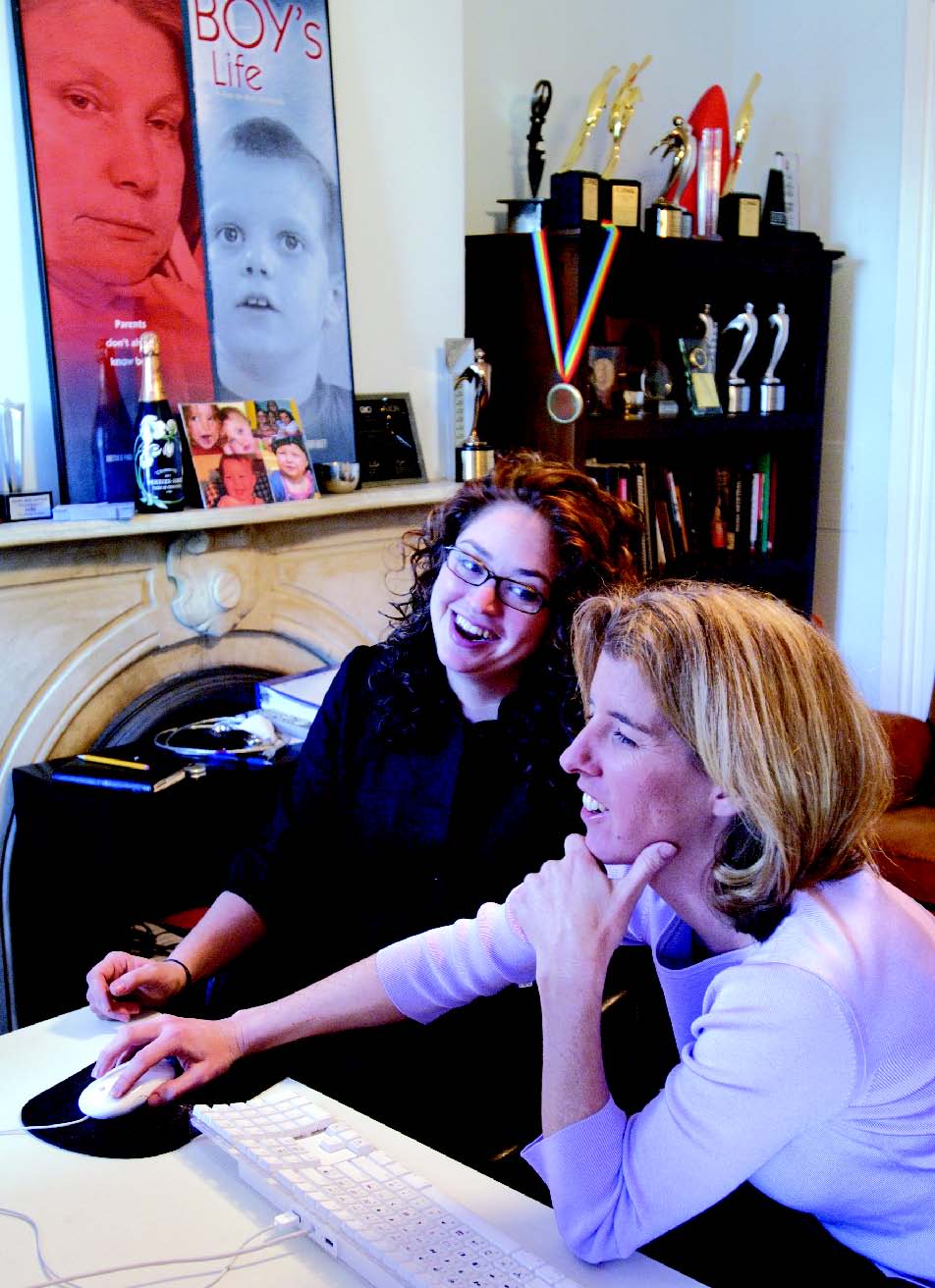 Ghosts of Abu Ghraib did not begin as a project focused on Iraq. Kennedy was interested in the phenomenon of genocide, of exploring what happens, she says, "when people are put into situations and respond in ways that they wouldn't imagine doing if they were living in a 'normal' society." As she learned more about torture at Abu Ghraib, however, Kennedy saw many of the same themes emerging. The incidents there, she says, showed "there's a pretty thin veneer that's protecting us from doing crazy things." Here was an opportunity to approach large themes through a specific story with ordinary characters, a method that is a hallmark of all her films. Kennedy got the nod from HBO to shift gears, and last March she began interviewing soldiers, Iraqis detained at the prison, Bush administration officials, and lawyers. "It's been a whirlwind," she says.
Kennedy and Garbus have made a name for themselves by making unflinching documentaries that tackle the bleakest of subjects—poverty, AIDS, the death penalty, substance abuse, the criminal justice system—through individual stories. While Kennedy was tracking down stories for her film, Garbus was doing the same for Coma, her documentary about patients in a persistent vegetative state, which is scheduled to air on HBO later this year. "They have crafted a distinctive reputation within the documentary community of making films that are great stories," says Liz Ogilvie, head programmer for Docurama, which releases documentaries on DVD. "They're really gifted storytellers. They take such intense topics and make them watchable."
Most Moxie Firecracker films are done in a vérité style: a "fly-on-the-wall" approach that follows characters over time and watches their stories unfold. Kennedy's 1999 American Hollow follows the life of one extended family in rural Appalachia over a single year, while A Boy's Life, released in 2004, tells the story of an emotionally disturbed boy in rural Mississippi. Garbus's 2002 The Execution of Wanda Jean follows the last months in the life of Wanda Jean Allen, the first black woman to be executed in modern American history, while Girlhood, released in 2003, tells the story of two teenagers and their mothers as the teens pass in and out of Baltimore's criminal justice system.
Ogilvie says that to make a successful vérité film, the women build powerful relationships with their subjects. Kennedy's and Garbus's documentaries, she says, demonstrate "a certain closeness to their characters [that] really comes across. For them to be able to do that, it's obvious that their characters trust them. And that is a real gift."
The method allows Kennedy and Garbus to make political statements without preaching or relying on pundits and experts. Garbus's Juvies, for instance, which aired on A&E in 2000, chronicles the lives of three young men caught up in the juvenile justice system; by simply telling their stories, the film raises questions about crime and punishment in the United States. Ghosts of Abu Ghraib zeroes in on the stories of soldiers who worked at the prison and describes the journey each took to Iraq and back home again.
"Always coming back to the emotional, the personal, makes the most powerful film," Kennedy argues, and one of the struggles she currently faces during the editing process illustrates her point. "The experts are making all the political points that are so important, and important to me," she explains about the footage she is editing. "But ultimately, what will happen is, we'll edit them out. At the end of the day, hearing these [five soldiers] tell their stories and their perspectives—people can draw their own conclusion and decide about the war on terrorism, decide about the war in Iraq, decide about what America represents. We don't have to tell them."
Although the women broadly share the same cinematic approach, when it comes to making such artistic choices as what to shoot and how to shoot it, who gets interviewed and how, and what the overall structure of the film will be, each woman is guided by her own particular style. "As directors, we're both very independent," says Garbus. "Rory doesn't need me in her editing room, and I don't need her in mine." Nancy Abraham has seen this dynamic play out; when working with one director, she barely interacts with the other. "Their films are really their own films," she says. Yet Kennedy and Garbus often turn to each other for help. "I really cherish her feedback," Kennedy says. "Together we've gone a lot further than we would have individually." Garbus is always credited as a producer on Kennedy's films, and vice versa.
The women have no qualms about directly helping the people in their documentaries. While filming Pandemic: Facing AIDS, which follows the lives of five HIV-positive people in five different countries, Kennedy bought towels and goats for some of them. She paid school tuition for others. While filming in India, she paid for a forty-by-twenty-foot neon Hindu deity. The people with whom she was working there had planned a parade for an annual festival of lights, and they "were just desperate to have this element in their parade," she says. "I have to say, that was the weirdest thing I ever paid for." She laughs. "But it looked pretty cool."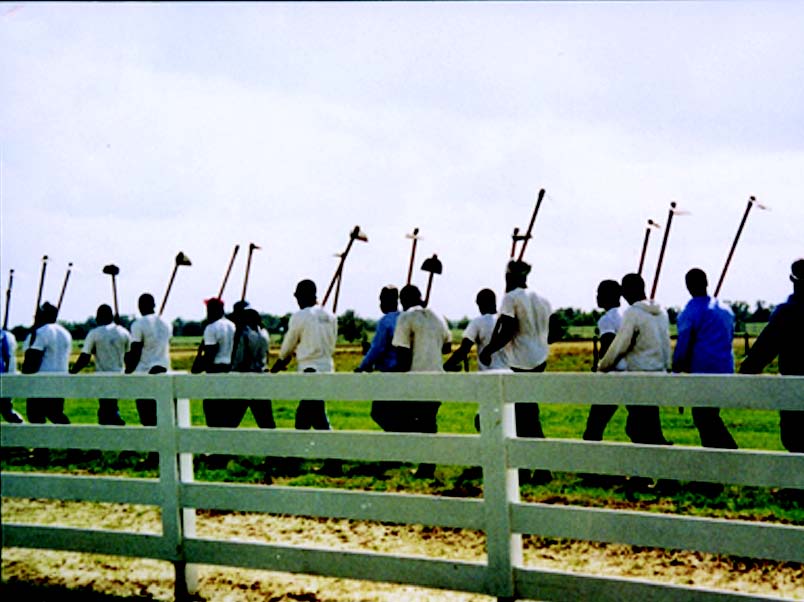 Kennedy first considered filmmaking at Brown. A small-boned woman with blue eyes and thick blond hair that falls to her shoulders, Kennedy has the air of someone who is constantly thinking. As a concentrator in women's studies at the height of the public preoccupation with "crack babies," Kennedy decided to write her final senior project about the difficulties women face obtaining treatment for substance abuse. "The way it was being told in the press was that these were crack addicts who didn't care about their children," she says. However, what Kennedy learned from meeting and interviewing scores of women was that "the vast majority were trying to get treatment while they were addicted and pregnant, but couldn't get it because a lot of the treatment programs don't accept pregnant women."
While working on the project, she would return to her apartment at night and try to tell her friends about the experiences she'd had that day. But Kennedy found that her recounting lacked the power and immediacy she'd heard from the women themselves. She thought of recording their stories. "If they were able to tell their stories themselves to the larger public," she recalls thinking, "that would help people understand their plight more directly, and people would have much more empathy."
She knew nothing about filmmaking, so she put together a film proposal and sent it to filmmakers all over the country, hoping to connect with someone who could serve as a mentor and teacher. She ultimately found Robin Smith, who ran Video/Action Inc., a nonprofit video production company in Washington, D.C. After three years of learning and working, Kennedy, along with Smith, released Women of Substance, which aired on PBS stations nationwide in 1994 and won the Gold Corporation for Public Broadcasting Award, the Gold CINDY Award, and first place at the National Council on Family Relations Media Awards Competition.
Kennedy made several more films after Women of Substance, but it was American Hollow that catapulted her career into prominence five years later. The film premiered at the Sundance Film Festival and won best documentary prizes at several other festivals; after airing on HBO it was nominated for a Non-Fiction Primetime Emmy Award. It also spawned a companion book, published by Little, Brown, as well as a traveling exhibition. Since that time she has directed a dozen more films and produced twice as many. Along the way she has picked up an armful of film festival awards, and Pandemic was nominated for another Emmy.
"What's characteristic of her films, to me, is a certain human, emotional element that is profoundly affecting," says Nancy Abraham, "and an enormous sense of empathy for the kind of human condition that people find themselves in. That, to me, is really an element of her films that goes beyond any scripting or planning. It's not technical. It's something that comes from the heart and is really touching."
Kennedy is the youngest of eleven children born to U.S. Senator Robert F. Kennedy and his wife, Ethel. Her family background has inevitably affected her career. "Doors were more open to me than most others," she acknowledges. "But then you've gotta walk through them, and do the work, and make it happen. You have to make films that are worthy." She also inherited her family's commitment to progressive causes, which is reflected in her choice of subject matter. "I certainly grew up in an environment where social justice was important," she says, "where being involved in giving back was very important."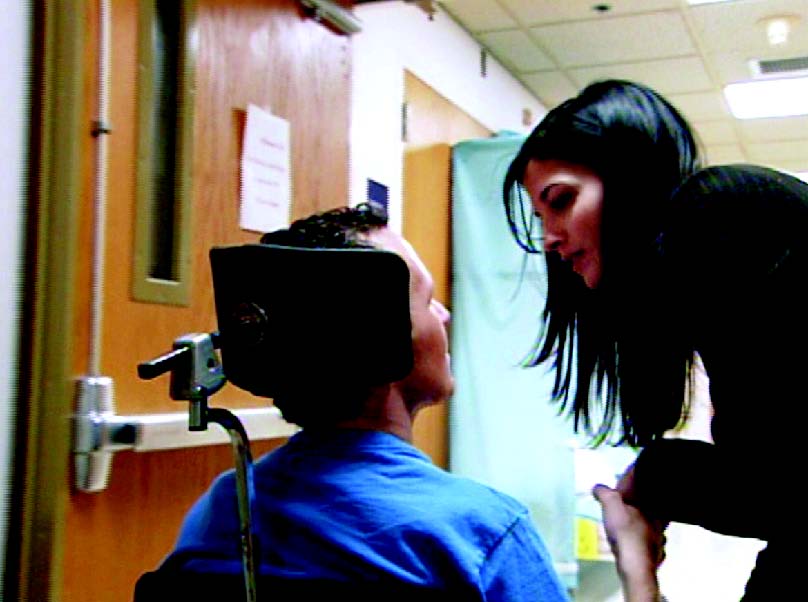 Her family background has affected her work in an unexpected way as well. Writer-editor Youngelson, who has worked with Kennedy on four films, says, "She comes from a big family. I think that there's this desire to be heard, to have her voice heard." A 1999 Washington Post story referred to Rory as "the quiet Kennedy," but she says that's a mischaracterization. "I feel like I do projects that are important to me, and I want to call attention to those projects," she says. "And I'm not averse to saying what's on my mind."
The combination of Kennedy's family connections and her willingness to make sure powerful people are paying attention to her films can also give her movies an effectiveness that is rare for a documentarian. Pandemic, for example, began as a short educational film called Epidemic Africa, and was initially inspired by a trip she made to Africa in 2001 as part of a Clinton White House delegation. After the trip Kennedy pulled some strings on Capitol Hill and arranged for a screening for some prominent Democratic lawmakers. "Senator [Patrick] Leahy was there," she says, referring to the Vermont Democrat who is on the powerful Senate Appropriations Committee, "and he said, 'You know, I had the opportunity to watch your film. I put 25 million dollars in the budget for AIDS in Africa because of your film.' "

Growing up in Manhattan, Liz Garbus was also no stranger to progressive politics. Her mother is a social worker, and her father is Martin Garbus, the well-known civil rights attorney whose work for the ACLU has included defending the Chicago Seven and members of the Weather Underground. Garbus recalls watching as a 1970s child the emotional television commercials designed to solicit money for organizations that work in the developing world. "I remember, as a child, feeling really upset, and being like, 'How can we not do anything?' " she says with a self-deprecating laugh. "But those are the kinds of questions that were encouraged in my household. [My parents] were like, 'Right, when you grow up you can do something about those children!' There was a whole dialogue, a whole dinner conversation about what those kids were going through. In many ways I combined their particular interests. He was a lawyer, but also an activist. And my mother—there's that kind of compassionate side."
Garbus first got the filmmaking itch while she was still in high school. On a whim, she brought a video camera to school on the last day of her senior year. "I went around," she recalls, "and I was interviewing everybody about the last day of school, and I filmed some people's last classes, where people were sort of acting out. They were very rambunctious." She went home and edited the film with the rudimentary software available at the time, then showed it to the father of a friend. A documentarian, he told her she'd done a great job.
"I'm sure he was just being very sweet to a seventeen-year-old," Garbus says with a laugh. "But in any event it stuck in my head as a very positive experience." She brought that experience with her to Brown, where she concentrated in both history and semiotics and took some video-production classes.
After graduating, Garbus was torn between filmmaking or going on to graduate school and an academic career studying social politics. At Brown, she recalls, "I definitely had a real political sharpening, a focus. Academia was very effective for me, in politicizing me."
Instead of grad school, Garbus joined Miramax as an intern and then worked for filmmaker Jonathan Stack. While she was working for Stack she got to know Wilbert Rideau, an inmate on death row at the state penitentiary in Angola, Louisiana. Rideau, who was sentenced to death in 1962 for a murder he'd committed the previous year, was editor of the award-winning uncensored prison newspaper, the Angolite. In that capacity Rideau had interviewed every inmate on Louisiana's death row since 1976. Rideau helped Garbus and Stack gain access to six inmates serving long sentences at Angola. After following the inmates for three years, Garbus and Stack made The Farm: Angola USA, with Rideau as codirector. The film was released in 1998 and went on to win an Academy Award nomination, two Emmy Awards, and the Grand Jury Prize at the Sundance Film Festival. (Rideau's conviction has since been commuted from murder to manslaughter. He was released in 2005 after serving forty-four years, and he and Garbus are still friends.)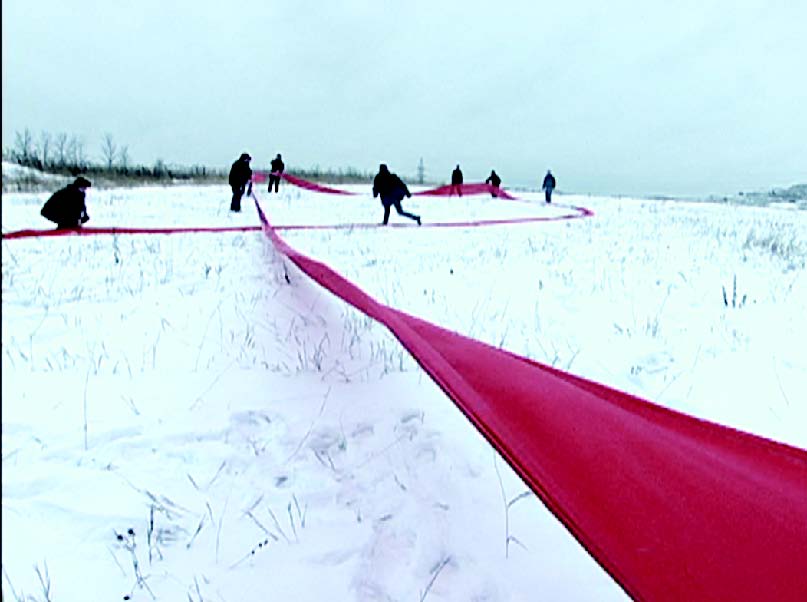 "She's very funny and very smart," says Mary Manhardt, who edited The Farm and worked with Garbus on several subsequent films. "And she has a good attitude. Sometimes people have a successful film and they think they're God's gift to documentary. She had an amazing amount of success early on, but she's very grounded about it."
Garbus has long, curly brown hair shot through with strands of gray, a round face, and big brown eyes. She laughs a lot, and it's easy to see why her childhood nickname was Firecracker. Nancy Abraham describes her as "a little more loose and feisty" than Kennedy. In some ways she is still the child at the dinner table. Her goal, she says, is "humanizing the stories" of people who we facilely assume are different from us. "It's by bringing [the characters] closer to [viewers] that we all become a little bit more human," she says. Like the little girl in New York City who can empathize with children thousands of miles away, in Garbus's films, she hopes, "We realize that there's not so much that separates us from them."
Garbus is quick to point out that the people in her films have, in many cases, done terrible things. The Farm, for instance, includes a moving scene at the clemency hearing of a convict who is on death row for killing a man and maiming his wife. At the hearing, the son of the couple speaks at length about the pain that he and his family have endured, and the fact that his mother's life is ruined forever. The Farm does not ignore that "there are victims of those crimes," says Garbus. "That's a very real thing." Yes, these murderers are criminals, she says, "But they also are fifteen other things. They're loving fathers or mothers or lovers. People aren't equal to their worst action."
"She has tremendous compassion," says Manhardt. Sometimes, making films like these can lead to "a very ethically difficult situation. But she is always true to the dignity of her characters. Always."

Watching several of Liz Garbus's films in a row is an uncomfortable experience. Knowing the things we humans do to one another is bad enough; watching, in vivid detail, the struggles of people who are the agents or victims of those things is almost too much. But rather than let injustice and suffering depress her, Garbus gets angry, and the anger, she says, "makes me want to just keep on going."
After all, there are so many stories left to tell. "I think we're going to continue on as we are for the time being," Kennedy says. "Both Liz and I really love what we do, and feel really lucky to be doing it."
The women also have a tight-knit relationship outside work. Kennedy's children, Georgia and Bridget, are four and two; Garbus has a two-year-old daughter, Amelia, and a son, Theodore, who is only a few months old. The women's husbands are also friends and coworkers. Dan Cogan, Garbus's husband, is a film producer, and Mark Bailey, Kennedy's husband, is a screenwriter. Cogan's production company, DMC Films, is producing several of Bailey's scripts. The two families live within ten blocks of each other. "We laugh a lot," Garbus says. "We have a lot of fun."
On days when the women are traveling, filming, or editing, the hours are long and often inflexible. But at other times they can mold their schedules around the lives of their children. "Last night I was editing scripts until eleven at night," Kennedy says. "But I went home at four and was with my children from four until eight." Garbus is equally devoted to keeping work and family in balance. "If I'd been partners with someone who didn't have those same priorities, I don't know if we could have lasted as partners," she says.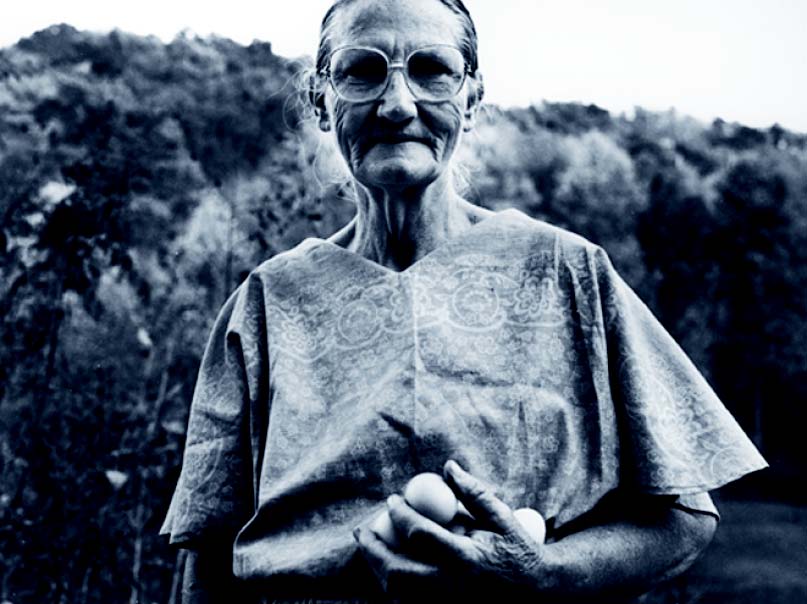 Meanwhile, in the editing room at 39 Lincoln Place, Kennedy sits with Youngelson on the brown leather couch. Takeout containers with half-eaten salads and Chinese food litter the table, and Kennedy recalls a moment in the making of Ghosts of Abu Ghraib. She was in Turkey, interviewing Iraqi victims of abuse at the prison. She'd had to meet them in Turkey because the men believed it would be too dangerous to be interviewed in Iraq.
One of the men asked Kennedy to withhold his identity in the film. Kennedy assured him that she would include that proviso in the release form they both would sign.
"And the man said, 'No, you don't need to write it down,' " Kennedy recalls. " 'You looked me in the eye and told me.' It's amazing they can trust Americans." She pauses. The story reminds her of a scene from another interview, and she asks Gilman to pull it up. "That prisoner's line," she says, "is 'All is forgiven.' It's so powerful and so unexpected. It makes me cry when I hear it."
Beth Schwartzapfel is a BAM contributing editor. Her cover story, "Saving the Children," appeared in the March/April issue.
Photography by
             C. Taylor Crothers