The warning was always the same: a light tickle deep in my muscles. Then my arms writhed, my tongue pulled back into a taut blob, and my legs clenched. But the convulsions were subtle. I didn't lose consciousness, and others seldom noticed. Embarrassed and scared, I remember wondering if God was punishing me when these "episodes" began in the second grade.
One night at bedtime some weeks after they started, I began to cry and told my mother, "Something funny is happening to my body." A neurologist ordered tests—electrodes were glued to my scalp, my head was measured, reflexes tested, blood drawn. But they all came back normal. Then she began to experiment with medication. An anti-seizure pill made me lethargic and sad; a blue placebo just made me angry. Finally, she hit on an anticonvulsant that worked like magic. Since then I've had a few attacks at importune moments—during my bat mitzvah, on a first date—but generally as long as I take my pill, I am fine.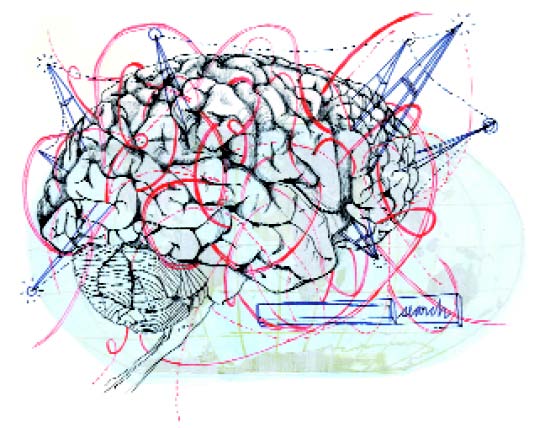 While I have long known how to control my disorder, until I was a sophomore at Brown I barely knew its complicated name, paroxysmal kinesigenic dys- kinesia, let alone what was happening with my body. I knew just one other person with the disorder, my younger sister. Wanting to learn more about PKD, I approached neuroscience professor James McIlwain about doing an independent study on it.
The first thing I learned was my path to treatment had been relatively easy. While PKD has certain defining characteristics—onset in childhood, writhing and spasmodic movements with no loss of consciousness, and a type of aura—it does not show up on neurological tests and is often hard to diagnose.
I posted queries on the Internet and was excited to receive a flurry of responses from other patients. Almost all wrote that they'd hidden their condition, sometimes for years, or initially had been misdiagnosed, with everything from catalepsy to depression. Grown adults said they were moved to tears to read someone else describe what they had endured.
When I posted my findings on the Web, that flurry of responses turned to a flood. Scores of PKD sufferers and their families wrote to me from as far away as Korea, France, South Africa, and India. Most moving was when parents told me they had used the site to diagnose their children. One mother said her eleven-year-old son had told her a few years ago that "sometimes his hands will curl, his feet turn in, his arms go back and his head tilts to the side." She and her husband had thought he was making it up, but recently the boy had started having nightmares and was afraid he had "a brain tumor." She turned to the Internet. After reading my descriptions, she was certain he had PKD, and made an appointment to see a specialist.
The summer after I graduated, a team of re-searchers at the University of Utah isolated the disorder to a chromosome. I had referred dozens of patients to them and spoken to scientists there about my project. When the discovery was published in the journal Neurology, they included me in the pool of MDs and PhDs listed as authors. Interested in my rare perspective as a patient with scientific knowledge about the disorder, they flew me to Salt Lake City, where, in between spinal tests and electrode shocks, I addressed doctors.
Six years later, my Web site is down, but a Google search on PKD yields more than 10,000 hits. I find it comforting to think that a kid whose body suddenly starts doing strange things today will be able to find some answers there before wondering if he's a "spaz" or if God could be punishing him.
Daniela Gerson is a journalist currently based in Berlin on an Alexander von Humboldt Foundation fellowship.