Football this year had a special snap of anticipation. Fresh from last season's first-ever outright Ivy League championship, the Bears hoped to stage a repeat. Alas, it was not to be. But with the spotlight less tightly focused on football, fans were not distracted from the strong showing of the men's and women's soccer teams, as well as the performance of men's water polo and the equestrian squads. As for football, there's always next year, right?
FOOTBALL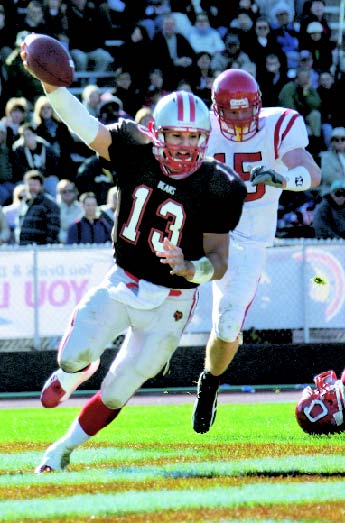 Things got off to a great start when the Bears trounced Georgetown, 34–21, in the season opener. Quarterback Joe DiGiacomomo '07, nervous at times last season, now seemed confident enough to lead Brown to another championship. But over the next four games the Bears were easily beaten by Harvard, URI, Holy Cross, and Princeton.
In late October the team showed a glimmer of what might have been by handily beating Cornell and then squeaking out a win over Penn on a twenty-five-yard field goal in overtime by Steve Morgan '08. With three games remaining, the Bears were 3–4 overall and 2–2 in Ivy play, making it unlikely they would repeat last year's stunning triumph.
Linebacker Zak DeOssie '07 still managed to make the season a personal triumph, though. A two-time first-team All-Ivy and All–New England selection, DeOssie had missed the final two games of 2005 with a knee injury. But by September he was back on his top game. With the season only two-thirds over, he had a team-high sixty-seven tackles and was named the Ivy League Defensive Player of the Week after the Cornell game. As the only Ivy League finalist for the prestigious Buck Buchanan Award last year, he was on the award's official watch list this season. (Finalists will be announced in December.)
The triumph over Cornell marked a high point of the season for the Bears, with DiGiacomo passing for two touchdowns and Brown winning, 28–7. The low point was probably the loss to Princeton, 17–3, on October 13. Unfortunately, it was the first game in official Ivy League history to be contested on a Friday night in prime time. The hope was that a Brown victory would boost its profile nationally and help recruiting.
SOCCER
Both the men's and women's soccer teams had strong fall seasons, with both teams looking at a third-place League finish with one game left to play.
The women's squad, looking toward hosting Yale on November 4, was 9–3–4 overall and 3–1–2 against the Ivies. Leading the way was cocaptain Kathryn Moos '07, who had a team-high stretch of fourteen goals in fifteen games. Moos was named Ivy League Player of the Week in late September for her back-to-back game-winning goals against Boston College and Sacred Heart, and was chosen three times to be a member of the SoccerBuzz Elite Team of the Week.
The men, meanwhile, were 10–3–3 overall and 3–1–2 in their conference as they looked to their November 4 Yale game. Forward Andrew Daniels '07 put in an especially strong season, and was named Ivy League Player of the Week in early October after scoring both goals in a 2–1 win over Columbia.
MEN'S WATER POLO
With their season coming to an end, the men's team put up wins over Iona and Fordham on October 22, to give them an overall record of 14–8 and guarantee a second seed at the Northern Championships.
The victory over Iona was especially spectacular. In order to have the upper hand in seeding for the Northern Championships, the Bears needed to beat their opponents by more than one goal. But with time running out, Brown had only a one-point lead over Iona. Cocaptain Luke Samson '07 decided to let Iona score, forcing overtime and giving the Bears the chance to win by a larger margin. It worked. Brown scored three overtime goals to Iona's one.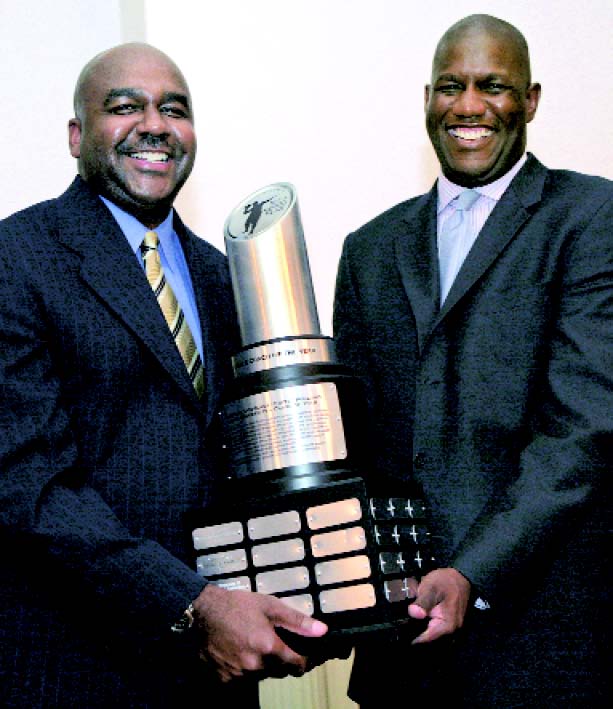 One of the team's stars this fall was Mike Gartner '09, who was named Northern Division Player of the Week in mid-October, and who scored nine goals and drew nine ejections over three games—wins against MIT and Queens College, and a loss to St. Francis.
At the Northern Championships, the Bears started slowly in the opening round, then rallied to beat Queens, 13–3, thanks to Gartner's four goals and four ejections. The Bears maintained their momentum to top Harvard, 9–4, in the semifinal round, but were spanked in the championship game, 22–6, by top-seeded St. Francis.
EQUESTRIAN
Led by team captain Grace Peloquin '07, Brown's equestrian team is having an especially strong season, having placed first in two of its three first meets.
In late October, Elizabeth Giliberti '10 rode to reserve high point rider honors for the team as Brown beat its chief rivals, the University of Connecticut Huskies, 36–32. The win, on the Huskies' home ground, made Brown the regional leader. Peloquin deemed Giliberti the team's "MVP of the day" for her performance. Last season, despite a strong showing, Brown lost its place in the Zone championships to UConn.