On Saturday afternoon of Commencement weekend, a group of classmates from the fiftieth-reunion class gathered to discuss the divergent directions their lives had taken since leaving Brown. Their stories seemed to encompass many of the social changes and conflicts the country has faced since 1959.
While Philip DiSaia was serving as a doctor in the U.S. Navy during the Vietnam War, for example, his classmate Jane Pincus was protesting that same war and, as a founding member of the Boston Women's Health Book Collective, was writing and editing the landmark book Our Bodies, Ourselves, which she has continued to edit ever since.
Pincus recalled the late 1960s as a time when "there was a feeling in the air that something needed to be changed, that the world needed to be changed, and that we could do it." She said the first Our Bodies, Ourselves was cobbled together from articles written by women and printed on newsprint: "It was never meant to be a book. It was meant to be a way of sharing information." The book today has sold more than four million copies and been translated into eighteen languages. DiSaia, who is now president of the American Board of Obstetrics and Gynecology, went on to become a professor of gynecologic oncology at UC Irvine, and an ovarian cancer researcher. "Ovarian cancer is a real tiger," he said.
Classmate Joan Appel Lester became a researcher on Native Americans. Lester described her journey from being "blissfully ignorant of how a Native American would respond to what I was saying" to someone with the "ability to see through more than one lens." She is now a lecturer in American studies at Tufts University. "It's been a privilege to touch the edge of another culture," she said.
Among the more colorful speakers was Clark Sammartino, an oral surgeon turned professional boxing referee. He wowed the crowd with stories about great prize fights he'd refereed over the years. He began in the 1980s, judging boxing matches for the local police athletic league, and moved on to championship fights around the world. "There are more characters in boxing than there are anywhere in the world," he said. He lamented the decline of the sport. "Let's face it," he said, "there's no mother today who holds her baby in her hands and says, 'I want you to be a boxer.'"
In the end, it was Lester who best reflected the spirit of the day. "Here we are fifty years later," she said. "A minute and a lifetime."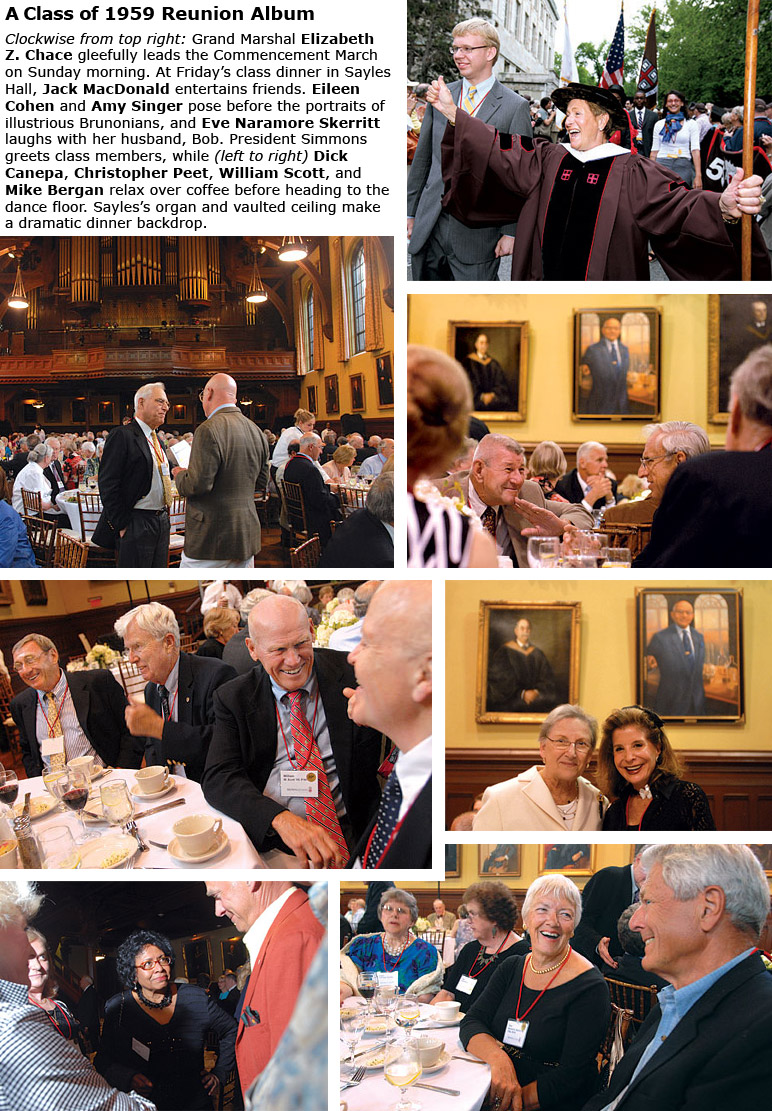 Do you have an interesting life story? Describe it to us in an e-mail.
Send it to alumni_magazine@brown.edu

All photos by Scott Kingsley, except Chace, by Mary Beth Meehan.