Fresh Ink
September 26th, 2011
The Myth of Choice: Personal Responsibility in a World of Limits by Kent Greenfield '84 (Yale).
The U.S. legal system is founded on the notion of free will, but Boston College law professor Greenfield argues that we aren't so free at all. In this lively and thought-provoking exploration of the idea of choice, he draws on fields ranging from brain science to economics in order to show some of the forces that curb our freedom. He argues that policies and laws must be revised to reflect those limitations.
Marry or Burn: Stories by Valerie Trueblood '65(Counterpoint).
Shortlisted for the 2011 Frank O'Connor International Short Story Award, this collection maps the intersection of marriage and betrayal: a woman shoots her abusive husband; parents watch their daughter choose among three men proposed by a matchmaker; and a mother of the bride waltzes with her daughter's former married lover. When a widower introduces his children to their future stepmother, all they know is that she killed a bear with an ax to save her former husband. However brief, each of these stories packs the scope and depth of a novel.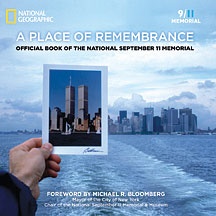 A Place of Remembrance: Official Book of the National September 11 Memorial by Allison Blais and Lynn Rasic '98 (National Geographic).
Marking the tenth anniversary of the 9/11 attacks, this volume of history and photographs—some never before published—traces the events of that terrible day and its aftermath. It charts the evolution of the Twin Towers from their iconic conception to their destruction, and finally to their rebirth in the form of the winning memorial design, "Reflecting Absence."


ALUMNI NON-FICTION
The Freedom to be Racist? How the United States and Europe Struggle to Preserve Freedom and Combat Racism by Erik Bleich '91 (Oxford).
Inside the College Gates: How Class and Culture Matter in Higher Education by Jenny M. Stuber '97 AM (Lexington Books).
Switching Codes: Thinking Through Digital Technology in the Humanities and the Arts edited by Roderick Coover '93 AM and Thomas Bartscherer (Univ. of Chicago).
The Mitzvah Project Book: Making Mitzvah Part of Your Bar/Bat Mitzvah' and Your Life by Diane Barzman Heiman '80 and Liz Kellner Suneby '80 (Skylight Paths).
All Things Shining: Reading the Western Classics to Find Meaning in Secular Art by Hubert Dreyfus and Sean Dorrance Kelly '89, '89 ScM (Free Press).
Zoot Suit: The Enigmatic Career of an Extreme Style by Kathy Peiss '77 AM, '82 PhD (UPenn Press).
The Modern American Wine Industry: Market Formation and Growth in North Carolina (Studies in Business History) by Ian Taplin '86 PhD (Pickering and Chatto).
Midnight Rising: John Brown and the Raid that Sparked the Civil War by Tony Horwitz '80 (Henry Holt and Co.)
The Summons of Love by Mari Ruti '88 (Columbia University).
Bohuslav Martinu: The Compulsion to Compose by F. James Rybka '57 (Scarecrow Press).
Novel Craft: Victorian Domestic Handicraft and Nineteenth-Century Fiction by Talia Schaffer '90 (Oxford).
Inside the College Gates: How Class and Culture Matter in Higher Education by Jenny Stuber '97 AM (Lexington Press).
Job Searching with Social Media for Dummies by Joshua Waldman '00 (Wiley).
God's Favorite Prayers by Tzvee Zahavy '76 PhD (Talmudic Books).
Hatred at Home: al-Qaida on Trial in the American Midwest by Andrew Welsh-Higgins '88 AM (Ohio University/Swallow Press).
The Myth of Choice: Personal Responsibility in a World of Limits by Kent Greenfield '84 (Yale University Press).
Playing the Farmer: Representations of Rural Life in Vergil's Georgics by Philip Thibodeau '99 PhD (University of California Press).
ALUMNI MEMOIRS
Life As A House: An English Professor becomes the first in the known history of his family to build a house and changes the meaning of his life by Charles Brent Harold '60 (Seaboard Press).
Check This Box If You Are Blind: A Brother, A Sister, A True Story by Susan Meyers '82 (Climbing Ivy Press).


ALUMNI FICTION
The Vices by Lawrence Douglas '81 (Other Press).
Wunderkind by Nikolai Grozni '07 MFA (Free Press).
Leaving the Atocha Station by Ben Lerner '01, '03 MFA (Coffee House Press).
Sad Monsters by Frank Lesser '02, illustrated by Willie Real (Plume).
What Came First: A Novel by Carol Snow '87 (Berkley Books).
Murder in Lascaux by Betsy Draine and Michael Hinden '71 PhD (Univ. of Wisconsin Press).
Marry or Burn by Valerie Trueblood '65 (Counterpoint Press).

ALUMNI POETRY
Ghosts! by Martine Bellen AM '88 (Spuyten Duyvil).
Whorled by Ed Bok Lee '98 MFA (Coffee House Press).
A Man of Ampurdan: Grandfather's Spanish Civil War Poems by Charles Martell '58 (CreateSpace).
Person Hour by Thibault Raoult '08 MFA (BlazeVOX).
Persephone's Ransom by Jennifer Franklin '94 (Finishing Line Press).

ALUMNI YOUNG ADULT FICTION
The Secret of the Smoking Mirror by Michael Cantwell '51 (iUniverse.com).
The Beginning of After by Jennifer Castle '89 (Harper Collins)

FACULTY NON-FICTION
Core Samples from the World by Forrest Gander (New Directions).
Winning the War on War: The Decline of Armed Conflict Worldwide by Joshua S. Goldstein (Dutton).
A Clockwork Counterpoint: The Music and Literature of Anthony Burgess by Paul Phillips (Manchester University Press).
The Pursuit of Laziness: An Idle Interpretation of the Enlightenment by Pierre Saint-Armand (Princeton University Press).

FACULTY FICTION
The Rape of the Muse by Michael Stein (The Permanent Press).

ALUMNI FILM
A Decent Arrangement by Sarovar Banka '02 (Secret Pact Productions).