Missing
by Lindsay Harrison '09
(Scribner). In March of her sophomore year, Lindsay Harrison received a call from her brother saying that their mom had not shown up at work and was not answering her phone. For the next forty days, the family searched for clues—until a diver found her body in the Atlantic. What follows is Harrison's search to understand the woman she spoke with daily but never knew. Her memoir is haunting—true crime written by a poet.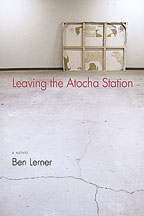 Leaving the Atocha Station by Ben Lerner '01, '03 MFA (Coffee House Press). National Book Award finalist and Fulbright scholar Lerner, who is the author of three volumes of poetry, ventures into fiction with this hilarious account of an American poet on a highbrow fellowship in Madrid. When not self-medicating, insincerely apologizing for his Spanish, or assembling his face to communicate sincerity to his newfound friends, the narrator frets. Chief among his worries: the falsity of his poetry and his spurious relationship to both art and people. For all this, he's surprisingly likeable, if unreliable, company. 
Job Searching with Social Media for Dummies
by Joshua Waldman '00
(John Wiley & Sons). This may be the
What Color Is Your Parachute?
for the twenty-first century. Founder of the website
careerenlightenment.com,
Waldman runs webinars and workshops for job seekers. Laid-off boomers, career changers, and recent grads will all benefit from this primer on using social media to land a job. The book is packed with advice on such topics as how to create a video résumé, burnish your presence on LinkedIn and Facebook, and maximize your online visibility via Google and other web tools.
ALUMNI FICTION
Eat, Drink, and Be Married by Rebecca Bloom '96 (iUniverse Publishing).
Crown Island: A Quarrytown Novel by Lee A. Jacobus '57, '59 AM (Hammonasset House Books).
ALUMNI NON-FICTION
Athens in Black: A Story of Life in Nazi-Occupied Greece by Constantine E. Anagnostopoulos '49 (Anavasis Press).
Built From Stone: the Westerly Granite Story by Linda Smith Chaffee '67, John B. Coduri, and Ellen Madison (Babcock Smith House Museum).
Integrative Strategies for Cancer Patients: A Practical Resource for Managing the Side Effects of Cancer Therapy by Elena J. Ladas and Kara M. Kelly '85 (World Scientific).
The Watermill Center—A Laboratory for Performance: Robert Wilson's Legacy by Jose Enrique Macian '08 (Daco-Verlag).
The Rhode Island Campaign: The First French and American Operation in the Revolutionary War by Christian M. McBurney '81 (Westholme Publishing).
Bella in America: A Memoir by Bernard Mendillo '70, '73 AM (Bernard Mendillo).
Check This Box if You Are Blind: A Brother, A Sister, A True Story by Susan Meyers '82 (Climbing Ivy Press).
God's Favorite Prayers by Tzvee Zahavy '76 PhD (Talmudic Books).
ALUMNI POETRY
a fox peeks out: poems by Ravi Chandra '89 (Pacific Heart Books)
FACULTY NON-FICTION
English After the Fall: From Literature to Textuality by Robert Scholes (University of Iowa Press).