First Person
Miss America, Feminist
Cara Mund '16 talks swimsuits and empowerment.
April 1st, 2018
A small audience packed with student participants in the Women's Launch Pad, an alumnae mentorship program for seniors, schmoozed with Brown's first Miss America, Cara Mund '16, in Maddock Alumni Center as part of its "Life After Brown" series. After refreshments, Mund sat down for a chat with Visiting Assistant Professor of Education Hilary Levey Friedman, a sociologist who's an expert on beauty pageants. At the end of the event, the BAM had a few more questions for Mund, who was an honors concentrator in business, entrepreneurship, and organizations.
Pageant experts advised you not to admit you went to Brown. Why did you reject that advice? People giving this advice thought there was some type of mold for Miss America and that I should stick to it. But I felt that at the end of the day my strength is my education. And it is a scholarship-based organization. So in my interview, I talked about applying to Brown, about what I learned at Brown and about the skills that Brown gave me that would make me a good Miss America. I think that also gave me the critical thinking skills for all those on-stage questions. You will see that some of the contestants have rehearsed answers and some think on their feet. The latter is what I learned at Brown.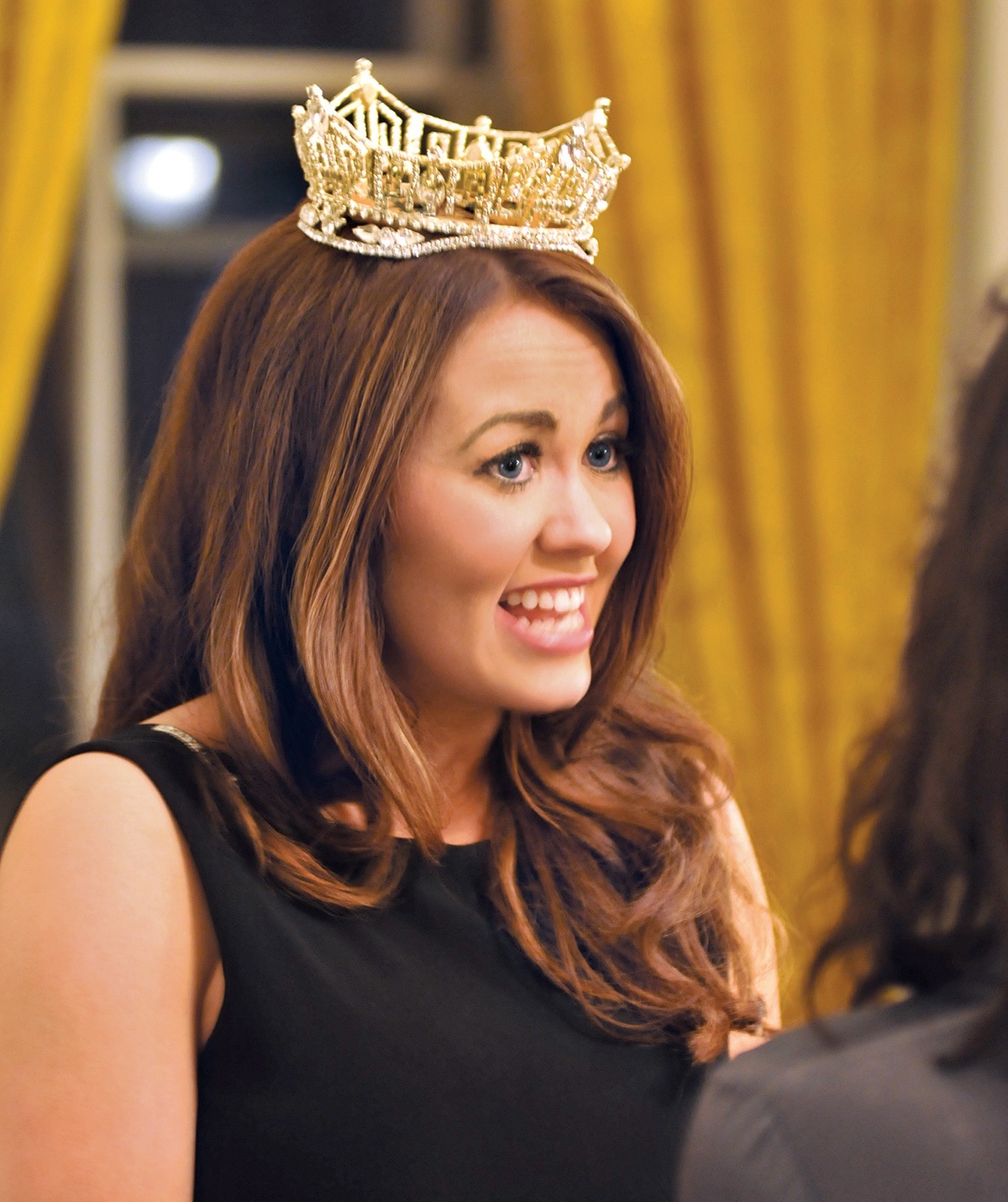 Did you get any side-eye at Brown about your involvement in beauty pageants? Well, there are a lot of perceptions. But at Brown, people always asked, "Why do you do it?" They weren't willing to judge right away. I don't get that all the time now. But when people question me, it's just more and more opportunity to change people's mindsets. Miss America is an organization that gives women scholarships—it's the largest scholarship provider to women. It's so relevant. Because of the price of education, it's more relevant than ever. I think we just need to break those stereotypes and redefine what it means to be Miss America. Miss Americas have been talking about platform issues from AIDS to same sex marriage—we are willing to take that on and serve as a voice. It's so much more than what some people perceive.
You wore black to the State of the Union address, in solidarity with the movement against sexual harassment. What's it like being Miss America in the #MeToo era?
I represent what it means to be a woman in today's society, and I can't ignore those huge movements. I can speak about it. Although I personally have never been affected, I can stand in solidarity.
Do you consider yourself a feminist? Yeah, I absolutely consider myself a feminist. That's why I wanted to be Miss America.
You say becoming Miss America gave you a voice, but also that you had to work hard to look good in a swimsuit in order to get that opportunity. The fitness competition was what some people saw as my shortcoming. I think if there wouldn't have been the hurdle, I wouldn't have been so determined to win. I wanted to prove that all those people were wrong.
Do you see a future where Miss America isn't about beauty or swimsuits at all? Oh, absolutely. Swimsuit is part of the competition's history. But we are moving in a direction where it is about scholarship, it's about service. I am asked questions daily. I need to know current events, I need to be able to think on my feet. People want to know what Miss America has to say. I'm not saying you have to go to an Ivy League school, but if you don't have a strong education, it's really difficult to answer those questions.
Your honors thesis was on Miss America; you found it was as male-dominated as other nonprofits. Do you feel you've been able to have any impact on that? I do. Because I serve as the face and voice right now. The organization is changing, and I think the most remarkable part is that it's the girls who were empowered, the way I have been, who are willing to take back the organization. And who are saying that we want to continue this for another 100 years, but we see there's something wrong and we want to change it. So the organization really did exactly what it was meant to do, and that was to empower women and give them the skills to be able to stand up for themselves.
What's next for you, after your reign is over? I made it to Brown, I made it to Miss America. So I just keep dreaming bigger and bigger dreams. It wasn't until I became Miss America that I thought I could become the first female governor of South Dakota. I can do that. I already did it. You know?