Service & Advocacy
Student Journalists, Statewide Impact
An undergrad-reported series on elder abuse may influence Rhode Island policy.
November 9th, 2018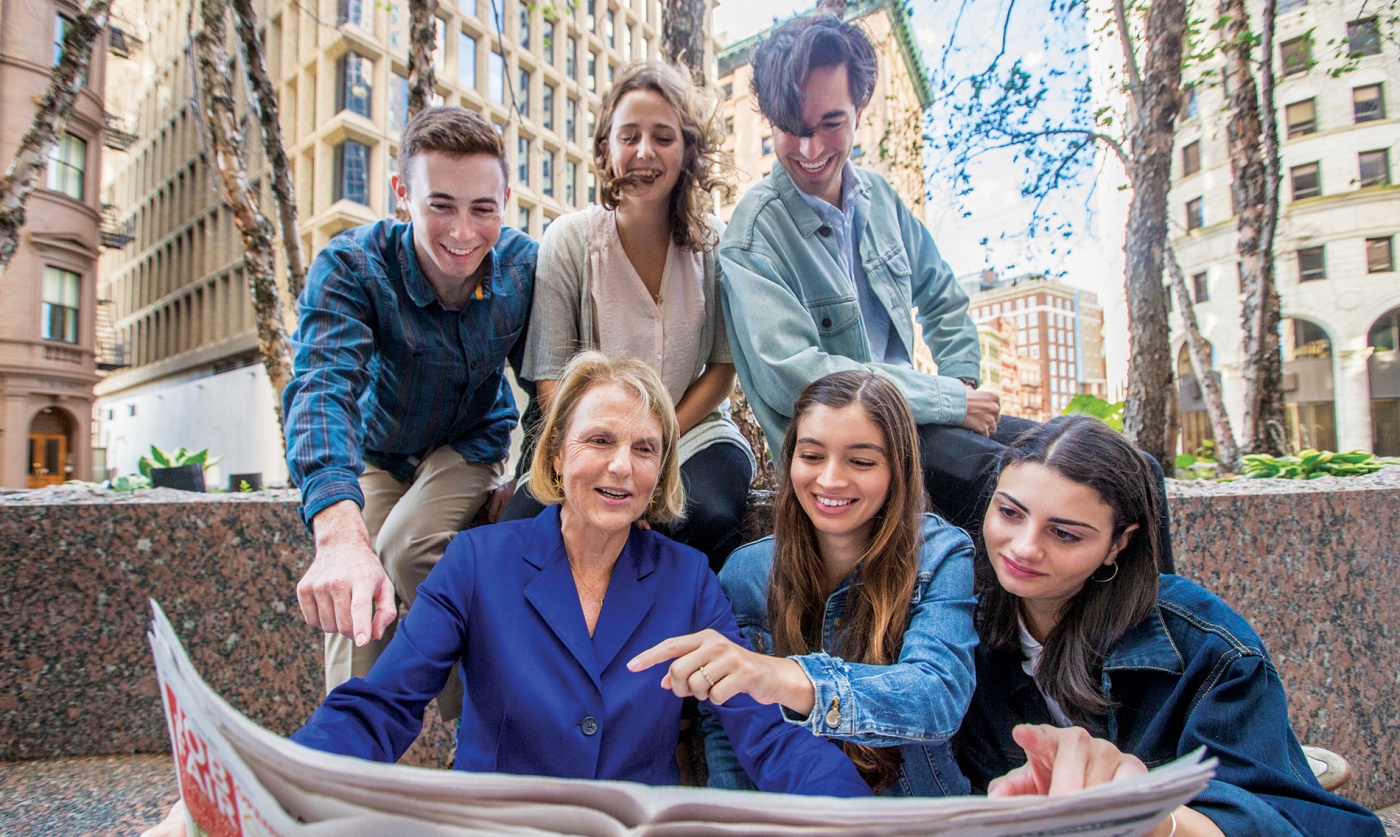 During a yearlong investigation into elder abuse, a team of Brown student journalists found certain stories stayed with them—among them, that of a 78-year-old woman whose son extorted thousands by repeatedly stealing and threatening to kill her cat, Melo. "This cat was her companion," says writer Andie Corban '19. "It was heartbreaking."
Their nine-part series, "Elder Abuse in Rhode Island," launched in the Providence Journal in late August in collaboration with the nonprofit Community Tribune, a national startup that pairs student journalists with veteran reporters to fill gaps in investigative reporting. Under the guidance of Tracy Breton, Brown's Clarence Raymond Adams and Rachel Blodgett Adams Visiting Professor of English, four students—Corban, Katrina Northrop '19, Jack Brook '19, and now-alum Rebecca Ellis '18—investigated an ongoing trend of under-prosecuted elder abuse in the state since 2000.
"Initially, I was thinking we would find nursing home neglect," says Corban. "But the extent to which the victims' own children were the perpetrators was horrifying."
Community Tribune founder Ben Eisler first reached out to Breton after noting that Providence—home to historic corruption, the venerable but layoff-impacted ProJo, and a top university—would be a perfect place to pilot a student-reported series. Above all, he saw an ideal collaborator in Pulitzer-winning journalist Breton. Although she was set to begin work on a new book, Breton proposed the series on elder abuse, based on previous reporting of her own and inspired by the chance to work in depth with her advanced students. "I couldn't pass it up," she says. "I feel strongly that we have to train the next generation of really good reporters."
The students devoted a year to delving into hundreds of cases of abuse, combing through court files, cold-calling police departments, interviewing officials, and holding weekly roundtables to compare notes. A love interest who rammed his elderly friend's wheelchair into a wall and threw eggs at her. A grandfather scammed in the belief he was helping a desperate grandson. Case after case of adult children—often struggling with addiction and mental health issues—assaulting, abusing, and stealing from aging parents. Most of all, victims, unable or afraid to advocate for themselves, remaining at risk.
"When you see these cases in close detail, it can infuriate you," says Brook, who cowrote part nine of the series with Ellis, focusing partly on an attorney who stole nearly $100,000 from a 91-year-old client. (The attorney lost her license and was ordered to pay restitution but never served jail time.) "We saw how important journalism can be to hold people in public office accountable and to press for meaningful reform."
But for their words to have impact, they needed to uncover the extent of the broken system. Breton enlisted the help of former student Asher Woodbury '17, now a data engineer at a New York startup, and Kyle Foreman, a senior data scientist at the University of Washington, to put hard numbers to the group's research—a battle beleaguered by judiciary data too often partial, missing, or unusable. "We definitely learned persistence," says Northrop, reflecting on months invested in tracking down information and checking and rechecking details. She credits Breton for keeping them focused: "We knew we had an ability to impact the conversation on elder abuse in Rhode Island."
After reporting the series, the students moved on. Corban and Northrop did summer internships at WJAR in Providence and the Beijing bureau of the New York Times, respectively; Brook embarked on a storytelling abroad program with the Swearer Center; Ellis became a Kroc fellow at NPR. Then came a call. A R.I. Senate legislative committee studying elder abuse wanted to hear from them, so Breton and Brooke testified in October. The statistics they uncovered speak for themselves: Of more than 1,061 people charged with elder abuse in Rhode Island since 2000, fewer than half were convicted. The average prison sentence: 366 days.
In President Paxson's Convocation address, she hailed the team members and their work. "It shines a light on truth, reveals knowledge that will hopefully lead to reform, and calls out a shameful lack of respect for human dignity," she said. "It is the opposite of fake news."