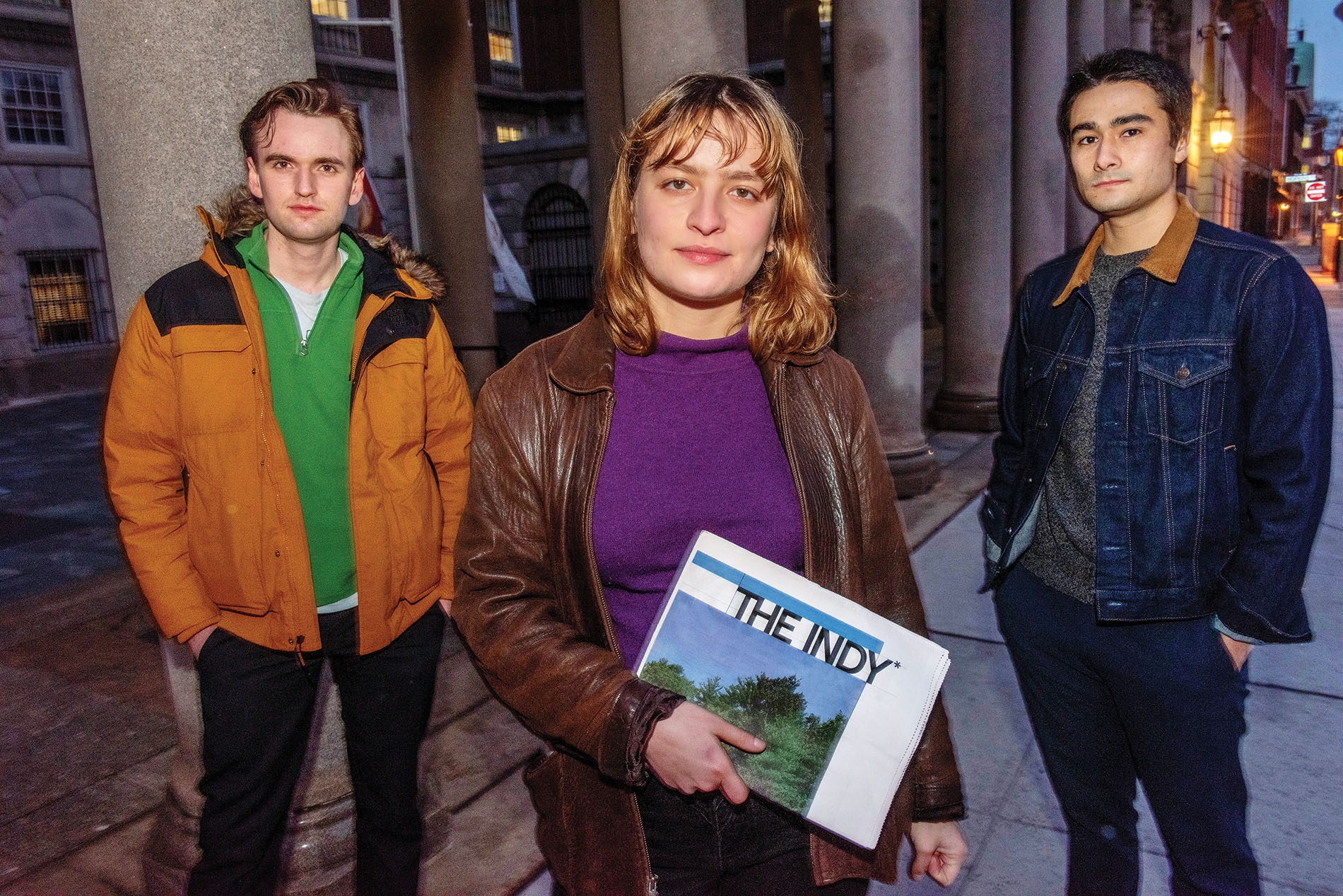 Politics & Law
Failure to Pay
Student journalists expose the ongoing, illegal practice of insisting court defendants pay fines they'll never be able to afford.
March 26th, 2021
If you walked into the public courtroom at the Garrahy Judicial Complex in downtown Providence in the winter of 2018, you might have seen a row of Brown students in the gallery scribbling notes. The students were observing the Rhode Island Sixth District Court. Defendants held overnight at the massive Adult Correctional Institute enter the courtroom chained together in pairs. If they plead guilty or no contest, they are often charged fines and court fees that, in many cases, they are simply unable to pay.
The students—a team of nine journalists from the College Hill Independent, Brown and RISD's alternative weekly newspaper (the Indy)—were listening to hear if fees would be tacked on top of any fines owed to the court, explains Nick Roblee-Strauss '22, one of the student reporters. "We also paid attention to whether the judge asked any questions pertaining to the defendant's ability to pay," Roblee-Strauss says, as a 2008 state law requires.
In their April 2019 Indy story, "Caught in Rhode Island," the team wrote they'd "documented little to no efforts by judges to assess low-income defendants' ability to pay." This noncompliance has broad-reaching consequences for the state's most vulnerable residents: "In Rhode Island and across the country, the well-off easily pay court costs, dodging prison and further involvement with the legal system, while low-income defendants, disproportionately people of color, are cast headlong into a cycle of debt." The team won a Society of Professional Journalists 2020 Mark of Excellence for best in-depth reporting.
A thesis discovered
The article was inspired by a public policy thesis by Rachel Black '16 that had been gathering dust for three years. While working at the Center for Justice over the summer of 2018, Julia Rock '19, then an editor at the Indy, came across it. "We spent the whole summer researching the ways that people in Rhode Island are incarcerated for a simple lack of funds," says Rock, "and Rachel's thesis was the only comprehensive document detailing the issue that kept so much of the state's prison population behind bars." It also illuminated non-compliance on the part of judges with a 2008 law that required them to assess ability to pay. But little effort had been made to update Black's finding.
The thesis begins with a conversation with Nick Horton '04, co-executive director of criminal justice nonprofit Open Doors R.I., who had advocated for the initial 2008 legislation to be passed. "They had a perception that nothing had really changed in practice," recalls Black. Her thesis became a mechanism for tracking implementation. Black says "the biggest headline was the fact that judicial and arresting practice had barely changed." Worse, she found that police do not make it clear to defendants that they're being arrested for debt owed to the Judiciary. "I spoke with people while they were in jail who literally didn't know why they were there," says Black. "I was the one who told them."
Black could not identify the point of the arrest cycle. Court debt is an inefficient revenue generator, she showed, because the state spends more money to keep people in jail than it's able to collect from those incarcerated.
Black's thesis was released as a policy brief by the Watson Institute, but by three years later it had been largely forgotten.
Investigation relaunched
Rock brought the idea back to the Indy, where I was a managing editor. Our team "wanted to produce something that would be useful in terms of advocacy around this issue," explains Lucas Smolcic Larson '19, a fellow editor. So student writers reached out to alums Jennifer Wood '81 and Natalia Friedlander '11, the director and staff attorney, respectively, at the R.I. Center for Justice. They told the students the Indy would be most useful as a court observation team, monitoring day-to-day proceedings to determine if the 2008 legislation was being followed—essentially updating Black's work.
Friedlander recalls sitting in a coalition meeting with other nonprofits working on fees-and-fines justice: "Everyone was passionate about the issue," she says, "but all of us were professionals who simply did not have the bandwidth to sit in court every single day...and do the legwork." The students did.
The resulting article gave a face and narrative to what's usually thought of as a bureaucratic and financial problem. Court debt, Wood says, "has a huge negative impact on the human beings who become ensnared in that system. I think the thing that the Indy article explained really well was the stacking or compounding effect of failure to pay." Take, for example, the opening paragraphs: "When Roberto Torres appeared in District Court on February 14, 2019, and pleaded no contest to a reckless driving charge, he was unemployed, on food stamps, and already $1,417.32 in debt to the Rhode Island Judiciary for a litany of past violations."
But the Indy's work wasn't strictly narrative. The team included computer science students who built a data-scraping tool that analyzed how many people owed money to the Judiciary and how much they owed. "This is public information stored in an online portal, but the percentage of people in the state that were in debt to the court and the amount they owed was not available," says Olivia Kan-Sperling '20, one of the students who built the data-scraper tool. Those numbers paint a bleak picture: almost 5 percent of Rhode Islanders, or nearly 50,000 people, owe money to the Judiciary.
Now that documentation from both Black and the Indy shows a gaping hole in the Judiciary's procedures, "this is one of those problems in government that actually has a solution," Wood says. It could be as simple, she suggests, as asking everyone who comes to the court about their ability to pay a fine or fee. With the goal of implementing these sorts of reforms, the Rhode Island Bar Association and the Rhode Island Public Defender have used the Indy article in numerous legal education seminars in the years since it was published.
"Rhode Island is the most powerful place to do this work because it's so small you actually can go to every district courthouse, you can go to the State House," Black says. "Brown of all places has the most potential ability to influence this type of thing."