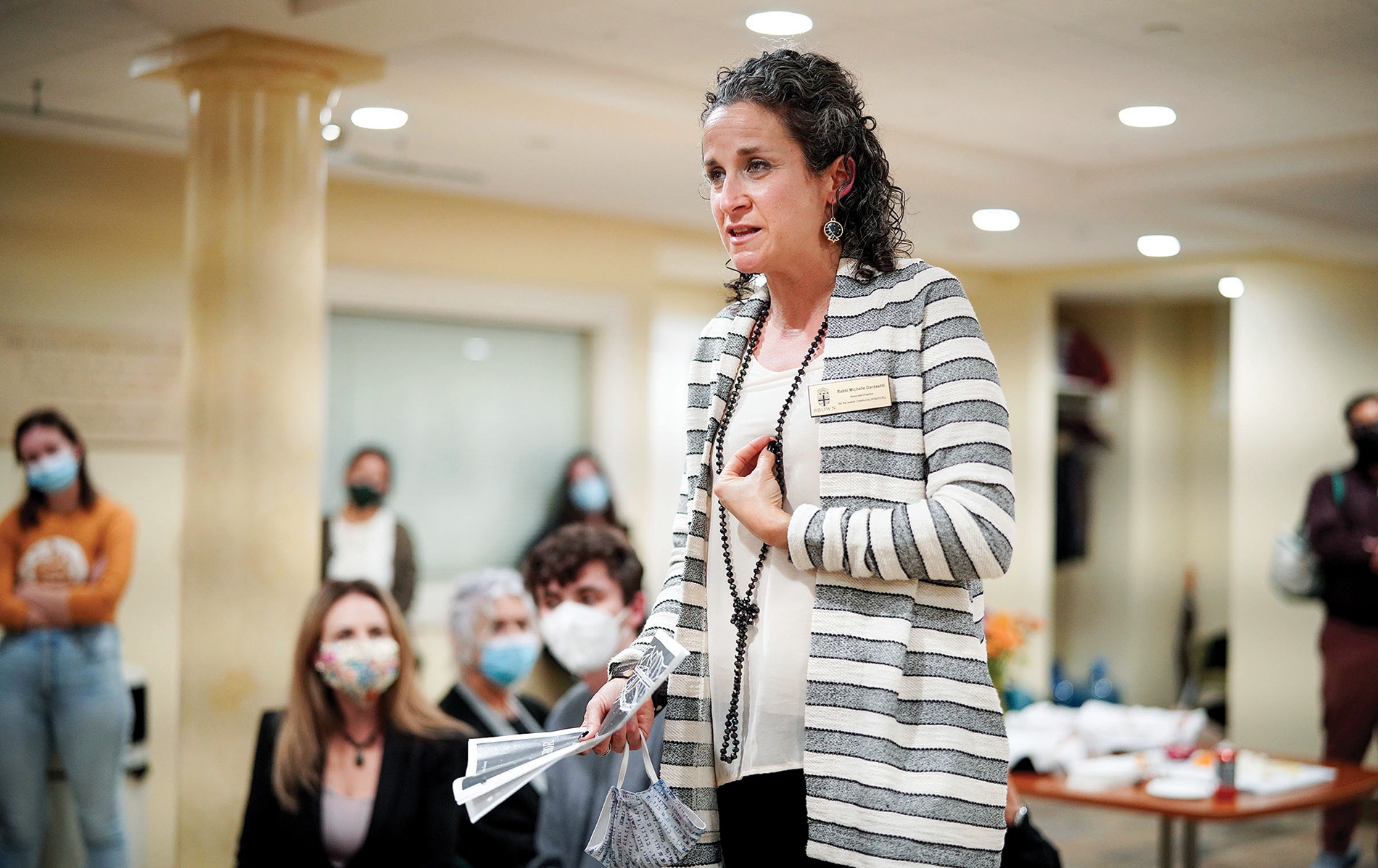 Religion & Spirituality
Beyond the Divide
A Hillel program gets Zionist and anti-Zionist students talking.
June 13th, 2022
Last spring, every Tuesday evening, I logged onto one more Zoom call after a day of virtual classes. Rabbi Michelle Dardashti, Brown RISD Hillel's rabbi, welcomed us by playing beautiful Jewish songs as we began another session of the Narrow Bridge Project: Jews Reaching Across Divides on Israel, Activism, & Antisemitism (or NBP). On the screen were 15 faces, some familiar, some new to me, gathering for intimate discussions about Judaism, the future of Jewish peoplehood, Zionism, politics, and more. We delved into controversies and deeply held beliefs. In a time of Zoom distance, NBP created a space where we could be vulnerable and have meaningful conversations that transcended time and space.
Dardashti, who also serves as associate chaplain for the Jewish community at Brown, has spent nearly a decade on campus. Her first few years, she says, observing activism and conversation surrounding Israel-Palestine and Zionism was like "watching a train wreck on loop." Jewish students from varied political, religious, and ideological backgrounds talked past each other, with divisive responses to campus incidents related to Israel or antisemitism. "I felt compelled to find a way to change the dynamic by cultivating conversation, and perhaps eventually activism, that was more productive," Dardashti says. While these debates seemed to center around Israel, "it's really about so much more," she notes. "It's also about differing understandings of what will keep Jews safe and about who and what we most have to fear." She says she felt the need for a space where Jewish students could "hash all that out—outside of echo chambers."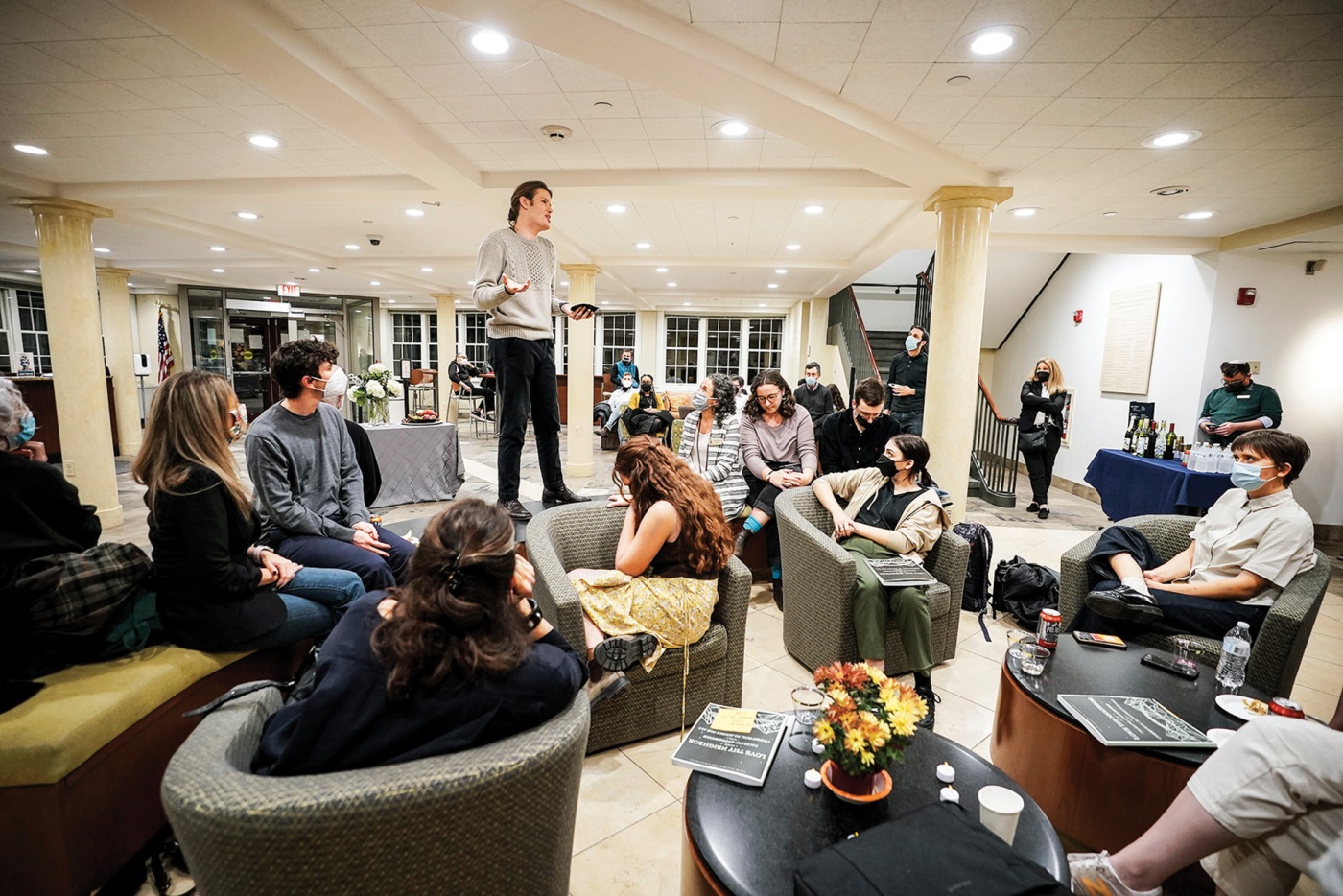 A typical NBP session involves analyzing readings under Dardashti's guidance, with an emphasis on small group and one-on-one conversations. Zoë Mermelstein '21 says that she initially saw her cohort mates feel obligated to take on the burden of defending their own sides or perspectives—whether they were members of the anti-Zionist group Jewish Voice for Peace, or the more staunchly pro-Israel camp from Brown Students for Israel, or anywhere in between. As trust built over time, she recalls, the room became "heated but productive"—participants felt welcome to express opinions and concerns beyond standard talking points.
Within Jewish communities across the U.S., which have come to reflect broader American political polarization, NBP's fundamental premise, that Jews of all ideological backgrounds should gather to speak in the same room, is fairly radical. Before participating in two semesters of NBP, Andrew Steinberg '22 found that anti-Zionist and Zionist Jews often "do not speak to each other, which prevents us from uniting against rising threats which harm all Jews," he says. For Dardashti, the main goal is not necessarily to change anyone's mind, but rather to broaden their thinking and feeling—to enable Jewish students from different perspectives and backgrounds to "understand each other with more depth."
The diversity of perspectives can stir up conflict. Mermelstein remembers an NBP conversation after eleven Jewish people were killed in a mass shooting at the Tree of Life synagogue in Pittsburgh in October 2018. "There were the more leftist students who were saying, 'This is exactly why we shouldn't have police,'" she says, while others argued, "No, this is exactly why we need police. This is why we need security outside of Hillel, and this is why you're naive if you think that Jews are safe." The conversation was "scary and hard," Mermelstein says, but "it was really evident to me how much we'd grown." She adds, "No one was censoring their views. People were really listening and taking the time to do the emotional labor of being there."
In the spring of 2019, Brown student government elections included a referendum on whether the University should divest from "companies complicit in human rights abuses in Palestine." The campaign echoed the Boycott, Divestment, and Sanctions movement, a Palestinian-led call for an economic boycott of Israel. For Steinberg, the debate around divestment felt like a "traumatic and divisive time for the Jewish community on campus." Sam Frolichstein-Appel '19, a cofounder of the campus chapter of Jewish Voice for Peace who was involved in the divestment campaign, says he and fellow organizers spent multiple NBP sessions explaining the campaign and discussing concerns about antisemitism. "It was our role to have those difficult conversations" with Jewish students and institutions, "the ones who would come down hard" against the referendum, he says. NBP remained a space "where we could argue from a place of love," he recalls. (The referendum ultimately passed with support from 69 percent of the student body but was rejected by President Christina Paxson, who wrote: "Brown's endowment is not a political instrument.")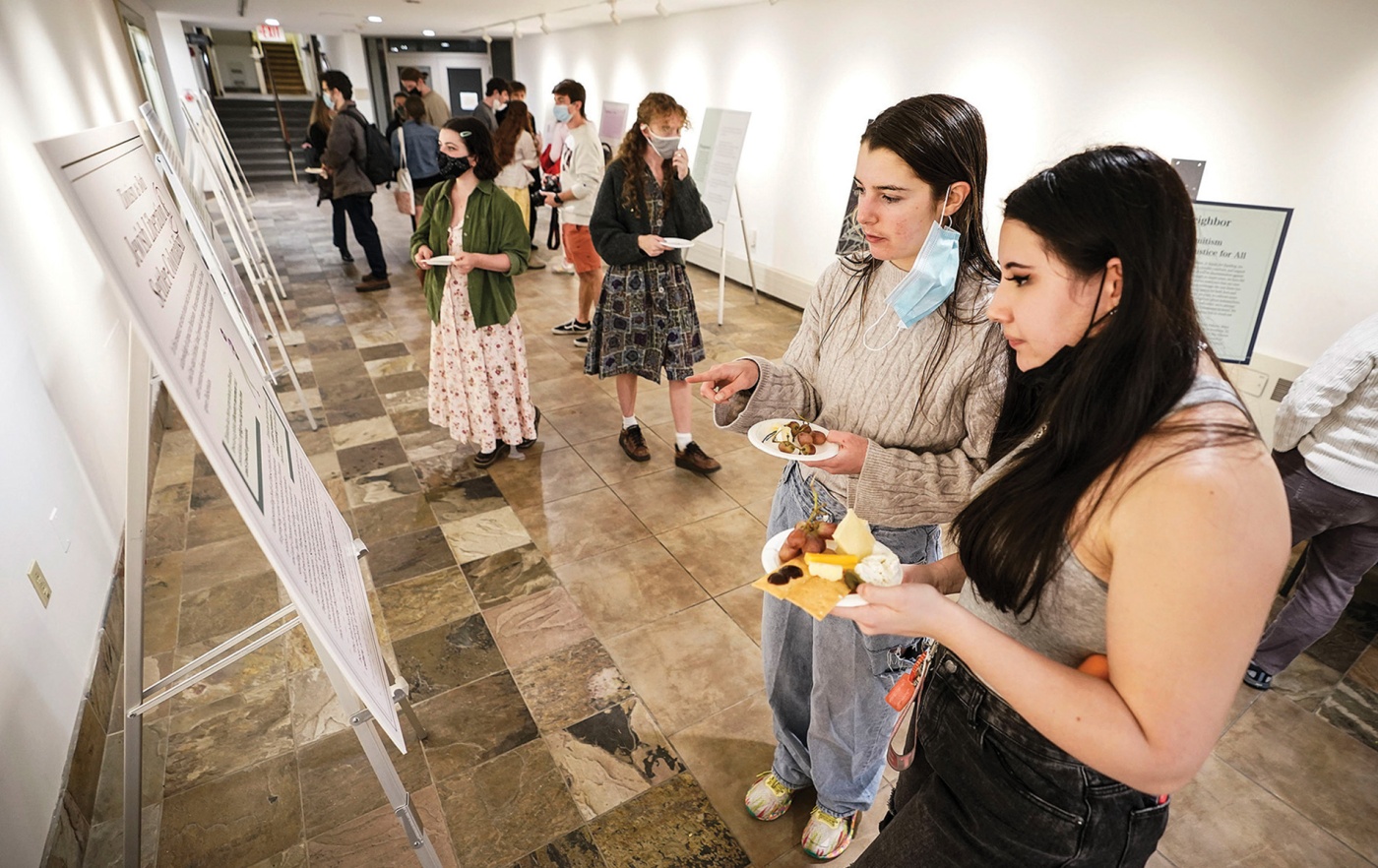 Dardashti says there is a certain "muscle memory" within the group, a sense that what's happening in the room demands a powerful sort of vulnerability from each new member. Since the original cohort, she has added a winter break seminar with the Hartman Institute. About 150 Jewish students from universities from across North America gathered to study texts and attend talks with scholars and political activists. Mermelstein says the trip has felt like an "NBP intensive." She adds: "Israel-Palestine is controversial on every single campus. But most Jewish centers just aren't talking about it. But that isn't making the problem go away."
Dardashti has also piloted the Narrow Bridge Fellows program, in which she mentors students collaborating on research projects related to antisemitism. Last spring, the fellows created a presentation about the complex history of antisemitism. Steinberg, one of the participants, recalls that creating their presentation involved "a lot of litigation" over what to highlight while condensing thousands of years of history into a two-hour session. Mermelstein, another fellow, says the presentation was unique in its efforts to "educate activists on campus without attempting to change or quash their activism." Ultimately, Steinberg says he saw "growth in real time" from participants learning about antisemitic tropes and the historical scapegoating of Jews. The fellows expanded their analysis into a free online 130-page book, "Love Thy Neighbor: A Guide for Tackling Antisemitism While Committing to Justice for All." According to Dardashti, the book project helps reveal "blind spots" when it comes to antisemitism, regardless of one's ideology or background.
In the closing session of our NBP cohort last April, we explored potential political outcomes to the Israeli-Palestinian conflict. We considered a two-state solution, a one-state solution, a confederation, or maintenance of the highly precarious status quo. Six weeks later, violence broke out in East Jerusalem, and eventually in Gaza and more of Israel-Palestine, leaving hundreds dead. While a semester of talking about the conflict often left me with more questions than answers about how to move forward, I imagine that all of my cohort mates and I can now follow the news with a more sophisticated understanding of how and why we got here.
Continued violence and political upheaval in Israel, and resulting American responses, will inevitably lead to uncomfortable conversations for future cohorts. But NBP alums expect the participants will be in good hands. "Nothing about the group would have worked without someone like Rabbi Dardashti," says Aaron Siff-Scherr '22, who participated his sophomore year. Steinberg emphasizes Dardashti's skills at facilitation and curation of invested and involved students. "This whole experience was lightning in a bottle," he says. "We could learn to be firm to our values, but open minded, and that's what we need more of." Dardashti says it is important that the group remains a "safe space to explore": where Jewish students can share their beliefs and stand firmly and fearlessly together on that very narrow bridge.