Service & Advocacy
Flight Plan
Advocating for disability inclusion in space
August 24th, 2023
Lindsay Yazzolino '12, who has been blind since birth, was one of 14 ambassadors and accompanying crew members who participated in a zero-gravity flight hosted by AstroAccess late last year. For the Washington state native, it had been a three-year journey to the takeoff that December day in Houston, Texas.
"I was at the SciAccess conference in Columbus, Ohio, in 2019 and some people from that conference went on to form AstroAccess," she says. Yazzolino kept in touch with the nascent organization, which is committed to disability inclusion in space exploration, and applied for Flight 1 in 2021—but didn't make the cut. A year later, she was accepted for Flight 2.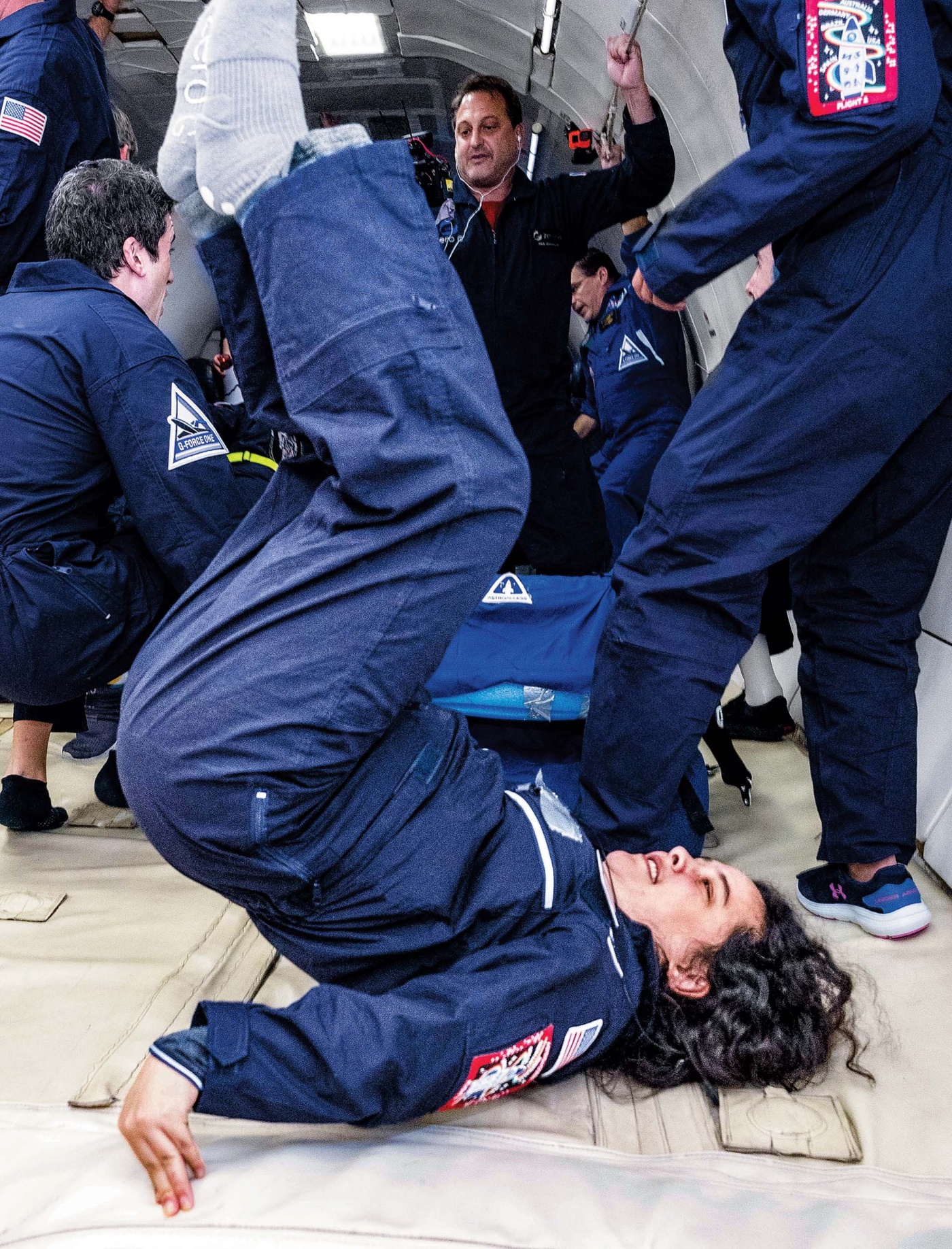 A few months of calls and meetings led to a trip to Ellington Airport, a public and military-use airport adjacent to the Houston Spaceport and the NASA Johnson Space Center. The goal: to have the crew experience zero gravity while conducting experiments to help people with disabilities become better acclimated to space flight.
"I am very much an extrovert and I spent a lot of time going to events and meeting people with disabilities," says Yazzolino. "I had to advocate for myself. Experiencing zero gravity was really cool and it's not unreasonable to think I could one day go to space."
The flight reached 25,000 feet in a Zero-G aircraft, which completed 18 parabolic maneuvers before returning to Ellington. Yazzolino and her peers tested innovative tactile graphics designed to be added to cabin walls that will enable both blind and sighted crew members to stay oriented during emergencies. She's proud that the work has been shown far beyond Houston. "The New York Public Library has a whole space dedicated to tactile graphics!" she says.
Yazzolino considers the flight one piece of her nontraditional trajectory. She enrolled at Brown and studied cognitive science after a 3,000-mile trek from Seattle. "Even as a kid, I liked to go to new places," says Yazzolino. "Going to Rhode Island and saying, 'Bye, Mom and Dad' … it was not great for them."
Working with Dr. Marina Bedny at MIT's Social Cognitive Neuroscience (Saxe) Lab in summer of 2010 gave Yazzolino a chance to strengthen her foundational knowledge. Her career track has included working as a CVS Health nonvisual accessibility designer, a public transit accessibility advocate, and a research coordinator and consultant at Johns Hopkins.
"The zero gravity flight was a good opportunity to find my way into that sector," Yazzolino says. "Some people love to eat, sleep, and breathe advocacy. I don't. Blindness is just another way of living life."