Ambassador to the Penguins: A Naturalist's Year Aboard a Yankee Whaleship by Eleanor Mathews (David R. Godine).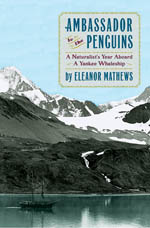 For those with an ornithological bent, the nameRobert Cushman Murphy, class of 1911, has mythical status. His two-volume classic, Oceanic Birds of South America, opened a window on an all-but-unknown frontier of avian life.
Who knew the seas were populated with millions upon millions of birds, from dainty storm-petrels to humongous albatrosses? Or that some penguins nested hundreds of feet inland, beating a tedious path to and from their domiciles? Murphy was to the world's oceans what Audubon was to the American continent, the first to exhaustively study and document an entire avifauna.
In 1912, only a year after Robert Falcon Scott and Roald Amundsen staged their fateful race to the South Pole, Murphy launched his career in earnest, signing on with a whaling ship out of New Bedford, Connecticut, the brig Daisy, destined for South Georgia Island, the nearest major landform to the Antarctic Peninsula.
He kept a detailed record of his journey as a continuous letter to his wife, Grace Barstow Murphy, whom he had wed just months before his departure. Published in the 1940s as Logbook to Grace, this account, along with the photographs Murphy took (later published separately), is the foundation of Ambassador to the Penguins, a retelling of Murphy's inaugural expedition by his granddaughter Eleanor Mathews.
What gives this story special poignancy is that the Daisy was an anachronism, the last windborne Yankee whaler to ply the southern reaches. Matthews describes graphically (as did Murphy, presumably) the whaling process, from hunting to "flensing" (stripping the blubber) to "trying-out" (boiling the blubber to make oil).
She also spares no detail of the often brutal conditions on the cramped ship. When, at South Georgia, Murphy encountered modern, steam-powered whaling vessels and factories that processed dozens of whales a day, he faced—if not entirely consciously—a paradox. Which was worse: the wholesale mechanized slaughter of cetaceans, or the degrading and dangerous conditions on the Daisy and its kin? At the time, Murphy was more disgusted with the latter, but his later role as a vocal proponent of whale protection suggests a more nuanced viewpoint.
Unfortunately, Ambassador to the Penguins has many shortcomings, beginning with the photographs, which are printed in small size mingled with the text. They are dark and difficult to read.
Many whaling and nautical phrases are used without explanation, while ornithological details are frustratingly glossed over; we don't even learn which of the birds Murphy described were new to science.
The editing is sloppy, with numerous uncorrected dangling participles a particular nuisance.
Above all, as fascinating as many of the historical tidbits are, Murphy's voyage does not have the drama of, say, Shackleton's legendary and gripping attempt at Antarctica, which ended with his ship, the Endurance, crushed in ice and himself and two others trekking the length of South Georgia in search
of help.
Coincidentally, this happened less than a year after Murphy's departure, and Shackleton's rescuers at first mistook him for Murphy!
Still, Ambassador precipitates a curiosity to go to the source—Murphy's own books, writings, and photographs—and the insights of this towering figure in twentieth-century ornithology are well worth the journey.
Fred Baumgarten, formerly with the National Audubon Society, is now executive director of Hudsonia, an ecological research institute.