As anyone who has visited the Maddock Alumni Center on campus knows, Brown puts on its best face for visiting alums. The interior of the building features such touches as oak ceiling beams, mahogany framing and doors, and wallpaper reproductions of nineteenth-century imitation-leather paper. Maddock, according to a Brown Alumni Association brochure, "continues a tradition of elegance, hospitality, and fellowship begun in the early years of Brown's distinguished history."
When Maddock needed a new large table for its biggest conference room recently, the alumni committee charged with the building's upkeep sought a master craftsman who also understood Brown history.
Using funds from the endowment set aside for the building's upkeep, the committee hired Tim Philbrick. Although not an alumnus, Philbrick is a Brown parent and claims a lineage few alumni could top. Brown graduates include his father (Charles H. Philbrick II '44, who was also a longtime distinguished English professor at the University) his mother, a brother, a nephew, a cousin (author Nathaniel Philbrick '78), an aunt, a great-grandfather, uncles, and an assortment of relatives going all the way back to Thomas Hazard, one of the ten men who in 1764 founded Rhode Island College, which forty years later would be renamed Brown.
Philbrick's was an artistic and freethinking family. His grandfather worked his way through Brown by making hand-carved wooden tables, and when Philbrick's daughter was accepted, he suggested paying her tuition by donating some of his own handmade furniture. Brown officials declined the offer.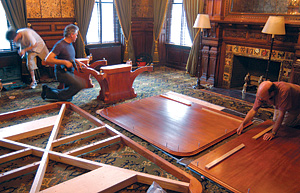 As a teenager Philbrick wasn't much interested in school. As a senior in high school he moved from Rhode Island to California, where he noticed that a lot of furniture considered junk back in Rhode Island was fetching a good price in San Francisco antique stores. Loading up a truck with Rhode Island castoffs, he and his brother opened up their own antiques store in Corte Madera, just north of San Francisco. It was there that Tim came to realize he preferred fixing up the furniture out back to selling it to the public out front.
In 1970 he returned to Rhode Island and soon apprenticed with local furniture maker John C. Northup Jr. In 1978 Philbrick completed Boston University's three-year program in artisanry under the watchful eye of cabinetmaker and furniture historian John Kirk. Courses in the graduate program followed, freeing Philbrick to move away from strictly traditional American furniture and to begin incorporating ideas from Egyptian, Roman, and Chinese cultures into his work.
Today Philbrick's work is in the permanent collections of several museums, including Boston's Museum of Fine Arts and the Smithsonian Institution. Two of his piano cases are part of the Steinway and Sons Artcase series.
Brown was not one of Philbrick's easiest clients. "I submitted a drawing and gave them an estimate," he says. "Eventually they said, 'It's a go.' Then two-and-a-half years went by." By the time officials said the project had been approved, he had to reprice everything.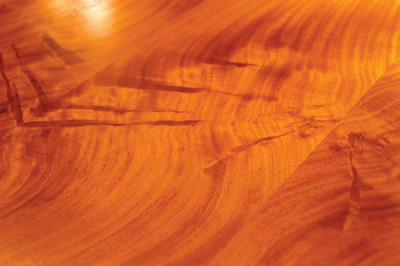 The biggest challenge he faced was the table's size, ten feet long by six feet wide. That meant a solid wood top was out of the question. "On a table that size," he says, "you'd immediately see cupping with solid wood." He decided to construct the top of premium European plywood and cover it with carefully bookmatched and unusually wide panels of Cuban mahogany veneer. Supporting the top are matching double pedestals and a substructure of white ash. The table is finished with precatalyzed lacquer, and Philbrick says it should darken with age to resemble the dark wood in the room.
"To me this has been an important project," he says. "It's a major work for me, and because my family has been involved with Brown for so long, it has really meant something to me."