Standing at the granite countertop in her Shelburne, Vermont, kitchenand picking star anise from two trays of baked apples, Melissa Pasanen '86 is the first to acknowledge that not everyone slavishly follows a recipe.
"You're supposed to put the anise in cheesecloth, because it disintegrates in the oven," she sheepishly admits, fingertips covered in warm apple. She should know. She hired the testers who vetted the recipe for oven-roasted apple butter, as well as the other 100-plus recipes in Cooking with Shelburne Farms: Food and Stories from Vermont. The New York Times Book Review named it one of 2007's notable cookbooks. Pasanen collaborated with award-winning Shelburne Inn chef Rick Gencarelli to develop and write the recipes. She coordinated the book's photography and wrote the profiles of Vermont farmers, foragers, cheesemakers, and other artisans that accompany each section in the book.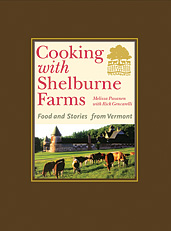 Chief food writer at the Burlington Free Press, Pasanen also reports for Eating Well and The Art of Eating. The former Pepperidge Farm ad rep got her start writing when she was hospitalized to stave off labor before the premature birth of her younger son. The food was terrible and the drugs made it impossible to do much besides watch television. Four weeks of the Food Channel inspired an essay for Salon's "Mothers Who Think" column.
Pasanen's childhood included stints in London and Seattle, and at Brown she concentrated in international relations. Unsurprisingly, she has used her newspaper beat—covering Vermont's food from farm to plate—to cultivate understanding among the region's various cultures. "Food is a great way to open ears and eyes and hearts," she says. She has explored the culinary traditions of Burlington's Somali, Tibetan, and Bosnian refugees, as well as the region's Italian, Jewish, and Syrian immigrants. Her cookbook turns that same eye on foods grown and created in Vermont.
It's nearly impossible to live in the Champlain Valley and never visit the 1,400-acre Shelburne Farms, which in addition to being an inn and a restaurant, is a national historic landmark, a working farm, and an environmental education center. When Pasanen first visited in the late 1990s with her older son, she discovered the now-beloved recipe that opens the chapter on milk and cheese: home-churned butter.
"The whole book gives a sense of place to the food," says Pasanen, who seems to delight in pointing out sites on the farm where an ingredient originated or a dish was photographed. "It's the magic of understanding where your food comes from."
Sharon Tregaskis writes about food and farming in Ithaca, New York.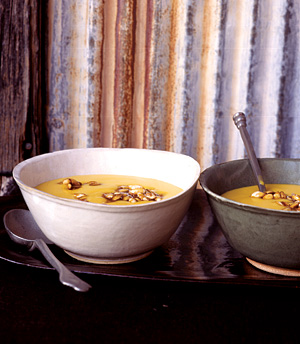 Maple-Roasted Butternut Squash Soup
Serves 4–6
1 medium butternut squash (about 3 pounds)
3 tablespoons unsalted butter
3 tablespoons pure maple syrup, Grade B for strongest flavor
1½ teaspoons coarse kosher salt plus more to taste
2 tablespoons crème fraîche or heavy cream
2–3 cups vegetable or chicken stock, preferably low sodium
1 tablespoon maple syrup whisked into ¼ cup crème fraîche for garnish, as desired
1. Preheat the oven to 350ºF. Cut the squash lengthwise down the middle. Scoop out the seeds and discard.
2. Place the squash, flesh side up, in a 9 by 13-inch baking dish. Put a tablespoon of butter and a tablespoon of maple syrup in each cavity. Sprinkle each half with ¼ teaspoon of the salt. Cover the pan with foil. Bake for about 1½ hours or until the squash is very soft. Cool just until the squash can be handled.
3. Carefully pour any liquid from the squash cavities into the bowl of a food processor fitted with the metal blade, or a blender, and then scoop all the flesh into the food processor. Add the remaining tablespoon of butter, remaining tablespoon of maple syrup, remaining teaspoon of salt, and the crème fraîche. Puree until completely smooth.
4. Transfer the puree to a medium saucepan, whisk in about 2 cups stock to start, and heat through over medium heat. Thin with additional stock and adjust seasoning to taste. Swirl 1 tablespoon of maple crème fraîche into each bowl of soup and serve.
Adapted from Cooking with Shelburne Farms: Food and Stories from Vermont © Melissa Pasanen and Rick Gencarelli.