Four years ago Deb Talan was your basic struggling singer-songwriter working the coffeehouse circuit in Boston.
Then one fateful night in 2001 she spied one of her favorite musicians in the audience, Steve Tannen. The two spent the night making music (literally), fell in love, and began performing and recording together as the Weepies. After living for a couple of years in western Massachusetts, they moved to Los Angeles, where they built up a whole new fan base. Now the couple's intricate harmonies pop up on such teen-friendly TV dramas as
One Tree Hill
and on commercials urging twentysomethings to shop at Old Navy and JCPenney. Singer and actress Mandy Moore is a big fan; after the couple's "World Spins Madly On" became part of the soundtrack of Moore's movie
Because I Said So
, she cowrote several songs with the Weepies for her 2007 album,
Wild Hope
.
Even toddlers, it turns out, can't get enough of the Weepies. "When we made our first record back East we had a nice handful of friends who had two- or three-year-olds." Talan says. "They told us their kids really loved our songs. We'd go around telling people that we're really popular with the under-three set."
Among Talan's most fervent young fans is her son, Theo, who was born last October. Speaking recently from her Topanga Canyon home—which also houses a recording studio—Talan says she is still trying to balance caring for a new baby with promoting the Weepies' new album, Hideaway, which was released in April. The baby stuff, she says, has squeezed the recording equipment out of the couple's small house and into storage. "We could either be a studio or a baby palace," she says, "and right now the baby things reign supreme."
The house represents Talan's desire to stay put, at least for the moment. After studying religion at Brown, she gave skiing lessons in Colorado and taught second grade in Oregon before singing in Boston and then western Massachusetts with Tannen.
The two moved west in 2004. After driving cross-country in a beat-up Toyota during the dead of winter, Talan and Tannen arrived in Los Angeles with a U-Haul full of recording gear and three dozen tunes. They set up shop in a Pasadena coach house. "We had nothing," Talan says. "No bookings, no record label, no support of any kind. Steve did a blanket send-out to a bunch of music producers for film and TV, and we ended up getting some placements. That's when we realized, 'Right: this is L.A. Maybe we can have some relationship between the music we make and the industry.'"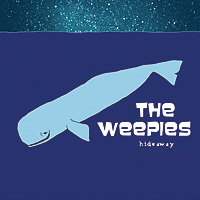 Money from licensing fees started rolling in, and not a moment too soon. "When Steve and I made our two solo albums and the first Weepies record, we went into tremendous debt," Talan says, "Basically we were: 'Okay, either this works or we are bankrupt.' That was pretty scary."
And now? "In the past year and a half, we've been in a place where we're doing fine. It feels very grown-up," she laughs. Bolstered by television and movie exposure, the Weepies' 2006 debut for Nettwerk Records, "Say I Am You," topped the iTunes folk charts in eight countries.
Talan believes the couple's music has wide appeal because she and Tannen exercise strict quality control: Weepies songs must have heart or they don't make it out the door. "Steve and I strive to make music that has a real emotional current running through it," Talan says "We can't finish a song unless it has depth and resonance for us. Then, other people seem to respond really well. That's my two cents."
Hugh Hart is a BAM contributing editor.