Science & Tech
Water Everywhere
A company that helps explain science—and also gives back.
April 1st, 2018
Patrick Rynne '05 is obsessed with water. What water means to each of us is at the core of Waterlust, which describes itself as a "purpose-driven brand" devoted to the research and protection of marine environments. A mix of art, sport, and ocean science displayed in video and photography and on clothing and other items, Waterlust, according to Rynne, seeks "to inspire curiosity, wonder, and a sense of adventure in our watery world."
An All-American skipper on Brown's sailing team in 2005, Rynne joined the U.S. Sailing Team after graduation and moved to Miami to train. After failing to qualify for the 2008 Summer Olympics, Rynne entered graduate school at Florida Atlantic University and earned a master's degree in ocean engineering. He then began working on a doctorate in applied marine physics at the University of Miami (UM).
Rynne saw "that the work of scientists was often challenging to communicate to the general public" and decided to do something about it. Scouring YouTube, he learned to shoot and edit videos.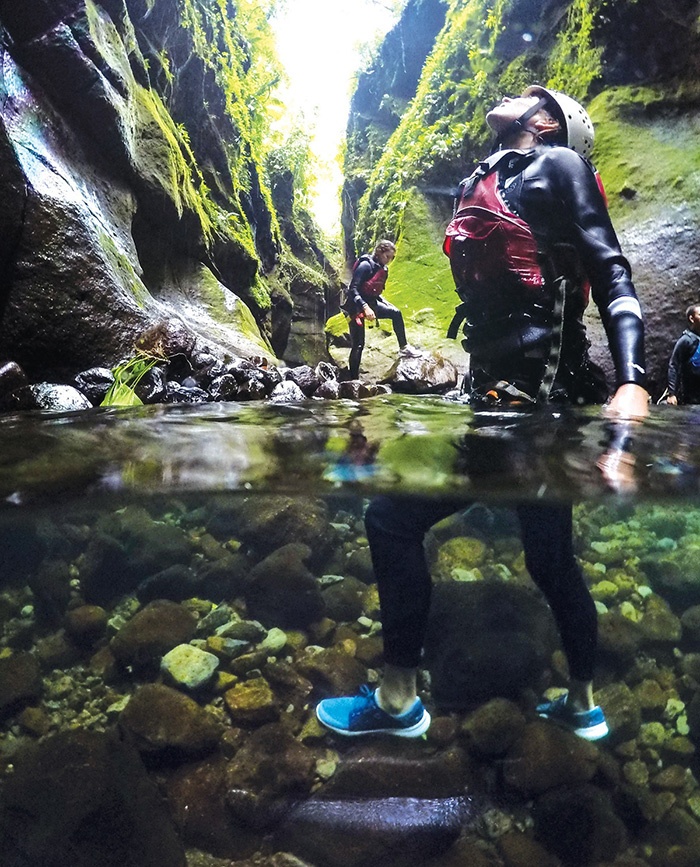 When UM scientists invited Rynne to observe a rip current experiment in Australia, he "caught a cheap flight" and made a video of the scientific quest. On the way home, he stopped in Hawaii to visit surfing and kite-surfing friends, collecting footage of their watery adventures. Rynne created a series of short videos, and Waterlust was born.
Filmed partly with GoPro cameras, Waterlust videos soon caught that company's attention. In 2012, GoPro became Waterlust's first sponsor, providing cameras, software, editing, and other equipment. Then, the next year, Sperry and Waterlust forged "a cooperative relationship" through which Waterlust creates videography and photography for Sperry marketing.
Each Waterlust video—whether filming watery canyons on the Caribbean island of Dominica or ice sailors in Siberia—takes weeks or months of planning, Rynne says. "Adventure lures them in," he explains, "and then we impart science." The most popular videos have each received more than a quarter-million views.
The relationship with Sperry helped Waterlust begin selling "sustainable and environmentally conscious" apparel in 2014, with 10 percent of each sale donated to a scientific or educational endeavor. Profits went to groups such as the Marine Megafauna Foundation, which used the funds to buy satellite tags to collect telemetry data on whale sharks.
After Rynne completed his PhD in 2016, Waterlust became his full-time commitment. Now he is trying to grow the company "in a sustainable way" at a time when science is under political attack. But don't expect any doom and gloom from Waterlust, Rynne says. "We will continue to explore our relationships with water enthusiastically. For us, the glass is always half full."