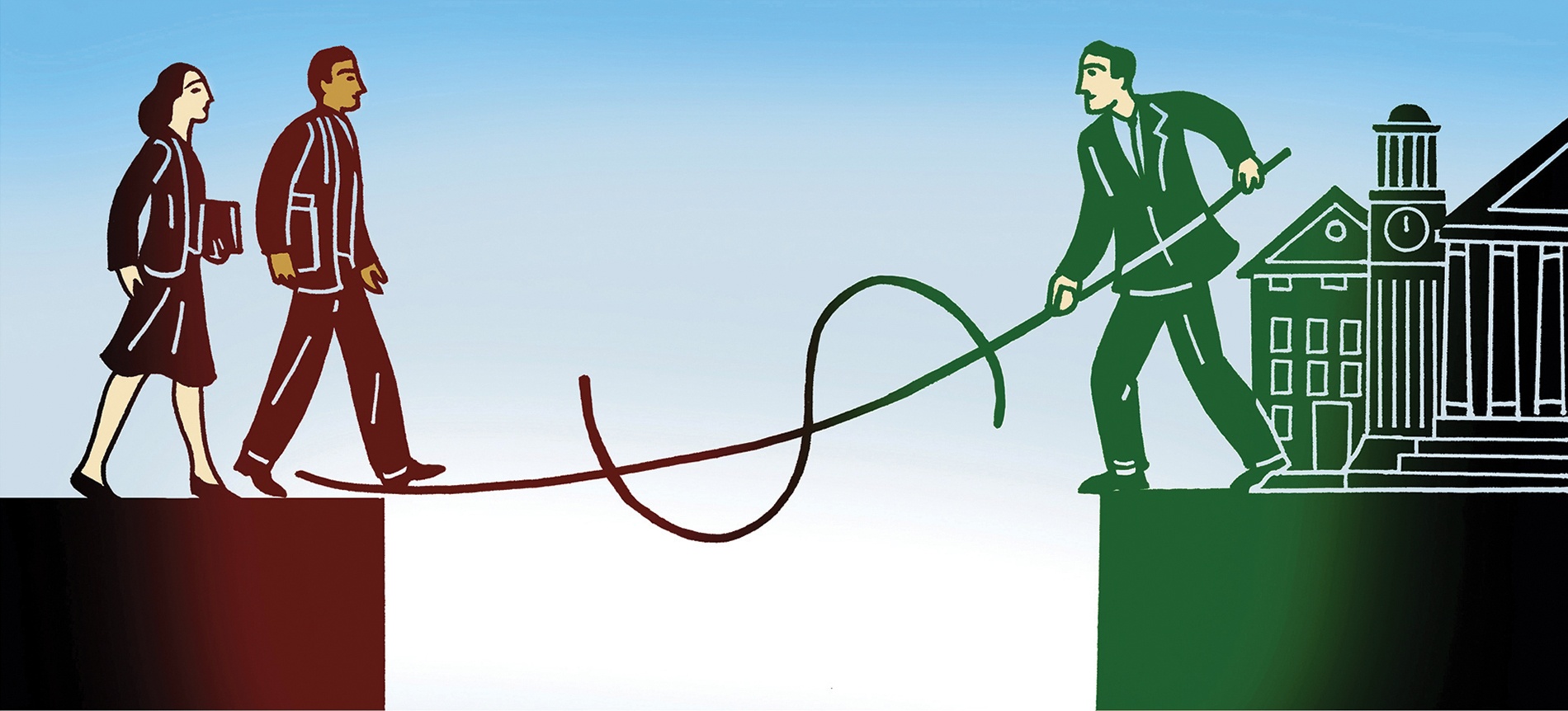 University News
"You Belong"
Making Brown more inclusive for low-and middle-income students
November 9th, 2018
This September marked the first anniversary of the Brown Promise, in which the University announced that undergraduate loans would be replaced with combinations of grants, scholarships, and work-study jobs. The Promise, which reached its $30 million fundraising goal late last year and aims to raise $120 million to become permanent, was launched to ease the burden on middle-class families who earn too much to qualify for aid offered to those from homes earning less than $60,000—but not enough to pay full tuition and expenses.
There's yet more Brown is doing to be both feasible for and welcoming to first-generation-to-college and/or low-income (FLI) students. "A lot of these students are still having difficulties getting through the school year," says Jim Tilton, dean of financial aid. So a fund starting this academic year will cover expenses such as books and room and board for students whose parents cannot pay for them. "We want these students to be able to start the school year without having to use their summer earnings to pay down their account balance," Tilton says.
In addition, Vernicia Elie, assistant dean for financial advising, will now be available to help low-income students with expenses ranging from winter coats to emergency trips home—and with planning to make the best use of limited funds. And Julio Reyes '12, who was a FLI student while at Brown, is now the head of the school's FLI center. The new space, located in the SciLi, includes a lounge where such students—some of whom are undocumented or have undocumented parents—can come for support, referrals, and social fellowship. The center also holds events such as a career conference, a speaker series on class and immigration and, starting this year, a pilot biweekly meet-up program for first-year students. "We want FLI students to feel comfortable here," he says. "And we want to emphasize the strengths they bring to the school."
One FLI student who tapped into these supports is Isaiah Frisbie '18, now in a graduate program in civic media at Boston's Emerson College. "My mom was petrified of my interest in an Ivy League school because she thought we couldn't afford it," says Frisbie, a first-generation Mexican-American from Arizona. Ultimately, his entire Brown experience was covered by the school save his own contribution of a few thousand dollars a year—but he also worked up to three jobs at a time, or 30 hours a week, while studying here, including being one of the FLI center's first staffers.
"I had numerous moments of feeling I didn't belong at Brown and wasn't capable of keeping up," he says. With help from the FLI community, he says, he got through—even pulling off a semester in Scotland and a smooth transition into grad school. He has a message for FLI high-schoolers: "For multiple reasons, Brown may seem like a pipe dream for you. But it's not. It might be difficult, but it's possible. With the right community here, you can thrive."