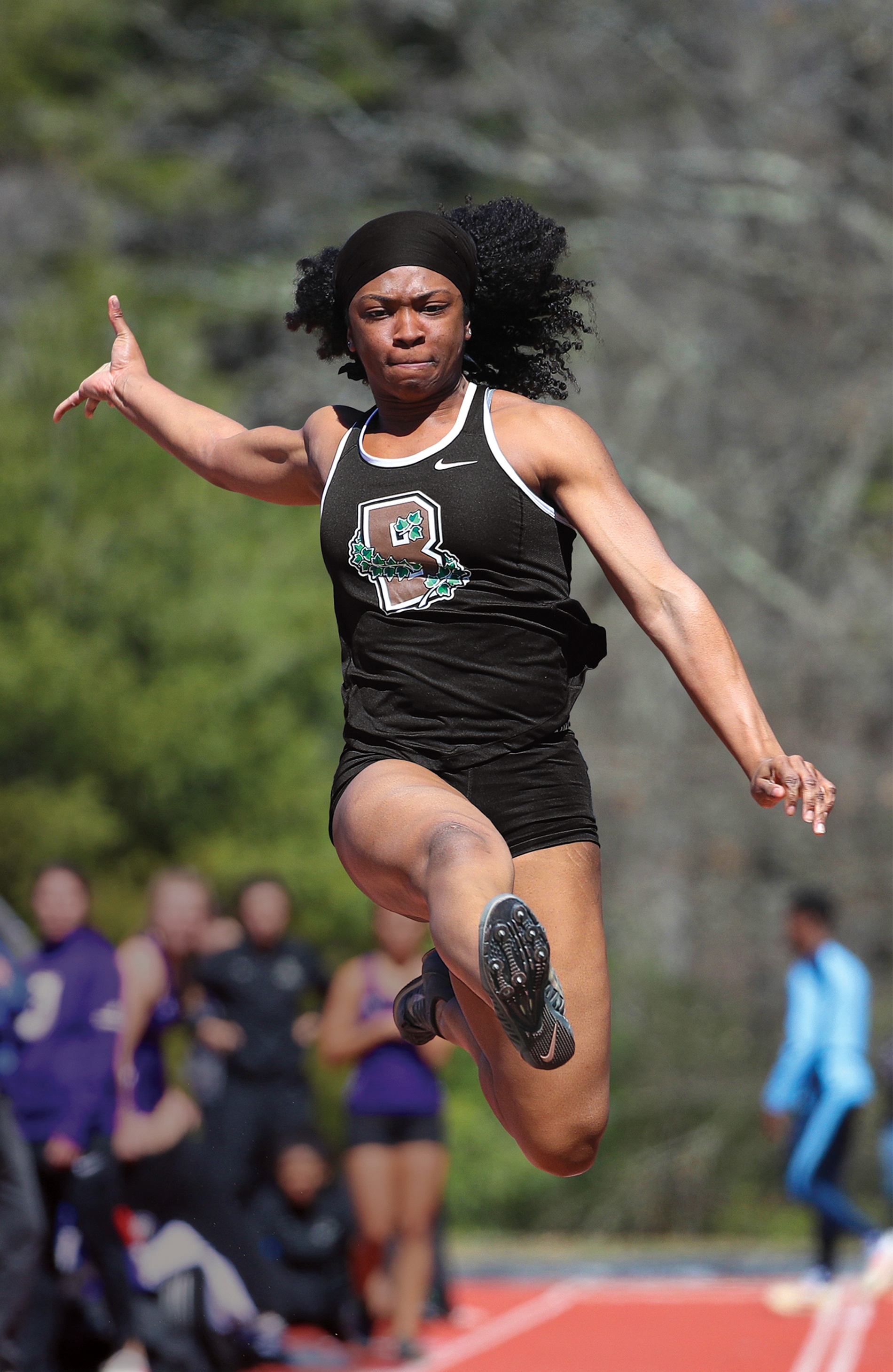 Sports & Recreation
Flying High
Record-breaking long jumps
August 27th, 2020
When Ijeoma Uche '21 is in the air, everything else falls away.
"When I get on the runway I am a pure athlete, I compete," she says. "I don't think about anything but being free and jumping."
But in the past few months, as COVID-19 curtailed competition, and as Brown first decided to demote men's track and field and cross country teams to club status, then reversed its decision, Uche's been forced to think about a lot more than just jumping.
The Atlanta-raised athlete is a long jump star in Brown women's track and field. She's broken the school record in the long jump all three years she's been at Brown, including a 20-foot, 7-inch outdoor jump.
A big reason she came to Brown was Ken Hunt, an assistant coach who concentrates on men's and women's horizontal and vertical jumps. When Hunt came to Uche's house for a recruiting visit, he brought along a big binder full of training plans and workouts. "He's notorious for this binder," says Uche. "I'm sure everyone on the team has seen it."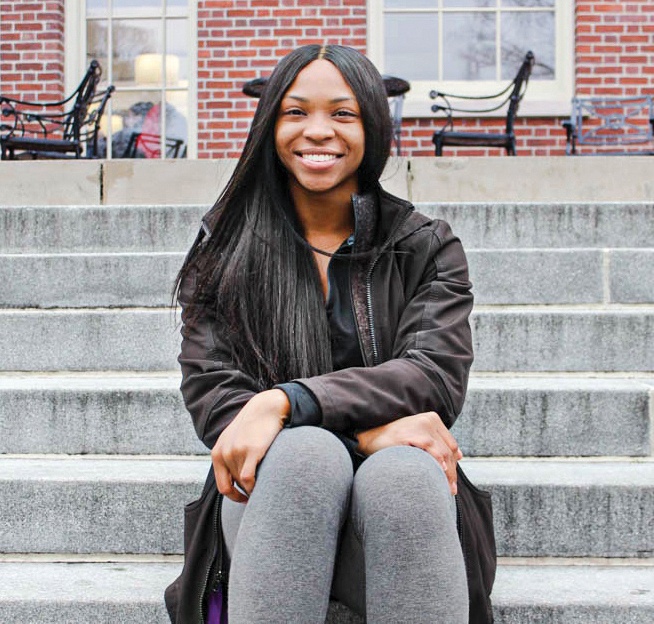 The binder is representative of the dedication and level of trust Hunt has with each of his student athletes. Every Monday morning, Hunt sends out workouts for the week, telling his jumpers not only what to do but also why it matters. Uche says the transparency is key.
"It's about having that person in your corner who is constantly telling you you can do these things," she says. "The support system made me feel free in discussing my goals with him and making sure we could take on those goals together."
Uche's competitiveness runs in the family. Her brother C.C. Uche plays on the Ohio State soccer team, and she recalls athletic battles they had growing up. Coming in as a freshman, Hunt says, Uche had to "rewire the body" by focusing not only on basic skills, but all around athleticism—while balancing her work as a public health concentrator.
Jumping has taken a back seat since the coronavirus spread across the United States, first leading to a cancellation of the spring track season at Brown. "I had huge goals for that season, and it was devastating to hear that we'd no longer have the chance to compete," says Uche. Then in July, the Ivy League announced it wouldn't sponsor a fall season, dashing hopes for the start of this academic year. Team members are hoping to compete in 2021.
But they found reason to rally together in late May, when President Christina H. Paxson announced as part of the Excellence in Brown Athletics Initiative that men's indoor track and field, outdoor track and field, and cross country would move to club status.
"I was shocked and in disbelief," says Uche, describing how the men's and women's teams share coaches and a sense of camaraderie that would have been threatened by the change. "But, instead of getting upset, we went into fight mode." Team members reached out to alumni and coaches, a massive organizing effort ensued, and the team won reinstatement.
The experience was jarring for Uche. Men's track teams are some of the most diverse teams at Brown, so when the announcement came in the midst of Black Lives Matters protests, the news felt even more heartbreaking. But the successful campaign for a reversal brought an upside: "Because of this experience, we know now that we do have a voice and we can really use it," says Uche. "We don't have to take no as an answer."
Uche is still in Providence, studying for the MCAT, training every morning, and wondering what the future holds. Longer term, she's planning on a gap year after graduation, then medical school. As for a post-Brown jumping career: "If given the opportunity, I would jump to it."
Listen to Ijeoma Uche as she discusses the responsibility athletes have to speak up about what is happening in the world and to not be polite about it.