Last July, seemingly ownerless sleek black electric scooters appeared, unannounced, on street corners across Providence. The city was not amused and kicked them off the sidewalks, pending legislation to govern this new trend. But Bird, the electric scooter sharing company, swiftly returned, this time with a permit. 
William Irving '21 was among the first to take a campus joyride: "I did donuts on Patriot's Court, fell off on one of the turns, and got dirt all inside my backpack and down my shirt. But I got back on and still had a really fun time."
Brown students now zoom around on Birds and on two other kinds of electric vehicles from companies active in Providence: Lime scooters and JUMP bikes. Lime and Bird both charge $1 to unlock each scooter, and then 15 cents per minute; JUMP bikes cost 30 cents for each minute.
Max Kozlov '20 (above left) rides electric scooters or JUMP bikes almost daily, reaching up to 20 miles per hour. "I lived on Lloyd [Avenue] last year, and I'd take them all the time from Lloyd to Faunce, which is seriously a five-minute walk." Among the vehicles' advantages, Kozlov notes: "I've gone from being extremely late to things to being moderately late to things." Savannah Lewis '21, a forward on the women's basketball team, says scooters are particularly popular with athletes to reduce transit time to early morning workouts.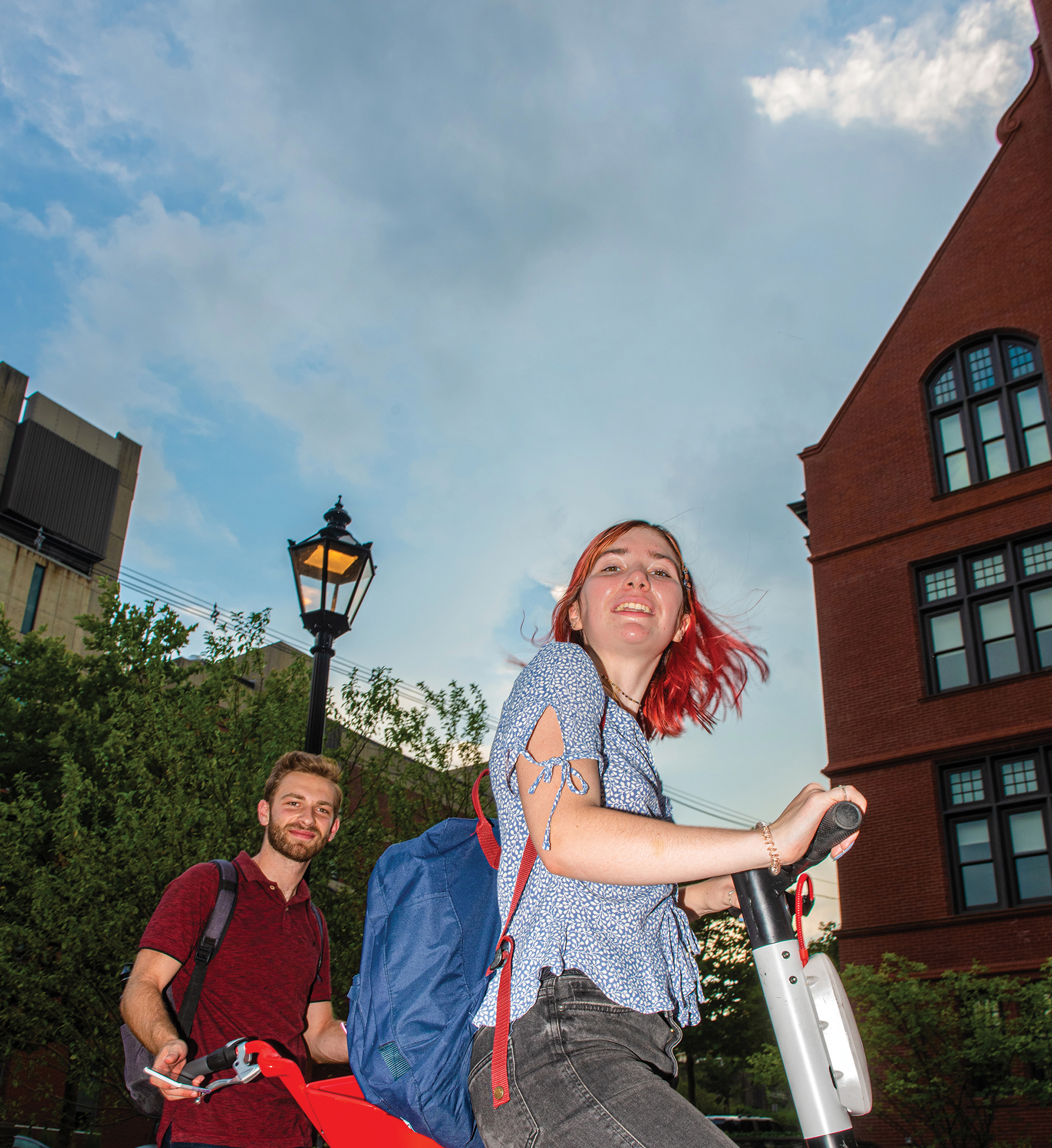 The trend, however, has its downsides. Kurt Teichert, an Environmental Studies professor at Brown, says scooters have become "out of control, littering the streets of Providence," since people leave them blocking sidewalks and store entrances.    
Scooter injuries are not uncommon. In July, Alok Panray Beeharry '19.5 and Akash Altman '20 rode during what Beeharry described as a "biblical downpour." While flying down Waterman Street on a Bird, Altman hit a pothole and broke his femur: "I just tumbled into a pile of scooter and me." He spent his summer on crutches. "I don't see myself riding a scooter anytime soon, or walking for that matter." 
But the risks have not dampened the appeal of what Alisa Caira '22 (pictured above, right) calls the "lawlessness" of electric scooters. She has spotted two Brown students sharing one scooter: "I feel like to me that's the epitome of modern-day romance. And maybe that's a huge safety hazard, I don't care. That's modern love."