"Before we get started … I want to take a moment to acknowledge the Narragansett and the Wampanoag indigenous people whose traditional lands we are currently on," Olivia McNeill told an Alumnae Hall full of Brown students and alums one late August afternoon.
McNeill is the coordinator of the Third World Transition Program (TWTP), which was celebrating its 50th anniversary with an intergenerational dialogue on radical love and Third World solidarity. Her nod to College Hill's Native American history was only one example of that coalition-building approach. This summer, the four-day TWTP orientation program, attended by 120 first-year students, hosted workshops that explored a number of ongoing systems of oppression from racism to cissexism (prejudice against people who are transgender), ableism, and imperialism. 
"Brown University wasn't necessarily created for students of color, for women, for trans people, for queer folks," McNeill explains. Historically, it was a university for white, straight men, and "the relics of those structures still exist." For some incoming students, especially students of color from low-income families, Brown can be a bit of a culture shock: "It can feel isolating," McNeill says. "The imposter syndrome can creep up pretty quickly." She says TWTP aims to give students a "toolkit" they can use to "identify barriers that still exist, know how to navigate them, and create space to figure out how to build something better." The program also introduces them to the support structures available at Brown. But the main thing students tell McNeill they get out of the program—which "centers the student of color experience" but is open to all races—is "a sense of belonging."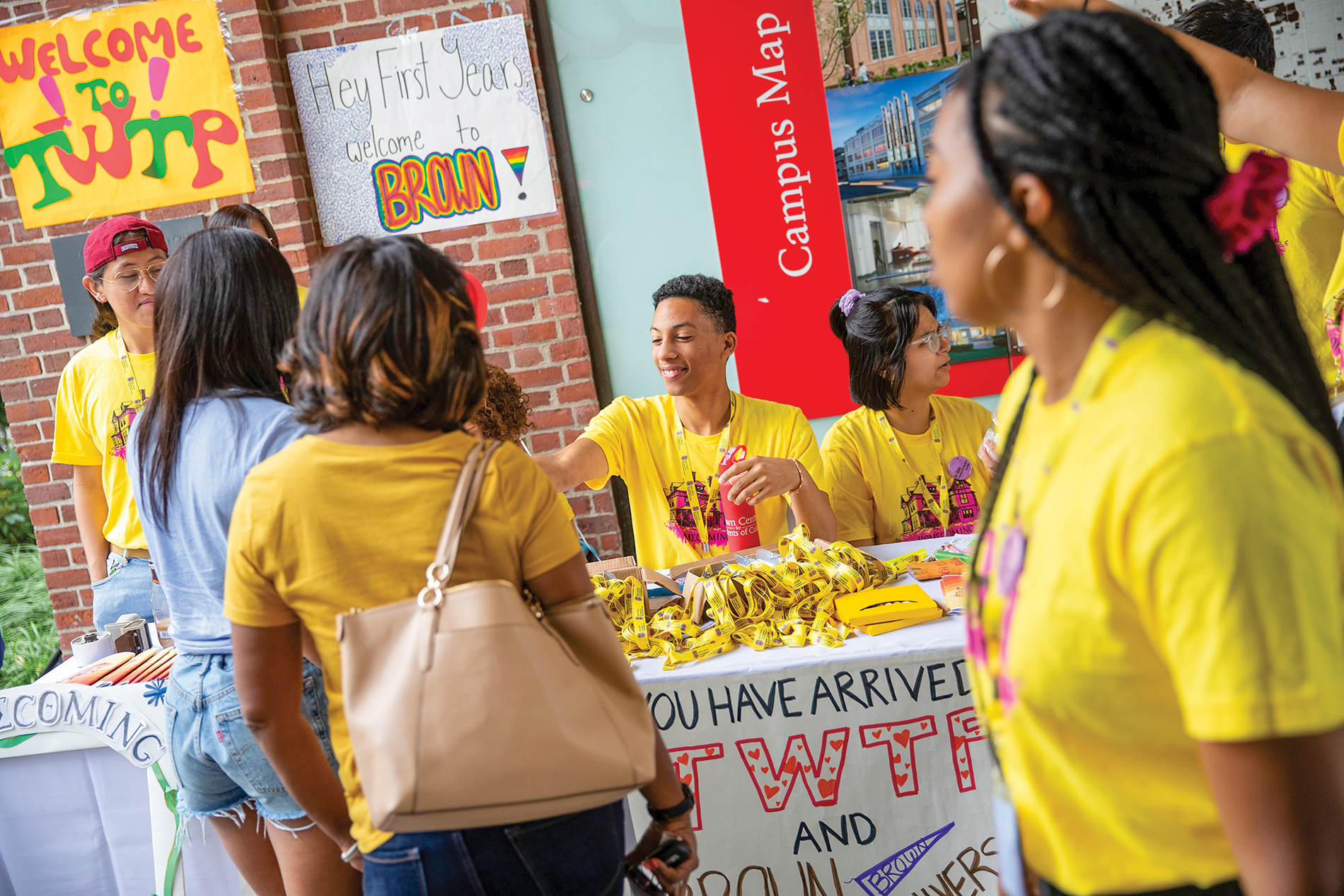 TWTP had its roots in May 1968, when the Afro-American Society at Brown sent president Ray Heffner a list of demands that, unmet, led to the Black Student Walkout. Those demands included "that a transitional year program be established at Brown by July 1969, to help prepare black high school students for college." In January 1969, the University established what was then called the Transitional Summer Program, an eight-week course that "prepared black students for the academic rigors of Brown and for the experience of being at a predominantly white institution." Primary sources from '68 were laid out at the TWTP celebration, to make it clear that the program is a direct result of student activism. "There's something radical about taking ownership of your archives," McNeill says.
In 1975, the Transitional Summer Program was renamed the Third World Transition Program, inspired by the work of West Indian philosopher Frantz Fanon, who wrote of a "Third Way" to counter oppression and colonialism, as an alternative to the ways of the first world (U.S. and Western Europe) and the second world (USSR and Eastern Europe). A focus of Brown's TWTP is commonalities across marginalized groups.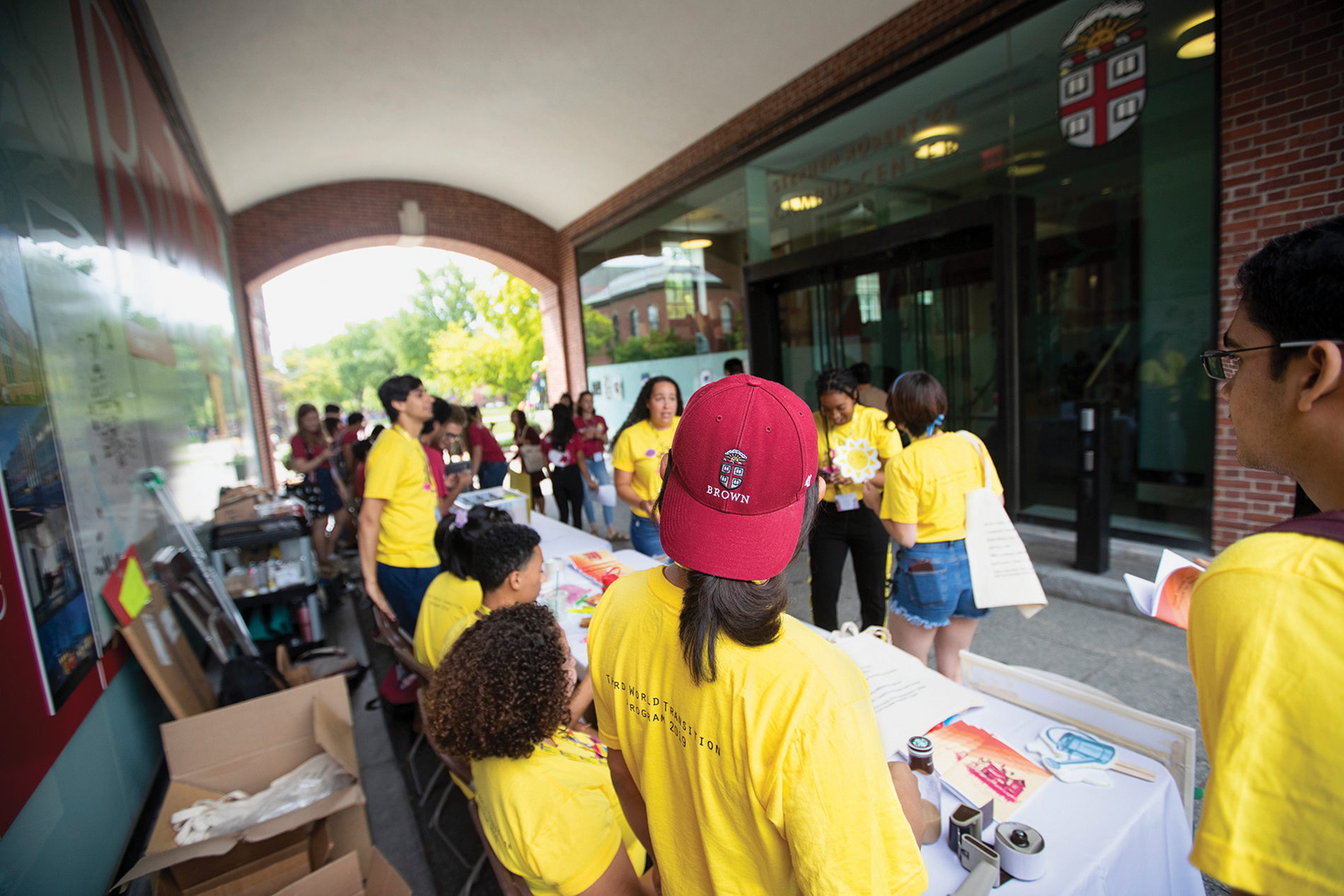 Julius Gingles '21 arrived on campus early for TWTP his first year at Brown. He remembers the workshop on ableism, "which I didn't know was a thing until I got here," he says. In another workshop, "We learned about different pronouns that you give when folks don't identify with the [gender] binary, which was something I wasn't exposed to back in my hometown." Gingles made some of his first friends. He says the program made him realize he wasn't alone—there were "folks who came from similar backgrounds, who I could see being my friends for a long period of time, who I can be vulnerable with and establish a community with."
Elbert Robertson '79 recalled when Latinx, Black, and Asian students occupied University Hall in 1975 to demand greater recruitment, and financial aid, for students of color. "There was a unity between all the groups," he recalled. "We're still discussing the same core ideas."
The celebration concluded over dinner under a tent. At one table, Chloe Vincent '23 said TWTP helped her realize "how each of us might benefit from systems of oppression" that confer privilege on some at the exclusion of others. The workshops, she added, had given her "community before classes even started."