They were just a couple of troublemakers. George Abraham '40 and David Borst '40 may have had many later personal and professional successes, but they will always be remembered in campus circles as the founders of college radio. In 1936, the pair could be seen stringing wires through campus steam tunnels and over the roofs of dorms.
Deans reprimanded them for this unauthorized scrambling, and groundskeepers complained that the copper wires they'd strung tended to spark in the treetops whenever it rained. To Abraham and Borst the trouble was worth it, though: within a year, students in any Brown dorm who owned a radio could tune it to 570 AM and listen to the Brown Network's two-watt signal—the first student-owned-and-operated college station. It broadcast its first live event that same year: the inauguration of President Henry Merritt Wriston. By 1939 the station was selling air time to local merchants for $3.50 a minute.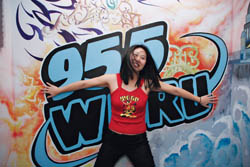 That was then. Nowadays, the Brown Network's grandchild, WBRU, blasts 20,000 watts from its Benevolent Street studios. Today 200,000 people regularly listen to a steady beat of commercial rock and local news programming by tuning to 95.5 FM. The station, whose annual operating budget is $2.7 million, employs ten full-time paid professionals and eighty unpaid student staffers, who are joined by as many as 100 interns. Many WBRU alumni have become successful journalists. Ralph Begleiter '71, who was world affairs correspondent for CNN for almost two decades, calls his time at the station "career defining." ESPN's Chris Berman '77, one of the country's best-known sportscasting personalities and a former WBRU sports director, says, "I still look fondly to my days as the voice of Brown football." Benjamin Weiser '76, a reporter at the New York Times, describes his journalism training as "all BRU." And Monica Brady-Myerov '89, a reporter at WBUR, one of Boston's two NPR affiliates, says, "What I learned at BRU gave me the foundation of what I do today." According to Elaine Kim '06, the station's current general manager, "BRU has really become a learning workshop in commercial radio."
The problem, according to today's campus troublemakers, is that word commercial. They argue that, like many college radio stations, WBRU has abandoned the independent, adventurous spirit of Abraham and Borst in favor of something more homogenized and tame. (Abraham died in 1995, Borst in 2000.) College radio, they believe, should be an alternative to commercial radio, "an unslick, spit-and-baling-wire affair," in the words of music writer Douglas Wolk. "The point of college radio," he recently wrote on the online magazine Slate, "is that you get to hear things you didn't already know about. And that means it's one of the last few parts of American media that still has the power to surprise."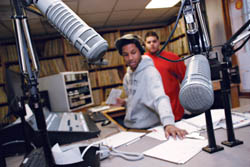 The station closest to the spirit of what college radio should be, according to some BRU critics, is BSR, Brown Student Radio, which is operated from a ragged studio in Faunce House. Like WBRU, BSR traces its beginnings back to Abraham and Borst. In 1966, long after the Brown Network had become WBRU-AM, the University helped some of the station's leaders raise enough money to buy an FM license. It financed the start of the commercial WBRU-FM as a nonprofit corporation financially and legally separate from Brown. In 1966 the license cost about $30,000; it's worth between $12 million and $15 million today.
After the split, WBRU-AM limped along, its dim signal audible in only a handful of dorms. Nine years ago students decided to solve the problem by working out an arrangement to broadcast on WELH-FM, 88.1, the station owned by the nearby Wheeler School. WBRU-AM became Brown Student Radio, and although students sometimes refer to it as WBSR, the FCC frowns on the practice, because the group does not have an FCC license of its own.
Ten years ago, Borst returned to campus to meet with BSR staffers about the group's survival—a kind of imprimatur that helped fuel its self-image as Brown's only true college radio operation. BSR fans argue that Borst's true heirs are people like Paul McCarthy '02, the self-described crazy uncle and former general manager of BSR. McCarthy, at twenty-seven, is tall and slim, with dark messy hair and the tough yet sensitive look of an indie rocker. He grew up in Berkeley, California, a magnet for left-of-center personalities and a nexus of independent radio. KPFA, the country's first community-supported radio station, is based there, as is Free Radio Berkeley, a large and well-known pirate radio outfit.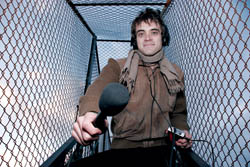 McCarthy arrived at Brown in 1997 after a year spent working at UC Berkeley's KALX, and he didn't like what he heard on WBRU, where DJs play songs from predetermined playlists designed to maximize the number of listeners and advertising dollars. At WBRU, McCarthy points out, there are at least as many students working in marketing as in programming. The other option was BSR, which, according to Daniel Oppenheim '98, BSR's general manager at the time, was still broadcasting as WBRU-AM out of a minimally updated version of Borst and Abraham's "leaky pipe" system out to a "very small, if not nonexistent, listenership." Nevertheless, Oppenheim says, WBRU-AM had a history of "campus-focused, community-oriented radio," and that was more McCarthy's style.
McCarthy and Oppenheim teamed up with the goal of getting the most out of the recently completed WELH arrangement. They worked out a deal allowing BSR to broadcast on WELH from 7 p.m. to 2 p.m., Monday through Saturday. That block of time is now chock-full of what might be called typical college radio fare: a mishmash of musical genres and formats, experimental audio, call-in shows, news, features, and sports. Tune in to 88.1 and you might hear "antifascist forms of aural expression" (as one show is described in BSR's fall programming guide), a call-in show about bicycle repair, the Square Dance Disaster Hour, or live analysis of the Brown football game. In the station's online archives, you might stumble upon an interview with your favorite indie rocker, but because most interviews are conducted over the phone, the sound quality is likely to be terrible and the interview painfully awkward.
This kind of approach may fit squarely into the stereotypical—and romantic—image of student-run radio stations of the past three decades, but the world around these stations has changed drastically. As Douglas Wolk pointed out in his Slate article, Elvis Costello, Talking Heads, Smashing Pumpkins, Nine Inch Nails, Soundgarden, the Clash, and the Smiths are among the bands that got their start as college-radio-station favorites. But thanks to business trends in the music industry, crossing over from indie labels and college airplay to major record companies and commercial airplay is much more difficult. Even BSR is trying to find a middle ground, where, in McCarthy's words, the product can be "challenging and inventive and imaginative" but still of a high enough quality that people actually tune in.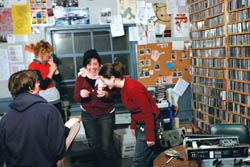 One example is Inside Out, which McCarthy founded as "an audiozine focusing on Rhode Island voices." The show was on the air for six semesters, thanks to a Rhode Island Committee for the Humanities grant, and tackled such topics as Cape Verdeans in Rhode Island, the blurry line between public and private spaces, and the local alternative high school the Met. More recently, BSR students have produced Off the Beat, a newsmagazine about local events, and Not Your Classroom, in which professors from Rhode Island colleges talk about their work.
The approach is beginning to bear fruit. Inside Out's Nathaniel James '01 won a third-place Radio Feature award from the Society of Professional Journalists in 2000 for his piece, "Rocco's Used Furniture and Things." McCarthy says WRNI, Rhode Island's NPR affiliate, will begin airing Not Your Classroom in February. And recent BSR alumni are landing public-radio jobs around the country. Michael Talis '02 was until recently a producer at WHYY, Philadelphia's NPR affiliate; Cori Princell '01 works at WUNC in Chapel Hill; and Robin Amer '04 is a producer for Open Source, a show hosted by Christopher Lydon and syndicated to public-radio stations around the country.
It's a Wednesday afternoon, and Adam Curtis '06—also known as DJ Curtis—is hosting the afternoon-drive show on WBRU. This afternoon Curtis is giving away three pairs of tickets to see the band Death Cab for Cutie, and he's asking listeners to call in with what he calls "near-death cab experiences." Curtis promises to give the tickets for the three best stories. The afternoon proceeds like a morbid comedy show, with Curtis cheerfully answering the phone and being regaled by tales of car accidents, heroin overdoses, pet pythons, and exploding paint cans.
"We were going hunting," begins one caller off air, his voice garbled when he says what kind of animal they were hunting. "Did you say bear or beer?" asks Curtis. "No," replies the caller. "D-E-A-R, like the animal." Curtis doesn't pick up on this misspelling during the conversation, but before he plays the tape on air, he chuckles, and inserts himself saying, "I believe you mean D-E-E-R, but I get what you're saying now."
Curtis is doing about a hundred things at once, cueing upcoming songs, clicking through long lists of "sweeps" (those three- to five-second bits that say things like "you're listening to WBRU, New England's original alt-rock") on his computer, answering phone calls, editing phone calls, bantering with members of the news department, reading commercials and promotional materials into his microphone, and showing his intern, Garrett Adler '09, how to work the control board—all while keeping a close eye on the clock. The atmosphere is like a frat house, with students in the newsroom occasionally exploding into cheers and laughter, people coming in and out to say hello and tease Curtis about his new haircut, and, of course, music blasting. At one point a student comes in with a laptop in one hand, his other hand a pumping fist, while a ridiculous computerized version of Metallica's "Enter Sandman" plays from the laptop's speaker. "Check it out, man," he says to Curtis while he headbangs.
Although Curtis started working at WBRU during his sophomore year, he's been a rock DJ only since last spring. He's a natural: calm in the face of chaos, able to ad-lib about everything from the upcoming Victoria's Secret fashion show to favorite bands and recent concerts. "Most people living in the state of Rhode Island don't even know that we're Brown students," he says.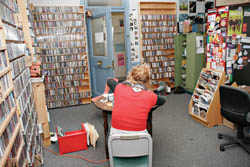 It wasn't always that way. Peter Tannenwald '64, a telecommunications lawyer in Washington, D.C., was one of the students who came up with the idea of applying for an FM license. Tannenwald, who is a member of WBRU's board of directors, remembers that when he was the station's general manager in the early 1960s, "I used to broadcast the Saturday night dance party live from fraternity houses with beer flying everywhere." Yet Tannenwald is not opposed to the direction the station has taken. "Do I like how big the business is, and what we have to do to survive?" he asks. "I'd rather see it be lower-key. But to function in a competitive market, where [competing stations] can take advantage of economy of scale and you can't, is very difficult."
Some WBRU veterans are less sanguine. "They have too many damn paid employees, in my opinion," says Jack Edmonston '64, who served as the station's general manager during the early 1960s. Other alumni are concerned about what they view as an overemphasis on ratings and profit. "The students who are interested in running the station as a business have hijacked the original intention of the station," says Ralph Begleiter, who is now distinguished journalist in residence at the University of Delaware and was WBRU's news director during the early 1970s. "But that's not why it was originally purchased. It wasn't to allow students to run a business. It was purchased to allow students to run a radio station."
Monica Brady-Myerov, who is president of WBRU's board of directors, disagrees. In the current radio environment, she says, there is simply no other way to maintain a music-focused format—which is, after all, what students want. "There is no noncommercial music station that makes it," she says.
Students who work at WBRU tend to see the business side as just another opportunity to build up skills for a competitive career. "For the alumni," says general manager Elaine Kim, "it was all about the music. For us, it's still about the music, but it's also so much more." Only a big commercial station can afford to sponsor giant concerts and parties, she says, and only a big commercial station has the muscle to bring listeners interviews with big-name musicians. She notes that the members of Nirvana did their final interview at WBRU, and Curtis says that through his work at the station, he recently got to meet Dave Grohl, now lead singer of the Foo Fighters.
In fact, Tannenwald says, WBRU offers the best of both worlds: an environment in which students can make important management decisions and gain experience as DJs at a station whose success means a strong signal and a large audience. In 1989, when the BRU board flirted with becoming noncommercial and joining up with National Public Radio, it was students who objected. At the time, the station was losing money so rapidly that, as Tannenwald recalls, "we thought we were going under." Rhode Island did not then have an NPR affiliate, and a partnership between a college radio station and NPR made smart business sense.
But once word got out that Tannenwald and the board were negotiating with NPR and the FCC, "there was a great rebellion among the students," he says. "If we did go to NPR, all the students that were there would have quit." Jacob Levy '93, the station's general manager at the time, says the conflict between the students and the board is "easy to overdramatize," but it does demonstrate students' fierce commitment to maintaining an "educational workshop in commercial radio."
"The unavoidable sense as we went on was that, at an NPR station, the students would no longer be fundamentally organizing and leading the station," says Levy. With help from the University, the station secured a new line of credit and returned to the commercial rock format. A new professional general sales manager was hired, and by 1993 the station was turning a profit again. "The students became incredibly industrious and basically turned the station around," Tannenwald recalls.
WBRU has been profitable ever since, with most of the profits plowed right back into the station. "People cringe at how much money we spend versus how much we take in," says Tannenwald. But in the end this is what makes WBRU a student station, despite its commercial sound. "We have fancier equipment than we should," says Tannenwald. "We send students to cover political conventions. We have to have enough phones and computers for as many kids as want to be involved. But that's what we're there for, to give the students the best experience."
On a cold but sunny Sunday in October, Paul McCarthy gathers in BSR's Faunce House studio with Alison Klayman '06 and Adeline Goss '06. "What I have is, basically, a thirty-one-minute cut of the interview with ID breaks," says Klayman.
Earlier in the week, Kathleen Connolly '89, the host of Not Your Classroom, interviewed Associate Professor of History Douglas Cope about his work on colonial Mexican history. Klayman, the show's executive producer, has edited down the hourlong interview, and now she, McCarthy, and Goss are starting the production work of weaving the interview together. "What I like is the part about how Mexico City was built on an island," says Klayman.
"Can we listen to that?" asks Goss. Klayman clicks her mouse over the red and green zigzagging lines on the computer screen in front of them and Cope's voice comes in over the speakers in the dim room, describing what the central plaza in seventeenth-century Mexico City might have looked like.
"Do you need to be outside the studio with sound?" asks Goss. "Do you need crowd noises?"
Connolly, whose real job is senior associate director of the Swearer Center for Public Service, says shows like Not Your Classroom are why Brown needs a station like BSR. For one thing, she says, its content is geared towards the campus and the surrounding community. When the staff originally planned Not Your Classroom, they thought it would be a way to share Brown's resources with the wider Providence community. They've been surprised at how much it has also served to share Brown's resources with Brown students. Connolly says that when BSR aired an interview with Professor of Medical Science Donald Jackson about his work with turtles, for instance, "all of these students on campus were saying, 'Wow, I'm going to talk to this guy during office hours,' " Connolly says. In addition, BSR's lack of professional staff opens up the air to a wider range of people. "If this were fancier," Connolly says, "I wouldn't be on the radio."
Can BSR succeed where critics believe BRU has failed? Can it grow while holding on to its noncommercial approach? We may soon find out. McCarthy—with the help of Tannenwald—has taken the first steps toward getting BSR its own FM frequency, one it won't have to share with the Wheeler School or anyone else.
The move was prompted by a 2000 regulation change by the FCC that allows public entities and educational institutions to apply for a license to broadcast on small, 100-watt stations, provided they can prove their signal will not interfere with those of large commercial stations nearby on the dial.
Unfortunately for BSR, fourteen other groups in Providence all had the same idea. All zeroed in on the same frequency—96.5 FM—and applied for a license. Each was required to fill out an application, showing, among other things, that the organization has an established community presence and plans to devote a certain number of hours to community programming. Three questions deal with these issues, and an applicant is awarded one point for each yes answer. "You can tell them as much as you want about what you're going to broadcast," McCarthy says, "but they don't care what your programming is. All they care about is how many points you have." After several years of wrangling, nine groups were eliminated, leaving a total of six, including BSR. One of these is an informal group of acquaintances, two are churches, and one is a Bible college. Since each applicant has three points, the FCC is requiring them to form alliances and will award the license to the one with the most points. "It's kind of like Survivor," McCarthy jokes.
McCarthy and Tannenwald have offered concessions to the churches—they would share their transmitter, for instance—to try to team up and get enough points to secure the license. All was going well until a man named John Broomall stepped in. Broomall is the founder of Christian Community Broadcasters, a Georgia-based support and advocacy group that is trying to introduce Christian programming to low-power FM stations around the country.
Tannenwald claims that Broomall contacted the churches BSR was working with and persuaded them to break off discussions. All three churches, Tannenwald says, "decided there was something wrong with preaching the gospel through some liberals on College Hill." Broomall denies this is how it happened; he insists that the churches teamed up with the Bible college because BSR wasn't willing to share airtime equally among the four groups. Whatever their motivation, the churches formed their own nine-point team, knocking BSR out of the running.
"We decided that this wasn't acceptable," says Tannenwald, who has filed a legal challenge to the churches' applications on behalf of BSR. "We know the Zion Bible College has no interest in running the station," he says. "The other two groups have no idea what a radio transmitter even looks like." Tannenwald claims that, except for the Bible college, "these churches are not educational institutions. They don't confer degrees." Therefore they were not eligible to apply for the license in the first place.
"Can a church be educational and religious at the same time?" Broomall counters. "I say yes. Brown and Peter Tannenwald say no. A church on Sunday has something called Sunday school, the Bible or Torah is a textbook, and the pastor is a teacher."
The legal challenge is currently working its way through the FCC's ranks. Given the number of churches and religious organizations that now operate low-power FM stations around the country, its outcome could have national implications. "This is a case which potentially could go to the U.S. Supreme Court," Broomall says.
Why can't WBRU and BSR just get back together? This is Brown, after all, which prides itself on multidisciplinarity and teamwork. This is the approach Ralph Begleiter favors. "The students at Brown have a station," he says. "My feeling is, use the one you've got. Brown has bright students with eclectic interests, and I agree with the BSR people. The station ought to reflect all these things. But I don't think the answer is, 'We can't do what we want with the station, so we want another one.' "
Elaine Kim says emerging technologies may allow the two stations to reunite and thrive. High-definition radio, for instance, allows each frequency to have two streams, and she believes WBRU will be broadcasting on HD radio within two to five years, which will allow it to offer BSR one of its two streams. What she is not willing to do, however, is to alter BRU's existing programming. "I don't think we're in the position where we can take risks like that," she says.
Other Brown radio veterans believe that something important would be lost by joining the two stations. "They're such different beasts; they're such different entities," says Daniel Oppenheim. "I can't imagine how they could be combined. It would be a burden to each to have to deal with the other." Tannenwald, who, more than anyone else, has been deeply involved with both stations, thinks that each has something unique to offer. "BRU isn't programmed to the community. BSR is. BRU is the radio business. BSR is radio as a communication art."
Still, as much as the two stations are going their own ways, former WBRU general manager Jacob Levy thinks neither one should forget those troublemakers whose vision in 1936 accomplished something that had never before been done. WBRU and BSR, he says, "came out of a shared, common history, and I wouldn't like to see them lose sight of that."
Beth Schwartzapfel '01 is a freelance writer in Providence.