The pride is back. When Lars Tiffany played defense on the Brown lacrosse teams from 1987 to 1990, he was a source of the toughness, grit, and tenacity those teams possessed. Those qualities seemed to diminish over the last few years, but ever since Tiffany, a former team captain, returned as head coach in 2006 the attitude of the players almost immediately changed. So has the team's standing.
Not only has team play improved dramatically, but on May 3 the Bears won a share of their first Ivy League championship since 1995 with a 6–5 victory over Princeton. The team finished 11–3 and closed out the season by winning ten of its final eleven games and finishing 5–1 to share the Ivy title with Cornell, who beat them in late April.
Brown finished the regular season ranked thirteenth in the country in both the U.S. Intercollegiate Lacrosse Association Coaches Poll and the NIKE/Inside Lacrosse Media Poll, and the team narrowly missed out on an at-large bid to the sixteen-team NCAA Tournament.
"In the Brown lacrosse program that I remember, that I played for," Tiffany recalls, "there was a toughness, an edginess, that commanded a certain amount of respect from the rest of the country. One of my objectives has been to bring that back."
To change the results on the field, Tiffany first had to improve the mental toughness of his players off the field. "I have been really fortunate to have a group of men who bought right into this new mind-set," Tiffany says. "We actually put a phrase to it. It is called Brown State."
The term, he says, is a holdover from his playing days, when the meaning was simple to the players: although they were at an Ivy League school, they would play with the toughness most often associated with state-school programs.
"For us it has become a mentality that we follow," says goalie Jordan Burke '09, who in May was named Ivy League Player of the Year. "We really pride ourselves on ground balls, on scrapping and fighting for everything and not taking anything for granted. That is kind of the Brown State mentality."
Tiffany believes that the Brown State mentality is about more than sports, however. "We push our men," he says. "We push them hard. We push them to be better athletes, but more so we are trying to push them to be better students and better leaders.
"My ultimate goal is to produce great men."
That's a major reason, he adds, that he returned to Brown after two years as head coach at Stony Brook and a number of years as assistant coach at Penn State, Dartmou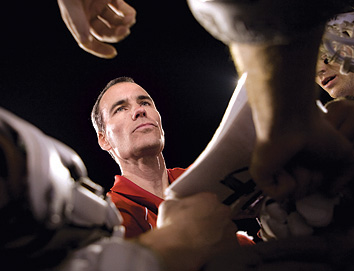 th, Washington & Lee, and Le Moyne College.
"I really embrace being back at Brown," he says. "Such a school allows a man or a woman to grow. To be in this culture where you promote the individual to higher levels—as an alum I believe it, I lived it, and I promote it every day."
Director of Athletics Michael Goldberger believes that Tiffany understands how to lead young players. "Lars is probably the most caring, concerned coach I've ever met," he says. "He is so great with his players. He is somebody who knows the game, knows his players, and just loves it."
  It doesn't hurt that Tiffany, as a former Bear, has connected well with alumni. "Lars brought back the pride in Brown lacrosse within a week after he had the job," Goldberger says. "His level of communication to alumni, and the time he would take to send newsletters and e-mails and keep people informed—it was a breath of fresh air. I started receiving e-mails right away saying, 'He is so great. We are so lucky to have him.'"
Burke says the players can sense renewed alumni excitement about lacrosse. "We have gotten a bunch of e-mails and letters from alumni encouraging us," he says. "I definitely think there is a lot of pride that has come back for the alumni and for us."
Now the entire league is taking note. Joining Burke on the All-Ivy first team this year are two teammates, Thomas Muldoon '10 and Reed Deluca '08, while Zach Caldwell '10 was named to the second team.
The Brown State mind-set is showing signs of catching on.
Gordon Morton '93 has written a book on the history of Brown athletics.