The Arts
Mod Merch
A dual-degree student turns bookstore leftovers into fashion must-haves
January 17th, 2023
Just in time for Halloween, Brown-RISD student Glory (SeungHee) Lee '24 dropped a new clothing collection that aims to combat the true monster in our closets: textile waste.
Lee, whose dual degree combines apparel design at Rhode Island School of Design with economics at Brown, is the founder of Missing Button, a creative studio focused on upcycling collegiate apparel—specifically, merch that the Brown University Bookstore has been unable to sell.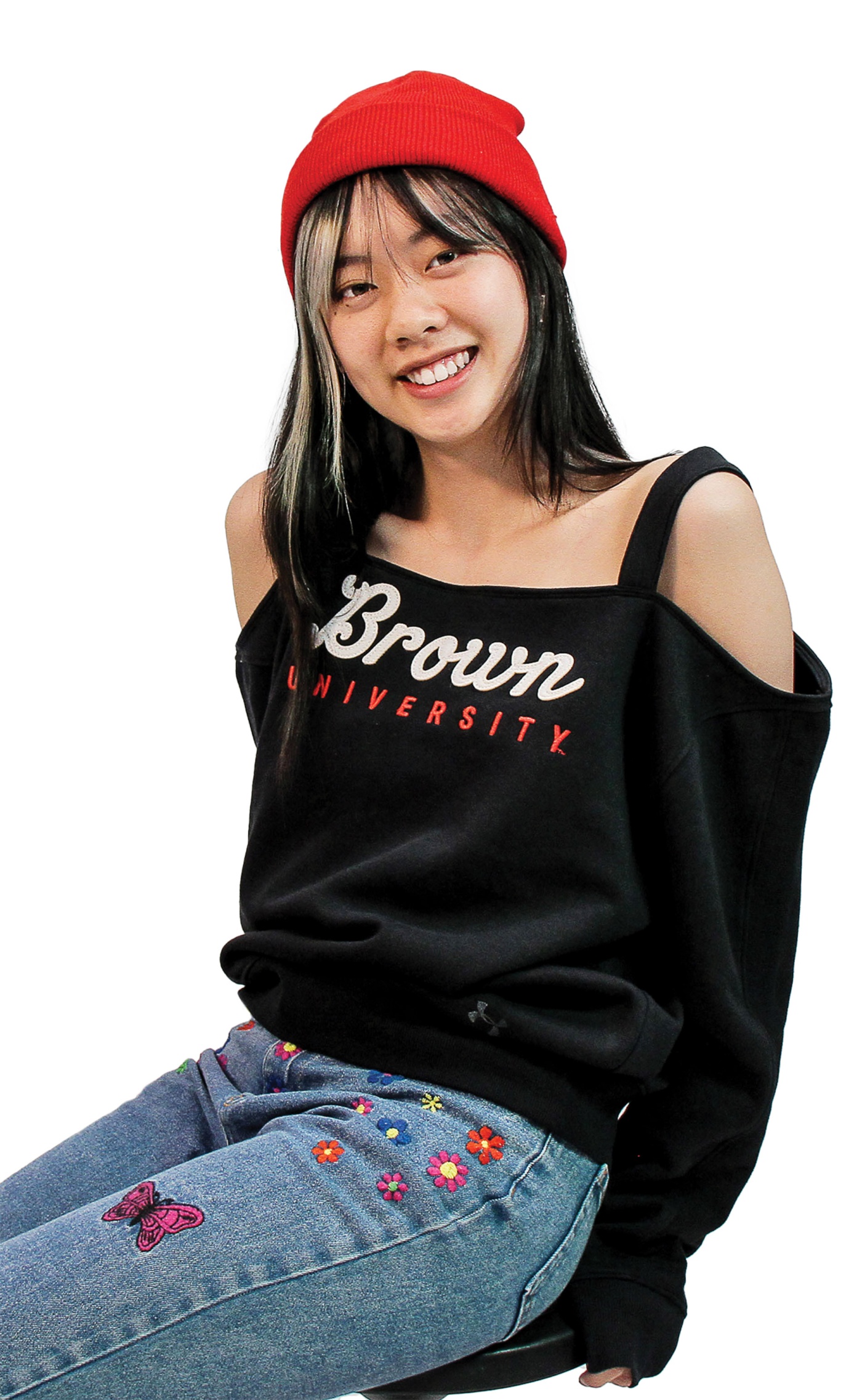 "Upcycling is always interesting, because you have to be creative with such a limited set of resources," Lee says. "You're given a starting point, then however you can stretch that is really up to your creative capacity. It's almost like a problem-solving challenge."
Lee officially launched the Brown Bookstore collaboration over Brown's Family Weekend in late October. The collection comprises more than 70 unique and sustainable pieces—think ruffled crop-tops, patchwork tote bags, strappy sweaters, and embellished hoodies.
The name Missing Button, Lee says, was inspired by her time working at an alteration shop during high school. "I was very surprised at how many clients were sending their clothes to the shop just to get their buttons fixed," she says. "I was shocked people didn't know how to sew buttons on, which is the simplest thing I can think of in terms of alteration." So she set her sights on finding a way to design clothing that also helps "handle this overstock problem that is very common in retail."
Overstock traditionally means items that didn't sell, but can also include seconds, like shirts with improperly sewn seams or mistakes in the graphics. In addition, prospective vendors send the bookstore free sample products every year. All of this surplus material "collects over time and kind of turns into a mountain," says TJ Cochran, director of the Brown University Bookstore.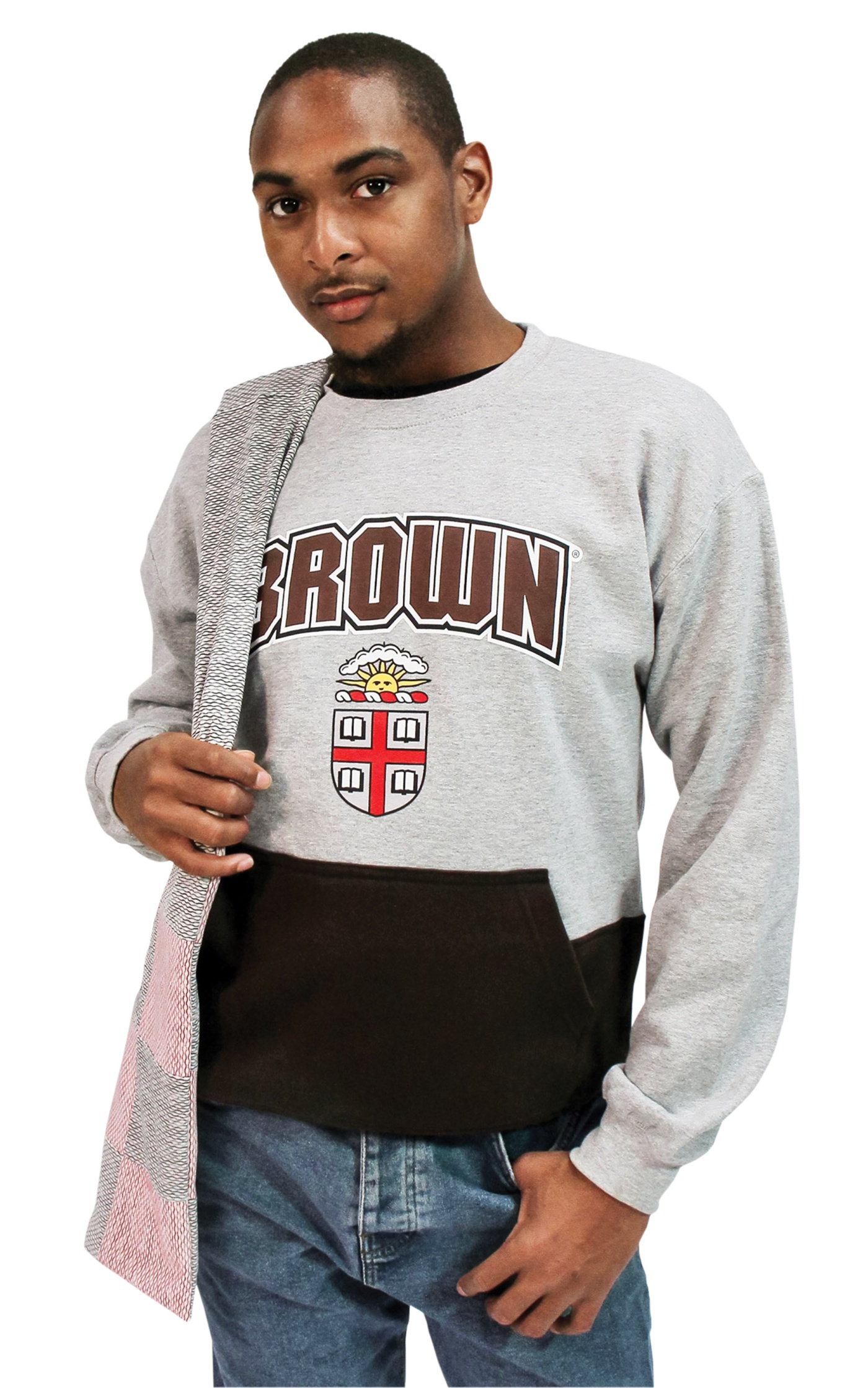 "We've done all kinds of things —we've donated things, put them in special sales or clearance, but if it gets down to the point where it's just not selling, it would go to a thrift store," Cochran says. "It could also end up in the landfill, and that's not where we want it to go." 
RISD student Adrian Aviles bought a Missing Button hoodie at the bookstore and said he appreciated the attention to detail in the design, as well as "the craft of the garment, and the mixing of different textiles that you normally wouldn't see in a store setting." 
That's by design, says the brand's graphic designer, RISD student Eleanor Ryan. "We're hoping that by taking university clothing—which, in my opinion, is usually pretty bland and straightforward—and turning it into something that is a lot more individualized and feels like actual clothing rather than a uniform, we can encourage students to stand out confidently through their style," Ryan says. The team also includes Lee's sister, Victory Lee, who is studying at Yale and pinch-hits with production when needed.
"I always knew I wanted to do fashion design, but my passion on the entrepreneurial side of things was something I really discovered at Brown," Lee says. "The dual-degree program was my top choice from the moment I learned about it, and to this day, I think it's probably the best thing that happened to me in my educational journey."