Student Life
Flocking Together
A crochet scavenger hunt takes wing
August 24th, 2023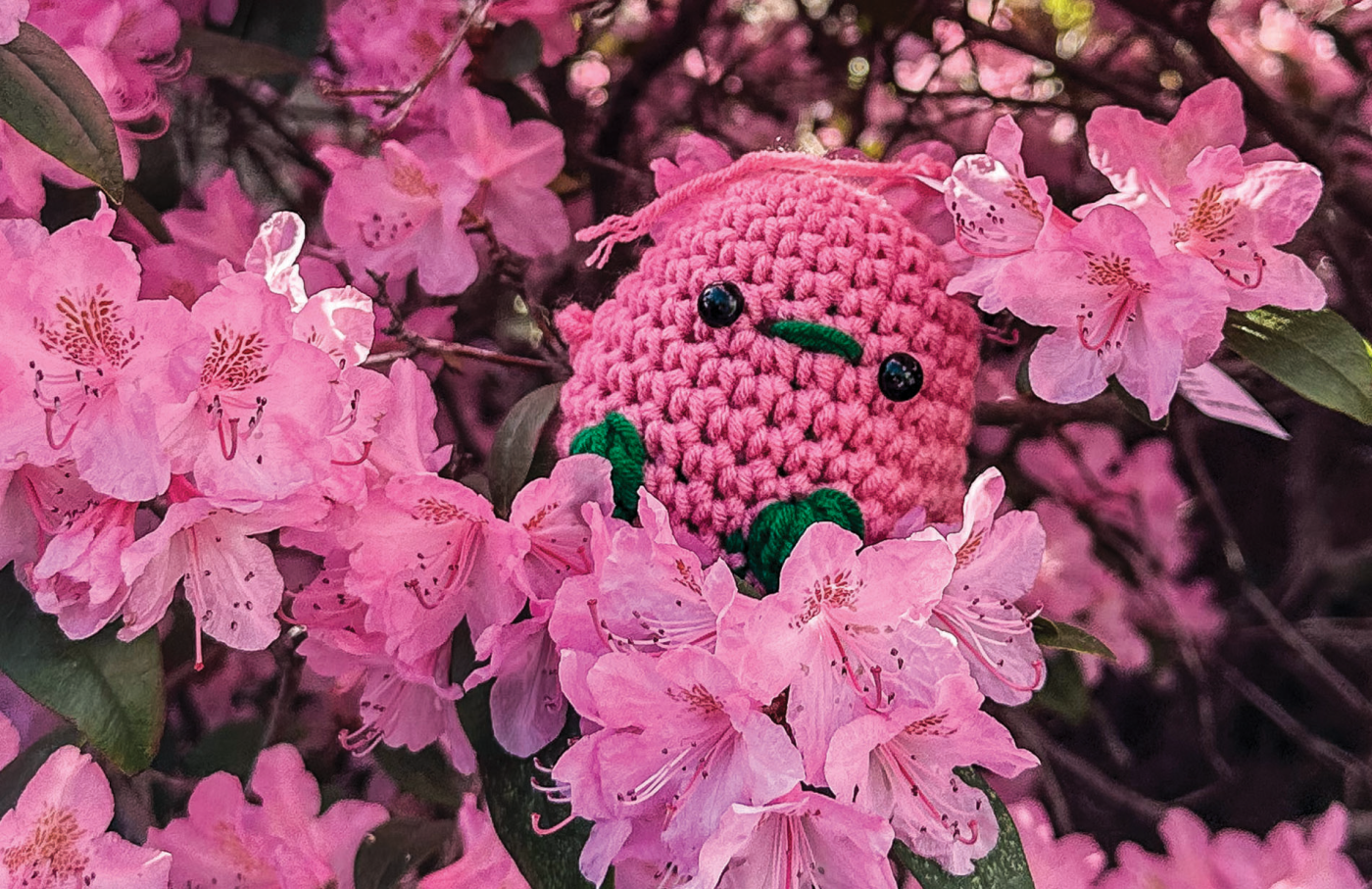 She puts the post on Instagram, and chaos ensues: students abandon coffees and conversations and begin to sprint, one eye on their surroundings and the other on the post. The newest birb is waiting to be found.
Birbs—adorable handmade crochet birds—began flocking to campus in early April, when the anonymous Instagram account @birbsatbrown started posting photos of the plump, colorful little birds, each one unique, each hidden in a different spot on campus. Birbs have been found wedged between books at the bookstore, floating in the middle of a swimming pool, even on the shuttle.
By summer vacation, @birbsatbrown had amassed 2,200 followers and cached dozens of birbs. The account hides anywhere from one birb every few days to three birbs per day, posting photos that contain little to no information about the birbs' whereabouts—and yet interest is so high that they're almost always found within 10 minutes of the original post.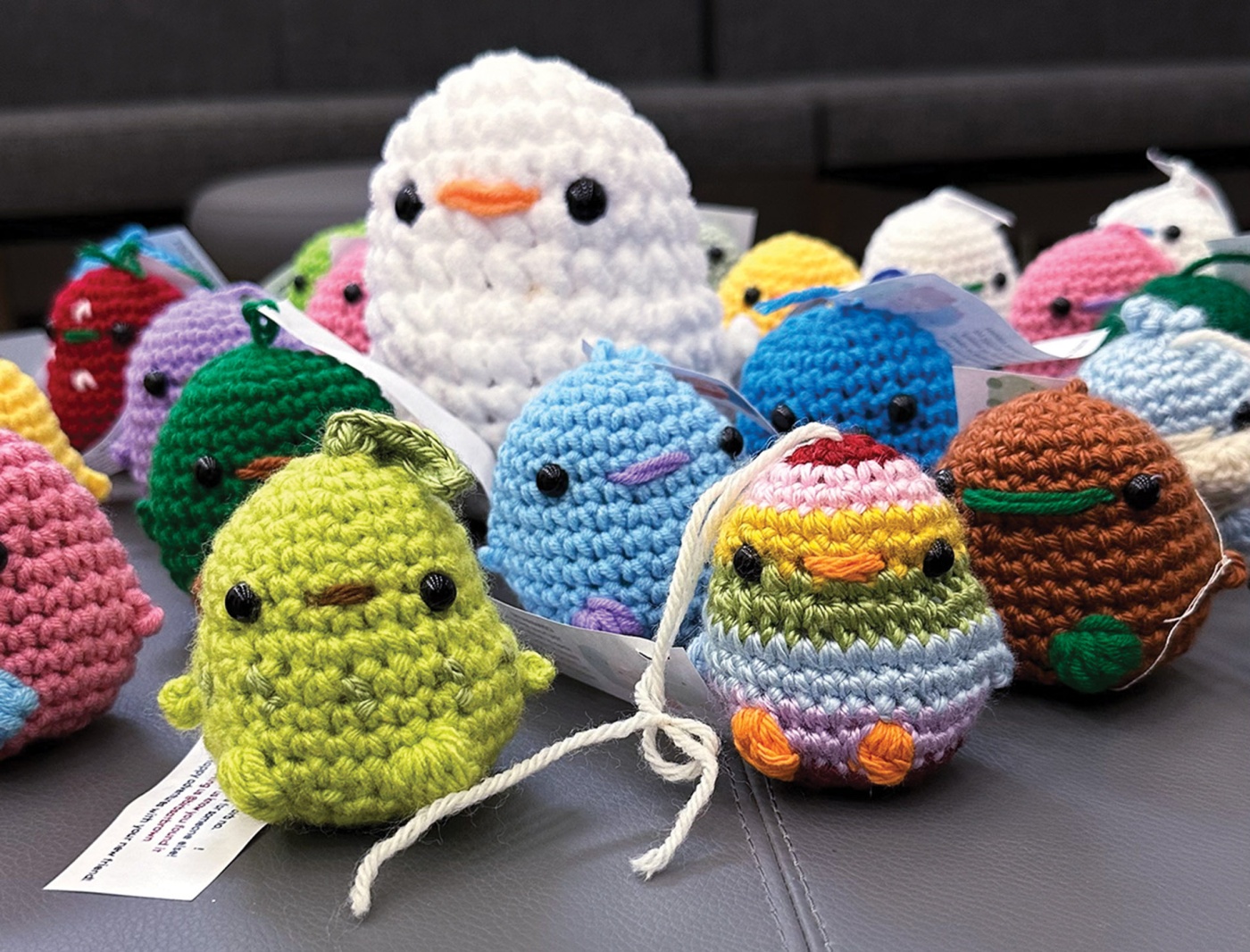 The account is run anonymously by five Brown students: four undergraduates in the class of '25 and one master's student in the School of Public Health.
The idea began over winter break, says one of the founders—a health and human biology concentrator who argues that the fun will be lost if people find out who's running the scavenger hunt. A friend showed her the @osuoctopi Instagram account, which hides crochet octopi around Ohio State University's campus, and asked if they could do something similar at Brown. An avid crocheter, she agreed. She enlisted a computer science student and the three began following an online pattern to create their own adorable animal: the birb.
Each birb takes around 30 minutes to make and the account founders together make anywhere from five to 10 birbs a week—the main limitation being funds to order supplies.There has been a ninja birb, a tempura birb and, in May, a birb with its very own graduation cap.
It took a while to get the account off the ground. "I would make them, and it would be weird to think about leaving them out," says the health and human biology concentrator. "Like, what if nobody even wants it?"
Slowly but surely, though, birbs caught on. With each new post, the account grew until fans began "memorizing every bush and tree in case we hid a birb there."
Supporters say it's a welcome dose of fun—if not a straight-out obsession. It's "one of the few things that has really brought school spirit together," says Haley Flores '24, an avid birb hunter. "I always explain to people that it's like the Hunger Games. The person who's doing this has such a chokehold on the 2,000 people following them."
Flores's dreams finally came true when she found birb no. 66. "Before I found it, I was telling people I would not graduate until I found one," Flores says. "So now, I can officially accept my diploma."
Joseph Maffa '25 has found three and says, of birbs and Brown, "I think everyone has just been a little bit happier."
What's next for these flightless birds? The founders have big ideas: "We want to figure out a way to raise money for supplies," says one. "We also want to implement a charitable aspect, like raising money and donating it."
And, when the time comes, "we hope to give (the organization) to some freshmen that know how to crochet, and hopefully it continues."