Student Life
Crowning Venture
Miss Rhode Island 2023 on what it means to be a woman in finance
August 24th, 2023
In January, Caroline Parente '24 was thrilled to learn she'd been selected for a coveted investment banking summer internship. When she shared the news, however, the soon-to-be Miss Rhode Island was shocked to hear a common refrain.
It will be the perfect chance to find a husband, eight different people told her over the next three weeks.
As the reigning Miss Rhode Island, Parente is no stranger to confounding outdated expectations. However, she contends it's finance—not pageantry—that fosters a toxic culture for women. And the numbers back her up: According to a 2022 Pitchbook report, female-founded companies receive less than 26 percent of venture capital deals in the U.S., while on the industry side, women make up less than 24 percent of analysts.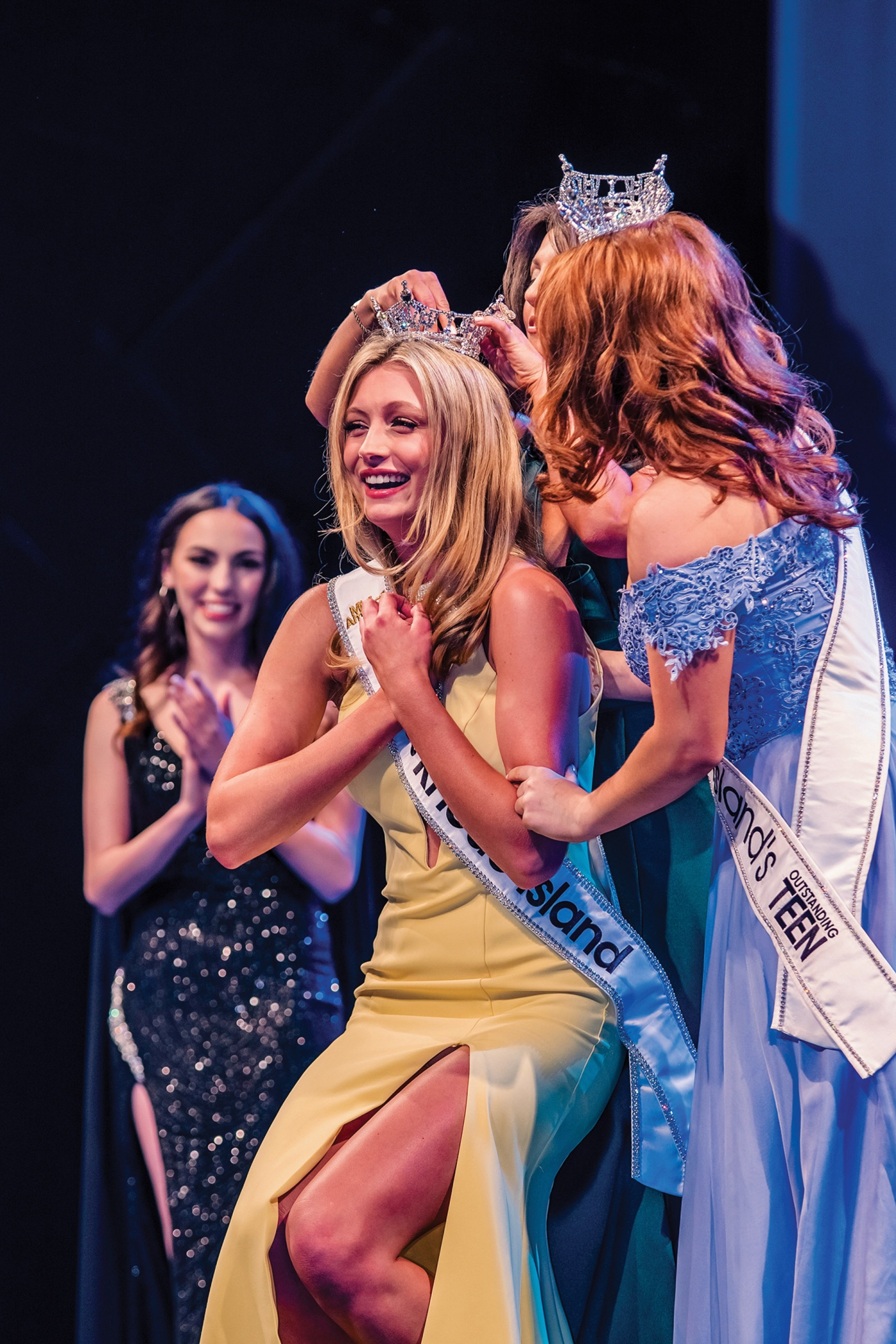 With plans to pursue a career in venture capital, Parente hopes to help close this gender gap by leading the charge to support female founders. And in her capacity as Miss Rhode Island 2023, the South Kingstown native is already getting started.
A rising senior concentrating in English and political science, Parente was crowned Miss Rhode Island 2023 in May. This new role is now Parente's second statewide title, having previously served as Miss Rhode Island's Outstanding Teen in 2019.
"There are definitely a lot of negative connotations when it comes to pageantry," she says. In fact, Parente never considered entering a pageant herself until her high school photography teacher first suggested the idea when she was 17. "I think people definitely have in their mind a very dated version of Miss America and Miss USA."
Judges no longer emphasize physical appearance; merit-based categories such as talent, private interview, on-stage question, and community service now make up significant portions of each competitor's score.
"I think it's important that young girls learn that these spaces now are meant to empower women and lift them up," says Parente, who will represent Rhode Island in next year's nationals. "The judging is designed so that they're looking at your most authentic self."
The holder of the Miss America title is said to excel in four key areas: style, service, scholarship, and success. And when it comes to that controversial first s in particular, Parente pushes back against the idea that focusing on "style" is inherently frivolous or objectifying. She argues that embracing activities and characteristics historically dismissed as "feminine" can itself be an act of radical female empowerment—especially for women working in male-dominated industries such as finance.
"I'm just gonna dress in power suits every day," Parente remembers thinking before beginning her new internship. "But that's not necessarily what I have to do at all. I don't have to sacrifice one ounce of femininity to be listened to and to be confident."
To truly "ignite the power of the female entrepreneur," as Parente puts it, women in finance shouldn't be taken seriously in spite of their gender, but celebrated for embracing their unique leadership qualities.
"Empowered women empower women,'" says Parente, putting her own spin on the Miss America slogan, "empowering women to lead." Through her community service initiative "InvestHER," Parente is partnering with Brown's Nelson Center for Entrepreneurship to do just that by connecting female-founded businesses with VC and angel investors. She also plans to use her internship experience this summer to design a new empowerment curriculum targeting female high school students across Rhode Island.
"I was never told that I could be an investment banker," she reflects. "I was never told I could be a CEO, or I could work in venture capital—and that is definitely a problem."