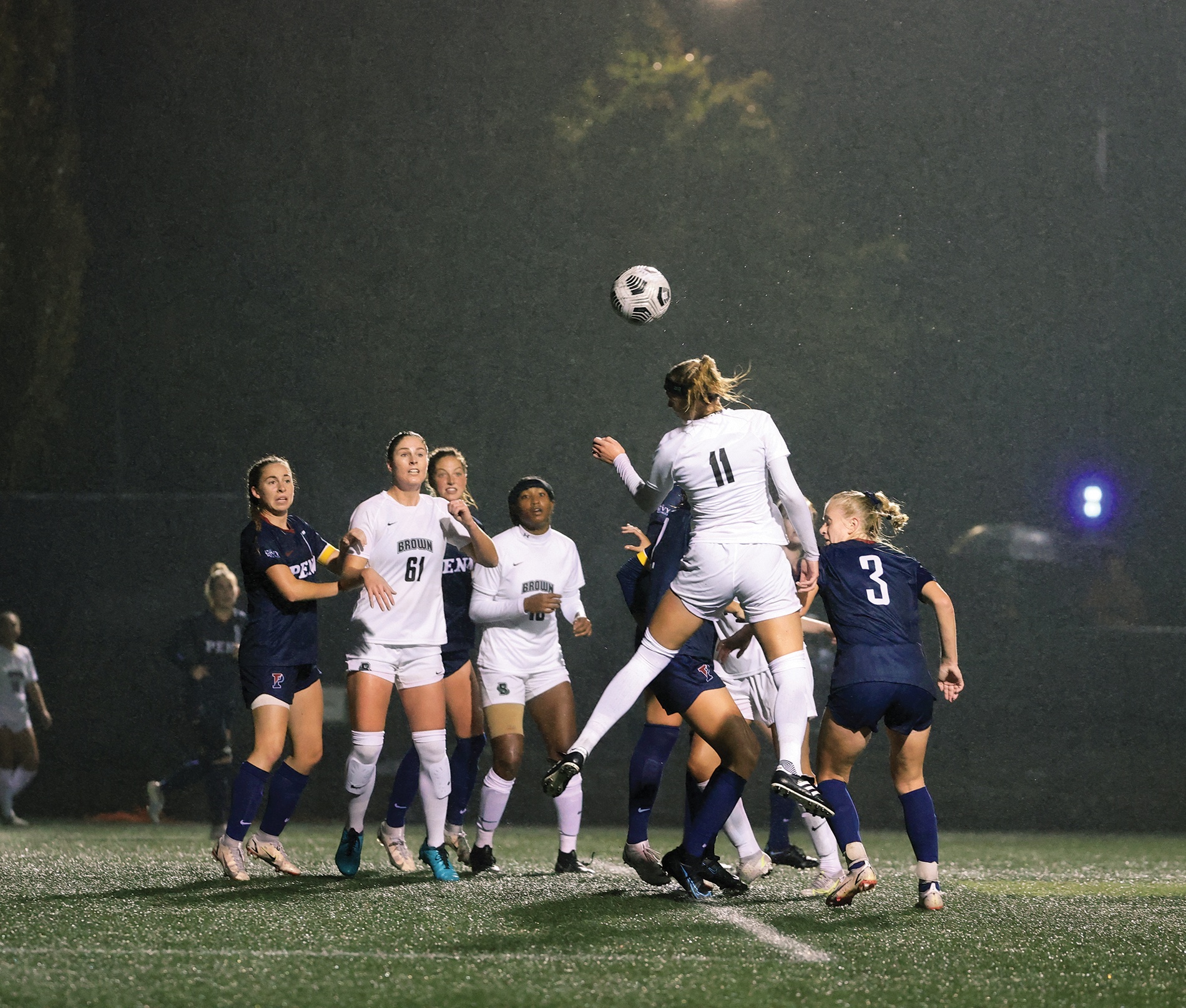 Sports & Recreation
One Day, Two Ivy Titles
Victory was decisive and extra sweet for women's soccer and volleyball after returning to play this season.
January 25th, 2022
On November 6, two teams—women's soccer and volleyball—both clinched dominating seasons in the Ivy League, earning spots in the NCAA and creating a new record for Brown with two outright Ivy titles on the same day. The 2021 wins came after a frustrating year of pandemic cancellations and distanced practice sessions that made this season the first year of competitive play for sophomores as well as first-year students, showcasing the Bears' physical and, especially, mental fortitude.
"Controlling the Controllables"
Women's soccer ended the fall 2021 season undefeated in the Ivy League for the first time since 1990. With 14 Ivy League championships, including one in 2019, the Bears are now the most decorated women's soccer team in the conference.
The Bears' success, in part, reflects the phrase head coach Kia McNeill has repeated to her players for years: "control the controllables." That includes attitude, work ethic, and fitness level.
"You want to enjoy every step of the way—every practice, every meeting and hangout—not just the wins," cocaptain Cameron Brown '21, '22 MS, says. "I think our team culture makes that very possible."
The connection between culture and performance was clear in 2019, when the team—which McNeill calls "a well-oiled machine"—ended the fall 2019 season 6-0-1 in conference after a tie with Yale in their final game.
The phrase resonated with players last year, when they found comfort in the supportive environment McNeill has built in her six years at Brown.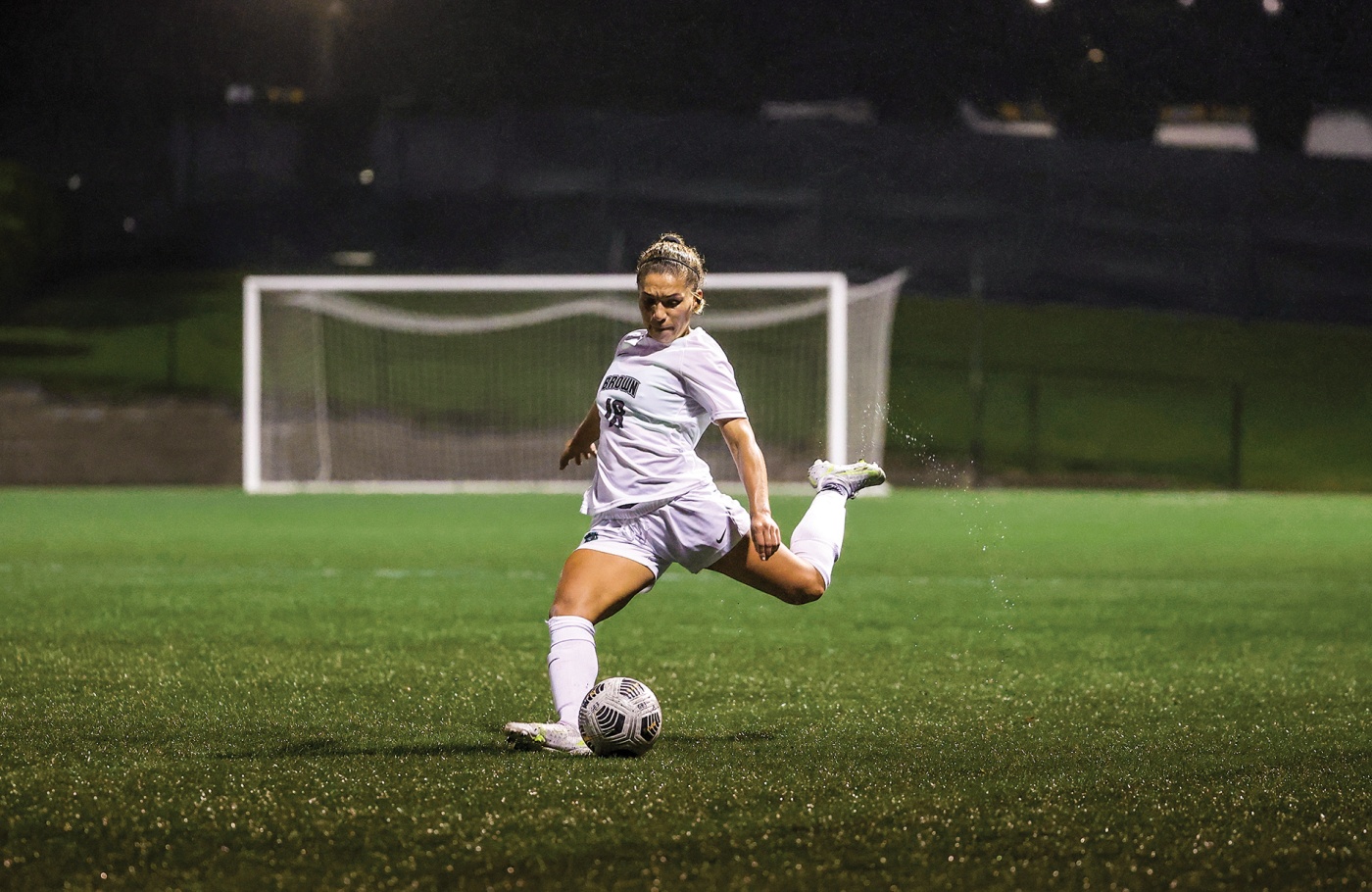 Their determination to build on that success made last year's cancellations that much more of a letdown. "You go from a really high high of winning to a really low low of not even having a season," McNeill says.
To make the most out of the difficult situation, the coaches sent the players exercises dubbed "PACT plans" every other week. The P stood for physical, A for attitude, C for character, and T for technical. This acronym served to remind the players of their commitment to their team despite the unusual circumstances.
The Bears also met with professional soccer players Crystal Dunn and Jessica McDonald over Zoom. "That was a really cool way that we took advantage of not being able to have a season," says cocaptain Malina Yago '22. "We were able to learn how they battled through adversity, how they made sure to enjoy the fun times. Those talks were really inspirational and motivational. I know everyone enjoyed it and was starstruck."
The pandemic's hardships helped the team grow closer, players say. Coach McNeill echoes the sentiment: "All the engagement and interaction we had via Zoom allowed me to get to know players and for them to get to know me in a different way," she says.
In their first game of the 2021 season, the Bears lost to Hofstra.
Determined to do better, the team then won game after game to clinch their second consecutive Ivy title and their first 7-0 record in conference competition. They were knocked out of the NCAAs in their first match, against St. John's (N.Y.), but the loss "doesn't take away from us having one of the most historic seasons in Brown women's soccer history," says McNeill.
Brittany Raphino was named Offensive Player of the Year, Kayla Duran made Defensive Player of the Year, and Kia McNeill was unanimously voted Coach of the Year, her second consecutive season earning the honor.
McNeill adds that she's as proud of her players when they ace classes as she is when they win games. "I want people who prioritize school, but I also want people who prioritize soccer," she says. "Sometimes, people think you have to choose but those two things are not mutually exclusive. You can be great at both. You can be elite at both."
Read about Volleyball's winning season here.