Class of 2004
Oct, 2022
New Brews from the Ruggiero Brothers
A new Connecticut taproom
Read More
Aug, 2022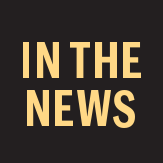 Washington Magazine released its list of Tech Titans 2022, the 225 most important and innovative leaders in Washington's digital economy. Among the honorees were: David Cicilline '83, chair of the antitrust subcommittee, U.S. House of Representatives; Catherine Marsh '82, '87 PhD, director, Intelligence Advanced Research Projects Activity; Tobin Moore '04, cofounder and CEO, Optoro; Stefanie Tompkins '93 ScM, '97 PhD director, Defense Advanced Research Projects Agency; and Adam Vitarello '05, cofounder and president, Optoro.
Aug, 2022
Deaf Representation
A new short film is performed by a deaf cast in American Sign Language
Read More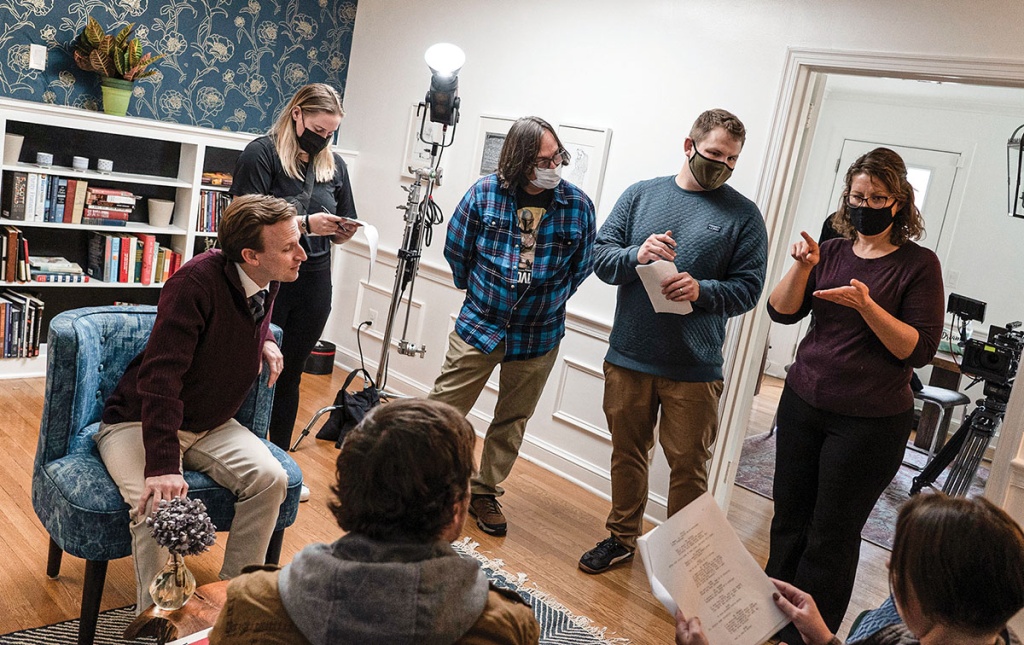 Jun, 2022
Brent Lang was promoted to executive editor at Variety. In his new role, he will help guide the editorial operations across digital and print platforms. He will continue to oversee Variety's film, media, and theater coverage, and he serves as leader of the New York bureau. He joined Variety in 2014 as a senior film reporter and most recently served as executive editor of Film and Media and New York bureau chief.
Apr, 2022
Nick Bayard was appointed executive director of BirdNote, a public media and environmental conservation organization dedicated to telling vivid, sound-rich stories about birds and the challenges they face in order to inspire listeners to care about the natural world and take steps to protect it. BirdNote stories can be heard on more than 200 radio stations across the U.S. and at www.birdnote.org and has an estimated audience of two million people. BirdNote Board President Tom Livingston shared, "We're excited to have Nick lead us in supporting new programs and reaching new audiences, making birding an accessible and inspiring way for communities around the country to connect with conservation."
Jan, 2022
"The Problem"
A new book contemplates life decisions in the face of climate change.
Read More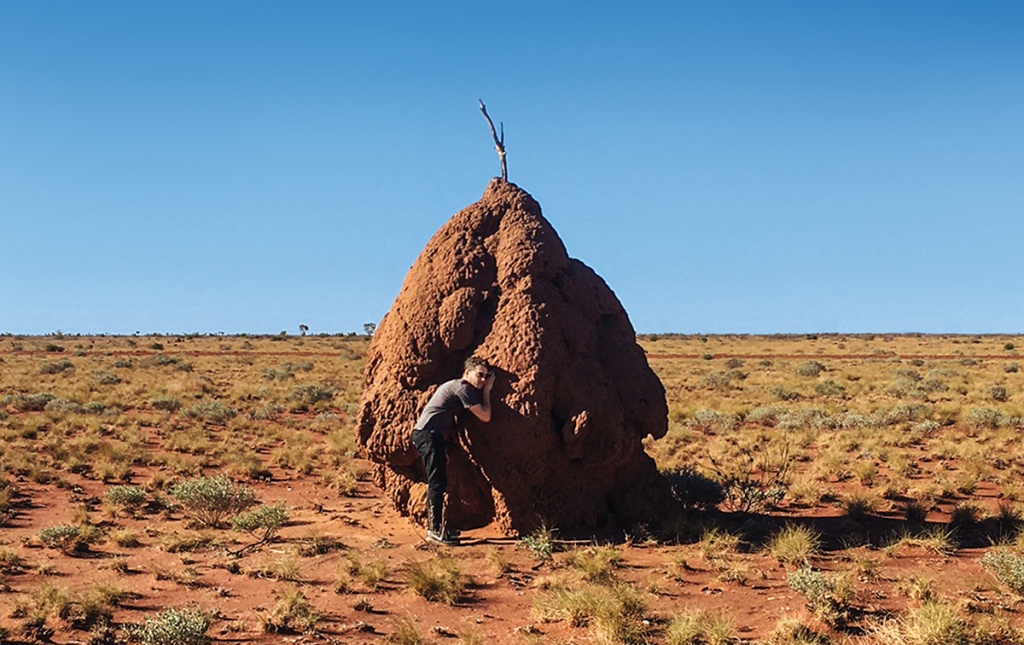 Jan, 2022
Paul Kowalski wrote to say that his film, Paper Tiger, was released Aug. 24, 2021, nationwide. The trailer is on YouTube at https://youtu.be/gHSje7ZoPVM and more information about the film is available on Wikipedia. For more about Paul, check out paulkowalski.com/bio.
Jan, 2022
Alina Engelman received tenure and promotion to associate professor of public health at California State University, East Bay. She also received a campus-wide outstanding researcher award. An article she first-authored about COVID-19 and food insecurity in the deaf community in Public Health Reports was tweeted by the CDC as part of its daily credible health and safety updates.
Jan, 2022
Jeff Stewart writes: "Breakaway Partners was acquired by Komodo Health. What is interesting is the high concentration of Brown folks on the Breakaway side! There is Andrew Laubscher '07 (married to Amanda Puffer '05, '08 ScM), PJ Santoro '04, and myself (married to Karen Steinig '91, parent to two sons '20 and '24). Also on our team are Andrew Coggins '18 and Dylan Groos '19. A nice 'conclusion' to a gathering of several Brunonians across a few decades."
Nov, 2021
Alina Engelman received tenure and promotion to associate professor of public health at California State Univ., East Bay. She also received a campus-wide Outstanding Researcher award. An article she first authored about COVID-19 and food insecurity in the deaf community in Public Health Reports was tweeted by the Centers for Disease Control and Prevention as part of its daily credible health and safety updates.
Aug, 2021
Meredith Jones and Keith Law were married in January in a micro-wedding in Wilmington, Del., with their three daughters filling out the wedding party. Meredith was promoted to associate professor and granted tenure in the department of psychology at Rowan University in Glassboro, N.J.
Apr, 2021
Lauren Kupersmith announces the birth of her daughter Kaycen Dalia. She is the fourth grandchild of Stephen '73 and Eileen Schwartz Kupersmith '73. Lauren lives in the suburbs of Washington, D.C., and works as a federal prosecutor for the U.S. Department of Justice, Child Exploitation and Obscenity Section.
Apr, 2021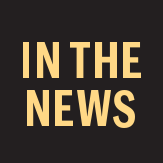 At press time, these alums were appointed or awaiting appointment to the Biden administration: Jennifer Daskal '94, deputy general counsel (cyber & technology), Department of Homeland Security; Elisabeth Donahue '86, chief of staff, Council of Economic Advisers; Marc Etkind '87, associate administrator for communications, NASA; Ruby Goldberg '17, special assistant, Office of Land and Emergency Management, Environmental Protection Agency; Suzanne Goldberg '85, deputy assistant secretary for strategic operation, U.S. Dept. of Education ; Roberta Jacobson '82, coordinator, U.S. Southern Border, National Security Council; Jennifer Klein '87, cochair, White House Gender Policy Council; Daniel Kohl '87, director of government relations, AmeriCorps; Letise Houser LaFeir '00, senior advisor, NOAA, U.S. Dept. of Commerce ; Emma Leheny '92, principal deputy general council, U.S. Dept. of Education; Suzan Davidson LeVine '93, interim political head, Employment and Training Administration, U.S. Dept. of Labor; Sean Manning '18, press assistant, Office of the Secretary, U.S. Dept. of Commerce ; Ben Miller '07, senior advisor to the chief of staff, U.S. Dept. of Education; Melanie Nakagawa '02, senior director, climate and energy, National Security Council; Victoria Nuland '83, undersecretary of state for political affairs, State Dept.; Daniel Parnes '10, special assistant to the ASD for energy environment & installations, Office of the Secretary of Defense; Tanya Sehgal '06, special advisor and senior counsel, U.S. Dept. of Personnel Management; Stefanie Tompkins '93 ScM, '97 PhD, director, Defense Advanced Research Projects Agency; Christina Tsafoulias '04, supervisory congressional liaison specialist, Bureau for Legislative and Public Affairs, USAID; Janet Yellen '67, Secretary of the Treasury; Todd Zabatkin '10 MPP, deputy director for research (White House Communications Dept.) ; and Maria Zuber '83 ScM, '86 PhD, cochair, President Biden's Council of Advisors on Science and Technology.
Nov, 2020
Dan McElligott and Olma Fuentes (Williams College '03) announce the April 19 birth of their daughter, Paloma Saoirse McElligott. She was born in Livingston, N.J. Paloma and her older sister, Denise, are doing well and enjoying time at home with their mom and dad.
Oct, 2020
A Man in Focus
For Lynne Sachs '83,
Film About a Father Who
was a decades-long effort
Read More
Aug, 2020
Will Shapiro has been focused on building technology to understand the spread of COVID-19. In particular, Topos, the company he founded, has put out a COVID-19 Compiler, which allows users to look at COVID-19 data in relation to other relevant geospatial variables. This work was profiled by The Cooper Union and has been featured on news outlets such as the Rachel Maddow Show.
Aug, 2020
Disparate Data
The COVID-19 Compiler predicts trouble spots and trends
Read More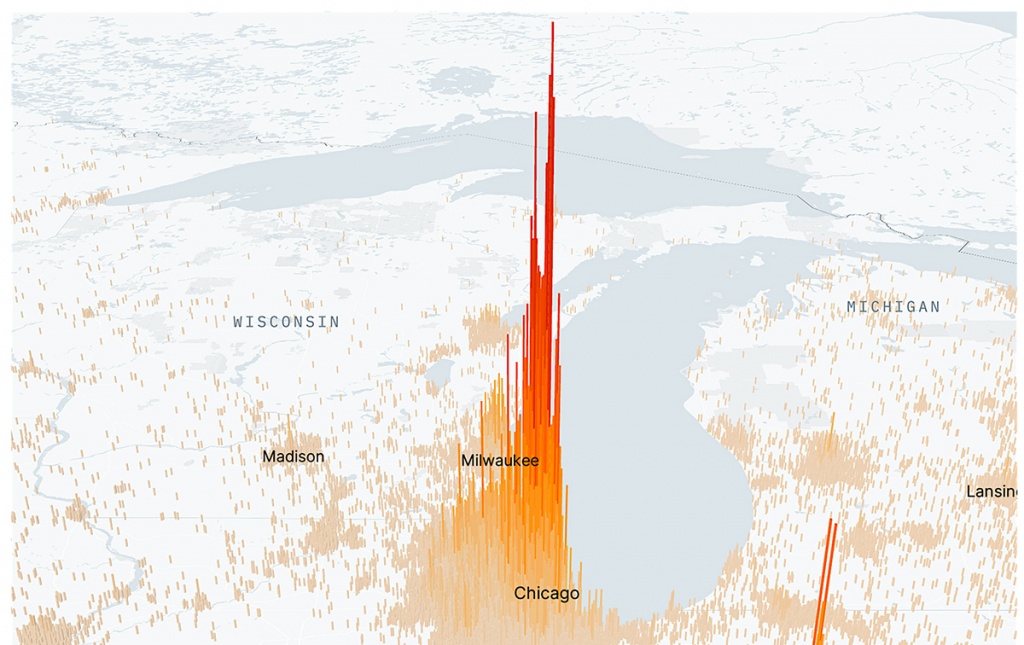 Jun, 2020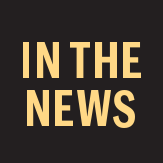 Abdullah Alsharekh '04 has been named managing director of markets and investment banking at Kamco Invest, one of the largest investment firms in the Middle East. He previously led the economic and investment team of the Hareer and Boubyan Development Agency and was managing director at Sharq Capital, where he led investment activity across asset classes. He has held executive positions with Goldman Sachs, the National Bank of Kuwait, and NBK Capital.
Apr, 2020
Nicholas Bayard writes: "In 2018, my wife, Sedia, and I welcomed a baby boy, Keaton, into our family. This past year, our oldest son, Ukweli, earned the rank of Eagle Scout, and I was appointed assistant chief equity officer for the city of Tacoma. My work involves addressing disparities in recruiting, hiring, and retention practices throughout the city, ensuring an equity lens is applied to all policy decision making and that we are building our collective consciousness as a city around issues of equity, diversity, and inclusion. We have an amazing office of ten people who investigate civil rights claims and provide training, community outreach, and policy support. Our chief equity officer, Diane Powers, is leading nationwide efforts to embed racial equity into public policy."
Jan, 2020
Megan Denault married Greg Costigan at Blithewold Mansion in Bristol, R.I. on July 6. In attendance were fellow Brunonians Sarina Chernock, Michelle Denault '01, Lydia Hamilton, Michael Keefrider '04, Carrie Petri Meatto, Chris Meatto '06, Dara Mendelsohn, and Matthew Weaver '02.
Jan, 2020
After a 12-year partnership and the birth of their two sons, Brooke Stevens and Till Wirth ('07 NYU, '12 Oxford) were married in Oxford, England on August 9, where they completed their MBAs together in 2012. In attendance were bridesmaids Frances Betancourt, Erika Faires '04 and Ellen Goldstein '04, all former Brown women's crew teammates. They were also joined by Alex Agloro '05, Luke Balleny '06, Eric Heimark '14, Andrew Keats '04, Nicole Morris '04 and Matt Salzler '02.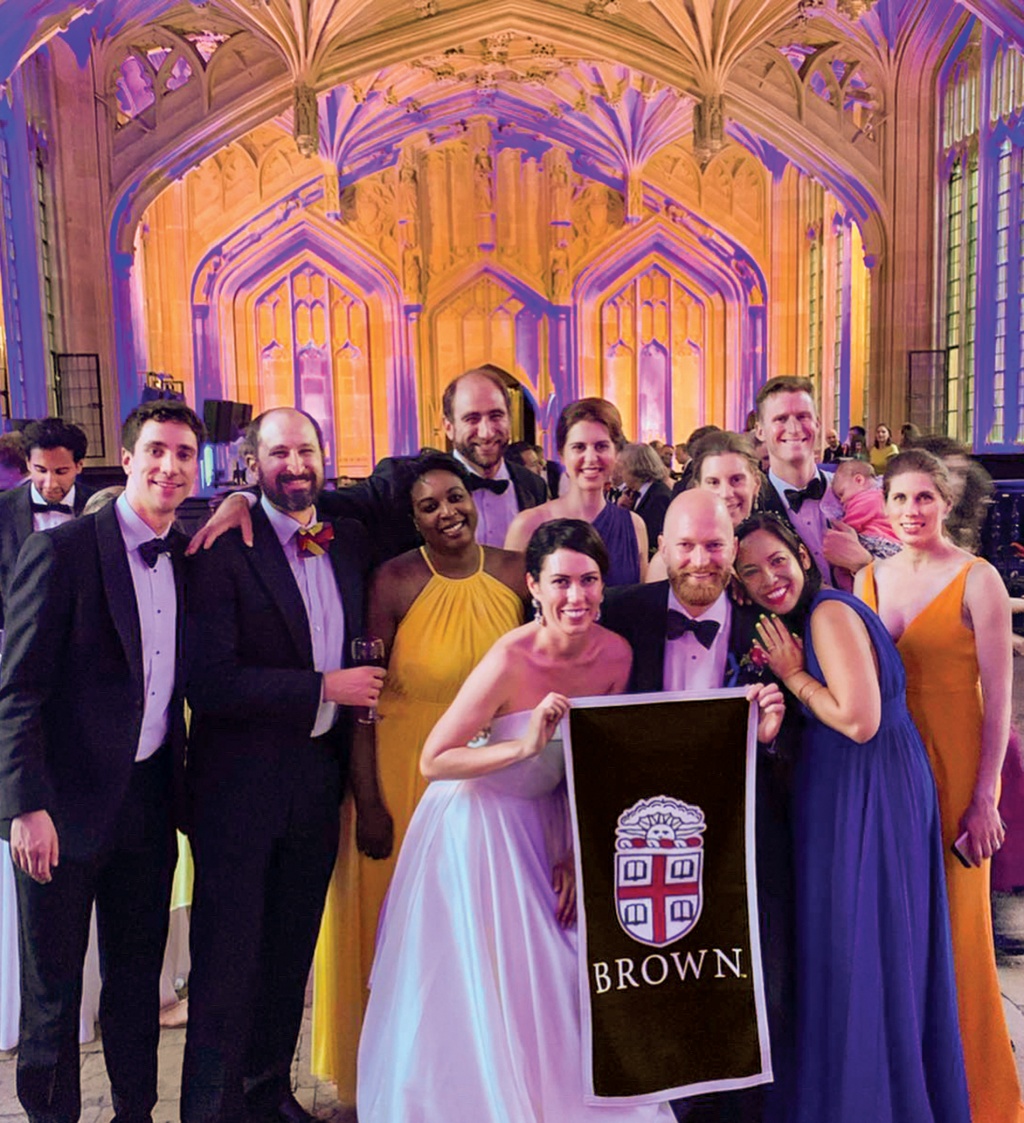 Jan, 2020
Fresh Ink
Books by Karen Dukess '84, Akemi Johnson '04, and Susan Rebecca White '99
Read More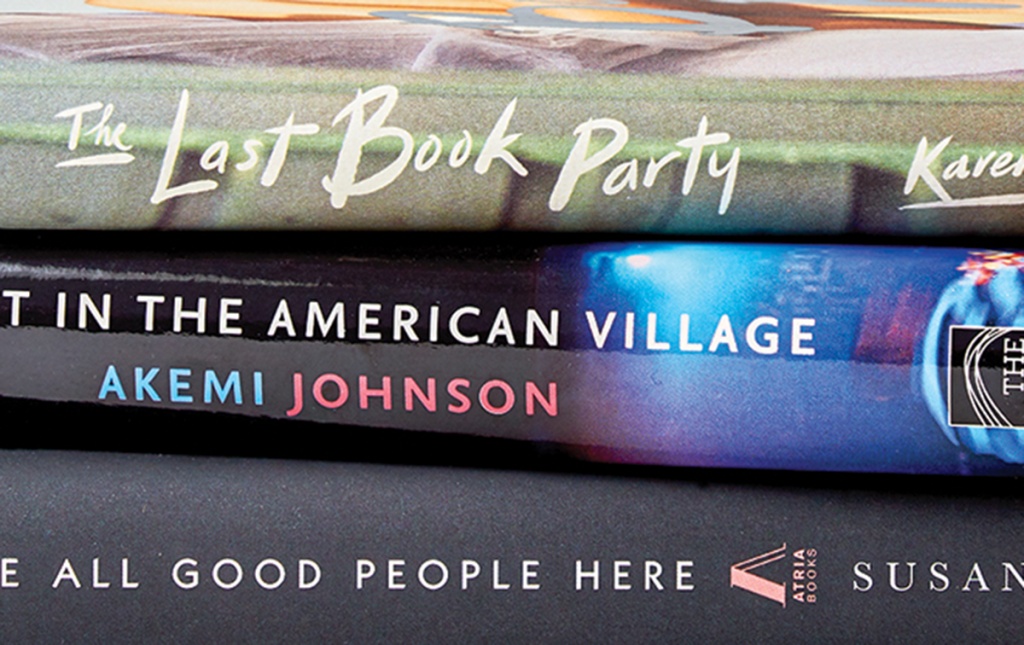 Jan, 2020
Portrait of Conflict
Filmed in the jungles of Colombia,
Monos
is being compared to
Apocalypse Now
.
Read More
Sep, 2019
The New Nunnery
A refurbished church, school, and convent become a sought-after New Orleans hotel
Read More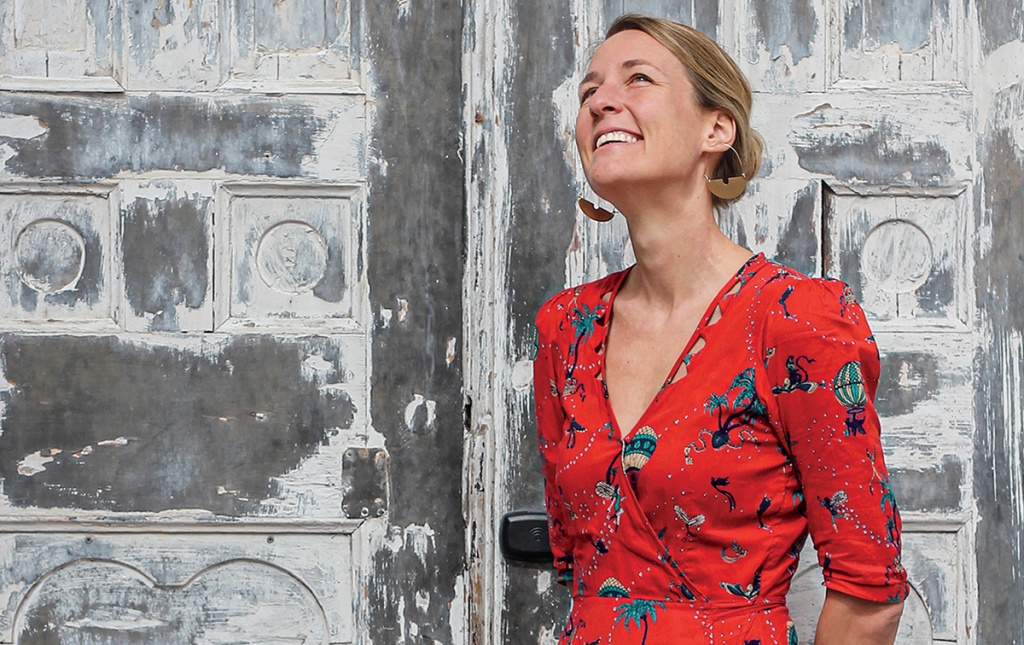 Sep, 2019
Robo-Farmer
Can artificial intelligence make growing crops sustainable?
Read More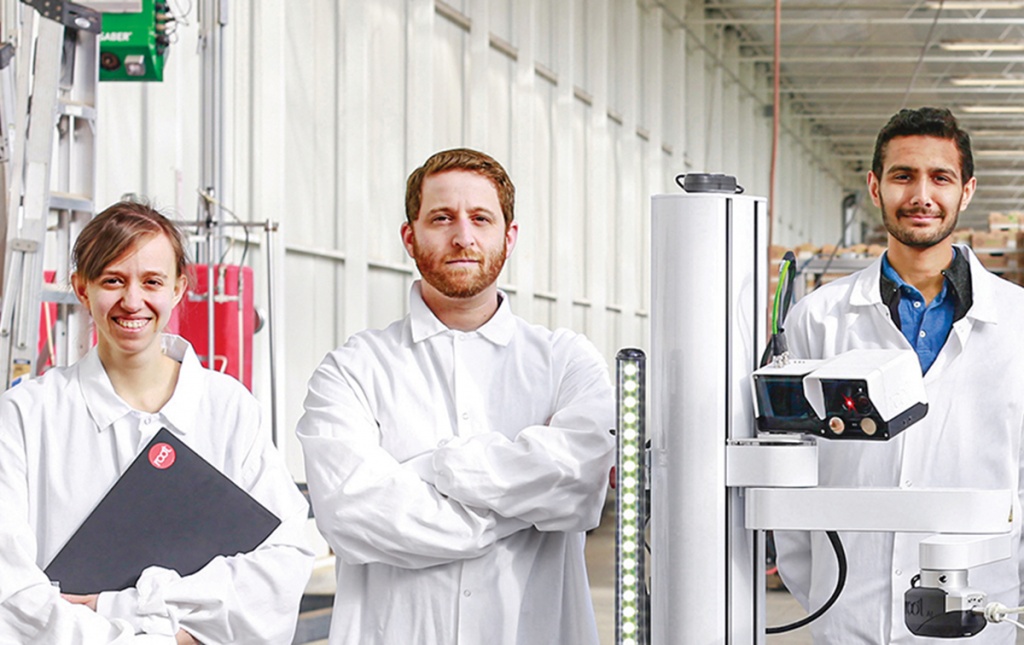 Sep, 2019
Arrrcappella Anniversary
The Pirates turn 20
Read More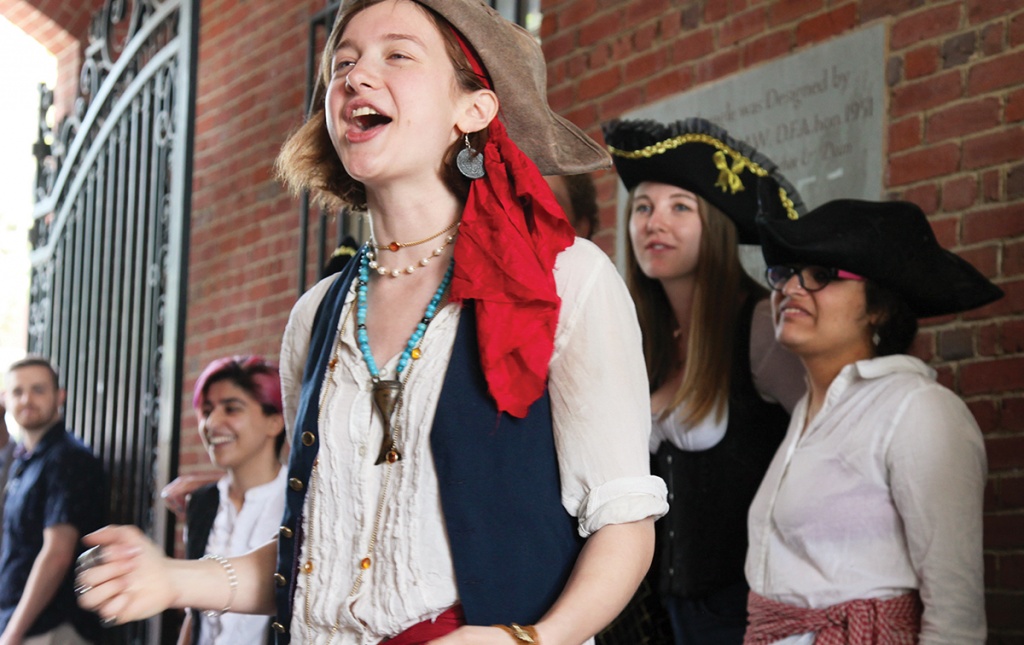 Jul, 2019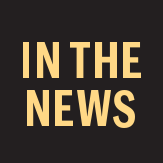 The Boston Globe profiled Joshua Lessing '04, cofounder and CEO of Root AI. The research company aims to create intelligent robots that will help growers build the farms of the future, developing technology that will help solve some of the most enduring challenges in agriculture.
May, 2019
Deylin Negron Smida and her husband, Jason Smida, announce the Nov. 28 birth of their daughter, Serafina Grace. She joins big sister Aurelia Celeste and big brother Xavier Scott. They live in Pittsburgh, where Deylin is an emergency medicine physician.
Mar, 2019
The Cartoonist
Enlivening investment banking reports
Read More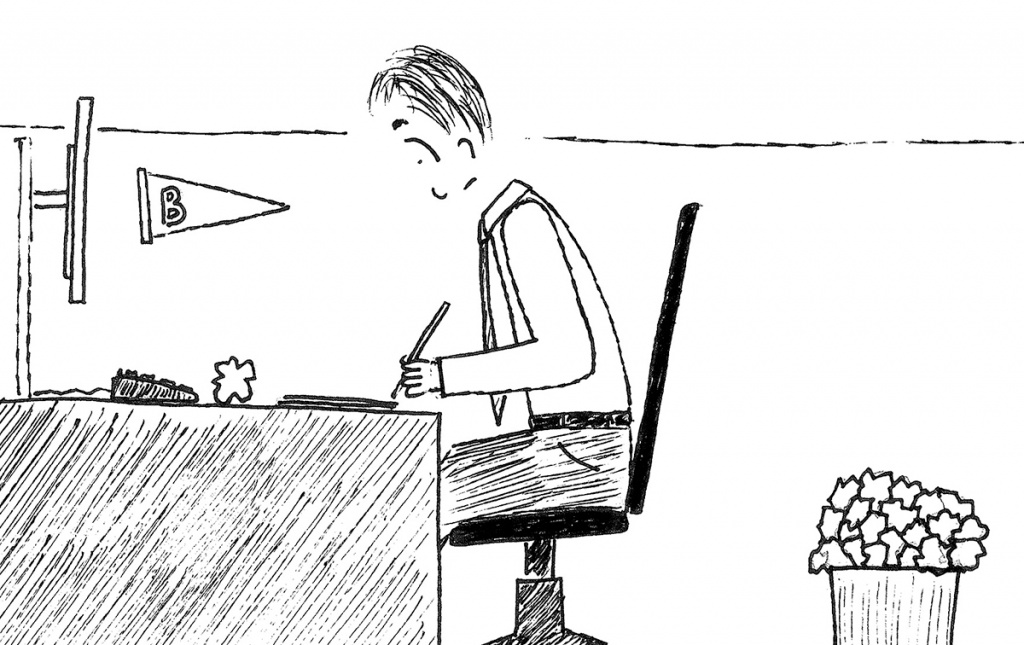 Mar, 2019
Almaz Dessie '11 MD married Michael Moffat on Oct. 7 at the Belle Isle Boat House in Detroit, Mich. Their friend Kira Neel '05,'19 MD officiated the ceremony. Almaz is an assistant professor of emergency medicine and pediatrics at Columbia University Medical Center in New York and practices as a pediatric emergency doctor at New York-Presbyterian Morgan Stanley Children's Hospital. Michael is also a physician, practicing as a pediatric hospitalist at NYU Langone Hospital in Brooklyn. The couple met in 2012 during their pediatrics residency at the University of California, San Francisco Benioff Children's Hospital in Oakland. They have a mutual love of music, global health, and travel. The wedding was a four-day celebration of love, community, and blessings. They honored their Ethiopian and Jewish traditions and surprised their guests with a reunion performance by their band from their residency days in California (Almaz sings lead and Mike plays guitar). Members of Almaz's former dance company at Brown, New Works/World Traditions, also surprised them with a West African dance performance at the reception. In attendance were Senior Lecturer in Theatre Arts and Performance Studies Michelle Bach-Coulibaly; Elizabeth Anto '06, '11 MD; Tarik Asmerom '05; Praveen Basaviah '05; Nora Blackall '08; Alykhan Boolani '06; Mark Brown II '09; Jalle Dafa; Vanessa Danziger '11; Sheila Desai '05; Sybil Dessie '04, '08 MD; Chris Erway '06 AM, '11 PhD; Sushil Jacob '05; Jazzmen Johnson'15 AM; Jori Ketten '02; Kira Neel '05, '19 MD; Meghan O'Brien '06; Ethan Philbrick '08; Micah Salkind '06, '10 AM,'16 PhD; Sophie Shackleton '09; Daniel Sobol '09; Matthew Soursourian '08; Ida Specker '09; Alexx Temeña '16; Nicole Thompson '08; Monica Tilly '11 MD; Jessica Vosburgh; Chantel Whittle '12; Kenya Wright '15; Ali John Zarrabi '06, '12 MD; and Leonora Zoninsein '08.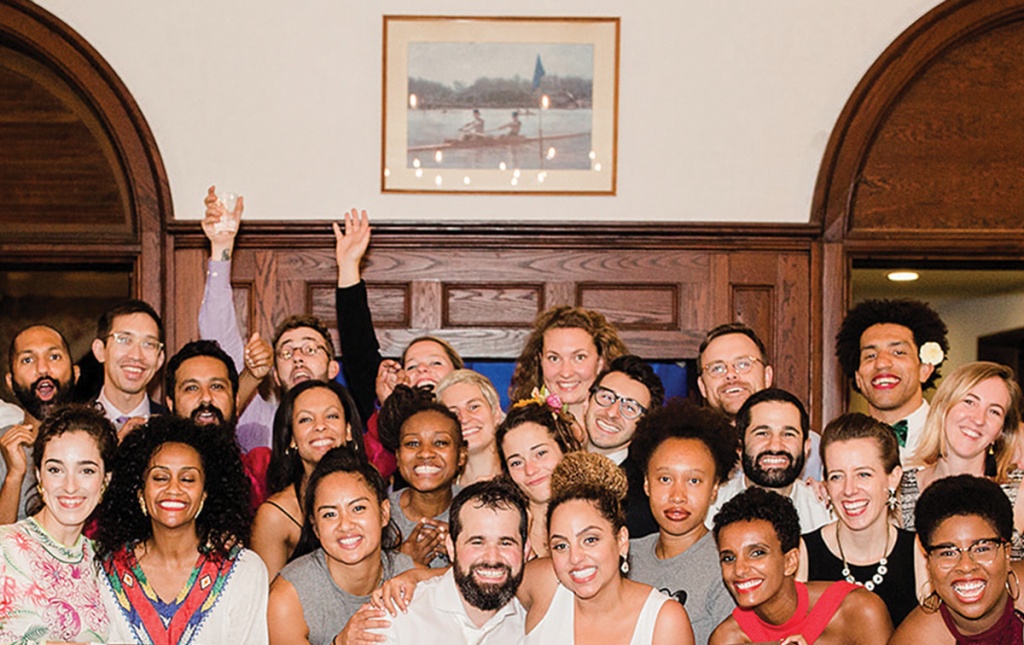 Mar, 2019
It's been 15 years since we exited the Van Winkle Gates. Now's the time to start reconnecting with your '04 classmates! Our 15th Reunion commences on May 24th, So please make your arrangements to travel east, west, south, or north! Kicking off with "Friday Night Lights" party in Alumnae Hall. Then we will migrate to Campus Dance shortly after nightfall. Saturday brings a host of activities throughout the day; Alumni Forums, President's Reception, and Field Day soiree. Attend one, attend all, the schedule is yours to create, so you can make time to meet up with and your dorm, lab, or teammate! Our evening will end with a Sweet Fifteen celebration, where you can dance to '80s tunes with your favorite libation! Sunday starts early to honor the Class of 2019, don't forget to gather for the procession on the Main Green! Please log in to Brunonia and update your profile. See you in four months, in May, on College Hill with a smile! Reunion Questions? email classof2004@alumni.brown.edu
Nov, 2018
Karina Manalo '13 and Maxwell Wernecke were married on May 27 at the Milwaukee Art Museum. Joining them were Mae Cadao '13; Michael Randolph '13; Iriff Ulep '13; Ellen Wernecke '06 and her husband, Dan Mortenson '04; and Jeff Wilke '13. The couple lives in Evanston, Ill., where they both attend the Kellogg School of Management.
Nov, 2018
Sean Walstead '04 and his husband, Brian Main, announce the June 6 birth of twin boys Zachary Ashton and Xander Drew. Sean writes: "We couldn't be more in love with these two babies and are so excited for the journey ahead of us."
Nov, 2018
Nick Bayard '04 and his wife, Sedia, welcomed their third child, Keaton Orion Bayard, on Mar. 22.
Nov, 2018
Wrap It Up
Our 12th annual holiday gift guide.
Read More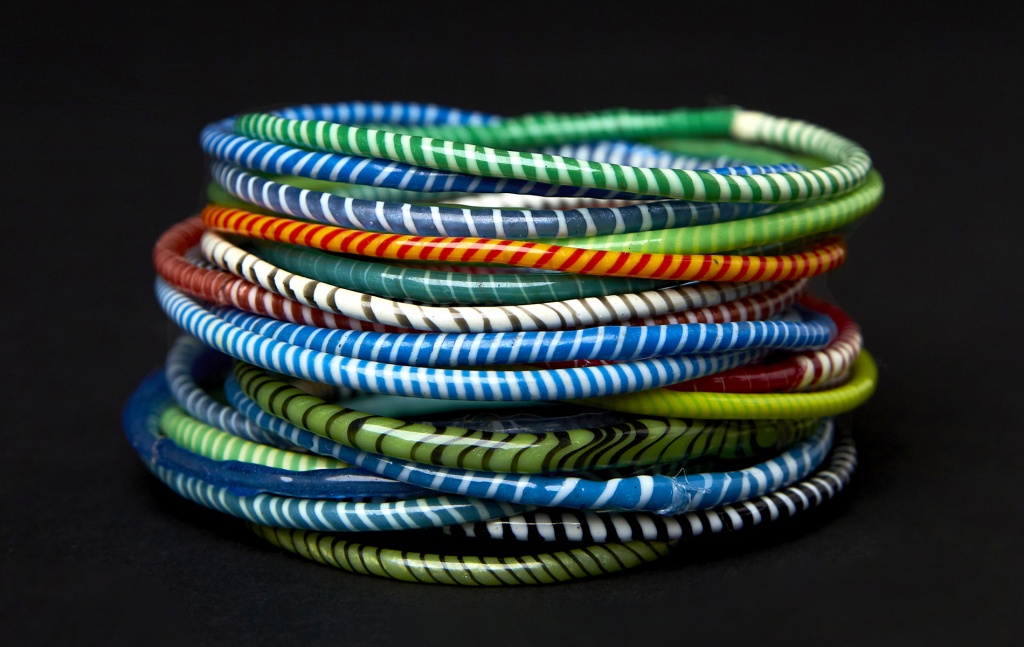 Sep, 2018
Ryan Heath and Nayla Khoury '06 were married on Apr. 14 in Atlanta, Ga. The two were Brown Outdoor Leadership Training managers from 2005 to 2006. The ceremony was officiated by Robin Rose, former Dean of Student Life and founder of BOLT. Lamya Khoury '08 was the maid of honor. Freddy C. Dominguez '04; Brandon Gordon; former BOLT director Tommy Hayes '98; Ravi Prasad; Neil Rajan '07, '08 ScM-IMEE; and Joseph Rivera were groomsmen. Also in attendance were Nikki Allen '06, Adhi Chittur '06, Keally DeWitt '04, Mary Greene '06, Yael Horovitz '06, Jessica Johns, Nadia Lambek '06, Alex Merkler '06, Ceara O'Leary '06, Alexis Walker '06, former BOLT Director Shelley Adriance, and former Director of Residential Experience Natalie Basil. All attendees received a bag of GORP.
Jul, 2018
Junarm Choi '03 ScM (see Grace Cheung '04).

Jul, 2018
Isabel Martinez and Elizabeth Martinez '04 are first-time aunts to niece Victoria.

Jul, 2018
Grace Cheung '08 MD married Thomas Yu in Cape May, N.J. In attendance were Eugene Cha; Michael Chang '02; Junarm Choi '98, '03 ScM; Melissa Choi '09 MD; Teddy Youn '02, '09 MD; and John Kim '01. Grace works as Chicago Mayor Rahm Emanuel's digital director, and Tom is an outpatient pharmacy manager at Mount Sinai Hospital in Chicago.
Jul, 2018
Junarm Choi (see Grace Cheung '04).
May, 2018
Dan McElligott and his wife, Olma Fuentes, announce the Dec. 30 birth of their daughter, Denise Marisol McElligott. The family lives in West Caldwell, N.J.
May, 2018
Alexandra Fribourg published The Blind in September.
May, 2018
Alina Engelman lives in Berkeley, Calif., and is an assistant professor of health sciences at California State Univ., East Bay. Michael Stanton '02 joined the same program in 2016.
Apr, 2018
At Sundance
Among the 16 films in the U.S. Dramatic Competition held at the Sundance Film Festival in January, three were written and/or directed by alums.
Read More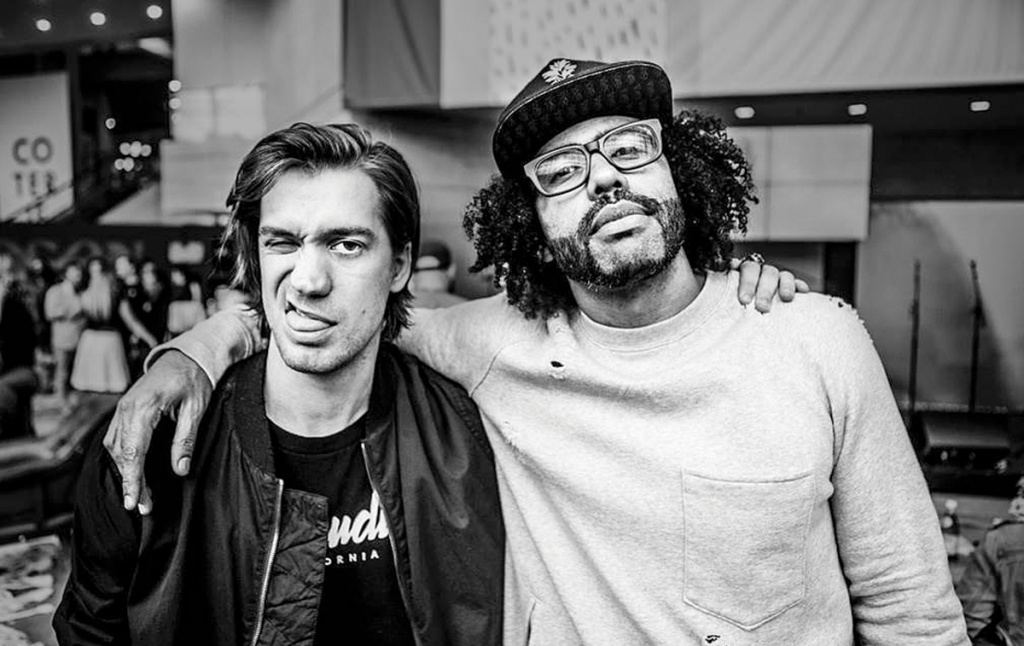 Apr, 2018
Maxine Sharavsky married Christopher Garrett in Hudson, N.Y. on Oct. 28. Alumni in attendance included Owen Boynton, Amy Carvel, Craig Convissar '06, Allison Lauterbach Dale, Chloé Hill, Philip Maynard '11, Ivonne Rojas, Joseph Scattergood '04, Randy Schwarzmann, and Randi Siegel Weniger.
Apr, 2018
Jeff Toussaint is the dean of students at Thayer Academy Middle School in Braintree, Mass., where Daveed Diggs '04 addressed the students after a screening of Wonder.
Apr, 2018
Rita Chao Hadden enjoys teaching Understanding Asia at American Univ. to lifelong learners. She is also mentoring Brown seniors and enjoying time with her granddaughter Mayzie and daughter Tracy Hadden Loh '04, hiking in D.C., fusion cooking, travels, and acupressure.
Apr, 2018
Going Away?
Luggage doesn't need to be boring, thanks to a new company from Steph Korey '09 and Jen Rubio.
Read More
Jan, 2018
Laura Epstein Flink and David Flink announce the Aug. 22 birth of their son, Eli Joshua Flink. He joins big sister Emma, who is now 2 years old. The Flinks are living in San Francisco, where Laura is a cardiologist at UC San Francisco and practices at the San Francisco Veterans Affairs Hospital. David continues to run Eye to Eye, the national nonprofit for students with learning disabilities, and opened a West Coast office as the organization continues to expand.
From the November/December 2017 Issue
Send your news to the BAM at alumni_magazine@brown.edu.
From the September/October 2017 Issue
Aleksander Garin (see Allison Bernstein '09).
From the July/August 2017 Issue
Sara C. Emmenecker '11 AM and Stephen Hendriksen '13 MD announce the Feb. 17 birth of Emmett Kai Hendriksen in Minneapolis, Minn.
Benjamin McGuire was elevated in March to shareholder of Greenberg Traurig LLP, a global law firm with more than 2,000 attorneys in 38 offices throughout the United States, Latin America, Europe, Asia, and the Middle East. Benjamin is a member of the Public Finance Group in the firm's Boston office and focuses on tax-exempt financing for state infrastructure projects, hospitals, public and private colleges and universities, private schools, and other nonprofit organizations.
Sara Yerry appeared in Brooklyn Magazine's "The 100 Most Influential People in Brooklyn Culture 2017" for her work as a bilingual educator.
From the March/April 2017 Issue
Erika Faires and Matt Salzler '02 announce the May 29 birth of Molly Hutton Salzler. Molly joins big brother Kieran. Several Brown alums celebrated Molly at her baptism in December, including her godmothers, Frances Betancourt '03 and Brooke Stevens '03. David Simon '03 and Mateusz Saykiewicz '02 attended as well.
Amy Koo performed on the piano, for the first time since graduating from Brown, at a recital in New York City on Nov. 19. It was a packed program, which included solo pieces by Bach and Chopin, along with the Beethoven Violin Sonata No. 5 (the "Spring") with her friend Hervé Brönnimann. Amy writes: "I only started practicing seriously again in July 2015, so I was incredibly pleased to have many of my Brown friends in attendance, including Kelvin Chan '03 and his wife, Vicki Moeller; Christina Hanson and her daughter Salma; Adeeb Rahman; Eric Sedgwick '05; Peter Sibley '05 ScM; and Michael Simon '03. It was a great reminder of the hundreds of hours I spent practicing in Steinert and working with Prof. Arlene Cole at Brown. I'm committed to making this at least a yearly thing going forward. Here is a link to my pieces: https://drive.google.com/open?id=0B9OQ6SiNjcujTXhRX2J0Yi1uV3c) ."
Jim and Maude McCartnay Ancone announce the Sept. 25 arrival of their second child, James Ancone III. James joins big sister Olivia, 2, whose favorite animal is a Brown bear. The Ancone family resides in Fairfield, Conn.
Ferve Ozturk married Hilal Khan in August 2015. She practices law in New York City at Baker Hostetler LLP in the Bankruptcy, Restructuring, and Creditors Rights practice group.
Cara Zeldis Snyder and Eric J. Snyder announce the Oct. 22 arrival of their second son, Nigel Edward Snyder. He joins older brother Arthur. Cara and Eric are the immediate past presidents of the Brown Club of Palm Beach County. Cara is an ophthalmologist and ophthalmic plastic surgeon serving the greater Boca Raton, Fla., area. Eric runs his market research business out of Boca, where he also practices real estate.
From the November/December 2016 Issue
Sam Hodges and his wife, Aliisa Rosenthal '05, announce the July 8 birth of their daughter, Eleanor Rose Hodges.
Molly MacGregor married John Fitzgerald on Jan. 22 in Brewster, Mass. Alums in attendance included Lila Cruikshank, Lauren Wier Guilhardi '09 MPH, Liz Drewniak Watts '11 PhD, and Julie Cakert Wilska. On May 1, Molly and John welcomed baby Quint. John is a commercial fisherman and Molly recently purchased Coastal Acres Campground (www.CoastalAcres.com ) in Provincetown, Mass. They write: "Please come visit our happy family at the tip of Cape Cod."
Ven Tadipatri and his wife, Padmini, announce the July 12 birth of their daughter, Prachi. Both mom and baby are doing fine.
From the July/August 2016 Issue
Kathryn Cohen (see Herb Cohen '54).
Jefferson Moors (see Will Terpening '98).
From the May/June 2016 Issue
Angela Koine Flynn '06 MAT spoke in a TED-Ed Original lesson video called "The Science of Skin Color." She writes: "The video coincides with the call by many scientists to move away from using racial categories in scientific research. I'm hoping to get more people in the know about the big difference between skin color (biology) and race (the non-biological social construct)."
Rebecca Santoro Melley was elected shareholder of the law firm Hangley, Aronchick, Segal, Pudlin & Schiller.
Carrie Weinstein Seidman (see Vic Weinstein '73).
From the March/April 2016 Issue
Daveed Diggs (see Jill Hirst Scobie '58).
From the January/February 2016 Issue
Andrew Curtis and his wife, Dana, welcomed their second child, Hudson Joseph, in September.
Emily McElveen '10 MD married Joel Limerick on Aug. 29 in Norfolk, Va., where Emily practices as a U.S. Air Force pediatrician. Several alums were in attendance, including bridesmaids Lauren Linder Grunberg and Julia Stevenson, as well as Geraldine Abbey-Mensah '06, '10 MD, Jasmine Bauknight '06, '13 MD, Eldridge Gilbert '05, and Lloydia Reynolds '06, '10 MD.
From the November/December 2015 Issue
Jayne Finst was inducted into the Eastern College Athletic Conference (ECAC) Hall of Fame on April 17. Jayne currently serves on the board of directors of the Brown University Sports Foundation and is a private wealth advisor at Merrill Lynch Private Banking and Investment Group in New York City.
Laura Epstein Flink and David Flink '02 announce the July 4 arrival of Emma Samantha Flink. Laura writes: "We live in Manhattan and are looking forward to Emma's first trip to Brown this spring to celebrate the 50th Brown reunion of proud Grandpa Robert Epstein '66, along with Aunt Sara Epstein Lewin '08, Uncle Adam Lewin '09, and Uncle Dan Epstein '00."

Kristin Gladney and her husband, David Bookman, announce the July 26 birth of their son, Vincent Charles Bookman.

Tony Hatala and Bailey O'Donnell '07 were married on July 11 in Barrington, R.I. They reside in Washington, D.C., where Bailey works for Google and Tony serves as a U.S. Marine Corps pilot flying from Joint Base Andrews.
Lauren Edgar Kushner and Matt Kushner (Wesleyan '03) announce the June 10 birth of their first child, Marian Lois Kushner, weighing 7 pounds and measuring 20 inches. Lauren writes: "I am working from home as a visual effects freelancer while Marian is growing fast. The whole family is healthy and happy!"
From the September/October 2015 Issue
Nicholas Bayard and his wife, Sedia, are expecting a baby girl in October. He writes: "We moved to Tacoma, Washington, in the fall of 2014, and in early 2015 I began to work as director of the REACH Center, a county-wide youth services organization that serves more than 3,000 youth and young adults annually with education, employment, and housing services."

Naia Cucukov married Michael Picot on May 24 at the Please Touch Museum in Philadelphia, where her family lives. Meredith Jones Joppa, Dan Le, and Meghan Morean were bridesmaids, and Meredith's daughter Felicity, who, Naia writes, is part of the "future Brown class of 2035," was the flower girl. Also in attendance from the Brown "framily" were Cate Brandon, Gilly Cantor, Kathryn Cohen, Sara Emmenecker '11 AM, Karl Hanson, Stephen Hendriksen, Dennis Kwan (who was also the wedding photographer), Alyssa Ellis Marti, Joe Scattergood, Kristin Sinclair, and Evan Waters. Naia is vice president of development and production at Walden Media, and Michael co-owns the real estate firm Picot and Co. They have been together for seven years and live in Los Angeles. They extend thanks to all the Brunonians who made their day so special.
From the May/June 2015 Issue
Sara C. Emmenecker '11 AM and Stephen Hendriksen relocated to Minneapolis in August. Stephen works as an attending physician in emergency medicine and hyperbaric medicine at the Hennepin County Medical Center, where he also serves as director of the undersea and hyperbaric medicine fellowship. Sara works as the assistant director of annual giving at the Univ. of Minnesota's Carlson School of Management. She writes: "We're still getting acquainted with our new city and would love visitors!"

Paul Greenamyer (see Araceli Mendez '12).

Brian and Stephanie Harris Singer announce the Aug. 7 arrival of Zachary Brett. Zachary joins big brother Sam and was welcomed by family and friends, including aunt Kimberly Singer '06 and uncles Benjamin Siegel '02 and Andrew Singer '12.
From the March/April 2015 Issue
Erika Faires and Matt Salzler '02, of Boston, announce the June 20 birth of their son, Kieran Douglas Salzler. Early visitors included friends Evan Panich '07, Frances Betancourt '03, Brooke Stevens '03, and Mat Saykiewicz '02. Kieran and his parents are looking forward to future trips back to College Hill.

Stephanie Harris Singer and Brian Singer announce the Aug. 7 birth of Zachary Brett Singer. Zachary joins big brother Sam and a family of alums, including aunt Kimberly Singer '06 and uncle Andrew Singer '12. The Singers live in Needham, Mass., where Stephanie practices corporate law and Brian is the cofounder and vice president of an enterprise software start-up.
From the September/October 2014 Issue
Aaron Sokoloff and his wife, Kaori Shishikura Sokoloff, announce the May 19 birth of their daughter, Anna Tohka Sokoloff, in La Jolla, Calif.
From the July/August 2014 Issue
Ilana Ruff married Jared Treiber (UAlbany '04) on Nov. 2 at the Grain Exchange in Milwaukee. The wedding party included maid of honor Adriane Berman '05 and bridesmaid Abby Lau. Guests included Sheryl Shapiro Bassin '03, Caren Lee Caplan '03, Shana Gotlieb '05, Katharine Lampen-Sachar '03, Elizabeth Naylor '08 MD, Cara Zeldis Snyder, and Eric Snyder. Ilana and Jared met in New York City while Ilana was a neurology resident at Columbia and Jared was starting his fellowship. The couple now resides in Chicago, where Ilana is a stroke attending at Northwestern Memorial Hospital and Jared is starting a private practice in psychology.

Diane Rhyu Taylor (Harvard GSD '09) married John Taylor (UC Berkeley '00, Harvard GSD '06) last year in Bali. Among the attendees were Tomoko Takeda Canel and Angella Nguyen '02. Diane and John currently divide their time between Bali and Jakarta, where Diane is a partner architect in the design firm Morphasia.
From the May/June 2014 Issue

[

10th

]
Nick Bayard married Sedia Dennis in May at President Lincoln's Cottage in Washington, D.C. The couple met while attending graduate school at Harvard. Nick also released an album of original acoustic/folk music and an album of acoustic children's music that he recorded with his stepson. Find both albums at www.nickbayard.com.
Sanford Brown (see Sanford D. Brown '74).
Andrew Curtis and his wife, Dana, announce the February birth of Capri Isabella. Adom Crew was her first visitor.
Lauren Kupersmith (see Eileen Schwartz Kupersmith '73).
Karen Prazar married Cecilia Kiely on Sept. 21 at Camp Huckins in Freedom, N.H., 13 years after they met in a Unit 2 orientation discussion in Keeney. Many Brunonians attended, including Ashley Blackmon, Sophie Calderon, Megan Parker-Johnson, Cara McKenna, Anne Schoknecht Neff, Kenli Okada, Audrey Patten, Katharine Reynolds '06, Laura Rickard, Corinne Shubin, Shaw Vanze, Deborah Dryer Vo '06, and Caroline Young '05.
From the March/April 2014 Issue

[

10th

]
Ari Adland married Alicia Ridenour '06 on Aug. 10 in West Greenwich, R.I. Ari and Alicia met as tour guides at Brown, and their romance began at Campus Dance in 2007. The wedding party included Sarah Fort '06, Meghan Goria '06, Zachary Markovits, and Julie Rappaport '06. Other Brown friends present included Robin Averbeck '06, Pieter Biersteker '05, Katherine Burdick, Brian Christian '06, Elliot Epstein '06, Elizabeth Forsyth '06, Dan Fox, Leslie Friedman, Gwen Fuertes '05, Lee Gilman '06, Paloma Herman '06, Hannah Lantos '06, Michael Soule '06, and the groom's cousin, Adam Singer '03. The couple lives in Cambridge, Mass.

Rebecca Birnbaum and Gaetano Gargiulo celebrated their civil wedding at the city hall of the 15th arrondissement in Paris on Nov. 22.
From the January/February 2014 Issue
Julie Falconer, author of the award-winning blog "A Lady in London," was featured in the Metro in the U.K. in an article in which she shared holiday travel tips.
Steven H. Kaell (see Alan T. Kaell '75).
Maggie Nerio received her doctorate in 19th-century British and American literature from the Univ. of Notre Dame. She teaches English at Notre Dame and works at Barnes & Thornburg, a law firm in South Bend, Ind.
From the September/October 2013 Issue
Cara M. Thomas received her MD from Stony Brook Univ. School of Medicine in May.
From the May/June 2013 Issue
Brent Grinna (See George Armiger '67).
From the March/April 2013 Issue
Vincent Cheng is one of the leaders of OpenIDEO. The global online platform has 40K+ members who collaborate to solve pressing social and environmental challenges posed by individuals at organizations such as Amnesty International, Grameen, Oxfam, World Wildlife Fund, the European Commission, and the EPA. Vincent writes that he is also "helping organizations and companies create new opportunities by breaking through silos, engaging employees and external networks, and catalyzing communities of collaborative innovation."
Melissa Perlman, president of BlueIvyCommunications, based in Boca Raton, Fla., was named the winner of the South Florida Sun-Sentinel's inaugural Top Workplaces awards. Melissa was recognized as the individual who best represents excellence in her contributions to her organization and community.
From the January/February 2013 Issue
Jessica E. Grose (see Richard Grose '70).
Susannah Raub writes: "After living and working in Sydney, Australia, for five years, I am moving back to San Francisco. On the way, I'll be spending two months at the Meltwater Entrepreneurial School of Technology in Accra, Ghana, teaching recent Ghanaian college graduates the finer details of the Google Maps API, as well as general software development practices. I am looking forward to reconnecting with the many Brown alums in the Bay Area and would love to meet any in Ghana!"
From the September/October 2012 Issue
Julia Devanthery, manager of legal advocacy at HomeStart Inc., is one of 14 new attorneys chosen to join the Boston Bar Association's Public Interest Leadership program. In addition to representing low-income tenants on the verge of homelessness, she is vice president of the board of directors of RESPOND, a domestic-violence shelter and community services provider.
From the May/June 2012 Issue
Ana Chartier (see Richard Stein '10).
Melissa Perlman's company BlueIvyCommunications, a public relations and communications agency in Fla., received tons of media exposure following the birth of celebrity couple Jay-Z and Beyoncé's baby girl, whom they coincidentally named Blue Ivy. Melissa writes: "It was a very cool experience for me and my company. In public relations, we agonize over creating media-genic and interesting pitches for our clients, and here one fell in my lap, and I jumped fast to take advantage of it!"
From the March/April 2012 Issue
Andi Fein '05 ScM (see Rafael Ruiz '94).
From the November/December 2011 Issue
Melissa Perlman founded BlueIvyCommunications, a public relations and communications firm based in South Florida. Learn more about the company at www.blueivycommunications.com
From the September/October 2011 Issue
Melissa Perlman has started her own communications and public relations business, BlueIvy Communications. Her company is focused on providing smart content, superb writing, and strategic public relations services to businesses and organizations of all sizes.
Clifford W. Meyers '10 MD (see Engagements & Weddings, Linda Chernak '08 ScM).
From the July/August 2011 Issue
Lauren Kupersmith (see Stephen and Eileen Schwartz Kupersmith '73).
From the May/June 2011 Issue
Leanne Gallotta (see Alan Gallotta '73).
From the March/April 2011 Issue
Erin Boyle, Catherine Brandon, Alisa Breetz, Patrick Browne, Gillian Cantor, Narna Cucukov, Alyssa Ellis, Meredith Jones, Andrew Keats, Elizabeth O'Neill Larkin '08 AM, Meghan Rabbitt Morean, Joseph Scattergood, Kristin Sinclair, and Evan Waters (see Engagements & Weddings, Sara Cannata Emmencker).
Josh Brandt (see Engagements & Weddings, Sean Peden).
Sara Cannata Emmencker and Stephen M. Hendriksen (see Engagements & Weddings).
Anne Harlam (see Engagements & Weddings, Sean Peden).
Ellen Hendriksen '99, Elizabeth Bird '07
Sean Peden (see Engagements & Weddings, Christopher Casey).
From the January/February 2011 Issue
Michael Benisch (see Engagements & Weddings, Jonathan Bortinger).
Jonathan Bortinger (see Engagements & Weddings).
Joel Dietz (see Engagements & Weddings, Jonathan Bortinger).
Stacy Doynow (see Engagements & Weddings, Seth Orkand '99).
Jennifer Driver (see Engagements & Weddings, Jonathan Bortinger).
Paul Frake (see Engagements & Weddings, Andrew Stringer '03).
Zac Ginsberg '10 MD (see Engagements & Weddings, Laura Janneck '05).
Vikas Kumar and Kathryn Carter Marr (see Engagements & Weddings, Jonathan Bortinger).
Alida Kinney McGlone (see Engagements & Weddings).
Pang Houa Moua (see Engagements & Weddings, Jonathan Bortinger).
Cristina V. Rowell (see Robert Sanchez '58).
Brian Singer, Stephanie Harris Singer and Alex Toy (see Engagements & Weddings, Jonathan Bortinger).
From the September/October 2010 Issue
Peter I. Asen married Martha Elena Rojas (Harvard '93) on June 12 in a Universal Life Church ceremony in Warren, R.I. Alums attending included Brady Dunklee, Lauren Goddard '12 MD, Riana Good '03, Seth Leibson '05, Gabriela O'Leary '07, Marti Rosenberg '97 AM , and Gary Sprague. Brown faculty included Daniel Kim, Tara Nummedal, Seth Rockman, Mark Swislocki, and Patricia Ybarra. Peter is currently the director of Ocean State Action in Cranston, R.I., as well as a contributor to GoLocalProv.com, where his editor is Stephen Beale '04. Marty is assistant professor of English at URI, where she teaches 18th- and 19th-century American literature, as well as literature of the sea. They will continue to live in Providence with their two Westies, Cosmo and Spark Rojas.
Joanne Chiu '09 MD writes that Daniel Kelly '03, '07 MD will be serving as chief resident of the Komansky Center for Children's Health of New York Presbyterian–Weill Cornell Medical Center pediatrics program in 2010–11, attended by Gina Coscia '08 MD and herself. In June, Warren Young '01, '07 MD graduated from this program and began a sports medicine fellowship at Children's Hospital Boston.
From the May/June 2010 Issue
Sonia Aneja '09 MD married Rajeev Chaudhry '09 MD last June in Pittsburgh in a traditional Indian wedding. Many Brown alums attended, including Marie Audett '05, '09 MD, Felix Bhandari, Jessica Chan '09 MD, Jonah Cohen '10 MD, Anthony DelSignore '09 MD, Tahira Dosani, Stephanie Im, Anne Kemble '09 MD, Rajiv Kumar '05, '11 MD, Connie Lee '05, '10 MD, Crystal Pryor, Carmelle Romain '05, '09 MD, John Rommel '05, '09 MD, Anil Taner '05, '09 MD, Marcella Villa '09 MD, and Clifford Voigt '05, '09 MD. Sonia and Rajeev have residency positions at Duke, where Sonia is an ob-gyn intern and Rajeev is in the urology program. Sonia writes: "We are enjoying married life and the challenges of intern year."
From the March/April 2010 Issue
Laura Flink Epstein and David Flink '02 were married on May 24 in Lafayette, Calif. The wedding party included the bride's father, Robert Epstein '66; the bride's brother, Dan Epstein '00; and the bride's sister, Sara Epstein '08; as well as David Hyman '02, Jaime Berg Hyman '03, Ethan Loewenthal '02, Evan Michelson '02, and Anna Stern '04. Also attending were Ashley Antler '02, Lauren Antler '02, Katherine Burdick, Jhon Clavijo '08, Tamara Chestna Danison '02, Lila Elman '02, Joshua Gepner '08 MD, Lisa Goldschmidt '00, Neil Hausmann '97, Kate Hirschmann-Levy '02, Elizabeth Johnson '02, Adam Koplewicz '08, Sam Koplewicz '11, Alison Lee '02, Jonathan Mooney '00, Rebecca Golden Mooney '00, Shoshana Winograd-Hunter Ohriner '02, Andrea Strobel '02, Jillian Tucker, and Waciuma Wanjohi '03. Laura graduated from UC San Francisco Medical School in May and is now a resident in internal medicine at New York Presbyterian Hospital-Columbia University. David is the executive director of Project Eye-to-Eye, a mentoring program for children with learning disabilities. They live in New York City.
Kevin Kunstadt opened K&K Gallery in South Williamsburg, Brooklyn, N.Y. The gallery primarily shows the work of young and emerging photographers. For details of upcoming exhibitions go to www.kkbroadway.com.
Lev Nelson married Eliana Meirowitz (Columbia '05) on Nov. 8 in Brookline, Mass. In attendance were Jess Beckerman '06, Lindsay Brin '12 PhD, Ellen Goldstein, Riana Good '03, Ari Johnson, Benj Kamm '08, Ari Kaufmann '02, Lori Leibowitz '03, Karen Misler '77, '77 AM, Megan Nesbitt, executive director of Brown Hillel, Mike Rozensher '05, Danya Ruttenberg '97, Carol Robinson Schepp '71, Louis Schepp '71, '74 ScM, and Zach Teutsch '05. Lev and Eliana live in Brookline. He is a second year rabbinical student at Hebrew College. She works at the Institutional Review Board at the Boston Univ. medical campus and is working on an MPH.
Gabriel Shapiro (see Joel Shapiro '55).
From the January/February 2010 Issue
Augie Funk is living and working in Boston. He is engaged to Johanna Prete, and is in the process of applying to medical schools in the Northeast and Southeast.
Jacob Grossman and Elizabeth Daniels were married in September in Boston. More than 30 Brown alums were in attendance, including bridesmaids Debbie Grossman '07, Toni Pullman, and Chloe Thompson, groomsman John Urquhart, and best men Joel Grossman '99 and David Grossman '02. Elizabeth teaches at the Edward Brooke Charter School in Roslindale, Mass., and Jacob works at BayNorth Capital, a real estate private equity fund in Boston.
Laura Martin and Jesse Cromwell were married in Texas on Mar. 8, 2008, four years after meeting on the College Green. In attendance were family members Dorothy Levis Bacon '67, Ashley Cromwell '10, Oliver Cromwell '72, Paul Cromwell '78, Robert Martin '68. Also in attendance were friends from around the globe, including Jenny Brodsky, Wilson Brown '05, Alexis Crow '05, Katherine Fichtel, Andrew Griffith, Karl Hanson, Dennis Kwan, Harry Li '02, Susannah Raub, Meg Robinson-Li, Christina Masson, Katy Mastman, Adam Mittleman, Laura Mogulescu and Elizabeth Thompson Naylor '08 MD. Laura and Jesse lived in Sevilla, Spain, until January 2010, when they returned to Austin.
Daniel Naftalis (see Benjamin Naftalis '99).
Melissa Perlman is engaged to Jonathan Goldfarb (Rollins College). The two reside in Boynton Beach, Fla. Melissa works in public relations at Office Depot's global headquarters, and Jonathan runs a tennis academy in Boca Raton.
From the November/December 2009 Issue
Allison Carter writes that Les Figues Press published her first book. See it at http://www.spdbooks.org/Producte/9781934254073/ a-fixed-formal-arrangement.aspx.
McKenna Morrigan and Marshall Clement '03 celebrated their union on July 18 at Belknap Hotsprings in McKenzie Bridge, Ore. In attendance were Melissa Barkin, Selena Juneau-Vogel, Chris Muller '03, Niki Papadopoulos, Adam Reich '03, Amit Sarin '03, Molly Smyrl, and Robin Tittle. McKenna and Marshall both grew up in Oregon and were pleased to return to the Pacific North- west. They now live in Seattle, where McKenna is a graduate student in environ- mental policy and Marshall continues his work with the Council of State Governments Justice Center.
From the September/October 2009 Issue
Connect with us at the Brown University Class of 2004 Facebook page.
Neel Shah '09 MD writes: "While completing joint degrees in medicine and policy this past spring, Ariana Green and I launched a nonprofit social venture aimed at preventing medical bankruptcy called Costs of Care (www.costsofcare.org). You can support our efforts on the Web, Facebook, or Twitter." Neel and his wife, Julie (MIT '04), live in Cambridge, Mass., where they are resident tutors at MIT. Neel started residency training in obstetrics and gynecology at Mass. General and Brigham and Women's Hospital this summer.
Zachary Wool left New York City in early June to work at the law firm of Stanley, Reuter, Ross, Thornton & Alford in his hometown of New Orleans. He expects fellow Brunonians passing through New Orleans to be in touch.
From the July/August 2009 Issue
Michael Littenberg-Brown (see Janice Fernald Huang '63).
From the May/June 2009 Issue [5th]
Sheryl Bigler '04 (see Lynda Ivey Bigler '74).
Tara Kolar Ramchandani married law school classmate Chiraag Bains (Yale '03) in Philadelphia on Aug. 16. Rashmi Kudesia and Angela Feraco were in the bridal party, and fellow Brunonians Kathryn Cohen, Nigel Cordeiro '02, Abhas Gupta '02, Mumi Hemrajani '03, Shaily Kapur, Dennis Kwan, Susannah Raub, Laura Rickard, and Corinne Shubin helped to make the celebration complete. The couple lives in Boston, where Tara is an attorney at a law firm and Chiraag is a clerk in the District of Massachusetts. In August they will move to Ohio for a year for clerkships.
From the March/April 2009 Issue [5th]
Are you ready for our fifth reunion on Memorial Day weekend, May 22–24? The reunion committee has been busy planning a memorable weekend. Check out our class web site, http://alumni.brown.edu/classes/2004/, and our Facebook group http://brown.facebook.com/group.php?gid=2200149432, for details on the weekend and our growing list of attendees. If you plan on joining us, please contact Neel Shah so he can update the list. Blurbs and bios are welcome! Also, be sure to make your fifth reunion gift to the Brown Annual Fund at www.gifts.brown.edu between now and reunion weekend to help us reach our class goal and make a positive impact on life at Brown today. Can't wait to see everyone in May!
Sandy Brown (see Sanford D. Brown '74).
From the January/February 2009 Issue [5th]
Laura Baum married Logan Dancey on August 11, 2007, in an outdoor ceremony in Hood River, Ore. Beth Marlowe and Kirsten Spalding were bridesmaids. Katie Ahmann, Britt Doran, and Cate Oswald were also in attendance. Laura and Logan live in Minneapolis, where Laura works for a nonprofit organization and Logan is pursuing a doctorate in political science.
Lauren Edgar married Matt Kushner (Wesleyan '03) on September 21 on the beach in Fenwick Island, Del. Joe Blodgett '03, Jarrod Fischer '02, Lauren Rubenzahl '03, and Lila Rose Kaplan '02 sang the processional music, and Katherine Kovner directed the ceremony. Christie Gibson '06 was also in attendance. Lauren and Matt stayed in Fenwick Island for their honeymoon. The couple met in graduate school at NYU, and they work together as computer animators in New York City.
Meredith Jones writes that Meghan Morean married Sarah Rabbitt (Harvard '02) on August 16 at the Boston Harbor Hotel. Richie Rabbitt '10 was a member of the wedding party. In attendance were Cate Brandon, Patrick Browne, Gilly Cantor, Naia Cucukov, Alyssa Ellis, Sara Emmenecker, Lizzie Goodfriend, Karl Hanson, Susan Harrison, Stephen Hendriksen, Meredith Jones, Sean McNamara '88, Megan Parker-Johnson, Seth Quidachay-Swan, Meghan Robson, Joe Scattergood, Kristin Sinclair, Tibet Sprague, Christina Tsafoulias, and Meggie Woods.
From the November/December 2008 Issue [5th]
Matthew Puntigam (see Kevin Sholes '91).
From the July/August 2008 Issue
Evelyn Avila has been living in Geneva, Switzerland, for the past 18 months. She is an associate at JPMorgan covering Latin American markets. She has spent her time working and traveling.
Diana Ots writes: "The almost four years in San Francisco have been the longest time in one city since moving back to the U.S. from Estonia 10 years ago. The cabin in Tahoe and weekends snowboarding in the winter and hiking in the summer are still favorite pastimes! I've been doing mergers and acquisitions consulting at Deloitte since graduation, then three months on a project in London and Paris last year, and weekly trips across the U.S. definitely keep the variety and change exciting. Just spent two weeks in Delhi, and a move to India or Dubai is a possibility in the near future—please come visit in San Francisco."
From the May/June 2008 Issue
Jim Ancone '04 (see Anna Murphy Deutmeyer '99).
Whitney Brim-DeForest returned in November 2007 from serving three years in the Peace Corps in Senegal. She married Hamady Balde on December 15, 2007, in Ashland, Ore. A reception for all of their friends and family will be held this summer.
Alejandro G. Mendoza and Angela C. Dunn '03 were married in Girdwood, Ala., on June 23, 2007. In attendance were Brown alumni Fernando Mendoza '91, Anselm Sauter, Eric Sumberg, Ethan Thompson, Dan McElligott, Kate Coward '02, Aneal Helms '03, Ceneca Calvert '03, Adriana Lopez, Diane Schneider, Sophie Branson Gill, Anne Schoknecht, and women's varsity volleyball coach Diane Short.
Maude Murphy '04 (see Anna Murphy Deutmeyer '99).
From the March/April 2008 Issue
Jonah M. Cohen released his new album, Harboring the Day, which was three years in the making. He is currently living in Bethesda, Md., and doing a fellowship in cancer research at the NIH.
Lorin Fries is moving to Uganda to manage a food security program with Save the Children after working for several years with USAID.
Eric Snyder '04 and Cara Zeldis Snyder '04 (see Coleman Sachs '72).
Cara Zeldis married Eric J. Snyder on September 2, 2007 after meeting their sophomore year at Brown and dating for six years. Over 40 Brown alumni attended the wedding, including both the bride and groom's fathers Jerome Zeldis '72 and David Snyder '71, '75 MD. In the wedding party was the groom's brother, Jeffrey Snyder '02. Also in attendance were Hilary Ross Salk '63, '65 MAT, Coleman Sachs '72, Bonnie Saks '72, '75 MD, Mark Zeldis '00, Samuel Ginsberg '00, Mayu Sris '01, Adam Fox '01, Daniel Ko '01, David Goldberg '01, Michael Teitelbaum '02, Alexis Scholl Teitelbaum '02, Daniel Weisholtz '02, LeDon Wilson '02, David Flink '02, Jon Purow '03, Jon Segal '02 AM, Andrew Golodny '03, Matthew Haicken '02, Joshua Lessing '04, Jamie Hyman '03, Sheryl Shapiro '03, Rachel Ezrine Wasserman '03, Daniel Wasserman '03, Katharine Lampen-Sachar '03, Caren Lee Caplan '03, Ilana Ruff '04, Laura Epstein '04, Miles Betro '05, Joshua Troy '04, Jaron Zitrin '04, Natasha Trentacosta '04, Stephanie Harris Singer '04, Brian Singer '04, Adriane Berman '05, Leah Oppenheim '06, David Snitkof '05, Shana Gotlieb '05, Tucker Peck '05, and Philip Kalisman '06. Cara is a fourth year medical student at Albert Einstein College of Medicine and Eric is the business development coordinator for EuroRSCG Life in New York City.
From the January / February 2008 Issue
Celinda Gourd and Michael Kofron were married on June 2, 2007, in West Warwick, R.I., at St. John the Baptist Church, where Celinda's parents and grandparents were married. The wedding party included best man Jason Donahue '05, maid of honor Linda Yeh '04, '05 MAT, groomsman Stephan Fabregas '05, and bridesmaid Katie Ahmann. They celebrated and reunited with their roommates, friends, and teammates from their undergrad years, including Alexander Bowman '05, Lauren Brodsky, Benjamin Galeota-Sprung '05, Mark Glennon '07, CJ Hoppel, Petra Jarolimova '07, Jon Jay, Jennifer Kim, Laura Leonetti, Kristin Loening '05, Daniel Macarthur '05, Elisabeth Marlowe, Maureen McCamley ScM '04, Craig McGowan '07, Annie Murray '05, Josh Novick, Cate Oswald, Dan Pastula '03, Alyssa Ricker '07, Andrew Schwartz '07, Blake Spitz, Julie Stein '05, Michael Tan '03, Eileen Wang '07, and Shirley Wu. They also shared their union with David Durfee '80, '92 PhD and Diane Hoffman-Kim '93 PhD, Michaela Andrews '03, '06 MAT, William Brown '83, '87 MD, Mara Coyle '86 MD, Elizabeth Deweerd '05, '06 ScM, Nicholas Goldberg '05, Sonia Gupta '06, Gerald Patterson '07 PhD, and current Brown students Jan Bruder '03, Kate Burgess, Julie Caplow, Molly Cohen, Brian Holt, Grace Li, and Roshni Patel. The couple is living in Albion, R.I., while Celinda works toward her PhD at Brown and Mike works at Bay Computer Associates in Cranston.
Gayle MacDonald Shanley writes: "On July 28, 2007, I married Rick Shanley (Emory '01) in my beautiful hometown of Peterborough, N.H. It was wonderful to have Cari Cymanski, Vanessa Gonzalez, Erica Saleh, Nina Mamikunian, Allison Carter, Mike Ferguson, Elizabeth Forsyth '06, Kate Brackney '05, Ben Asriel '03, Adam Griska, Joseph Blodgett '03, Josh Loh '03, Tracy Hadden, Chris Randall, Kerry Ryan '02, and best man Sam Kusnetz '02 celebrate our wedding with us. Rick and I bought a house in Portland, Ore., where he is working and pursuing an MBA and I am happily freelance-teaching math and drama in home schooling circles."
From the November / December 2007 Issue
Kristin A. Sinclair earned a master of education degree in Risk and Prevention, Adolescence from Harvard on June 7. She lives in Cambridge, Mass., and has started work toward a certificate of advanced study in counseling at Harvard.
Plern Suraphongchai (see Celia Wu Sophonpanich '83).
From the September / October 2007 Issue
Grace Cheung writes: "I missed the coup in Thailand, but I'm back in New York after a year working at the International Herald Tribune-ThaiDay, an English-language newspaper in Bangkok. Now I work as communications-program manager at the Women's Commission for Refugee Women and Children. I deal with the situation in Darfur on a daily basis. It's been a great learning experience! I'd love to hear what everyone else is up to."
Anne Rabbino (see Robert Rabbino '72).
Martin Sañudo writes: "I set off on a yearlong round-the-world trip with two friends last January. Our project involves interviewing locals on current issues and writing our own articles. By the time this is published, I should have reached India. Up to now it's been an incredible experience. Follow my adventure/journey at www.papierlibre.fr."
Hannah Seligson published her first book, New Girl on the Job: Advice from the Trenches, on May 29. The book is a career guide for young women based on more than 100 interviews Hannah conducted with women on all rungs of the corporate ladder.
From the July / August 2007 Issue
Nadav Carmel writes: "On Sunday, March 4, Aaron Sokoloff enjoyed the opening of his first exhibition of post-modern digital art. In attendance were Ari Adland, Robin Amer, Nadav Carmel, Ian Gray '05, Winston Groman, Michael Klein, James Ollen-Smith, and Seth Pipkin '02. Despite the absence of a string quartet, it was still a classy affair."
Emily Falk and Karina Leal report that they had a rockin' good time over spring break in northern Calif. and the Pacific Northwest. They saw Mike Lesnick '03, and Colin Harris '03. Karina also saw Alessia Cook, Leda Marritz, Amanda Watts, Alekist Quach, and Zachary Markovits. Emily and Karina write: "Not in attendance were Brett Hemenway (who was stuck at home studying for a PhD qualifying exam), Skyler Ng, Diana Fishman, Kevin Loo '03 (all of whom have real jobs and don't get spring break), and Nikil Mehta '03, who is in school and does get spring break, but just didn't come."
Marcy Feibelman (see Melisa W. Lai '94).
Jane Couto Porricelli writes that she, her sister Audrey Couto McClelland '00, and their mother, Sharon Couto, have launched a family lifestyle Web site and free daily e-mail newsletter called Pinks Blues (www.pinksand blues.com). "Pinks Blues is the 'you're lucky to know' one-stop resource for every-perfect-family-thing that people just don't have the time to find themselves," Jane writes.
Heng E. "Eric" Shih has been promoted to senior associate consultant at Mars & Co.
From the May / June 2007 Issue
Pamela Dubyak is not married or engaged, but is still enjoying graduate school in Florida and is looking forward to starting work in the psychology clinic at the hospital this summer.
Michael Kofron and Celinda Gourd are engaged and will be married on June 2, 2007.
Ryan Levesque and Tylene Bautista write: "After falling in love during our years at Brown, on June 30, 2006, we returned to Providence to get married." It was an exciting year in which Tylene earned an MA in the history of decorative arts and design from Parsons New School for Design/Smithsonian Cooper-Hewitt, and one that featured an across-the-world move to Shanghai, China, where Ryan serves as American International Group's China expansion manager. Tylene is establishing several art-related ventures, including ArtToursChina. The couple would love to hear from classmates, especially those with China travel plans on the horizon.
From the January / February 2007 Issue
Jen Bain (see Diana Lamb Bain '68).
Talisman Brolin (see Melisa W. Lai '94).
Pamela Dubyak just started her doctoral program in clinical psychology at the University of Florida.
From the November / December 2006 Issue
Christine Anneberg has been appointed as an assistant coach for Dartmouth's women's lacrosse team.
Jonah Cohen writes: "I just graduated in May and I already miss Brown! I am enrolled in the PLME program but decided to take time off to pursue my career as a singer-songwriter. All during my time at Brown I played solo concerts (when I wasn't singing with the Jabberwocks) around the Northeast, and now I am continuing that path. On Sept. 7, my new album, Flashback, was released. You can check out tracks from the new record at www.jonahcohenmusic.com. So far the buzz has exceeded my expectations about this album and I can't wait to share it."
Sangeeta Tripathi was chosen to participate in the second Oxfam International Youth Parliament 2004 in Sydney, Australia, from July 5 to July 12. Sangeeta worked with the Friends Committee on National Legislation on antiwar, antimilitarization, human rights, immigration, and HIV/AIDS issues.
From the September / October 2006 Issue
Jeremy Adams will be attending the Missouri School of Journalism for a two-year master's program beginning in the fall.
Kristen Mercado has completed her master's in social work at the Univ. of Pennsylvania School of Social Policy and Practice. She moved to New York City in August and began her work as a school social worker in a new charter school.
From the March / April 2006 Issue
Noah Alireza married Lema Alireza in Jeddah, Saudi Arabia, on Oct. 12. They celebrated with their alumni friends at a dinner held at the Grosvenor House in London in January.
Yann Danis became the sixteenth goalie in NHL history to record a shutout victory during his first start; he plays for the Montreal Canadiens.
Winfield Wilson writes: "I've been traveling the world with my trombone since graduation, looking for a patch where I can sow my seeds. I've dabbled in house painting, philosophizing, community theater, and auto mechanics. My next great adventure will be to climb the mighty peaks of Namibia. Wish me luck."
From the March / April 2005 Issue
Willy Joy writes that his Jewish hip-hop parody group, the Ju-Tang Clan, was featured in the Nov. issue of Heeb magazine. "We're online at jutangclan.com."
From the September / October 2004 Issue
Liz Daniels has qualified to participate in the U.S. Olympic swimming trials for the 50- and 100-meter individual medleys. She began swimming at age six and coaches youngsters at her club. This is the second time Liz has been the only Ivy League representative at the Olympic trials.
From the July / August 2004 Issue
Lauren Kupersmith (see Stephen and Eileen Schwartz Kupersmith '73).
Obituaries
Jan, 2022
April L. Freely '04, of Brooklyn, N.Y.; July 9. She was a poet, essayist, and newly appointed director of the Fire Island Artist Residency at the time of her passing. During her short tenure, she launched a Social Justice Committee that was heavily involved with the Black and Brown Equity Coalition of Cherry Grove's Juneteenth weekend. She previously worked as an associate in Columbia's School of Social Work Writing Center from 2019 to 2020. She had been a program coordinator at the Vermont Studio Center and was the nonfiction editor at Washington Square Review. In addition to Brown, she was a graduate of the University of Iowa's master's program in nonfiction writing. She was a faculty member at Bard College in Annandale-on-Hudson (N.Y.), where she taught in the Language and Thinking program. She was the recipient of a 2020-21 Queer Arts Mentorship fellowship in literature and of awards from the Ohio Arts Council, the Fine Arts Work Center in Provincetown, the Rona Jaffe Foundation, the Tulsa Artist Fellowship, and the CUE Art Foundation, among others. Her work appeared in several publications, including American Poetry Review, Gulf Coast, Kenyon Review, and Ninth Letter. She volunteered as a labor activist and campaigned against gun violence.
Jul, 2019
Jessica Morrison '04, of South Lyon, Mich.; Feb. 8. She worked at Materialise, a 3D printing company, as a marketing analyst identifying trends and creating systems and processes to drive productivity and performance. Previously, she created a series of inspirational flash cards, Sanity Cards, used to promote a positive outlook on life. She was a staff writer for the BDH while at Brown and a member of Phi Beta Kappa. She enjoyed building ceramic bird baths and is survived by her husband, Tom; her mother; and many friends.